We may be spending our days differently than we're used to, but that doesn't mean there isn't a ton of special, fun, cool, unusual things to do each day of the month!
Friday, May 1– Enjoy a "Story Time from Space" video in honor of Celebrate National Space Day aka International Space Day. Astronauts onboard the International Space Station (ISS) read a variety of books while orbiting our planet.
Saturday, May 2 – It's National Fitness Day. Get outside and get moving with a family walk or bike ride. Or plug in the Nintendo Wii and play some Wii sports. Either way, inside or out, get your bodies moving!
Sunday, May 3 – Families can explore the collections, exhibitions, and science adventures of the Natural history Museum and La Brea Tar Pits through their special online offering, NHMLAC Connects.
Monday, May 4 – How will you commemorate Star Wars Day? May the Fourth be with you! Have a movie marathon – streaming in a galaxy near you.
Tuesday, May 5 – It's Cinco de Mayo. Of course you could celebrate by making a family taco bar. But why not go a step further and participate in the 2020 Cinco de Mayo Virtual Race.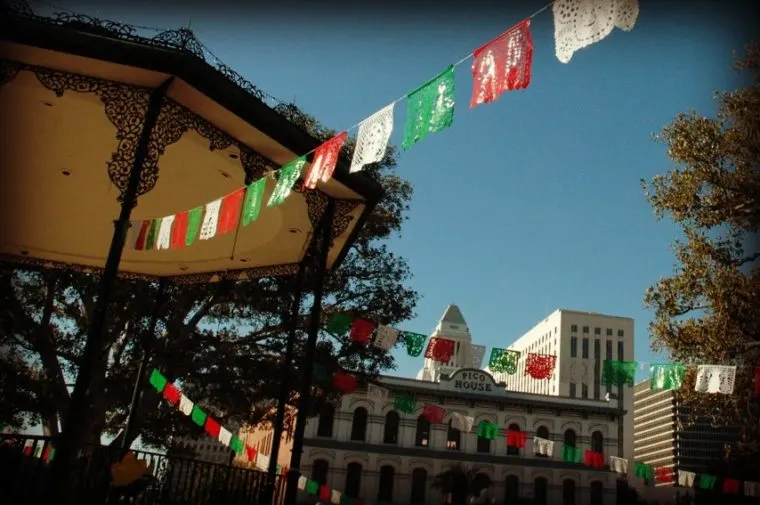 Wednesday, May 6 – Let's not forget. There's still a presidential election scheduled for later this year. It's never too early to get our kids involved in the election process. Check out our post The Best Ways to Get Your Kids Involved in the Voting Process for ideas.
Thursday, May 7 – Kidspace Children's Museum, one of our favorite kid-friendly museums, may be closed. But, that's no excuse to stop learning and having fun with them. Check out their website for virtual learning and play learning.
Friday, May 8 – Today would be the last day of Teacher Appreciation Week. Be sure to check out our post for ways to virtually celebrate our teachers.
Saturday, May 9 – Maybe you can't plan an evening out, but you can definitely plan a special evening in. Families can enjoy the Los Angeles Chamber Orchestra in the comfort of their own homes (LACO AT HOME). This free program allows families to enjoy "spellbinding performances with America's finest chamber orchestra" with no sign-up or payment required. Check the website for details.
Sunday, May 10 – There is no doubt about it. Our moms deserve an extra-special Mother's Day celebration. Maybe breakfast, lunch, snack, and dinner – in bed! Turn the bathroom into a spa with candles, soft music, bubble bath, and a child-free zone.
Monday, May 11 – Who says you can't have breakfast for dinner? Start the week off by enjoying your favorite breakfast foods at dinnertime.
Tuesday, May 12 – Remember Mad Libs? Now is a perfect time to make it a daily habit. Plus, you're practicing grammar with the kids. Check out the website for printables and more.
Wednesday, May 13 – Get inspired and make some art at home using the resources available online at Hammer at Home: Art from the Everyday.
Thursday, May 14 – It's National Dance Like a Chicken Day! You know what to do. Get movin' and groovin'.
Friday, May 15 – It's NASCAR Day. Check out the Petersen Automotive Museum's virtual vault tours as well as their free online educational resources.
Saturday, May 16 – You can't plan an outing to the Walt Disney Concert Hall, but you can certainly bring the music and the wonder to your home. Families will find Toyota Symphonies for Youth Activity Books available online. Children can "explore the orchestra, engage with music, and learn about the different instruments."
Sunday, May 17 – Is your family a fan of the Autry Museum of the American West? You'll find fun activities, lessons, and more on their website.
Monday, May 18 – Did you know today is National No Dishes Day? You're doing enough each day. Celebrate by supporting your favorite neighborhood eateries and getting some take-out.
Tuesday, May 19 – Test your family and yourself (best for slightly older kids). Can you name all 50 states? It's harder than it sounds.
Wednesday, May 20 – The Norton Simon Museum offers many art projects and coloring pages on its websites for your budding artists. Set up your own exhibition space at home to show off their creations!
Thursday, May 21– The American Red Cross was founded by Clara Barton on May 21, 1881. As a family, decide on ways you can help the community – now and after life returns to "normal." Start making a monthly donation to an organization? Make a trip to the beach once a month to pick up litter? Deliver canned goods to a food pantry?
Friday, May 22 – It's National Maritime Day which means today is a perfect day to check out the USS Midway Museum's website. You'll find kid-friendly activities, a virtual tour, and more. And when we can get back out there, check out the USS Battleship Iowa Museum.
Saturday, May 23 – Now's a good time to stop and reflect. Ask each family member to list 5 things they're grateful for.
Sunday, May 24 – Time to get creative for National Scavenger Hunt Day. We suggest checking out these fun scavenger hunt ideas.
Monday, May 25 – Happy Memorial Day. Be sure to check Operation Gratitude's website for details on how your family can write letters to veterans, deployed troops, and first responders.
Tuesday, May 26 – It's National Paper Airplane Day. But think bigger, and explore all the fun resources available at NASA Science Space Place.
Wednesday, May 27 – As a family, what random act of kindness can you practice today? Water a neighbor's plants? Drop off an extra roll of toilet paper at a friend's door?
Thursday, May 28 – Is your favorite burger place offering delivery and take-out? Go support them today. After all, it's National Hamburger Day.
Friday, May 29 – On National Paperclip Day, what can you make using paperclips? Jewelry? Self-portraits? A chain as long as you?
Saturday, May 30 – Have fun. Try something new. Do things differently than you usually do because it's National Creativity Day.
Sunday, May 31 – It's National Smile Day. Check out the videos on the Los Angeles Zoo's website. They're guaranteed to bring a smile to your face.