This is a sponsored post.
We've been working with Amplify Sleep Away Camp For Girls for years. And every year, the camp offers more exciting opportunities for girls to learn, grow and find their passion. It's been wonderful to tell parents about a California summer camp that promotes self-expression and creativity in a beautiful setting.
Amplify is offering $100 off of a week of camp with the code MomsLA19.
Amplify Sleep Away Camp is an overnight camp in Ojai's Topatopa Mountains for girls ages 10 to 16. Campers not only come from all over the country, they come from all over the world, says Executive Director Jenn Baron.
Campers can enroll in camp for one week or stay for the entire summer. Each week, they get to pick the track they want to experience. They go to Amplify to learn to play instruments, practice journalism, take pictures, make movies, become DJs and produce music.
What's cool is that each track is taught by women who are professionals in their fields including musicians, filmmakers, photographers and producers. "It's important for girls to see someone who look like them doing what they want to be doing," Baron said.
For example, female fronted bands play during lunch at camp. They're usually touring musicians who stop to play a concert at lunch. The band stays after for a Q & A.
The journalism students interview the band and the camp musicians can ask questions about being a working musician and touring the country. The photography students can shoot the show and the film students can make a film or podcast. They're having a great time while they're learning.
"Kids get a lot of one on one," Baron said. "It's not just seeing them perform."
Here is a breakdown of the different tracks the girls can take at camp:
Rock Band Camp
Even if the camper has never picked up an instrument before coming to Amplify, they can take the Rock Band track. In one week, girls learn to play instruments, form a band, write a song and perform in front of an audience.
Film and Photography Camp
In the Film and Photo track, campers learn photography and filmmaking to make their own music video. They end the week with knowledge of Adobe Photoshop and Final Cut Pro.
Journalism and Creative Writing Camp
The girls that pick Journalism and Creative Writing learn the basics of writing for websites. They learn how to interview subjects and put together a news article.
DJ Camp
This is for the girl that wants to scratch, beat and mix. Girls learn the basics of DJing and then show off their new skills at a celebration on the last day of camp.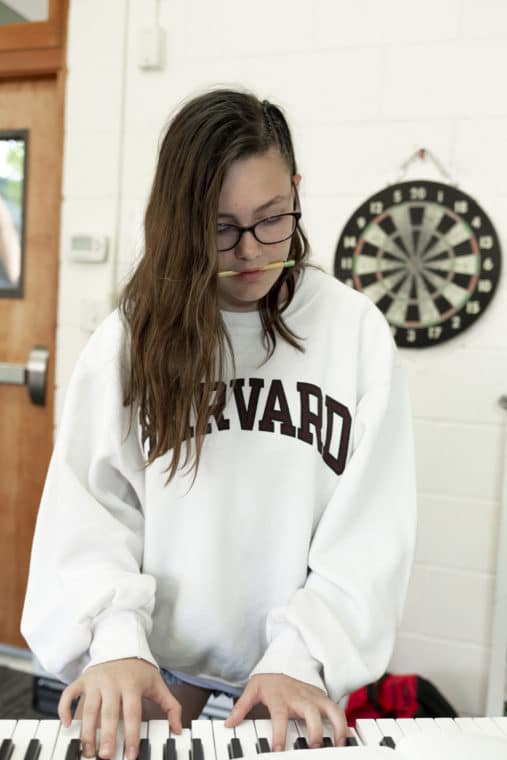 Music Production and Engineering Camp
Girls who love music, but don't want to play an instrument can focus on the behind the scenes and learn music production and engineering. By the end of a week, they'll learn to record, mix, edit and produce digital music.
Coding Camp
The girls learn to code and work on web design, app development, storytelling and art.
The girls may be learning to be a rocker, a DJ or a journalist, but they're also hiking, swimming, sitting by a campfire or trying out the ropes course with new and old friends.
Campers stay in brand new, state-of-the-art, air conditioned dorms in Ojai. The girls are two to three to a room with staff living in the dorms. The ratio of campers to the all female-identified staff is 1:3 to 1:6 except on the Ropes Course, which is 1:4.
If you'd like to hear what camp is like from a former camper, read my post about Amplify from two years ago. I interviewed my neighbor who started going to the camp after I told her about how amazing it sounded. She's learned to play guitar and made close friends.
For more information, visit Amplify Sleep Away Camp, come to the Summer Fun & Camp Fair on March 16th and talk to them directory or watch the video below.
This post is part of a sponsored campaign with Amplify Sleep Away Camp. All opinions are my own.