Type: Birthday Entertainment, Birthday Party Places
Description:
Camp Wildcraft Art Parties are a creative, fun and memorable way to celebrate– with unique works of art to take home! Our team brings the art studio (including tables) to your location–or you can choose to have your party at our beautiful Calabasas or Malibu camp locations. Our immersive, hands-on art projects keep kids engaged and happy. Select from a variety of projects for children and teens which include clay, wood, metal embossing and more. Adults love our parties too! Projects can be customized for your special events including holiday parties and Bar and Bat Mitzvahs. Please check our website for details, options, and the address of our two camp locations.
Connect:
Champion Charter Bus
Type: Birthday Party Transportation
Description:
Explore each beautiful city on the west coast with Champion Charter Bus.
Connect:
Champion Charter Bus Los Angeles
Type: Birthday Party Transportation
Description:
Plan your trip with Champion Charter Bus Los Angeles. Explore the beauty of LA's diverse landscapes, the Hollywood Walk of Fame and even Universal Studios with our leading charter bus company. We break barriers in the transportation industry with our superior customer service and incredible technological support. Our modern buses have premium amenities such as free wifi, spacious seating and on-board restrooms. Travel in our air-conditioned buses in LA's vicious heat, while exploring the beautiful city at the same time. Call today to book your trip!
Connect:
Craft Studio Shop Store
Type: Birthday Entertainment, Birthday Party Vendor
Description:
Craft Studio Shop Store makes hand-made origami decorations for any occasions. We also do in-person workshops and at parties for kids/adults. We can travel to your party venue or to your home. Origami styles start with simple designs for kids, like hearts, birds, and cats, and can be more complex for older kids and adults. Check out our Instagram to see our work!
Connect:
Address: 625 West California Ave, Glendale, CA 91203
Phone Number: 818-303-5317
Email: [email protected]
Website: Craft Studio Shop Store
Hours: Parties available on any day of the week
Price: $150/hour
Got Game 2.0 Birthday Parties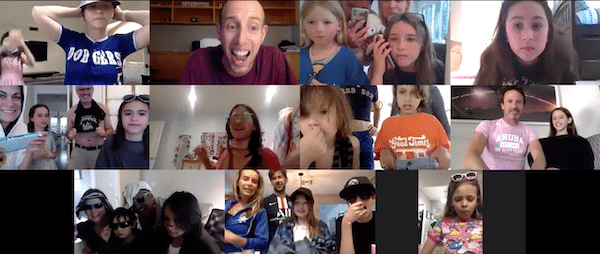 Type: Virtual Birthday Party
Description:
Let Got Game facilitate your VIRTUAL birthday party, family fun night, team-building or other private event and make it an unforgettable experience! Create those special memories and connect with those closest to you through our innovative and diverse range of options. Our VIRTUAL parties are one-of-a-kind with competitions, team-building and collaboration with friends, and tons of laughter with our amazing virtual experience we design just for you!
Connect:
Los Angeles Charter Bus Company
Type: Birthday Party Places, Birthday Party Transportation
Description:
With its simple booking process and family-friendly customer service, LA Charter Bus Company has helped parents in Los Angeles book safe, reliable transportation for birthday parties. We have access to a variety of buses to accommodate your birthday group. Safety is our primary concern when it comes to birthday bus rentals, as we only work with experienced drivers who are up-to-date with all of California's safety regulations.
Your kids are in good hands when they ride with us. Every bus we book passes a thorough safety inspection, is fitted with steel-cage construction, and features a driver that has passed extensive aptitude screenings. Nothing is more important to us than your children enjoying a safe, comfortable ride, and they're even able to enjoy personalized entertainment amenities, such as flat-screen TVs, DVD players, WiFi, and surround sound speakers. Your next birthday trip has never been easier to plan.
We also serve Long Beach, Thousand Oaks, and Santa Monica. Call us today at 310-746-5801 for a personalized, no-obligation quote!
Connect:
Los Virtuality – Virtual Reality Gaming Center
Type: Birthday Entertainment, Birthday Party Places
Description:
Birthday Party In Virtual Reality
Is your child's birthday just around the corner? What do you have planned? A cake, a small get-together, some gifts and maybe a game of musical chairs? But that's just like any other birthday party. Don't you want to make this special day unique and memorable for your child? If you do, we have just the idea: celebrate this year's birthday party at Los Virtuality!
Turn Up The Fun
There's only a limited number of games and fun activities you can plan for a birthday party. But when you dive into virtual reality, there's no end to the fun! Los Virtuality is an Immersive VR gaming center for the entire family, where cutting-edge VR technology allows you to enjoy birthday celebrations like never before.
Inside The Arcade
As you step into the Los Virtuality private arcade, you will be introduced to a whole new world of excitement. With 10 fully primed VR stations, 10 players can enter the VR gaming world at a time. They can play as a team or compete against each other in over 40 games, including laser tag, shooters, simulators, sports games, and much more. Plus, that doesn't mean the rest will have to bore themselves watching the others play while waiting for their turn. Bring snacks as well as food and add life to the party.
Team Up With The Kids
Who says parents have to miss out on any of the fun? Our games are designed for people of all ages! Let the kids enjoy themselves while you and other parents go head-to-head in a friendly game. Or you could partner with kids and share the fun – it really is up to you.
A Birthday To Remember
Whether it's your child's birthday, bar mitzvah, or any celebratory occasion, make it truly memorable and enjoyable. Plan the event with Los Virtuality.
Connect:
Roaring Foam Premier Foam Party
Type: Birthday Entertainment
Description:
Roaring Foam is the premier provider of kids foam parties in Los Angeles. We specialize in exciting kids with a foam mountain up to 7 feet high with our Ultra Powerful Foam Jet Cannon & Organic Foam Solution.
Our Kids Foam Party comes comes with the following:
• Super Powerful Foam Cannon
• King Bubble Machine
• Organic & Non-toxic Foam Solution
• Sony Bluetooth Speaker
• Roaring Foam Host who will oversee your event!
Connect:
San Diego Charter Bus Company
Type: Birthday Party Places, Birthday Party Transportation
Description:
With vehicle options as small as 18-passenger minibuses and as large as 56-passenger full-sized coaches, we're prepared to accommodate any size group for your birthday road trip to San Diego and SoCal. Buses booked through San Diego Charter Bus Company are up-to-date on all modern safety standards and are operated only by state-certified, experienced drivers. Relax and enjoy the ride knowing that your kids are in safe hands.
If you're looking to rent a minibus for your birthday group but you're not sure where to begin, we've put together a few guides from our partner provider to help start your journey.
Start by reading a complete guide to charter bus rentals to find out why charter buses are a great option for your kids' birthday trip.
If you're feeling overwhelmed about the variety of bus types, check out our guide to choosing the best bus type for your group to see which bus you might want to rent.
Wondering about prices? Read our pricing guide to see what you can expect before you call and receive your free, personalized quote.
Call us at 619-202-4680 for a free quote.
Connect:
Shofur Los Angeles
Type: Birthday Party Transportation, Children's Trips
Description:
Description: Looking for group transportation for an upcoming family friendly event? Look no further, because Shofur can pair your group with the finest bus rentals in the area. Whether you're traveling with a group of 18-passengers or 56, we can provide you with a modern minibus or charter bus rental for a stress-free trip to your destination. In addition, each bus is spacious and provides comfortable seating for children and mother's alike! We can also customize each bus rental to meet your needs. Whether you want free WiFi to entertain your kids, a compact restroom for quick access or extra luggage space, we are equipped to handle any request. We also provide services in other cities along the West Coast, such as San Diego, San Francisco, Fresno, and Sacramento. Contact us at 1-800-436-8719 for a free bus quote!
Connect: