Updated for 2021
When you're thinking about your next family trip consider visiting Big Bear Lake. Big Bear offers a variety of year-round family-friendly activities, and we've got a list of super fun things to do, going beyond those that you might already know about, like sledding, skiing, biking, and hiking.
Known as "Southern California's local mountain lake escape," it should become clear why there are so many fun things to do in Big Bear, whether you're into water sports, hiking, biking, horseback riding, camping, or you like to ski and snowboard.
Family Fun in Big Bear
The Magic Mountain Recreation Area at Big Bear Lake is "home of the world-famous Alpine Slide," described as "Southern California's only authentic bobsled experience." New in 2021: The Mineshaft Coaster! This thrill ride is set to run year-round and offers a mile-long track! The fun starts with a scenic chairlift providing incredible panoramic views of Big Bear Lake. Then "riders navigate their own individually controlled sleds, each with teflon runners and ball bearing wheels, down their choice of two quarter-mile long cement tracks filled with high-banked turns and long straightways." The best part is Alpine Slide is open year-round! You'll also find an 18-hole miniature golf course here as well as Go-Karts and a double water slide operating during the summer months!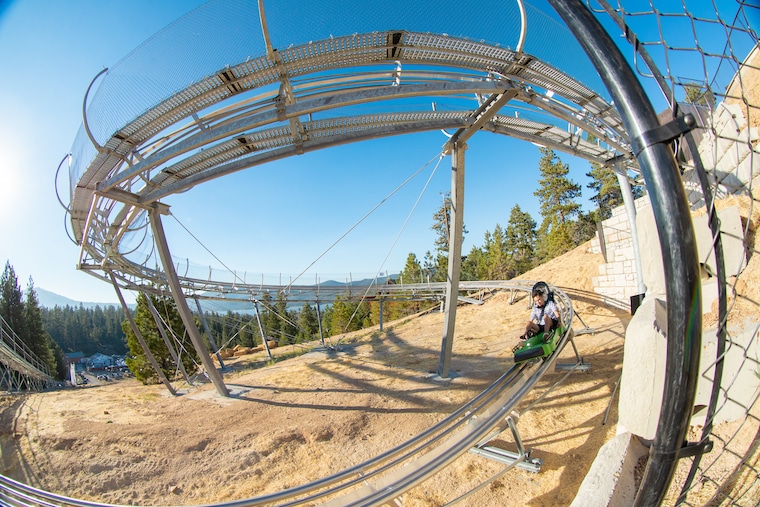 Big Bear Lake Village
Village Dr. and Big Bear Blvd., Big Bear Lake, CA 92315
If you're shopping for gifts or souvenirs, then be sure to stop by Big Bear Lake Village. You'll find a variety of shops and over 120 vendors (selling clothing, gifts, and more) as well as several restaurants (whether you're looking for just a snack or a full meal, you'll find several family-friendly choices).
Looking for a place to stay in Big Bear?
Try one of these VRBO rentals or Hotels via our Stay22 Map and Affiliate links.
The Bowling Barn
40625 Big Bear Blvd., Big Bear Lake, CA 92315
When you need some inside time, head to The Bowling Barn for a family-friendly game of bowling. You'll find 16 lanes, an onsite snack bar, and the Alley Oops Sports Bar (which is a popular spot to enjoy refreshments and watch sporting games, while also enjoying a game of billiards and/or darts). Kids (and kids at heart) will also enjoy the arcade games found here. The Bowling Barn also hosts "Glow Bowling" – when the lights are turned off, the music is turned up, and black lights are turned on. Before visiting, be sure to check the website for coupons and promotions.

Re-opening May 29th! A visit to Big Bear Museum provides families with historical information about the area. A variety of exhibits will allow visitors to get a sense of the area and how it has changed (and stayed the same) over time. On display, you'll find a furnished 1875 log cabin, gold mining artifacts, historic photographs, and more. There is no admission charge, though donations are appreciated. The Museum is open Monday Holidays, Wednesdays, Saturdays, and Sundays from 10:00 am to 4:00 pm, from Memorial Day weekend through the second weekend of September.
Rotary Pine Knot Park is a park with a great view! You'll find large, shady trees, walking paths, benches to stop and enjoy your surroundings, picnic tables, and a children's playground. And, be on the lookout for friendly ducks waddling around!
Action Tours
40957 Big Bear Blvd., Big Bear Lake, CA 92315
For families seeking some extra thrills, check out Action Tours. Here you can opt to zipline, take a Segway tour, and/or try your hand at tree rope climbing. Tours are for older kids. Children 8 and older can zipline and participate in tree rope climbing. Kids 10 and older can join in on a snowshoe tour during the winter months, and teens 14 and older can join in on a Segway tour. Activities are offered year-round. Details and reservation information are available online.

The Big Bear Alpine Zoo is a "rehabilitation facility offering injured, orphaned and imprinted wild animals a safe haven." Most of the animals that are rehabilitated at the Zoo are successfully released back into their native environment. Some of the Zoo's animals include the bald eagle, arctic fox, owls, bobcats, coyotes, bears, and more. Visitors also have the chance to learn the history of each animal including why each animal is at this Zoo. Each day, zoo keepers bring out an "animal of the day," when families have a chance to learn interesting facts about the animal and see the animal up close. Admission is $12 for visitors 11 and older, $9 for children 3-10 and seniors 60+, and children 2 and younger are free. The Zoo also offers special programs including "Flash Light Safari" – held every Friday and Saturday night in October. Check the website before visiting; hours vary slightly in the summer and winter.

Once you get there, you'll understand the park's name. Boulder Bay Park is considered to be a "newer" park, having opened in 2010. Several islands in the middle of the bay are made of boulders. In addition, this is a popular spot for canoeing, kayaking, fishing, having a picnic, and watching the ducks. It may be just the spot for a scenic family photo!

Gold Rush Mining Adventure offers a unique activity for the whole family. All participants are guaranteed to go home with a special souvenir including fossils, gem stones, or gold. Select from different adventures (including fossil panning and geode cracking, among others) which will determine exactly how you will mine and what you will find. The site is open year round from 10:00 am to 5:00 pm.

Big Bear Solar Observatory CURRENTLY CLOSED
40386 N. Shore Lan, Big Bear Lake, CA 92315
If you've got children who are interested in astronomy, then you'll want to make a point to tour the Big Bear Solar Observatory. Here you'll find the "world's largest solar telescope that is currently operational." Tour group size is limited to 16 people, so you'll want to make sure to reserve your tour in advance (which can be done online or by contacting the office). Those participating on the free tours must be able to walk 1000' down and back on a gravel road and be able to climb three flights of stairs.
Big Bear Pirate Ship Tours
Holloway's Marina
398 Edgemoor Rd., Big Bear Lake, CA 92315
Take a tour of Big Bear, but do it "Pirate-style." The Big Bear Pirate Ship, also known as The Time Bandit, a 1/3rd scale replica of a Spanish Galleon, will take you and your family around Big Bear Lake for a "swashbucklin' adventure." Each tour lasts about 90 minutes and features live entertainment and "authentic pirates." Check the website for details and reservation information.

Meadow Park
41220 Park Ave., Big Bear Lake, CA 92315
Meadow Park has something for the whole family. This 16.25 acre facility includes tennis courts, a children's playground, volleyball court, basketball court, picnic pavilion, and lots of green open spaces. Don't forget to bring some balls, a Frisbee, and a picnic meal.

This is a great place for families to stroll and enjoy their surroundings. You'll find a large wooden gazebo with informative posters about the wildlife you'll find in the area. In addition, there are two boardwalks built over the water. Take a look at the fish, keep an eye out for the ducks, and enjoy the tranquility.
Families will enjoy a 90-minute guided tour of Big Bear Lake onboard the Miss Liberty. Learn about Big Bear's history which dates back to 1845. Miss Liberty is a "64' long, 24.5' high Skipperline 1500 LX built in 1994 and was fully refurbished in 2006." Be sure to book your tour in advance.
Baldwin Lake Stables
46475 Pioneertown Rd., Big Bear City, CA 92314
Explore Big Bear while riding a horse! Baldwin Lake Stables offers 1 and 2 hour rides as well as sunset rides and a half-day ride option. For families with younger children, you can opt to take advantage of the on-site pony rides instead. You'll also enjoy a petting zoo here featuring goats, sheep, rabbits, and more. Reservations are suggested for all rides. Check the website for details.
Disclaimer: MomsLA has made every effort to confirm the information in this article; however, things can often change. Therefore, MomsLA makes no representations or warranties about the accuracy of the information published here. MomsLA strongly urges you to confirm any event details, like date, time, location, and admission, with the third party hosting the event. You assume the sole risk of relying on any of the information in our list. MomsLA is in no way responsible for any injuries or damages you sustain while attending any third party event posted on our website. Please read our Terms of Use which you have agreed to based on your continued use of this website. Some events have paid to be listed on MomsLA.