Updated for 2023
As we say here at MomsLA: it's never too early to start researching summer camps. Popular summer camps and sleepaway camps near Los Angeles tend to reach capacity far before the last day of school. To help you prepare, we've rounded up the 28 best Sleep Away Camps for Kids in California – and Beyond.
We know that Sleep Away Camp has not always been popular with LA parents, but we think that's starting to change. You'll see lots of options in this list, both close by and far away. These overnight and sleepaway options are some of the very best Summer Camps in California, and you can give your kids a Summer to remember at any of them!
Maybe you can start with a short-term sleepaway camp. California has plenty of options that allow your kids to be a camper for a week at a time, and then maybe they'll want to stay for a longer stretch, like at some of the California Camps that offer 2-week and 3-week overnight stays.
Remember, too, that if you or your child feel any trepidation about going to sleepway camp, it's perfectly normal. And if you still want to give it a try, you can wait until they're in middle school or high school.
You'll Find:
Sleep Away Camps in Los Angeles
Sleep Away Camps in California
Featured Sleep Away Camps
Sleep Away Camps on the East Coast
Related: Read about one Mom and Daughter's First Sleep Away Camp experience
Premium Sleep Away Camp Partners
Featured Sleep Away Camps
Type: Adventure Camp, Art & Nature, Arts & Crafts, Arts Education, Camps for Girls, Creative, Creative Writing, Day Camp, Design, Featured Sleep Away Camp, Film, Global Ethics, Mindfulness, Music, Nature, Outdoors, Performing Arts, Photography, Skateboarding, Sleep Away, STEAM, Surfing, Tech, Teen, Visual Arts, Voice, Water Sports
Description:
Amplify Sleep Away Camp is an empowering, award-winning music + creative arts summer camp in Ojai, California, serving girls from the neighborhood and around the world since 2012. Every girl deserves the chance to be their most authentic selves, and Amplify helps them do that with lifelong friends and positive role models in a safe, supportive environment. And if day camp is more your speed as opposed to overnight/sleep away camp, we've got your back!
Connect:
---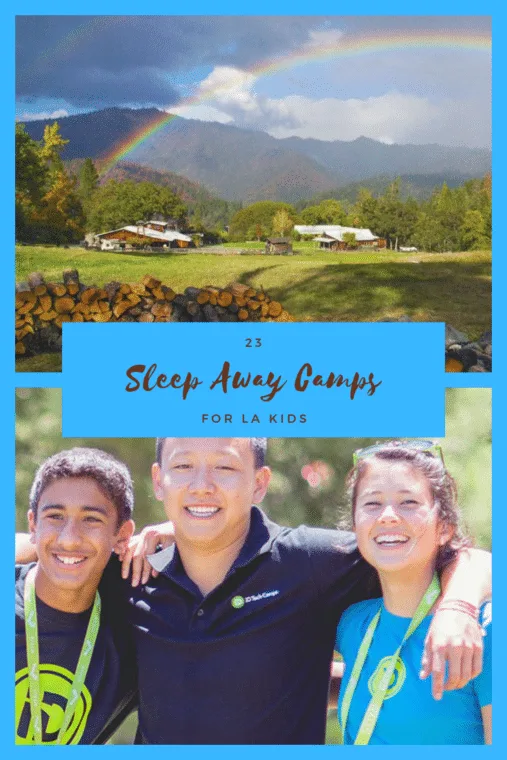 ---
Grab a copy of our Book: Los Angeles with Kids!
Looking for Fun Things to do with Kids in LA? You'll love this book! This handy-dandy, portable paperback book is packed full of ideas for FUN all over SoCal! Keep it in the car, your purse, your diaper bag – and be ready for fun anytime, anywhere!
Sleep Away Camps in California
Ocean Explorers Liveaboard Camp offers coed campers ages 11-17 the opportunity to explore the islands of Channel Islands National Park, both above and below water. Our ecology-based program is fluid and follows the weather, allowing the group to kayak through sea caves, snorkel through kelp forests, surf, and hike across the islands. Taking place on a custom-built expedition vessel, this micro version of a semester at sea is the perfect ratio of adventure to learning, resulting in a respect and adoration for the marine environment that lasts a lifetime. Campers return with knowledge about island ecology, marine biology, geography, astronomy, resource conservation, and seamanship, all gained from their time aboard.
Located in the foothills of Sequoia National Park, River Way Ranch Camp offers children, ages 7-16, a summer of friendships and memories to last a lifetime. Campers may choose from 75 activities including waterskiing, horseback riding, ropes course, mini-bikes, go-karts, waverunners, gymnastics, overnights and more. With an emphasis on the first time campers, River Way provides exciting experiences, focusing on increasing self-confidence. Campers, ages 7-9, remain with their counselors throughout the day participating in a variety of activities, while 10-16-year-olds customize their schedules.
Amplify Sleep Away Camp is an empowering, award-winning music + creative arts summer camp in Ojai, California, serving girls from the neighborhood and around the world since 2012. Every girl deserves the chance to be their most authentic selves, and Amplify helps them do that with lifelong friends and positive role models in a safe, supportive environment. And if day camp is more your speed as opposed to overnight/sleep away camp, we've got your back!
Idyllwild Arts
52500 Temecula Rd., Idyllwild, CA 92549
At Idyllwild Arts, summer is serious fun! Since 1950, the Idyllwild Arts Summer Program has offered intensive workshops in dance, film, music, songwriting, theatre, visual arts and writing to students of all ages and abilities, including Family Week. Located in the beautiful mountains of Southern California. Art Workshops are available for Kids and Teens (ages 5-18), Adults, and Families.
AstroCamp
26800 Saunders Meadow Road, Idyllwild , CA 92549
AstroCamp is a mountain adventure, physical science, and traditional camp program located in Idyllwild, California. Boys and girls ages 8-17 make memories and have fun while participating in a variety of activities like space exploration, rock climbing, mountain biking, rocketry, astronomy, craftsmanship, and summer camp fun.
Catalina Sea Camp
Toyon Bay, Catalina Island
Celebrating over 40 years of Excellence in Ocean Adventure! Summer camp on Catalina Island is a great way to spend your summer! Catalina Sea Camp offers 60+ ocean adventure and traditional summer camp activities, including scuba diving, snorkeling, kayaking, and sailing, to name a few. Catalina Sea Camp is an ideal combination of land and sea for a fantastic summer camp experience.
Bar 717 Ranch / Camp Trinity
17197 Hyampom Rd., Hayfork, CA 96041
Founded in 1930, the Bar 717 Ranch is the oldest accredited co-educational summer camp in California. For 89 years the Bar 717 Ranch has offered children ages 8-16 an opportunity to spend the summer on a beautiful mountain ranch. The camp property consists of mountains and meadows, rivers and ponds for swimming, creeks for exploring and miles of trails to discover. Through ranch activities, the camp program emphasizes taking responsibility for oneself and others in a non-competitive, supportive environment. Campers choose freely from activities: horsemanship, backpacking, gardening, animal care, river swimming, arts/crafts, photography, riflery, music, archery, blacksmithing, ceramics and more.
Camp Ocean Pines
1473 Randall Drive, Cambria, CA 93428
Give your child a life-changing experience at Camp Ocean Pines in Cambria, California. We're a small nature-based resident camp, in a pine forest on the Pacific Ocean. Your camper will build friendships, experience amazing nature, and just get to be a kid! Our Teen Programs will let you older kids travel with new friends and explore some beautiful and fun places! We know you'll agree, there is no place like Camp Ocean Pines.
Camp Wasewagan on the River
42121 Seven Oaks Rd., Angelus Oaks, Ca 92305
Located along the Santa Ana River, nestled in the San Bernardino National Forest, we offers many opportunities for excitement and adventures at our traditional overnight summer camp! Campers will go on hikes, learn about archery, fencing, riflery & paintball, and get to play/swim in the water during their stay. Campers will also get to challenge themselves on our high ropes course. To create an experience unique to each camper, they will get to choose their own exciting field trip to go on which include stand-up paddle board, horse ride trail, alpine waterslide, alpine zoo, roller-skating, Biking around Big Bear Lake. Come spend the summer with us to create lasting memories and friendships!
Dunn Summer Academy
2555 W. Highway 154, Los Olivos, CA 93441
4 Week residential camp in Santa Barbara County at Dunn School focused on academic improvement and STEM. STEM Academy will focus on robotics, rocketry, genetics and space with special guest speakers and field trips. Morning classes and afternoon enrichments, evening activities and weekend trips.
Endless Summer Surf Camp
Old Hwy 101, San Clemente, CA 92672
The Endless Summer Surf Camp has a beautiful campsite overlooking the Pacific Ocean in the San Onofre State Park campground, which is just south of the city of San Clemente. All 5-day surf camp packages start Monday morning at 8am and finish Friday at 4pm. The overnight camp includes accommodations, all meals, drinks and snacks, 24 hour supervision, and all your surfing equipment as well as surf instruction.
Kennolyn Camps
Multiple locations – Santa Cruz and Huntington Lake, CA
Since 1946, Kennolyn Camps has provided a haven for boys and girls ages 6-16 to be their best selves, unplug from technology, and make lifelong friends. Join us at one of our two overnight camp locations: in the Santa Cruz Mountains at our hidden village in the redwood forest just a short drive to the beach. Or on Huntington Lake just south of Yosemite at our cozy lodge nestled in the Sierras. This summer we're celebrating 75 years of changed lives!
Pali Adventures
30778 CA-18, Running Springs, CA 92382
Pali is a fun one-of-a-kind summer camp experience, where campers design their own unique adventure. 21 morning specialty camps offer the chance to learn something new and amazing from Hollywood Stunts to Flying Trapeze, Pali Adventures promises that your child will have the best summer camp experience ever.
Rock-n-Water Christian Camps
6580 CA-49, Lotus, CA 95651
Founded in 1989, Rock-N-Water is a group of Christians who want to impact young people with the joy of God's Living Word, so they might come to know Jesus and pass on God's love with excitement. We focus our sleepaway camp programs on biblical principles, and we use the help of nature, friendship, and outdoor challenges to develop character.
Sierra Sleep-Away Camp
Bass Lake, CA
At the 47th annual Sierra sleep-away camp located at Bass Lake, campers ages 7-17 will have the experience of a lifetime while enjoying a true camping experience with tent living while still utilizing some modern day conveniences. Fun and adventure are woven into each day along with the opportunity to develop new skills or improve old ones.
Skylake Yosemite Camp
37976 Road 222, Wishon, CA 93669
Skylake is summer camp the way it is supposed to be. Over 75 years providing a lakeside camp in the Sierra National Forest. Co-ed camp for 210 campers with 75 counselors. Bus transportation provided for all two and four week sessions. 70%+ return rate of campers-because they love it. American Camp Association accredited and member of Western Association of Independent Camps.

Sleep Away Camps in Los Angeles (or Nearby)
iD Tech Camp
Multiple Locations throughout the LA area, including UCLA Campus
Kids will have the opportunity to develop real-world tech skills and experience firsthand how interests can turn into a college degree and future career. Led by hip, tech-savvy instructors, ages 7-17 code apps, design video games, mod with Minecraft, engineer robots, build websites, produce films, and more. iD Tech also offers iD Programming Academy (for teens, held at UCLA), iD Game Design & Development Academy (for teens), Alexa Café (all-girls STEM program, held at Marymount High), and iD Tech Mini (half/full day for ages 6-9, held at Caltech).
Camp Hollywoodland for Girls
3200 Canyon Dr., Hollywood, CA 90068
Camp Hollywoodland, a residential camp for girls, has been around for over 90 years. That is over 90 years' worth of campfires, songs, skits, swim time, dances, field trips, archery, challenge zones, and amazing themed meals. Camp Hollywoodland pays homage to our tradition of turning girls into leaders. Leaders that have exceptional character, exemplify kindness, show compassion and keen spirit to overcome their obstacles. This is one reason why our Camp Hollywoodland family continues to grow. There is nothing more satisfying than making new friends, creating lasting memories, and being a part of a sisterhood that encourages and enriches your life. This summer we are eager to welcome new campers and recognize former ones!
Catalina Island Camps
Howlands Landing, Catalina Island
Located on Catalina Island, this camp is a traditional coed sleepaway camp for campers entering 2nd grade through 10th grade. Campers attend camp for 1 week, 2 week or 4 week long sessions. Activities include snorkeling, kayaking, sailing, tubing, high ropes course, archery & riflery, gardening & composting, outdoor cooking, and much more.
Griffith Park Boys Camp
4730 Crystal Springs Drive, Los Angeles, CA 90027
Believe it or not Griffith Park Boys' Camp has been part of the City of Los Angeles' Department of Recreation and Parks Camping Section since 1924. Griffith Park Boys Camp has more than 87 years of history helping give boys, through the transformative experiences of nature, a foundation for future greatness. This great place is not just somewhere; it is right here in your own back yard.
New York Film Academy
3300 Riverside Drive, Burbank, CA 91505
The 2016 summer marks the 19th season the New York Film Academy will bring it's high school summer film and acting camps to teens ages 13-17 years old. In the high school workshops, each student writes, directs, shoots, and edits, or acts in his or her own short films. Students reside at the Oakwood Corporate Housing complex. Oakwood offers two pools, tennis courts, basketball, and volleyball among its amenities. The entire property is gated and there is a 24-hour guard at the entrance to the property. A day camp for tweens (ages 10-13) is also offered.
SOCAPA School of Creative and Performing Arts
Occidental College: 1600 Campus Road, Los Angeles, CA, 90041
Come join the next generation of visual and performing artists at SOCAPA – The School of Creative & Performing Arts! SOCAPA offers 1-3 week Summer Program intensives in Filmmaking, Acting, Music, Dance, Photography and Screenwriting. Campers of all experience levels are challenged to advance their craft through hands-on learning with teachers who are leaders in their fields. With these Intensives comes the best of summer – a time for friendship and fun with activities every night and weekend. Los Angeles campers can enjoy trips to Venice Beach and the Walk of Fame, along with visits from guest artists, karaoke nights, and much more!
Sleep Away Camps on the East Coast
Camp Waukeela
23 Brownfield Road, Eaton Center, New Hampshire 03832
We believe that during their summers at Waukeela, Girls become the best version of themselves. Beyond all of the amazing activities we offer, we believe that camp truly prepares our campers for life as independent, thoughtful and self-confident young women.
Explo
932 Washington Street, Norwood, MA 02062
For more than 40 years, EXPLO has brought together bright, curious, and interesting young people from around the globe. EXPLO provides a range of one-, two-, and three-week summer programs for students ages 7 to 17 on the campuses of Yale University, Wellesley College, and Wheaton College (MA). Featuring more courses, activities, and trips than any other summer program, EXPLO is a unique, safe, and supportive learning environment. Our students make friends from around the world, discover new interests and abilities, and have fun at every turn.
Sleep Away Camps Worldwide
Global Leadership Adventures
Volunteer and travel experiences for teens featuring leadership, community service, immersive learning & adventure. At Global Leadership Adventures, we believe meaningful teen travel can be life-changing. Enroll in a GLA program and travel to Africa, Asia, Latin America or Europe. Summer and spring break sessions are open for enrollment.
Rustic Pathways
Rustic Pathways is the leader in providing superior quality international community service, education, and adventure programs for students. We offer one to three- week spring break and summer experiences, Gap Year programs, and custom group trips in 18 different countries. Each program is carefully designed to help students make meaning of their travel experiences, identify interests and passions, gain confidence, and grow as individuals. Across the globe, we employ local staff and foster lasting relationships with the communities in which we work, enabling our students to have immersive and authentic travel and service experiences. Locations include: Australia, Cambodia, China, Costa Rica, Cuba, Dominican Republic, The Fiji Islands, Laos, Mongolia, Morocco, Myanmar, Peru, Tanzania, Thailand, United States, Vietnam.
Travel For Teens
900 West Valley Road, Wayne, CA 19087
TFT has revolutionized teen travel by creating fun and authentic programs that combine experiential learning with cultural immersion. Teens love our programs because we focus on "doing" and not just seeing. Every program uses a hands-on approach to discover what it means to live like a local in each place that we visit. 2019 Program Guide – https://www.travelforteens.com/2019-program-guide/
Sleep Away Camps Near Me
---
(clockwise from the top) Catalina Island Camp, Amplify Sleep Away Camp, iD Tech, Pali Adventures, Mountain Meadow Ranch.
Disclaimer: MomsLA has made every effort to confirm the information in this article; however, things can often change. Therefore, MomsLA makes no representations or warranties about the accuracy of the information published here. MomsLA strongly urges you to confirm any event details, like date, time, location, and admission, with the third party hosting the event. You assume the sole risk of relying on any of the information in our list. MomsLA is in no way responsible for any injuries or damages you sustain while attending any third-party event posted on our website. Please read our Terms of Use which you have agreed to based on your continued use of this website. Some events have paid to be listed on MomsLA.