Updated for 2021
February is recognized as Black History Month, and here in Los Angeles, there are many ways to celebrate the accomplishments of African-Americans in the United States.
Celebrating the heritage and achievements of Black Americans is something that doesn't need to be limited to just one month, especially here in Los Angeles. This year, many events are happening online.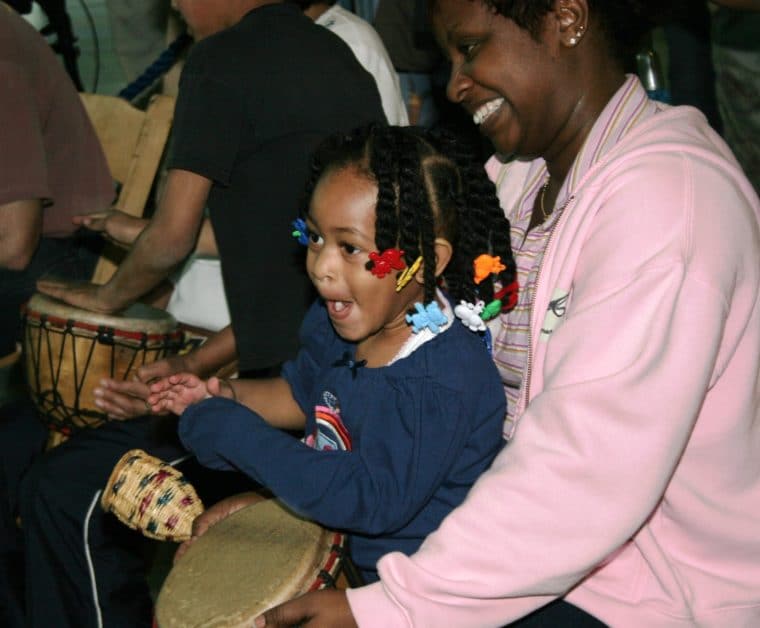 20+ Ways to Celebrate Black History Month
The Los Angeles Public Library system has a large number of resources available online to commemorate and celebrate African American History Month. You'll find books (both fiction and nonfiction), photos, podcasts, and more. Also, be sure to check the website for more information (as it becomes available) about events happening at different branches.
The California African American Museum is located within Exposition Park. The collection here consists of over 4,000 items dating back to the 1800's all the way up to the present. The Museum's collection includes paintings, historical documents, sculptures, films, artifacts, and photos. "CAAM aims to represent the diverse contributions of African Americans in the United States, but also to interpret how the past has affected identity in the present." The Museum hosts a number of special events and programs throughout the year, including many family-friendly programs. While the museum currently remains closed, be sure to check the website for information about the museum's exhibitions as well as special events (as they become available).
The Los Angeles County Public Library system celebrates Black History Month all throughout February. Check the website for more information (as it becomes available) regarding related activities and events.
The 29th Annual Pan African Film + Arts Festival is happening February 28th through March 14th. The Pan African Film Festival (PAFF) was established in 1992 and is "dedicated to racial tolerance through the exhibition of film, art and creative expression." The Festival, which is "the largest Black Film Festival in America" highlights both new and old films, as well as fine art and crafts. A variety of events are planned, and ticket information is available online. Check the website for more information as it becomes available.
The African American Firefighter Museum (AAFFM) opened in 1997. It is recognized as the "only free standing African American Firefighter Museum in the United States." Families will view vintage fire apparatus, photos, artifacts, and much more. The AAFFM is located in historic Fire Station #30 which was once a segregated firehouse. The Museum is generally open Tuesday and Thursday from 10:00 am to 2:00 pm and on Sundays from 1:00 pm to 4:00 pm. Be sure to make a note to visit once museums have re-opened in Los Angeles.
The Aquarium of the Pacific will broadcast its Virtual African American Festival, live, on Saturday, February 27th from 10:00 am to 3:30 pm. This free event "will feature African and African-American music, dance, storytelling, and historical displays." Information on how to view the Festival will be available on the Aquarium's website.
The Museum of African American Art
Macy's 3rd Floor – Baldwin Hills Crenshaw
4005 Crenshaw Blvd., Los Angeles, CA 90008
Many Los Angeles residents may not even realize the Museum of African American Art exists. And while the museum is currently closed, make a note to visit as soon as it re-opens. Its mission is to educate "visitors of all ages about the arts through the lens of African American culture." Families can access some information about the Museum's exhibitions online. Admission is free. The Museum is usually open Thursday through Sunday, from 12:00 pm to 5:00 pm each day.
The 2021 Los Angeles Black History Month Festival was scheduled for Saturday, February 6th and Sunday, February 7th from 11:00 am to 7:00 pm each day. This free community event features two city blocks of festivities including art exhibits, artisans marketplace, live music, and much more. Check the website for further details; the event may be canceled this year for health and safety reasons.
The Alma Reeves Woods – Watts Branch Library invites families to a special online event, "A Taste of Africa," on Wednesday, February 10th at 3:00 pm. "In celebration of African American Heritage Month, we will read Thank You, Omu. Learn where you can enjoy Nigerian cooking in Los Angeles and explore your family's traditions through the art of collage." Email [email protected] for the Zoom link.
The William Grant Still Arts Center invites families to view the 40th Anniversary Black Doll Show, All Dolled Up. The annual Doll Show serves as a "celebration of the monumental and small, ordinary and extraordinary events that depict Black life in all its facets." This special event honors "the diversity and uniqueness of the Black community, through an exhibition of historic, artistic, and commercial black dolls." The exhibition is available to view online.
"Betye Saar (b. 1926, Los Angeles) is one of the most talented artists of her generation." However, "she is not as well known as her talents deserve, however, no doubt largely because she is a black woman who came of age in the 1960s outside of New York City." Last year, the Los Angeles County Museum of Art hosted a special exhibition covering Saar's career and was the "first exhibition at a California museum to address her entire career and the first anywhere to focus on her sketchbooks." You can access information about this artist and the exhibition on LACMA's website.
Families can view the Ford Digital Festival: Movement/Matters online. This special festival (available in six installments) is a "celebration of how L.A. dancers have found connection, care, power, and potential on the dance floor and in the streets."
The City of Santa Monica is hosting "The Black Family: Representation, Identity, and Diversity," an online event happening on Thursday, February 4th from 10:30 am to 11:30 am. This special event will commemorate Rosa Parks Day, and features a "discussion by local families highlighting the diversity, identity and history of Santa Monica's Black community." The event will also feature dance performances as well as special small segments "highlighting the cooking traditions of Black families." RSVP to receive the link to this free event.
Families are invited to get moving with a Afro-Joy Dance Party with Tatiana Zamir on Thursday, February 18th from 6:30 pm to 7:30 pm. This special event is designed for "all bodies and levels of experience to embody joy, healing and connect with the community." Tickets are free, but reservations are required. Once you RSVP, you'll receive the link to the event.
The Los Angeles Public Library System is hosting an online event, Teen Book Bites: Black Lives Matter, on Monday, February 22nd at 3:00 pm. Librarians will be discussing "books for teens about the Black Lives Matter movement, and find some recommendations for your next great read." The event will be streamed live on LAPL's YouTube and Facebook pages.
While we can't go to the theater to enjoy a live performance, check out the website for the Alvin Ailey American Dance Theater. You'll find videos you can access of the "Company performing on stage." And while you're on the website, the Dance Company asks you to consider making a donation to help support "Alvin Ailey's mission to deliver dance back to the people."
On Thursday, February 11th at 3:00 pm, "award-winning children's and young adult author Kwame Alexander will discuss his books during a moderated Z&A conversation." Check the website for details on registering and learning how to share your questions before the event.
The Bowers Museum is hosting a special two-day online event, Historical Insights into the Black Experience in Santa Ana and Greater Orange County, on Sunday, February 7th and Monday, February 8th. This presentation will "shine light on the experience of Black Americans in Orange County from the formation of the county and 1889 to the turbulent 1960s to current day." Tickets are available online ($10).
The virtual edition of the Annual African American Children's Book Fair is happening on Saturday, February 6th. Join a number of authors and illustrators for this special event. Check the website for more details as they become available.
While it's not possible to visit the National Museum of African American History and Culture right now, luckily you can visit the Museum's website. The Museum has a large number of digital resources available including information and tools on talking about race, online exhibitions, video archives, and much more.
Wendy Kennar is a mother, writer, and former teacher who has lived her entire life in the same Los Angeles zip code. You can read more from Wendy at her website WendyKennar.com where she writes about books, boys, and bodies (living with an invisible disability).
Disclaimer: MomsLA has made every effort to confirm the information in this article; however, things can often change. Therefore, MomsLA makes no representations or warranties about the accuracy of the information published here. MomsLA strongly urges you to confirm any event details, like date, time, location, and admission, with the third party hosting the event. You assume the sole risk of relying on any of the information in our list. MomsLA is in no way responsible for any injuries or damages you sustain while attending any third party event posted on our website. Please read our Terms of Use which you have agreed to based on your continued use of this website. Some events have paid to be listed on MomsLA.