Looking for a terrific experience for your daughter this summer? One that will nurture her creative spirit and help foster her authentic voice at the same time? We're partnering with Amplify Sleep Away Camp to let you know about this amazing opportunity.
Amplify Sleep Away Camp is an award-winning summer camp for girls in 3rd–12th grades. Amplify's experienced team of mentors lets campers follow their dreams, try incredible new things, and gain lifelong friends and positive role models in a safe and supportive environment.
This is a sponsored post.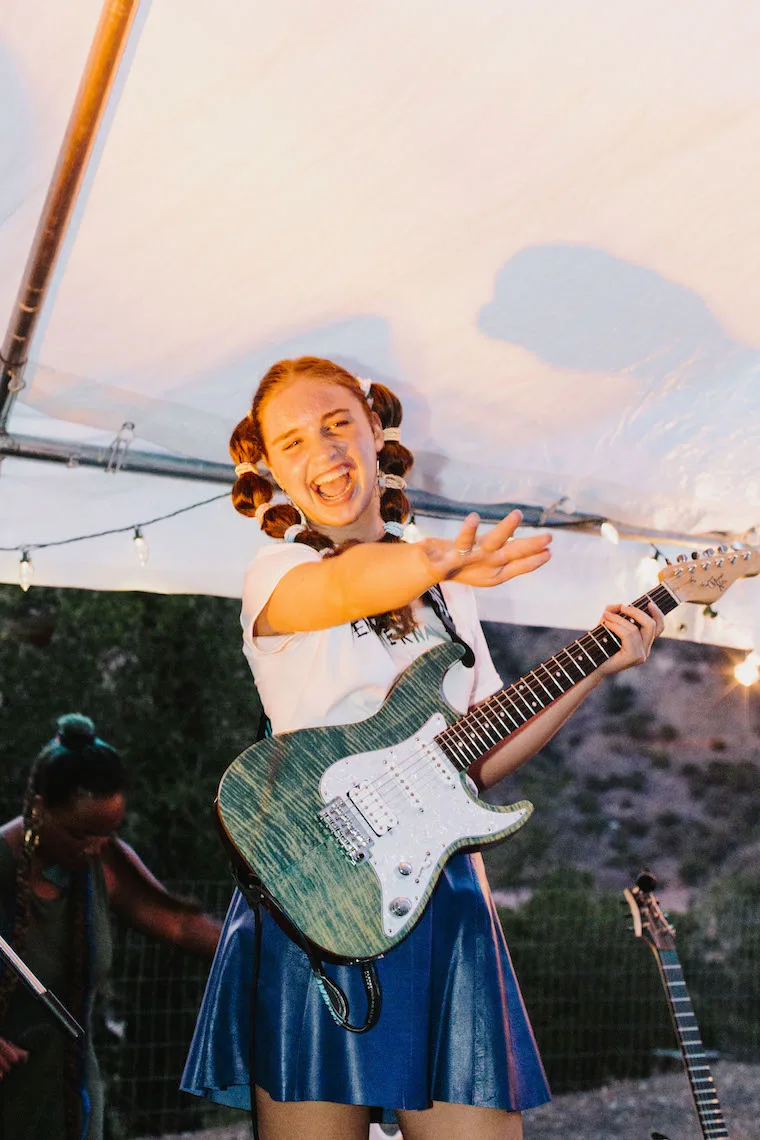 About Amplify Sleep Away Camp
Set high up in the beautiful Ojai mountains, Amplify attracts campers from all over the world and gives them the chance to spend time being creative without judgment or expectation, whether they want to play in a band, film a music video, skateboard, DJ, and much more.
This creative oasis works to challenge gender stereotypes, encourage collaboration and tolerance among peers, and provide a comfortable space for girls of all backgrounds to express themselves—to AMPLIFY their voices as their authentic selves.
Find out more about Amplify Sleep Away Camp for Girls.
Summer 2022 Schedule
Amplify is offering 4 unique 2-week-long sessions over 8 weeks total in summer 2022. Their low staff-to-camper ratio of 1:6 ensures a level of instruction, engagement, and mentoring that makes the experience unforgettable, and there's optional private lessons for campers who want a little extra time mastering their craft.
2022 Session Dates
Session 1: June 19–July 2
Session 2: July 3–16
Session 3: July 17–30
Session 4: July 31–August 13
Special Promotions for Summer 2022
? Campers can invite a friend to camp, and both families save $100 off tuition! There is no limit to this offer—the more friends you invite and get to sign up, the more you save. Contact Amplify for more information.
? All campers who sign up for multiple sessions go on the exclusive overnight blowout trip to CATALINA ISLAND.
? All campers who sign up for multiple sessions will also be entered into Amplify's drawing for 2 FREE TICKETS to see a huge surprise artist this fall.
Creative Tracks for Campers
Campers choose a specialty to focus on during each session of Amplify. Some campers sign up for a different track for each session they're enrolled in, and some stay with the same track for the whole season.
Campers can choose from the following 8 creative tracks*:
Rock Band (drums, guitar, bass, vocals, or keys/piano*)
DJ*
Music Production & Sound Engineering*
Photography*
Music Video Making*
Podcasting*
Journalism*
Skateboarding*
*Not all creative tracks are offered every session, but you can catch 'em all if you sign up for multiple sessions.
Tracks are campers' concentration for the session—even the whole summer if they want. Campers are highly encouraged to come for at least 2 sessions so they can experience as many different creative tracks, friendships, electives, and off-campus adventures as possible. Choose a different track each session or stick with one track for the season to become an unstoppable expert.
Syryn Leadership Program
Campers exiting 11th and 12th grade participate in this intentional leader-in-training (LIT) program, where teens get all the fun of sleep away camp, plus all the professional experience and skill development of an advanced internship. LITs also get to go on additional off-campus trips and engage in challenging electives designed just for them. They also earn 40+ hours of community service!
Check out this video of what Amplify Sleep Away Camp is like for girls!
Summer Camp Is Not School
While there are track-specific "lessons," Amplify is so not school. Imagine learning to play an instrument, writing an original song, jamming on stage, directing a real music video, creating a podcast, or producing your own sick beats! Doesn't sound like school to us.
Campers spend a few hours most days in their track-specific lessons, with another several hours in awesome electives or camp-wide communities like outdoor movie night, sprinkler games, karaoke, zine making, color dust games, hiking, improv, and dozens more.
There's even a Friday night dance party and Saturday pool party every session, planned by campers themselves! Campers largely move throughout camp with their own age groups, including dorm assignments, electives, and creative tracks.
Summer Field Trips
At least one day every week is spent on field trips at Hurricane Harbor, Universal Studios, Magic Mountain, and local beaches. (Youngest campers ("Lights") get their own special bonding day featuring low ropes course and many other fun team-building activities, instead of amusement parks. This is often the highlight of the whole session for Lights!)
Campers who sign up for at least 2 sessions also get treated to an overnight camping trip to Catalina Island, where they'll get to go zip lining, jumping through the trees on an aerial adventure, and sea kayaking!
Health & Safety Measures
Amplify follows all safety protocols issued by both Ventura County Public Health and the CDC when it comes to communicable disease, including COVID. They're happy to report that in 2021 their COVID-related safety protocols put Amplify in the top 10% of all camps nationwide for health and wellness. Measures currently planned for this summer include upon-arrival testing, drive-thru check-in process, and outdoor meal time.
Learn more about this amazing camp by checking out their website or contacting them anytime at 805-699-5247 or [email protected].
This is a sponsored post in partnership with Amplify Sleep Away Camp.