This is a sponsored post.
Amplify Sleep Away Camp is for girls from 5th – 12th grades, and lets them follow their dreams, try incredible new things, and gain lifelong friends and positive role models in a safe and supportive environment.
Set in beautiful Ojai, California, Amplify Sleep Away Camp attracts Campers from all over the world, and gives them the chance to spend time being creative, whether they want to play music, take photos, make films or podcasts, or even become journalists.
This awesome Summer Camp works to challenge gender stereotypes, encourage collaboration and tolerance among peers, and provide a comfortable space for girls of all backgrounds to express themselves – to amplify their voices.
Amplify/Girls Rock is offering two 2-week sessions and one 1-week session over 6 weeks in Summer of 2021. Their very low staff-to-camper ratio of 1:3 ensures a level of instruction, engagement, and mentoring that makes the experience unforgettable.
Special Promotion for Summer 2021
New Campers can invite a friend to camp and you will both save $100 off your tuition! There is no limit to this offer and the more friends you invite the more you will save! Contact Amplify for more information about the savings.
Creative Choices for Campers
Campers choose a specialty, called a "track," to focus on during each session of Amplify. Some campers sign up for a different track for each session they're enrolled in, and some stay with the same track for the whole season. There's no wrong way to Amplify your voice.
Campers can choose from the following 5 tracks:
Rock Band Track
Photography & Film Track
Journalism & Podcasting Track
Music Production & Engineering Track
Syryn Leadership Academy
Tracks are campers' concentration for the full 2-week session – even the whole summer, if they want. Campers are highly encouraged to come for at least two sessions, and girls may attend as many as they like..
Multi-session campers are welcome to choose a different track in their second/third session, or they can stick with one track for the season to truly become unstoppable experts.
Summer Camp is Not School
While there are track-specific lessons, Amplify is not the same as school. Imagine learning to play an instrument, create a podcast, or record music! Doesn't sound like school to us.
Campers spend mornings in their track-specific lessons 3 days/week, with afternoons and the other days spent taking awesome field trips, like to Hurricane Harbor, and participating in group activities and workshops, like karaoke, hiking, and much more.
Plus, campers who sign up for at least 2 sessions will be treated to an overnight trip to Catalina Island!
COVID 19 Safety Measures in Place
In 2021, Amplify has put many plans in place to keep campers safer.
Before Camp begins, there will be a 14-day quarantine, with App-based check-ins to submit daily temperature (starting 14 days before camp arrival). On day 7 of quarantine, a self-administered rapid test with Ellume COVID-19 Home Test is required.
Upon Arrival at Camp, there will be Drive-thru check-in, with a fever check and symptom questionnaire, as well as a Nurse-administered rapid test with Ellume COVID-19 Home Test.
During Camp, there will be daily fever checks at breakfast, and Campers will be eating most meals outdoors. There will be increased hand hygiene at handwashing and sanitizing stations posted throughout camp, and increased outdoor time.
All high-touch surfaces, e.g., gear, doorknobs, tables will be sanitized daily by Camp staff. Masks are to be worn if activity requires people be closer than 6' apart. And there are multiple, separated infirmary rooms within the camp health center.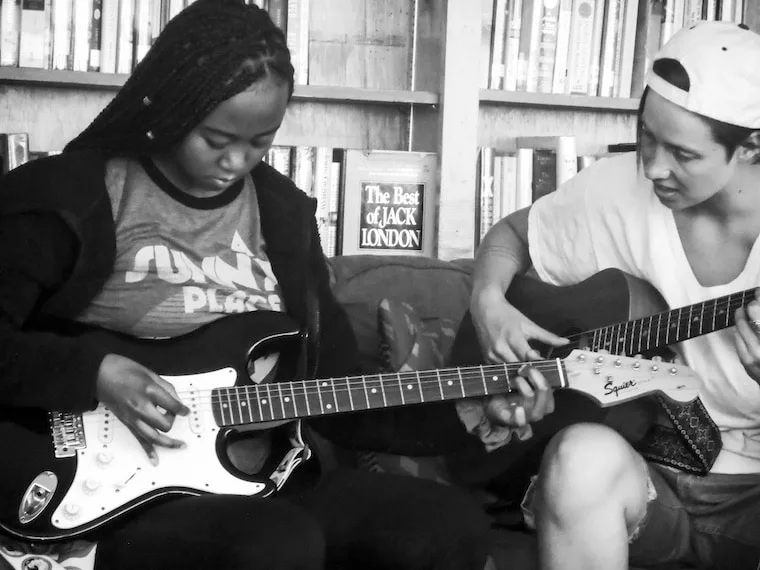 Campers are safer at sleep away camps
Girls Rock/Amplify will not be bringing in guest instructors, artists, speakers, as in past Summers. Instead of inviting guest artists to perform for campers every day at lunchtime, there will be live performances, open mic's, improv/comedy sketches, and more from campers and amazingly talented staff (most of whom are in their own bands when not at camp).
In 2021, they are switching some things around to guarantee Campers will be spending as much time in Ojai's glorious mountain air as possible, such as spending off-campus day trips at the beach instead of inside bowling alleys or escape rooms. And for the first year ever, they're also treating campers who stay for multiple sessions to an overnight Catalina Island Blowout!
Find out more about this amazing Camp by checking out their website.
This post is part of a sponsored campaign with Amplify Sleep Away Camp/Girls Rock Santa Barbara.