Updated for 2023
Bike riding with kids is one of the most fun activities you can do as a family in Los Angeles. With near perfect weather year round in Southern California, families can ride their bikes anytime they want.
We know there's always some risk when riding in the bike lanes, even though they've been made safer over the years, so we've focused on Bike Trails and Paths.
If you're lucky enough to live on a cul-de-sac or a street where car traffic is light, you and your kids can obviously ride there safely.
If you're looking to get out beyond your street to go on a bit further of a bike ride with your kids, we've curated a list for you of the best bike trails for kids in Los Angeles!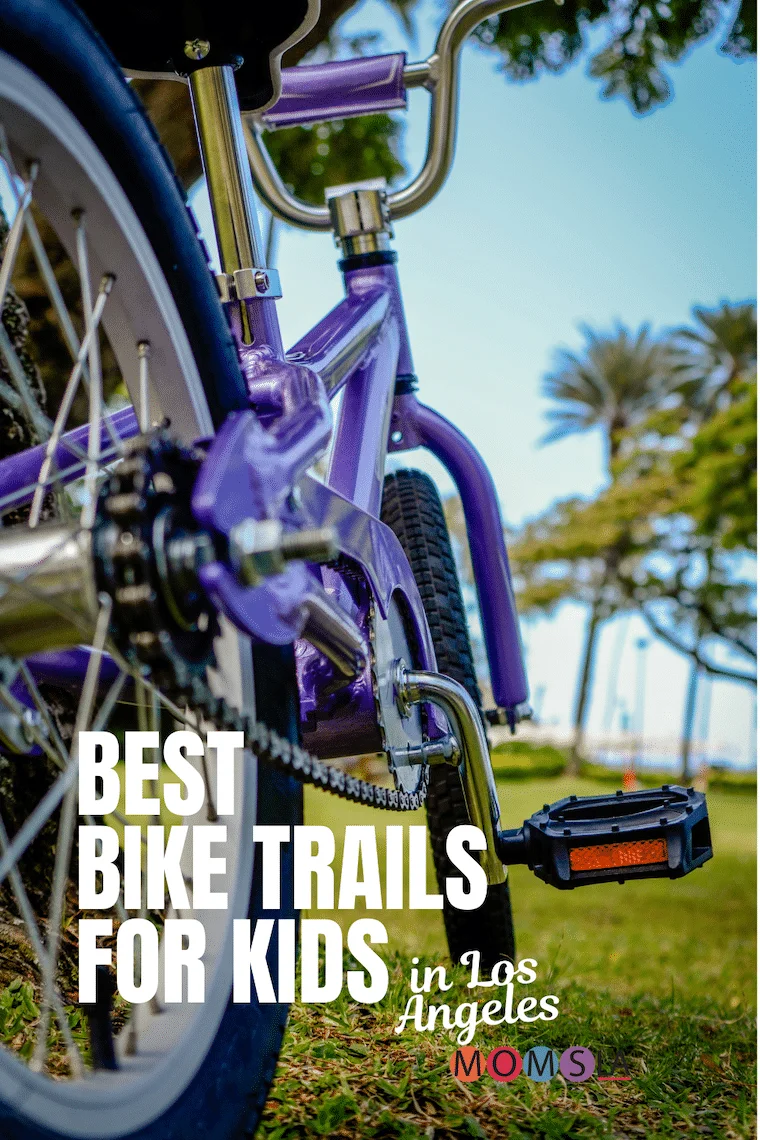 Bike Trails for Kids and Families in Los Angeles
The Bike path along the Expo train line from Overland Avenue to Santa Monica is a paved trail that can be great for families. The path goes all the way to the Colorado/17th Street station. Experienced bikers can take city streets to the beach and jump on the "Strand" bike trail (see below). Even though there are a lot of street light stops along the way, it's a fun beginner ride for kids.
The 27-mile Marvine Braude Bike Trail aka "The Strand" stretches along the beach from Pacific Palisades to Palos Verdes, offering a long stretch of flat and well-maintained surface to ride that is perfect for kids. The gorgeous bike trail provides an easy cruise for biking families hoping to experience many of L.A.'s most admired beach towns: Santa Monica, Venice, Marina del Rey, Manhattan, Hermosa and Redondo. However, keep an eye out for joggers, roller skaters and walker who also use the path.
The city of Thousand Oaks opened the Conejo Creek Bike Path in Spring 2011 and it provides a nice and flat bicycle path alternative to the busy city streets. . The 1.2 mile path connects Gainsborough Road on the south to Conejo Creek Park South (the playfields), Thousand Oaks Library and Teen Center. The paved path is 12-feet wide and provides a safe bike path away from traffic for younger riders to cycle freely, away from cars.
Griffith Park Bike Loop
4730 Crystal Springs Avenue
Los Angeles, CA 90027
Often referred to as the Central Park of Los Angeles, Griffith Park is LA's largest park and it contains The Autry, Greek Theater, L.A. Zoo, Travel Town, Griffith Observatory, the Griffith Merry-go-Round, L.A. Equestrian Center, L.A. Live Steamers and so much more. Best yet there is also a scenic tree lined 9 mile bath path loop that is perfect for families. We suggest starting the bike loop near the ranger station. You can even get a bike rental at Spokes 'n' Stuff if you need an extra set of wheels.
The city of Glendale implemented a master plan for kids who ride their bikes to school in an effort to keep the streets and pathways a safer place to ride. They have improved their biking infrastructure to reflect this concern and they also implemented safety and educational programs all in an effort to improve the entire cities use of bicycles as transportation.
The Metro Orange Bike Path and pedestrian path parallels the four-mile Metro Orange Line Extension from the Canoga Station across the San Fernando Valley up to Chatsworth. It also links up with the Sepulveda Dam Bike Path.
Hop on your bike and ride along the water's edge on the main beach from Alamitos Bay to Shoreline Village. This 3.1-mile bike path is a 17-foot-wide concrete trail on the beach, extending from Alamitos Avenue on the west to 54th Place on the east. Two six foot lanes are for bicycle traffic and one five foot lane is for pedestrians.
Lake Balboa is a 80-acre park with a 27-acre lake filled with water reclaimed from the Tillman Water Reclamation Plant. There are many trails and paved paths to explore. Wheel Fun Rentals offers bike rentals in case you need an extra set of wheels.
The 7-mile path starts at Syn Kronenthal Park in Culver City and travels all the way to the ocean in Marina Del Rey. Continue south on the trail to Redondo Beach. The path can be accessed on many streets in the area and can be a fun ride during the day on a weekend.
This 3.1 mile trail around Rose Bowl Stadium is great for families just starting to ride together. It's a popular spot so best to go early in the day.
Disclaimer: MomsLA has made every effort to confirm the information in this article; however, things can often change. Therefore, MomsLA makes no representations or warranties about the accuracy of the information published here. MomsLA strongly urges you to confirm any event details, like date, time, location, and admission, with the third party hosting the event. You assume the sole risk of relying on any of the information in our list. MomsLA is in no way responsible for any injuries or damages you sustain while attending any third-party event posted on our website. Please read our Terms of Use which you have agreed to based on your continued use of this website. Some events have paid to be listed on MomsLA.