Best Farmers Markets in Los Angeles
Farmers markets are a way of life for Los Angeles residents, even before it was cool. The pioneering Santa Monica market celebrated its 30th anniversary in 2011. Thanks to the year-round perfect weather in Southern California, Los Angeles has year-round Farmers Markets where home chefs and restaurant suppliers like to pick up the freshest produce available. Farmers markets are like the Los Angeles version of the European town square, where you shop for dinner, chat with farmers' and even grab a coffee and a pastry with friends. To assist you we've created a list of the best farmers markets in Los Angeles.
Altadena Farmers Market
600 West Palm Avenue, Altadena, CA 91001
Fall/Winter Hours: Wednesdays 3-7pm, Spring/Summer Hours: Wednesdays 4-8pm. Rain or shine.
Beverly Hills Farmers Market
9300 Civic Center Drive, Beverly Hills, CA 90210
The market features special events such as a Kid's Zone, Cookin' Kids, Story Time, Community Services Department Showcase, Pie Bake and Piesta, PickleFest and hosts more than 60 farmers and vendors every week. Open Sundays from 9:00 a.m. to 1:00 p.m., rain or shine.
Brentwood Farmers Market
741 South Gretna Green Way, Los Angeles, CA 90049
At the Brentwood Farmers' Market you'll find a wide variety of produce as well as baked goods, specialty gourmet prepared foods and handmade arts & crafts. All produce comes straight from California farms and has been certified by the Department of Agriculture of California. Open Sundays 9:00 am to 2:30 pm.
Burbank Farmers Market
Olive Avenue and Glen oaks Boulevard, Burbank, CA 91502
Located in the parking lot behind the Community Services Building, at the corner of Olive and Glenoaks, there is plenty of free parking: including on the street, in the Police/Fire Dept lot across Orange Grove, and behind City Hall. Every Saturday morning, 8am to 12:30pm, rain or shine.
Culver City Farmers Market
Main Street, Culver City, CA 90232
The year round market offers fresh fruits, vegetables and a selection of other fine foods, and takes place every Tuesday, rain or shine, on downtown Culver City's Main Street, from 2 to 7 pm. 2 hours of free parking.
Downtown LA Farmers Market
West 5th Street, Los Angeles, CA 90013
The Historic Downtown Farmers' Market was established July 8, 2012. Along with fresh local groceries, you can pick up some delicious prepared food and drinks. Open every Sunday 9:00am until 2:00pm.
Echo Park Farmers Market
Lot #663, Logan Street, Los Angeles, CA 90026
Founded in 2006, the Echo Park Farmers' Market has grown steadily to become one of the most popular certified markets. Every Friday, more than a dozen farmers set up their tables and offer up a wide variety of produce and value added products like jams and jellies, honey, and fresh farm-grown flowers. Every Friday rain or shine, from 3pm-7:30pm.
Encino Farmers Market
17400 Victory Boulevard, Van Nuys, CA 91406
The Encino Farmers' Market is a certified farmers' market, featuring a great variety of California grown fruits, vegetables, artisanal cheese, fresh flowers, eggs and chicken, honey, mushrooms, plants, and more Year Round on Sundays from 8am-1pm ample free parking.
Hollywood Farmers Market
Hollywood Boulevard and Ivar Street, Hollywood, CA 90028
Founded in 1991, the Hollywood Farmers' Market brings together farmers and producers from as close as Ventura County as and far as far away as the Central San Joaquin region. Validated parking available at the Arclight/Cinerama Dome lot, $3 for 2 hours. Every Sunday, rain or shine, from 8am-1pm
Mar Vista Farmers Market
3826 Grand View Boulevard, Los Angeles, CA 90066
The first Mar Vista Farmer's Market took place on August 6, 2006. In just a short time it has more than met its goal of bringing fresh, direct-marketed produce from California farmers to the community. Open Sundays from 9am to 2pm, rain or shine.
Pacific Palisades Farmers Market
Pacific Palisades Commercial Village
15777 Bowdoin St. Pacific Palisades, CA 90272
Located in a gorgeous location and offers the freshest produce. Open Sundays, 8am – 1pm.
Santa Monica Farmers Market
2640 Main Street, Santa Monica, CA 90405
Founded in 1981, Santa Monica offers not only one Farmers' Markets – they offer four! Two on Saturday and another on Wednesday, from around 8:30 AM to 1 PM. Sunday 9:30 AM to 1 PM. See the site for exact schedules.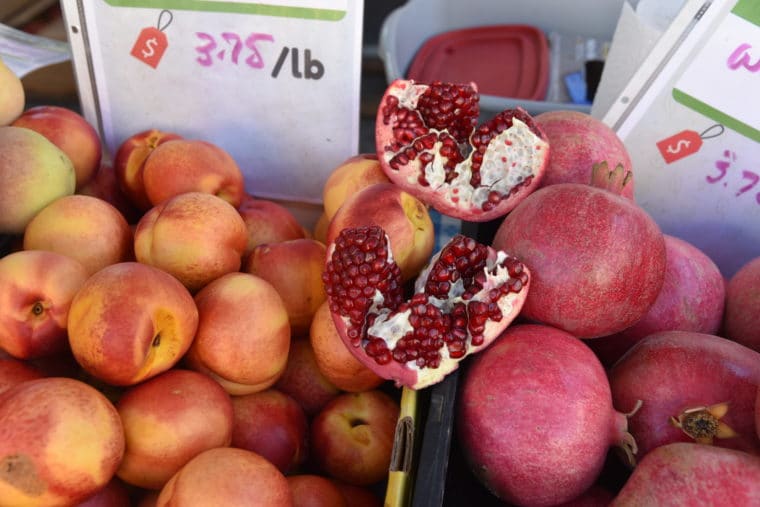 Studio City Farmers Market
Ventura Place
Studio City, CA 91604
The Studio City Farmers' Market is more than just a place to shop, it is a place to meet and enjoy an afternoon with family and friends. The Market offers hot foods from Corn Maiden Tamales, Olive Wood Pizza, Mama Musubi rice balls, Salvadorean pupusas, breakfast burritos, bacon wrapped hot dogs and more. If you have little ones don't forget to check out the pony rides, petting zoo, train ride and bouncy slide. Sunday 8 AM to 2 PM.
South Pasadena Farmers Market
Meridian Avenue & El Centro Street, Pasadena, CA 91101
Fresh California-Grown Produce in Your Own Back Yard Every Thursday Rain or Shine. Summer Hours 4pm to 8pm.
The Original Farmers Market
6333 West 3rd Street, Los Angeles, CA 90036
Parking is available in either of the Market's two convenient lots, 2 hours free validation with purchase from a Farmers' Market merchant. Monday – Friday: 9 am to 9 pm, Saturday: 9 am to 8 pm, Sunday: 10 am – 7 pm.
MOMSLA IS YOUR SOURCE FOR THINGS TO DO IN LOS ANGELES WITH KIDS.
Disclaimer: MomsLA has made every effort to confirm the information in this article; however, things can often change. Therefore, MomsLA makes no representations or warranties about the accuracy of the information published here. MomsLA strongly urges you to confirm any event details, like date, time, location, and admission, with the third party hosting the event. You assume the sole risk of relying on any of the information in our list. MomsLA is in no way responsible for any injuries or damages you sustain while attending any third party event posted on our website. Please read our Terms of Use which you have agreed to based on your continued use of this website. Some events have paid to be listed on MomsLA.
[social-bio]