Updated For 2023
It isn't always easy to find the place for kids' haircuts. Somewhere that you and your child like, somewhere that you and your child will feel comfortable, and somewhere that you and your child will walk out and like the final results.
Here's a list of some of the best places for a kids' haircut in Los Angeles and around SoCal. Each of these places are terrific; just double check their hours and location info before you go.
Have you been searching for Kids Haircuts Near Me? We've got you covered with our interactive map of all the places on this list. Check it out!
Baby's First Haircut
Your baby's first haircut is a big deal, so you'll want to make it a memorable event. It's nice when the salon can offer a special chair, such as one in the shape of a car, or offers a balloon or lollipop as a treat. Some will even save a lock of hair for your scrapbook! Just ask.
Some parents get their kid's haircut right away, while others wait as long as possible before trimming their baby's hair. It's a very personal decision.
Some kids can be afraid of the experience, so you want a place that puts them at ease, makes it feel like fun, and hopefully keeps the tears to a minimum.
Remember: haircuts for kids take less time than for adults, so you'll easily be able to take care of them while running errands, or after school.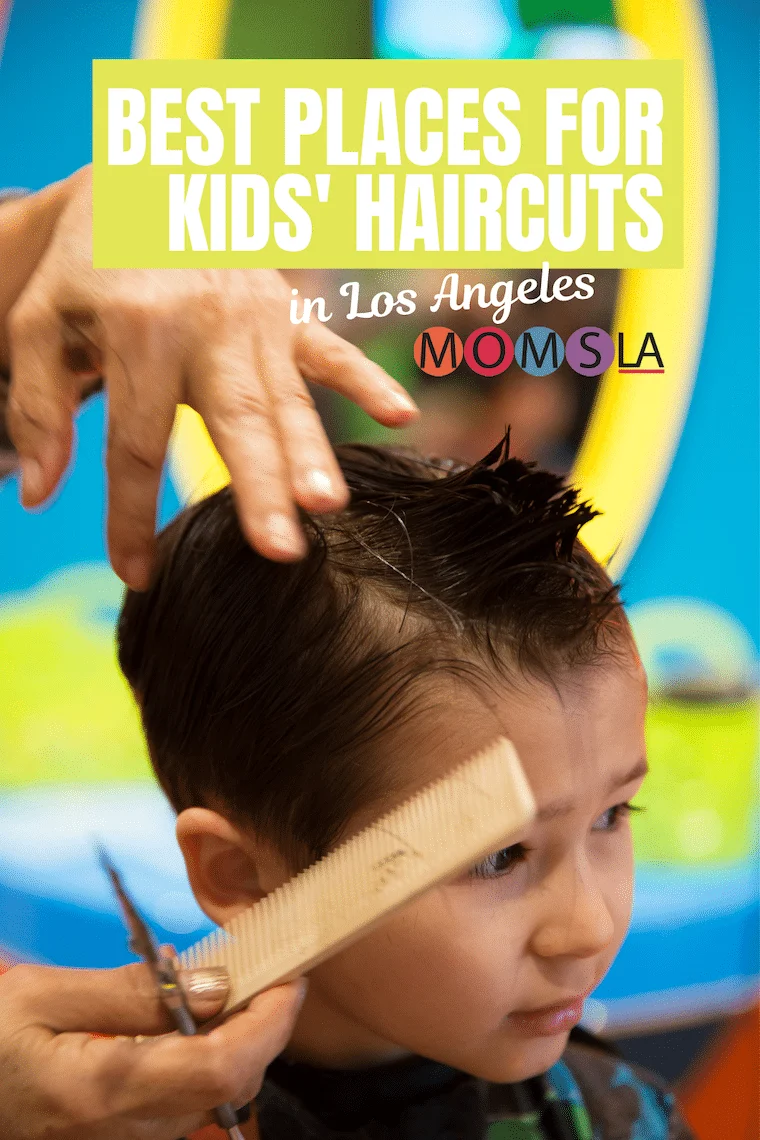 22 Best Kids' Haircuts all Around SoCal
The Shaggy Monkey
1605 Hope St. #110, South Pasadena, CA 91030
(626) 799-4247
"Shaggy Monkey is a hair salon dedicated to making children, little and big, feel comfortable while getting their hair washed, cut or styled." Older kids, ten and up, will find themselves in a room separate from the younger clients. Kids can watch movies and little ones can play with toys to serve as a distraction while getting their haircut. Haircuts are $18, plus an additional $7 if a shampoo is needed. Note that the salon currently has limited hours, capacity, and staffing.
Lollicut
18663 Ventura Blvd., Ste. 128, Tarzana, CA 91356
(818) 342-6171
Kids may not know what to look at first when they enter Lollicut. They'll find hand-painted murals, a large television, video games, and fun salon chairs including a Barbie car, a motorcycle, and more. The environment is meant to help kids feel relaxed and enjoy their haircut experience. They are open seven days a week.
Family Cutz
2 Locations:
8807 Alondra Blvd., Paramount, CA 90723
15334-3 Whittier Blvd., Whittier, CA 90603
Family Cutz is a Family salon for all ages from infants to adults. Our staff is fully trained to work with all ages and capacities.
Lil' Locks
2180 Westwood Blvd. #1C, Los Angeles, CA 90025
(310) 745-2704
Lil' Locks specializes in giving kids just the right haircut. They also offer a special complimentary first haircut certificate for the youngest member of your family. A 10% discount is offered to military members, police officers, firefighters, and teachers to thank them for their service — a valid ID is required. Additionally, Lil' Locks offers the convenience of house visit appointments.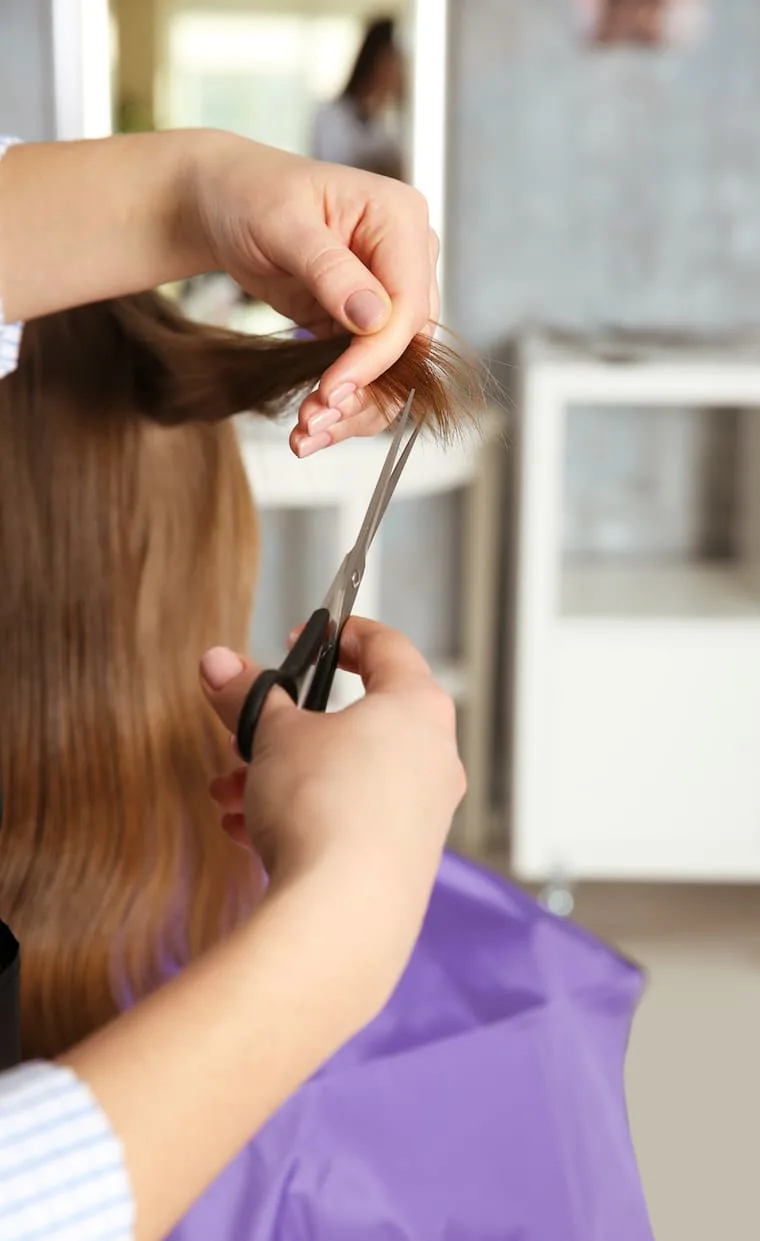 First Cut 4 Kids
550 Deep Valley Dr., Ste. 103, Rolling Hills Estates, CA 90274
(310) 541-5437
At First Cut, children will enjoy getting a haircut in a specially designed cutting station featuring built-in media centers. The media centers include flat-screen televisions, video games, and movies. And if it makes it easier for your family, First Cut also offers haircuts for adults. Haircuts for children 12 and under are $25 and up, with a shampoo it will cost $5 extra.
Tipperary has been in business since 1972 and all of its stylists have been working there for at least 20 years. You'll also find sweet treats, items that can be purchased (such as Sanrio products), and more.
Whether you're looking to document your baby's first haircut, need a lice treatment for a child, a regular haircut, or a special hairstyle for an upcoming event, Tipperary can take care of it all. Note that the salon is closed on Mondays.
Bubble Cuts
Multiple locations
2156 Colorado Blvd., Los Angeles, CA 90041
(323) 255-5627 and
2315 Honolulu Ave., Montrose, CA 91020
(818) 369-7114 and
12448 Ventura Blvd., Studio City, CA 91604
818-579-4120
Bubble Cuts is a family-owned hair salon ready to serve your entire family with three locations. Bubble Cuts features a fun, vintage-style environment.
Kids will sit in "mini cars" and can watch a movie as they get their hair cut. Adult haircuts are also offered so the whole family can get their haircut at once. Be sure to ask about the "first haircut package" as well. All locations are open six days a week.
If you live in the Thousand Oaks area, check out Sparkles and Spikes, a popular children's hair salon. At Sparkles and Spikes, getting a haircut becomes an experience. Adult haircuts are offered here, too, and a special "first haircut package" is also available. The salon is closed on Mondays.
Little Munchkins
457 W. Colorado St., Glendale, CA 91204
(818) 244-6454
It's all about comfort and fun at Little Munchkins. Children will sit in an interactive salon chair that comes equipped with its own television and DVD. Children's haircuts are $25. If parents need a haircut, they can also get it done here while the kids are occupied in the play area. Note — the salon is closed on Tuesdays.
Rock'N Cuts by Nadia
9905 1/2 Santa Monica Blvd., Beverly Hills, CA 90212
(310) 740-9940
Rock'N Cuts by Nadia is ready to help the whole family achieve their own rocking looks. In this kid-friendly environment, kids can imitate a celebrity's hairstyle, come in for a trim, or try a whole new look.
The atmosphere is described as a "sixties/seventies throwback" featuring music by the likes of the Doors, the Beatles, and others. There are also video games as well as arts and crafts to keep kids occupied if parents or older siblings are getting their hair cut and/or styled. The salon is closed on Sundays and Mondays.
Snip-Its
2525 E. Foothill Blvd., Pasadena, CA 91107
(626) 239-7442 and
730 S. Allied Way Ste. E, El Segundo, CA 90245
(310) 322-7647 and
8170 E. Santa Ana Canyon Rd. #191, Anaheim, CA 92808
(714) 363-3981
You'll find three Snip-Its locations around southern California. Snip-Its strives to make getting a haircut a whole lot of fun, so kids see it as more of a fun time and less as a chore.
As soon as you check in, your kids will be welcomed with an interactive video. At select Snip-Its locations, special accommodations for children with autism are made so that they have a fun haircut experience. Prices may vary at each location. Check the website for details.
Kidz Cuts and Waves
22946 Lyons Ave., Newhall, CA 91321
(661) 253-0355
Kidz Cuts and Waves aims to be a cozy, like-home salon that can meet the needs of each family member. Kids will appreciate the fun decor, televisions, and special child-friendly touches throughout. Unlike many other salons, the kid's price list refers to those 17 and under. The salon is closed on Sundays and Mondays.
Little Kuts
350 S. Lake Ave. Ste. 104, Pasadena, CA 91101
(626) 585-9075
Little Kuts was established in 1993 and describes itself as "Pasadena's Original Kids' Hair Salon." Since then, they've gained loyal repeat customers: families who appreciate the child-friendly atmosphere. Children can watch DVDs and/or television while getting their haircut and play with a variety of toys while waiting. They are closed on Mondays.
Cookie Cutters Haircuts for Kids
Multiple locations including
11740 San Vicente Blvd., Ste. 108, Los Angeles, CA 90049
(310) 914-9095 and
1751 Artesia Blvd., Ste. F, Manhattan Beach, CA 90266
(424) 203-6460 and
266 S. Beverly Dr., Beverly Hills, CA 90212
(310) 734-7556
There aren't many places where your child can get a haircut and play on a slide — just not at the exact same time. You'll find a fun, child-friendly environment here. Children with special needs are welcome, with stylists providing "extra special touches" for those children who need them.
Be sure to check the website for specials including "Family Day" which saves you money when bringing in multiple children during the same visit.
Sharkey's Cuts for Kids
Multiple locations including
13307 S. Street, Cerritos, CA 90703
(562) 986-0420 and
17200 Ventura Blvd. Ste. 108, Encino, CA 91316
(818) 855-1353
"At Sharkey's, all haircuts come with a wash, cut, blow-dry, fun cars or gaming stations, choice of videos, mini-cures, lollipops, and a balloon!" Whether you're looking for a salon for your child's first haircut, a regular go-to spot for every haircut, or a special style for a particular event, it can all be taken care of at Sharkey's.
Kids' Haircuts FAQs
Q: When should I get my child's first haircut?
A: The timing for a first haircut varies from child to child, but it's typically between 6 months and 2 years of age. Some parents choose to wait until their child has a full head of hair before cutting it, while others may want to trim hair that's getting in their child's eyes or becoming tangled.
Q: How should I prepare my child for their first haircut?
A: It's important to talk to your child about what will happen during their haircut and make sure they're comfortable with the idea. You can also try practicing with a pretend haircut using a toy or a doll. Consider bringing along a favorite toy or book to help keep your child distracted and calm during the haircut.
Q: How do I choose a good salon or barber for my child's haircut?
A: Look for a salon or barber that has experience working with children and a friendly, welcoming atmosphere. Read reviews and ask other parents for recommendations. It's also important to make sure the salon or barber follows proper hygiene and safety protocols.
Q: How should I communicate with the stylist or barber about my child's haircut?
A: It's helpful to bring a photo of the haircut you want or be able to describe it in detail. Be clear about what you want, but also be open to the stylist or barber's suggestions based on your child's hair type and texture. It's also important to communicate any special needs or requests, such as a need for extra patience or sensitivity.
Q: How can I make sure my child is safe during their haircut?
A: Stay with your child throughout the haircut to provide comfort and reassurance. Make sure the stylist or barber uses clean tools and follows proper safety protocols, such as using a clean cape and sanitizing scissors and combs between clients.
Q: How can I maintain my child's haircut between appointments?
A: Regular at-home trims can help keep your child's hair looking neat and prevent split ends. Use sharp scissors designed for hair cutting, and trim small amounts at a time. Consider using a detangling spray or leave-in conditioner to keep hair smooth and manageable.
Grab a copy of our Book: Los Angeles with Kids!
Looking for Fun Things to do with Kids in LA? You'll love this book! This handy-dandy, portable paperback book is packed full of ideas for FUN all over SoCal! Keep it in the car, your purse, your diaper bag – and be ready for fun anytime, anywhere!
Wendy Kennar is a mother, writer, and former teacher who has lived her entire life in the same Los Angeles zip code. You can read more from Wendy at her website WendyKennar.com where she writes about books, boys, and bodies (living with an invisible disability).
Disclaimer: MomsLA has made every effort to confirm the information in this article; however, things can often change. Therefore, MomsLA makes no representations or warranties about the accuracy of the information published here. MomsLA strongly urges you to confirm any event details, like date, time, location, and admission, with the third party hosting the event. You assume the sole risk of relying on any of the information in our list. MomsLA is in no way responsible for any injuries or damages you sustain while attending any third-party event posted on our website. Please read our Terms of Use which you have agreed to based on your continued use of this website. Some events have paid to be listed on MomsLA.