Updated for 2024
Tamales are as ubiquitous to Los Angeles as palm trees, so this list of the Best Tamales in Los Angeles certainly isn't all-inclusive — but they are our favorites. And if you're looking for Tamales Near You, take a look at our handy map down below.
In case you just arrived here, you may ask: What is a tamale? Tamales are delicious "masa" (corn dough) that can be filled with various meats, cheeses, or sweet fillings and wrapped in a corn husk, or banana leaf, then steamed and may be served with sauce, beans, and rice, or alongside an entrée. They are super comfort food!
Tamales are also a Christmas tradition that comes to us from Mexico, and we're grateful that we can partake!
True tamale fans will tell you that the best ones are made from homemade recipes and won't always be featured in the Zagat Guide. In fact, getting together with family and friends for a Tamalada (a tamale-making party) is a wonderful way to have fun AND make dinner!
But if you're not planning to make your own, you can get holiday Tamales from one of the great places on this list. Place your orders early, or prepare to wait in line. Either way, they will be worth the wait!
Find the Best Tamales in Los Angeles
Guelaguetza
3014 W. Olympic Blvd., Los Angeles CA 90006
(213) 427-0608
"Guelaguetza is a restaurant, boutique market, and an advocate of Oaxacan culture in Los Angeles." Many local patrons will tell you that you need to go here, and not just for the Tamales, but for the best Oaxacan food in the country! With its soft texture, and wrapped in a banana leaf, the Mole Negro tamales are a must this time of year. They also have a sweetened corn tamale with raisins that you won't regret. Order online or via phone or dine on the outdoor patio with health safety precautions in place. Note, the restaurant's new hours; they are closed on Mondays.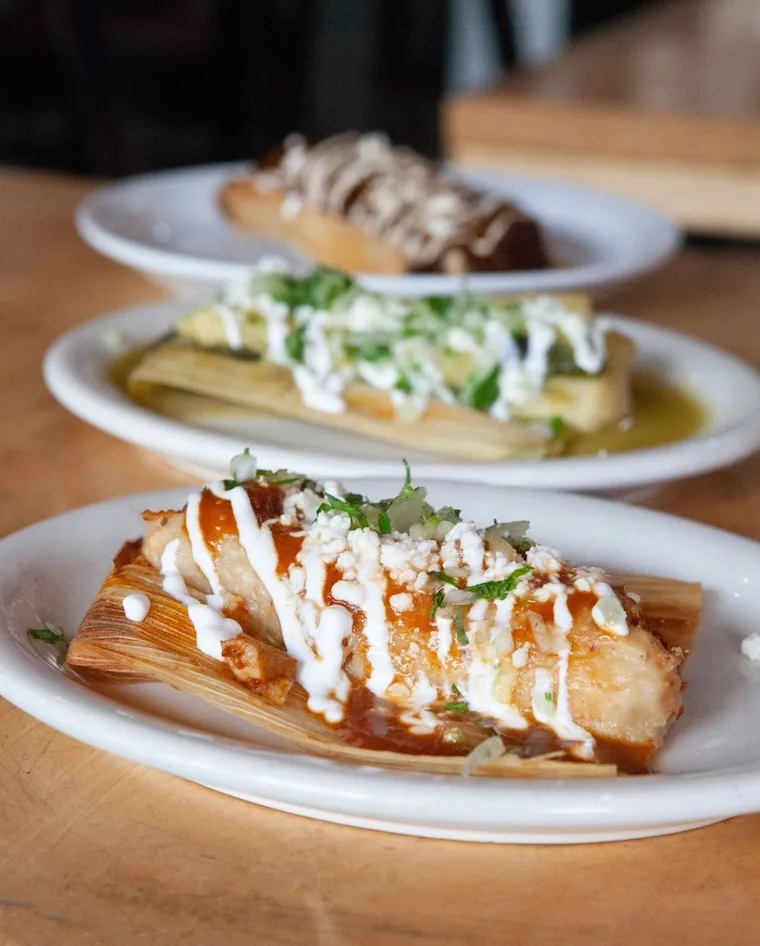 Lotería Grill
4228 West Pico, Los Angeles 90019
Lotería Grill gets into the holiday spirit with Special Tamales for this most wonderful time of year. Families can enjoy more of the festivities with loved ones and less time in the kitchen; let Lotería do the cooking with our famous Tamales, available from November through January – in person or online. Lotería brings back our Guests' favorite Tamales and we added two new Specials to this year's Menu. Running now through January, Lotería's Tamales for 2023 include:
Pollo en Salsa Verde, Roasted Chicken in Green Tomatillo Sauce
Rajas con Queso y Salsa Verde, Roasted Chile Poblano and Cheese in Green Tomatillo Sauce
Pollo en Mole Poblano, Roasted Chicken in our rich, home-made Mole Poblano
Carnitas en Salsa Morita, Juicy Pork Carnitas in our Spicy Chile Morita Sauce
NEW – Cochinita Pibil en Hoja de Plátano, Roasted Pork Pibil, cooked in Banana Leaf
NEW – Frijol con Hoja Santa, Black Beans and Hoja Santa, cooked in Banana Leaf
Lotería's Special Tamales Holiday are priced at $4.50 for individual Tamales, $27 for a Half-dozen, and $54 for one Dozen. Lotería serves all our Tamales with Salsa, Crema Mexicana, and Queso Fresco.
La Mascota Bakery
2715 Whittier Blvd, Los Angeles, CA 90023
(323) 263-5513
This is a favorite for locals! Not only because of the tamales but because of all the delicious food from tortas to pan dulce. For the holidays, people drive from all over the city to wait in line for these delicious tamales that have been sold in Boyle Heights for over 65 years.
La Indiana Tamales
1142 S. Indiana St., Los Angeles, CA 90023
(323) 262-4682
La Indiana Tamales describes itself as "the best-kept secret in Los Angeles." They offer all the traditional tamales with chicken, beef, and vegetables, as well as sweet tamales. Christmas is their "peak season," so be prepared and be patient. Tamales are made from scratch using only the freshest ingredients. For your convenience, tamales may be ordered online.
King Taco
Multiple locations including:
1118 Cypress Ave., Los Angeles, CA 90065
(323) 223-2595
Luckily, there are multiple locations of King Taco Restaurants around Los Angeles, so you're never too far away from one. King Taco was founded in 1974 and began operating from a converted ice cream truck. King Taco does the basics — chicken, pork, cheese with jalapeños, or sweet (sugar and pineapple pieces). For those with dietary restrictions, you can check the website for a list of calories and nutritional content.
Chichen Itza
3655 S Grand Ave., #C6, Los Angeles, CA 90007
(213) 741-1075
Chichen Itza Restaurant is a family-owned and operated business inside the Mercado la Paloma in south Los Angeles. They "specialize in Yucatecan Food, maintaining the authentic flavor of this original Southeast Mexican Cuisine." You can also order online. They are open seven days a week.
Gracias Madre
8905 Melrose Ave., West Hollywood, CA 90069
(323) 978-2170
Gracias Madre features "traditional Mexican cuisine made plant-based, all from scratch using local, organic ingredients." Tamales are sold by the dozen and are available in savory flavors. Check the website for information about holiday tamales and how to order them.
Me Gusta Gourmet Tamales
13752 Van Nuys Blvd., Pacoima, CA 91331
(818) 896-8789
Me Gusta Gourmet Tamales is a "family-owned business established in 1999 by the Ortega Family." What began as a small restaurant in San Fernando has grown to a 10,000-square-foot tamale factory in Pacoima. Over the years, their tamales have won numerous awards. Enjoy the classics — beef, pork, chicken, pineapple, and veggie.
Tamales Alberto
1644 W. Temple St., Los Angeles, CA 90026
(213) 663-4123
Tamales Alberto was established in 1997. Since then, they've developed a loyal following. Their tamales are made from original family recipes and are made with a variety of fillings. Select chicken, pork, and cheese tamales, or if you're in the mood for something sweet, try the strawberry and pineapple sweet tamales. Vegan and vegetarian-style tamales are also available.
Tamales House
15404 Nordhoff St., North Hills, CA 91343
7622 Reseda Blvd., Reseda, CA 91335
Many consider the tamales at Tamales House to be among the very best! Enjoy pork, chicken, spinach and cheese, and beef tamales all made with a "secret family recipe." Sweet varieties include traditional strawberry, pineapple, sweet corn, and cinnamon with raisins.
If you're searching for vegan tamales, look no further than Mama's International Tamales. This popular neighborhood spot offers a special catering menu as well. Be sure to check their Instagram account for the latest specials. They are closed on Mondays.
Tamales Elena y Antojitos
Wilmington Ave. & E. 110th St. Angeles, CA 90059
(323) 485-4029
Tamales Elena y Antojitos is described as "LA's first Afro-Mexican restaurant." Many in the Watts neighborhood are already familiar with these tasty tamales, when they were sold from a cart, and then later from a food truck. Select from both banana leaf-wrapped tamales as well as corn husk-wrapped tamales, with vegetarian and vegan options available. They are closed on Wednesdays.
Find the Best Tamales Near Me
Disclaimer: MomsLA has made every effort to confirm the information in this article; however, things can often change. Therefore, MomsLA makes no representations or warranties about the accuracy of the information published here. MomsLA strongly urges you to confirm any event details, like date, time, location, and admission, with the third party hosting the event. You assume the sole risk of relying on any of the information in our list. MomsLA is in no way responsible for any injuries or damages you sustain while attending any third-party event posted on our website. Please read our Terms of Use which you have agreed to based on your continued use of this website. Some events have paid to be listed on MomsLA.