Updated for 2020: many events have been canceled or are being held virtually this year.
Los Angeles is hosting many special events in honor of Día de los Muertos, also known as Day of the Dead. While customs may vary, traditionally family and friends focus on the memories of deceased loved ones.
Families may construct Día de Los Muertos altars to honor their loved ones and ancestors who have passed away. These altars can be adorned with bright flowers, photos, candles, and meaningful objects.
Celebrations are joyous, and it is a way for families to connect and remember through generations. Additionally, family and friends may paint their faces to resemble skulls (Calaveras) while their bodies are in a skeleton costume (Calacas).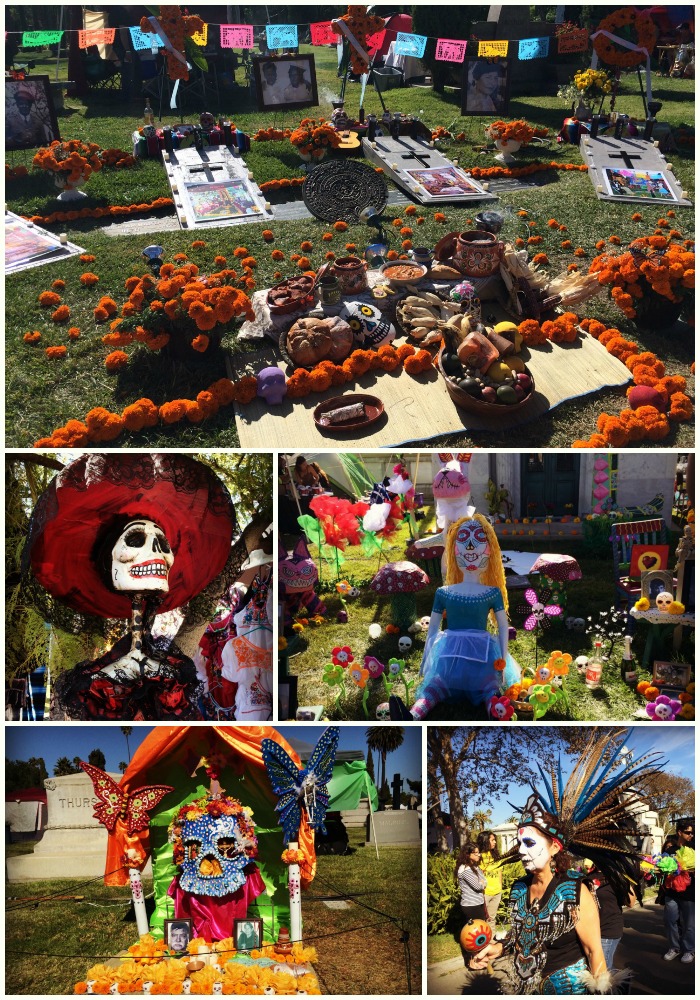 Día de los Muertos in Los Angeles
The "Maya Mash" happens November 1-2, for Dia de Los Muertos with a Traditional Altar, live Aztec dance performance by Copali-Copili, and a live Mariachi music show by Mariachi Arcoiris. Fuego restaurant will offer a special Dia de Los Muertos brunch along with several food and drink specialties served from 11 a.m. to 9 p.m. A Dia de Los Muertos Sweets Table will be served family-style and selected off the menu. Reservations required, open to the public. In addition, guests can celebrate their loved ones by painting their own "Best Sugar Skull Face" at home and wearing it to any of Fuego's "Dia de Los Muertos" events on November 1-2 where guests will have a Polaroid instant photo taken and then displayed for staff to select a winner. Guests can also take a photo of their Polaroid and post to Fuego's Instagram page @FuegoLB for chances to win Fuego gift certificates.
Carrera de los Muertos 5k – virtual for 2020
Olvera Street with race start at El Pueblo Historical Monument
125 Paseo de la Plaza, Los Angeles, CA
Carrera de los Muertos is going virtual for 2020.
The Los Angeles Public Library System invites families to celebrate Day of the Dead virtually on Monday, November 2nd from 5:00 pm to 6:30 pm. Enjoy songs, stories, and crafts in Spanish and English. The event will be live-streamed on the LAPL's Facebook and YouTube pages.
Downtown L.A.'s Grand Park is planning a Día de los Muertos celebration beginning on Saturday, October 24th and continuing through Wednesday, November 4th. Families will enjoy a "series of free, family-friendly programs curated for the COVID era with a focus on personal well-being and collective healing throughout the 12-day celebration." The programs include online arts-based workshops, digital ofrendas (altars), audio storytelling, as well as socially distant public art installations in Grand Park and on the Music Center Plaza. Check the website for details.
Los Angeles-based artists Sandra de la Loza will guide families in a DIY virtual arts-based workshop on Saturday, October 24th at 1:00 pm. This special workshop will be streamed on Grand Park's YouTube channel and provide "individuals and families the opportunity to do a hands-on project at home" converting their bikes into mobile ofrendas in the spirit of Día de los Muertos "so they can ride around town and honor their ancestors."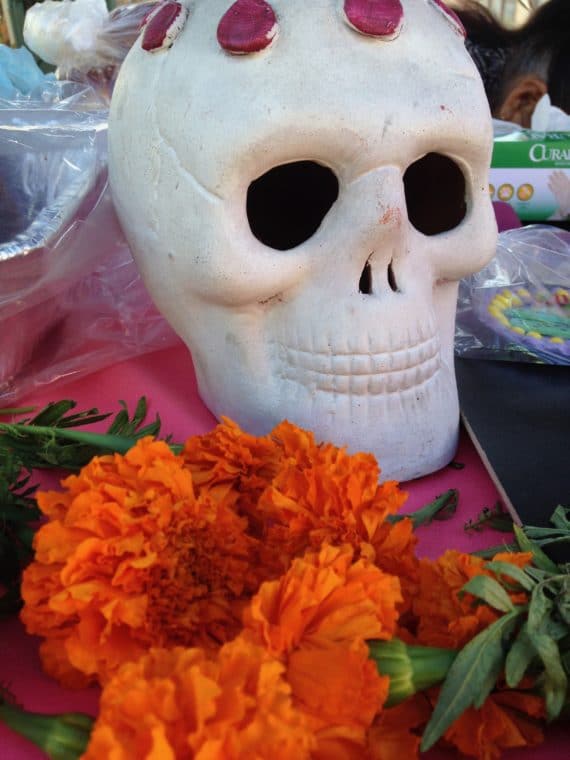 On Sunday, November 1st at 4:00 pm families can view the Self Help Graphics Annual Día de los Muertos Virtual Celebration on the Self Help Graphics YouTube channel. The program will feature performances and serve as a "program of reflection and remembrance."
Día de los Muertos and Linares Studio
Fowler Museum – Online
The Fowler Museum is hosting a special lecture on Friday, October 23rd from 5:00 pm to 6:00 pm. Families will be joined by Self Help Graphics & Art's teaching artist, William Acedo. Self Help Graphics & Art is a non-profit visual arts center serving the Latino community. RSVP online for the Zoom information.
This year, 24th Street Theatre is hosting its annual Día de los Muertos Festival online. The festivities take place on Monday, November 2nd from 6:00 pm to 7:30 pm. Check the website for details and to RSVP.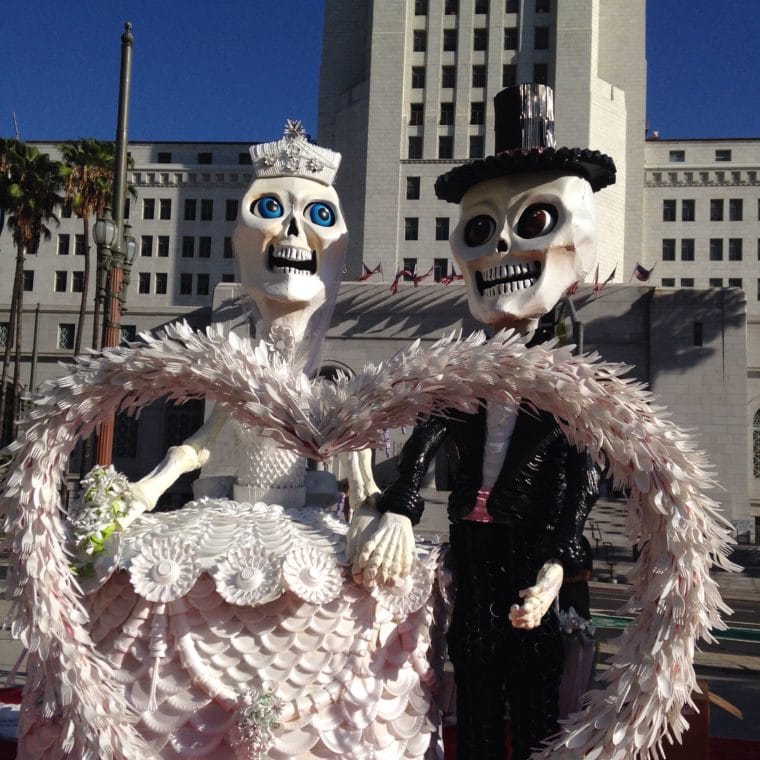 Día de los Muertos in the Valley
19th Annual Día de los Muertos Festival
Main Street Canoga Park
On Sherman Way (between Canoga and Topanga), Canoga Park, CA
No word yet if this yearly festival will be happening in 2020. Keep checking the website for further information as it becomes available.
Día de los Muertos on the Eastside
Old Pasadena may be celebrating Day of the Dead. Stay tuned.
The Downey Día de los Muertos Art Festival will be a virtual festival this year and is happening on Sunday, November 1st. The Festival features performances, , unique artwork, and more. Check the website for details.
4 Locations
Glendale: 1712 S. Glendale Ave., Glendale 91205
Covina Hills: 21300 Via Verde Drive, Covina 91724
Cypress: 4471 Lincoln Ave., Cypress 90630
Cathedral City: 69855 East Ramon Road, Cathedral City 92234
Forest Lawn will continue its tradition of bringing authentic Día de los Muertos (Day of the Dead) celebrations to the community with this year's virtual event. On Sunday, November 1, 2020, from 12:00–2:00 PM, Forest Lawn will transform viewers' homes into majestic spaces for remembrance with marigolds, live and larger-than-life sculpture Catrinas, folkloric dance performances, Mariachi music, a Bob Baker Marionette Theater performance, bilingual prayer and spoken word, a brightly colored ofrenda (altar), and more.
Día de los Muertos in San Pedro
San Pedro is planning a celebration for Día de los Muertos in 2020. Stay tuned for details. "Historic downtown San Pedro will be the place to celebrate Día de los Muertos as the streets come alive with art, culture, delicious cuisine and live entertainment."
Día de los Muertos in Santa Monica
Families can head down to the Santa Monica Pier between Saturday, October 31st and Monday, November 2nd to view a "larger than the afterlife art installation." Sculptures of La Catrina, one of the most recognizable figures associated with Día de los Muertos, by Los Angeles-based artist Ricardo Soltero will be on display. The sculptures will be on display at nine locations on the Promenade and four locations on the Pier.
Day of the Dead – Canceled for 2020
Woodlawn Cemetery, Mausoleum, and Mortuary
1847 14th St., Santa Monica, CA
Woodlawn Cemetery is hosting a Day of the Dead celebration on Sunday, November 3rd from 11:00 am to 4:00 pm. This "family-friendly event celebrates the cycle of life and the remembrance of ancestors with live music and dance, storytelling, workshops, altars, craft vendors, and food trucks."
Hollywood Forever Cemetery canceled for 2020
6000 Santa Monica Blvd., Los Angeles, CA 90038
Hollywood Forever's annual Dia de los Muertos celebrationhas been cancelled for 2020.
Día de los Muertos on Olvera Street – canceled for 2020
El Pueblo Historical Monument
125 Paseo de la Plaza, Los Angeles, CA
Create Sugar Skulls At Home
If schedules prohibit you and your family from enjoying one of these celebrations around town, or if you're looking for a fun way to get your kids involved in Día del los Muertos at home, try making sugar skulls.
It's a simple process that only requires a few ingredients. Best of all, it can be adapted so you can make enough just for your family or a large batch to share with your child's class, as Yvonne did.
Take a look at the video and step-by-step instructions below or see Yvonne's post about how to make sugar skulls.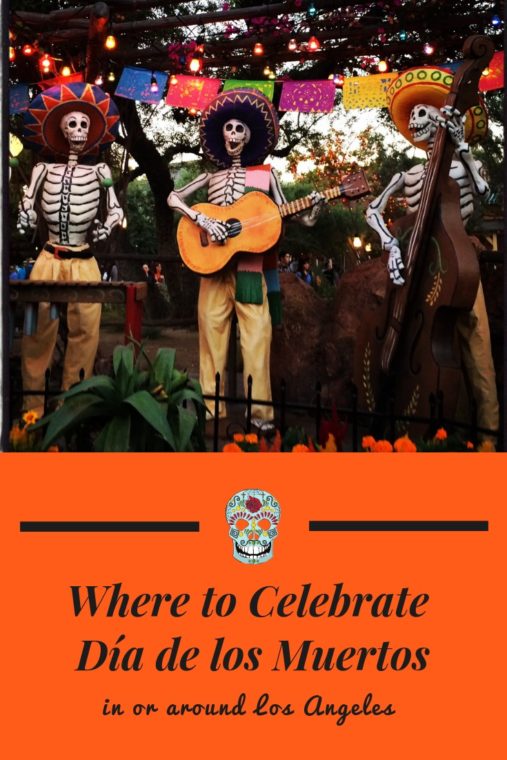 Wendy Kennar is a mother, writer, and former teacher who has lived her entire life in the same Los Angeles zip code. You can read more from Wendy at her website WendyKennar.com where she writes about books, boys, and bodies (living with an invisible disability).
Disclaimer: MomsLA has made every effort to confirm the information in this article; however, things can often change. Therefore, MomsLA makes no representations or warranties about the accuracy of the information published here. MomsLA strongly urges you to confirm any event details, like date, time, location, and admission, with the third party hosting the event. You assume the sole risk of relying on any of the information in our list. MomsLA is in no way responsible for any injuries or damages you sustain while attending any third party event posted on our website. Please read our Terms of Use which you have agreed to based on your continued use of this website. Some events have paid to be listed on MomsLA.