MomsLA was treated to a Summer kickoff event at Burke Williams Hollywood. It's their newest, spacious location, and it was a lovely evening where we were able to sample the amenities for this review. And we're giving away a Burke Williams signature Buff treatment product and a 3-day spa pass to Burke Williams spa as well. Scroll down to find out how to enter!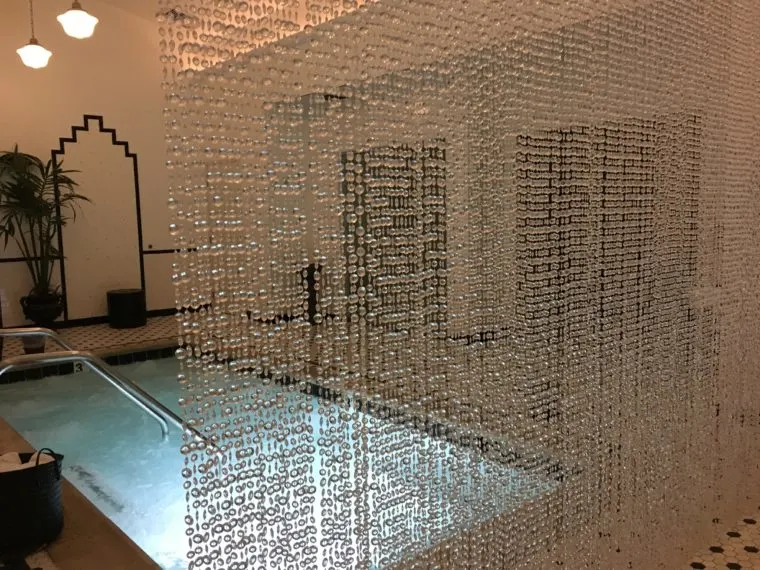 Starting off your experience on the right foot, The Hollywood location has its own parking garage, making it easy to start relaxing as soon as you arrive.
There's a salon in the location with hair and nail services, which would make it ideal for a full day of beauty for a milestone birthday present, a bridal party getting prepped, a Gal's weekend, or a Mom's Night Out.
Both Sarah and Yvonne got their nails done, which is always fun, and the pedicure seats are just adorable. And they offer a steam treatment, too.
Sarah got her hair styled and loved the look. The stylists are terrific. You could even just pop in for a blowout, with or without spending time in the spa.
But the spa, let's not forget that! There are massage and facial treatments, as well as wet room treatments.
The hot tub area is enormous and feels so luxurious! The delightful design makes you feel like you're really getting a treat.
The bathroom/locker room area is super clean and we loved the tile. Plus there's a super smart touch: a separate room for drying your hair after the hot tub or shower. Since the humidity is high near the showers, this enclosed space makes it possible to actually get your hair dry – and key for some of us: straight! Genius idea.
Like a good spa should be, the Burke Williams' vanity areas is stocked with everything you could need to get ready to go back out into the world, like hair products, moisturizers, deodorant, and personal care items.
But since no one wants to leave the spa once they get there, there are a couple of good options to postpone the inevitable: the talking lounge and the quiet room.
The lounge area is where you can hang out with your gal pals (or guy pals) and enjoy the sense of calm together. If you want an extra calm experience, there's the quiet room, where no talking is allowed. Read, meditate, or fall asleep before rejoining the outside world. It's your time.
MomsLA truly enjoyed our experience as guests of the Burke Williams Hollywood spa and we plan to head back for more treatments soon.
Disclosure: MomsLA received complimentary treatments at Burke Williams.
Related: Coolsculpting at Platinum Care
Disclaimer: MomsLA has made every effort to confirm the information in this article; however, things can often change. Therefore, MomsLA makes no representations or warranties about the accuracy of the information published here. MomsLA strongly urges you to confirm any event details, like date, time, location, and admission, with the third party hosting the event. You assume the sole risk of relying on any of the information in our list. MomsLA is in no way responsible for any injuries or damages you sustain while attending any third-party event posted on our website. Please read our Terms of Use which you have agreed to based on your continued use of this website. Some events have paid to be listed on MomsLA.