Maybe your family went horseback riding one afternoon, and now your child wants to learn even more about horses. Maybe your child read Black Beauty or saw a movie with horses. However it happened, your child now wants to take horseback riding lessons.
Riding a horse can be both exhilarating and therapeutic, and it's a great way to connect with nature. Whether you're a beginner or an experienced rider, there are plenty of places teaching horseback lessons for kids as well as adults.
Whether your kids are beginners who've never ridden before or they've been on a few pony rides and want to improve their skills, you're sure to find a great facility to go for lessons. Maybe for you, too!
You'll be able to learn from experienced instructors, ride in beautiful locations, and develop a deep appreciation for these majestic animals. To get you started, we have a list of 10+ Facilities offering Horseback Riding Lessons In and Around Los Angeles.
Connemara Ranch
400 Kanan Dume Rd., Malibu, CA
(619) 494-2348
Not only does Connemara Ranch offer Ocean View Trail Rides, they also offer horse riding lessons. One-hour lessons are offered for all experience levels. Riders must be at least 10 years old. Lessons are $100.
Epona Riding Academy
11127 Orcas Ave. Barn B, Lakeview Terrace, CA 91342
(818) 568-2373
Epona Riding Academy is a woman-owned business. The goal here is "not just to help you become a better rider, but to help you become a better horseman." Epona specializes in "the English Hunter style of riding and Equitation." Private lessons are 30-minutes long and group lessons are 45-minutes long.
Hansen Dam Riding School teaches horseback riding and horsemanship for students from age four and up to adults. Lessons are offered privately, semi-privately, or in groups. Students progress through five different levels of instruction. Lessons begin with a 30-minute Evaluation Lesson, as an introduction to horseriding and horses in general. Summer and holiday camps are also offered.
Hillcrest Ranch
11630 Zelzah Ave., Granada Hills, CA 91344
(818) 388-6048
Hillcrest Ranch, at the base of the Santa Susana Mountain Range, describes itself as a "small, friendly, non-competitive family horse boarding facility that has been around for over 40 years." Lessons are offered for children (ages 5 and up) and adults.
J Bennett Farms
Los Angeles Equestrian Center, Barn A
480 W. Riverside Dr., Burbank, CA 91506
(818) 232-1072
Bennett Farms offers lessons to riders of all experience levels. They specialize in teaching Saddle Seat and Western Riding styles. Lessons are private and are 30-minutes long. Lessons are $75 each or a package of 6 lessons is available for $425. Bennett Farms is closed on Mondays.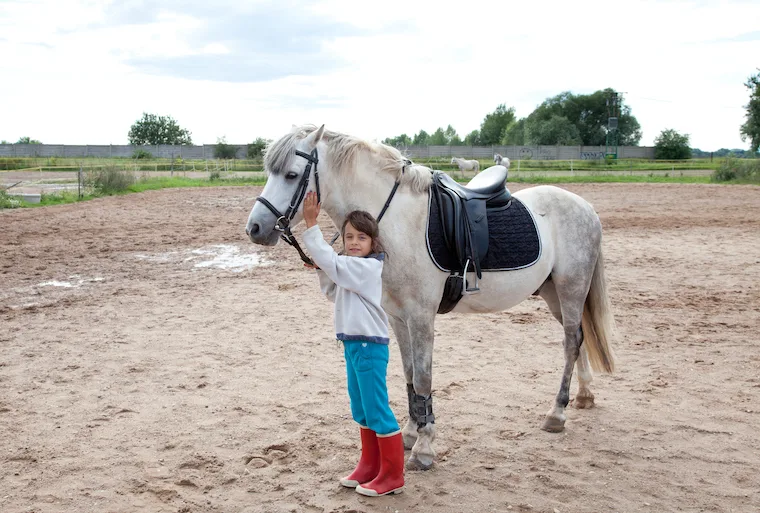 Jigsaw Farms
1501 Will Rogers State Park Road, Pacific Palisades, CA 90272
In addition to their Trail Rides, Jigsaw Farms also offers English and Western lessons. "Our riding program is designed to provide a solid foundation for beginning riders and a supportive community in which riders can flourish." The first step for all students is a private evaluation lesson. Special lessons are offered for Young Riders including Mommy/Daddy and Me (for ages 3 and up) and Tiny Tots (for young riders who have moved up from Mommy/Daddy and Me). Parent and Me sessions do not require an evaluation lesson.
Oceanview Performance Horses
Portuguese Bend Riding Club
40 Narcissa Dr., Rancho Palos Verdes, CA
(424) 250-0130
Oceanview Performance Horses offers Western Riding instruction. Their goal is to "help riders of all levels develop confidence with their horses, both on the ground and in the saddle." Lessons are available for all ages and levels and are about 60-minutes long which includes grooming, tacking, and riding. Private and group (2-4 riders) lessons are available as well as special lessons for birthday parties and Scout troops.
Red Velvet Ranch
34354 Martingale Lane, Acton, CA
(661) 234-4440
Red Velvet Ranch describes itself as a "stress-free way to connect with horses." This woman-owned business offers individual lessons as well as lessons in a group setting. Lessons are 1 hour long. Rates and reservations are available online.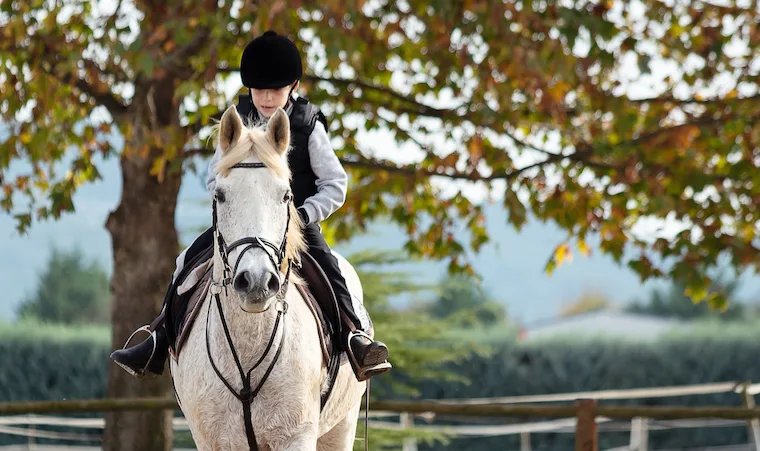 The Riding Coach
1850 Riverside Dr., Glendale, CA 91201
(818) 547-0337
The Riding Coach was established in 1987, and the instructors have taught "horseback riding through the Physical Education Departments of both California State University, Los Angeles (CSULA) and the University of Southern California (USC)." Classes are 45-minutes long and generally meet at 8:30 am. Classes have students of varying abilities, with each student learning at their own pace. There are two teachers per student. Keep in mind — to attend, students must be tall enough to saddle their horse (5' minimum).
Rosewood Equestrian
29874 San Francisquito Canyon, Saugus, CA 91350
(661) 713-9206
Rosewood Equestrian teaches "English and Western horseback riding lessons from first time riders to champions." Trainer Anjelica, "Jelly," established Rosewood Equestrian in 2013. Lessons are offered Monday through Saturday and may be private, semi-private, or in a group setting. Lessons for children start as early as 2 years old. Additionally, Horse Camp is offered four times a year. Campers learn more than riding including safety, grooming, horse feed, and more.
Sagebrook Farms
The Paddock Riding Club
3919 Rigali Ave., Los Angeles, CA 90039
(818) 424-8186
At Sagebrook Farms, their goal "is to meet your goals." They offer lessons for riders at every level of experience. Lessons may be private (45 minutes), group (50 minutes), or semi-private (50 minutes). Lessons may be paid for individually or as a package. Additionally, they offer a leasing program as a "practical alternative to owning a horse."
San Pascual Stables
221 San Pascual Ave., South Pasadena, CA 91030
(323) 551-6841
Since 1978, San Pascual Stables has offered a riding academy for riders of all ages (3 and up) and levels. Many riders who first learned at San Pascual Stables have gone on to achieve high honors in competitions. A variety of lesson packages are available including "Les Petits Cavaliers," a two-hour introduction to ponies for ages 3-7 and a Beginner Trial consisting of eight 45-minute private lessons, just to name a few options. A Spring Break Horse Camp and a Summer Day Camp are also offered.
Traditional Equitation School (TES)
Los Angeles Equestrian Center
480 Riverside Dr., Burbank, CA 91506
(818) 569-3666
Traditional Equitation School (TES) is "the oldest and largest continually operating horseback riding school in Los Angeles." It was established in 1981, and fun fact — the current owner was first a client back in 1986! Lessons are offered for first-timers as well as advanced riders and everything in between, though riders must be at least 4 years old. Both private and group lessons are offered. Horse Camp and Birthday Parties are also available here.
Wendy Kennar is a mother, writer, and former teacher who has lived her entire life in the same Los Angeles zip code. You can read more from Wendy at her website WendyKennar.com where she writes about books, boys, and bodies (living with an invisible disability).
Disclaimer: MomsLA has made every effort to confirm the information in this article; however, things can often change. Therefore, MomsLA makes no representations or warranties about the accuracy of the information published here. MomsLA strongly urges you to confirm any event details, like date, time, location, and admission, with the third party hosting the event. You assume the sole risk of relying on any of the information in our list. MomsLA is in no way responsible for any injuries or damages you sustain while attending any third-party event posted on our website. Please read our Terms of Use which you have agreed to based on your continued use of this website. Some events have paid to be listed on MomsLA.