Have you taken the kids to play Mini Golf, Putt-Putt Golf, Tom Thumb Golf, or any of the other names for the kid-sized golf game? Whatever you call it, miniature golf is a great family-friendly activity. And here in Southern California, you can play year-round with both indoor and outdoor options available.
Because it's played on a relatively small course, and usually decorated with fun and often outlandish obstacles to overcome, it's a terrific thing to do with kids. But don't let the atmosphere fool you; this is a competitive sport, with its own Federation, and some courses can be tough to win.
But if you approach it with a good attitude and just want to have fun, you're in luck. Whether you're looking for someplace close to home or looking for a fun day-trip, here are 10 Fun Places to Play Miniature Golf In and Around Los Angeles.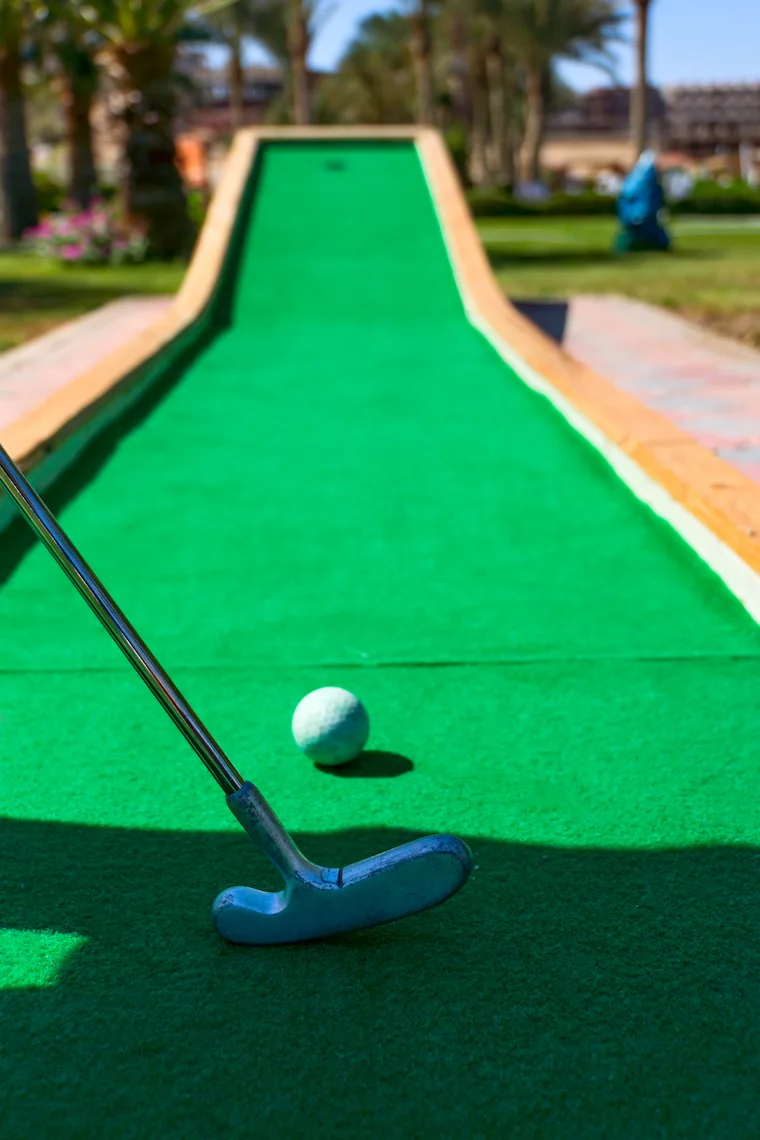 If you've been looking for "Mini golf near me," or "miniature golf near me," we got you! Check out this great map!
Play Mini Golf in SoCal at One of These Places
You'll find a 9-hole miniature golf course at the Arroyo Seco Golf Club. Because many people only know Arroyo Seco Golf Club for their 18-hole course, the miniature golf course tends to be less crowded, which means you'll get to play sooner. Miniature golf fees are $12 per person ($7 per person for a replay.)
Grab a copy of our Book: Los Angeles with Kids!
Looking for Fun Things to do with Kids in LA? You'll love this book! This handy-dandy, portable paperback book is packed full of ideas for FUN all over SoCal! Keep it in the car, your purse, your diaper bag – and be ready for fun anytime, anywhere!
Boomers Los Angeles
17871 Castleton St., City of Industry, CA 91748
and
Boomers Irvine – 3405 Michelson Dr, Irvine, CA 92612
You won't run out of things to do at Boomers. Miniature golf is just one of the fun activities here. Speedway Golf offers "two 18-hole, race themed miniature golf courses." Children 5 and under receive one round free with a paying adult. There are also Go Karts (including special ones for "little speed demons" under 58" tall), a Slick Track (for drift style racing), an arcade, and more. Ticket information is available online.
Get ready to have a whole lot of fun. Camelot Golfland offers so many things to do including Miniature Golf. Camelot Golfland boasts the "largest miniature golf course facility in the country with four 18 hole mini golf courses." Which means you can go back multiple times and try not to play the same course 2 times in a row! Each course offers its own theme such as a jungle-themed course, and the Castles of the World course (featuring a "pagoda, castle and Spanish forts with shooting water cannons.") And if that wasn't enough, other fun, on-site attractions include an arcade, bumper boats, and fast car raceway. Tickets are available online.
You'll find four 18-hole mini golf courses here including the Prince and Princess Courses, the Duke Course, and the Merlin Course. All courses are designed to provide "award-winning thrills for all ages and skill levels." In addition, Castle Park offers rides, arcades, and more. Ticket information is available online.
Looking for Glow in the Dark Mini Golf? Or Indoor Mini Golf?
GLO Mini Golf
1299 Galleria at Tyler Suite E106, Riverside, CA 92503
It's miniature golf like you've never played it before. You'll feel like you're taking an around-the-world trip as you navigate through the indoor, glow-in-the-dark course. You'll see all 7 wonders of the world as you play through 27 holes. You can even play with 3D glasses if you'd like. In addition, you'll find over 30 arcade games , escape rooms, and more at this popular spot.
Howl at the Moon GlowGolf
Great Wolf Lodge
12681 Harbor Blvd., Garden Grove, CA 92840
Indoor miniature golf — great for any weather. Families will enjoy an "immersive black light experience that brings a nature-themed forest to vibrant life. Nine creatively designed holes will challenge and entertain players of all ages." Check the website for information about all the other attractions you'll find at Great Wolf Lodge.
Golf N' Stuff
5555 Walker St., Ventura, CA 93003
and
Golf N Stuff Norwalk – 10555 Firestone Blvd, Norwalk, CA 90650
Golf N' Stuff offers two 18-hole miniature golf courses. Families will play amidst "beautiful, lush landscape, whimsical scenery, and exciting world-class obstacles." Surroundings include a Gold Mine, Mystic Castle, Kings Krypt, and more. There is also a Lit'l Indy Raceway, Bumper Boats, a game room, and more. (Be sure to check the website for coupons.)
There are so many fun things to do at Mulligan Family Fun Center including miniature golf. You'll find "two 18-hole themed golf courses featuring a waterfall and an Old Western Mining Town." You can choose to stop by and only play mini golf, or you can purchase tickets for other attractions as well, including Go-Karts, Batting Cages, and Laser Tag to name just a few of the other activities here.
Pelly's Mini Golf
Del Mar Golf Center
15555 Jimmy Durante Blvd., Del Mar, CA 92014
You'll find Pelly's Mini Golf at the Del Mar Golf Center. There are two 18-hole courses available — Pelly's Ocean Adventure and Pelly's Surfin' Safari. Pelly's Mini Golf is open seven days a week, 9:00 am to 9:00 pm. No reservations necessary; mini golf is available on a first-come, first-served basis.
There's lots to do at Sherman Oaks Castle Park including playing games in the arcade and or practicing your swings in the batting cages. However, many families come here just for the miniature golf. You'll find 3 mini golf courses here, each with 18 holes. Plus, children 4 and under golf for free with a paid adult.
If you're looking to take your golf game back to full-size instead of Mini, check out our list of Golf Courses in LA County.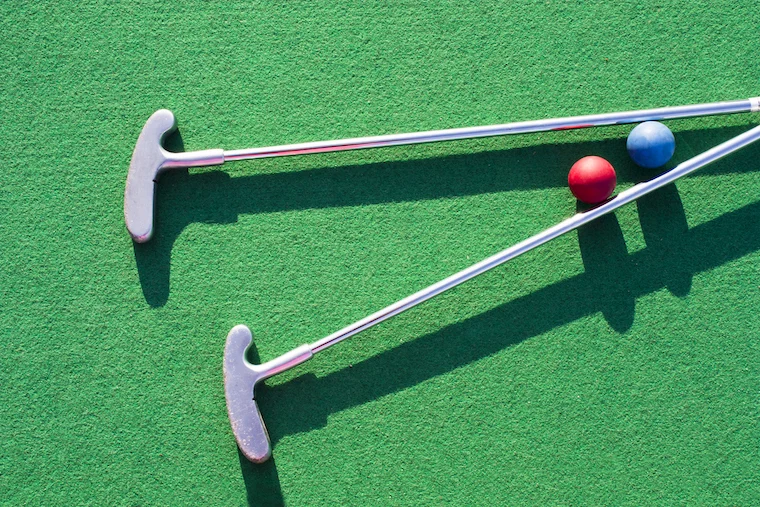 Wendy Kennar is a mother, writer, and former teacher who has lived her entire life in the same Los Angeles zip code. You can read more from Wendy at her website WendyKennar.com where she writes about books, boys, and bodies (living with an invisible disability).
Disclaimer: MomsLA has made every effort to confirm the information in this article; however, things can often change. Therefore, MomsLA makes no representations or warranties about the accuracy of the information published here. MomsLA strongly urges you to confirm any event details, like date, time, location, and admission, with the third party hosting the event. You assume the sole risk of relying on any of the information in our list. MomsLA is in no way responsible for any injuries or damages you sustain while attending any third-party event posted on our website. Please read our Terms of Use which you have agreed to based on your continued use of this website. Some events have paid to be listed on MomsLA.