It's that time of year – time for LA parents to pile the family in the car and go out and get a Christmas tree. But instead of driving around searching for the "perfect tree," we're here to help with a list of 10 Great Christmas Tree Lots in and Around Los Angeles. Whether you're looking for a tabletop tree, need a tree delivered, or want the purchase of your tree to benefit charity – this list covers it all.
MomsLA is your source for Things to do in Los Angeles With Kids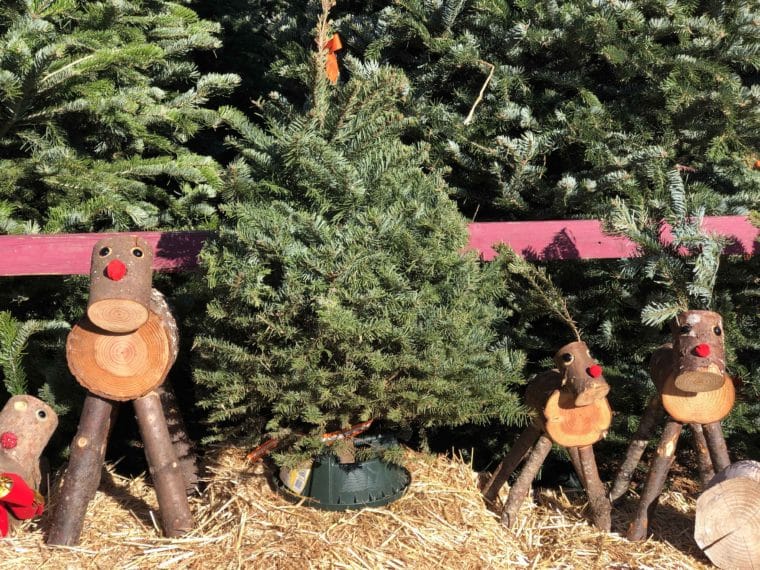 Delancey Street Holiday Trees
Several locations including
813 N. Sepulveda Blvd., Manhattan Beach, CA
In addition to a large selection of beautiful trees at Delancey Street Holiday Trees, families will also find decorated wreaths, indoor tree lights, living potted pines, and mistletoe. Flame retardant is also available. These special lots have been family favorites for over 30 years. Plus, there's the added bonus of knowing that by supporting these lots, you're supporting Delancey Street – "the country's leading residential self-help organization for former substance abusers, ex-convicts, homeless and others who have hit bottom." You'll find Delancey Street Holiday Trees in Manhattan Beach, Santa Anita Park, Santa Monica, and West Hollywood. Be sure to check the website for address information.
Frosty's Forest Christmas Tree Farm
25235 Orchard Village Rd., Valencia, CA 91355
If you're close to Valencia, you'll want to visit Frosty's Forest Christmas Tree Farm. Families can select and cut their own tree in their 4-acre forest (or choose from pre-cut Noble and Nordmann trees). Additionally, families will enjoy candy cane treats, holiday music, giant inflatables, and free hot chocolate on chilly nights. In addition to trees, you'll find wreaths, assorted decorations, and firewood for sale. Flocking, fire retardant, and delivery are also available for additional fees. They are open daily, from 9:00 am to 9:00 pm.
Shawn's Christmas Trees
3443 S. Sepulveda Blvd., Los Angeles, CA 90034 and
6020 W. Jefferson Blvd., Culver City, CA 90232
Shawn's Christmas Trees have been a West Los Angeles favorite for over 40 years. Christmas Trees range in size from 2 feet to 15 feet, so you can find just what your family is looking for. Stroll and admire the many varieties including Douglas Fir, Noble Fir, Grand Fir, Nordman Fir, Silver Tips, and Fraser Fir. Wreaths in six different sizes are also available. Additional services include tree delivery, fire retardant, flocking, and tree removal (all for additional fees).
Sugar Plum Express Holiday Village and Tree Train
Fillmore & Western Railway Company
364 Main St., Fillmore, CA 93015
Fillmore & Western Railway Company invite families to make purchasing a Christmas tree into a completely unforgettable experience. Enjoy a 3-hour train adventure where Santa is one of the passengers. Arrive at Holiday Village and select a pre-cut Christmas tree, visit craft vendors, see Santa's workshop, and more. Check the website for dates, times, and ticket prices.
Mr. Jingles Christmas Trees
1300 Westwood Blvd., Los Angeles, CA and
1841 N. Highland Ave., Hollywood, CA
Mr. Jingles Christmas Trees are the go-to spot for many families when it comes time to select the family Christmas tree. They are a second-generation family-owned Christas tree business with nine locations nationwide. Choose from 5 different tree types as well as fresh garland and wreaths (ranging in size from 8 inches to 60 inches). And don't forget to help yourself to the free candy canes! Delivery is also available for an additional fee. Both locations are open seven days a week; check the website for hours.
NoHo FUMC Tree Lot
4832 Tujunga Ave., North Hollywood, CA 91601
The Annual NoHo FUMC Tree Lot (North Hollywood First United Methodist Church) is open and ready for business. You'll find Noble and Douglas firs, as well as wreaths and mistletoe. However, what makes this tree lot stand out from other tree lots around town is that it's run entirely by volunteers, and net proceeds go to many different programs and agencies dedicated to helping those in need (including the North Hollywood Interfaith Food Pantry, Hope of the Valley Rescue Mission, Discovery Arts, Boy & Girl Scouts of America, and others). The tree lot is open Fridays 4:00 pm to 9:00 pm; Saturdays 9:00 am to 9:00 pm; and Sundays 11:30 am to 9:00 pm.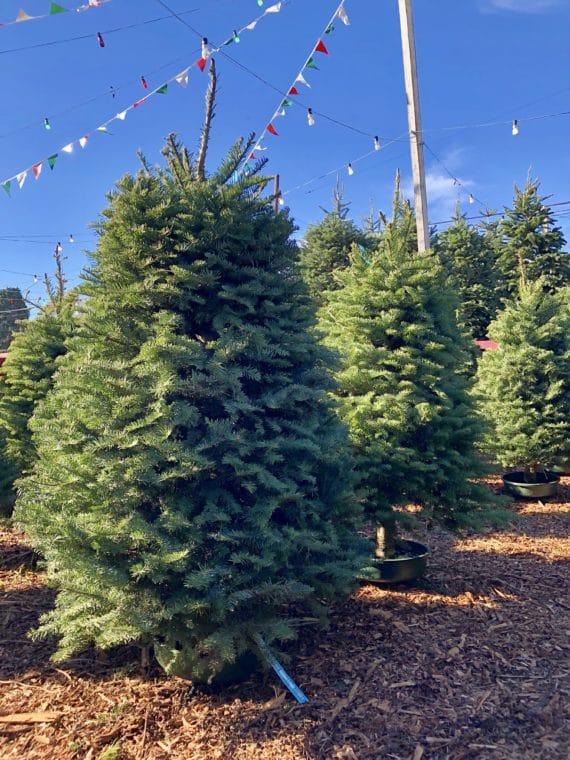 Peltzer Pines Live Christmas Tree Farm
3400 N. Rose Dr., Brea, CA 92821 and
7851 Blackstar Canyon Rd., Silverado, CA 92676
Peltzer Pines is a family-owned Christmas tree farm since 1963. Make selecting a Christmas tree an event by strolling through the farm until you find the "perfect" tree among the Monterey Pines and Leyland Cypress for sale. Trees at the Brea site run from 4 feet to 8 feet in height, while trees at the Silverado site are 4 feet to 7.5 feet in height. Fire retardant is also available for an additional fee. Staff can cut the tree for you, or you can try to do it yourself (with saws available on-site). Trees start at $49 (and be sure to bring cash or checks; no credit cards are accepted).
Wilshire Rotary Club of Los Angeles Christmas Tree Lot
568 N. Larchmont Blvd., Los Angeles, CA
The Wilshire Rotary Club of Los Angeles Christmas Tree Lot is open again this year and ready for you and your family. In addition to Silvertip Fir trees from Oregon, the lot offers wreaths, garland, and other decorative items. Delivery is available. All proceeds go to charity, and the lot also donates trees to several local shelters and needy families. The lot is open seven days a week (through December 23rd) from 9:00 am to 9:00 pm.
Santa & Sons Christmas Trees
Los Angeles Valley College
12901 Burbank Blvd., Valley Glen, CA
You'll find Santa & Sons Christmas Tree Lot at Los Angeles Valley College. This popular San Fernando Valley lot has been in business since 1992. You'll find Noble Firs, Douglas Firs, and Nordmann Firs ranging in size from 3 feet to 13 feet. But, if going to a tree lot isn't convenient for your family (maybe it's baby's first Christmas), you can still purchase a live Christmas tree through Santa & Sons. Ordering is available online or over the phone. Just specify what type of tree you're looking for and trees will be shown to you on their "U-Pick Webcam Service" with delivery available as well. They are open seven days a week, from 9:00 am to 9:00 pm.
Trees on the Farm
Underwood Family Farms
3370 Sunset Valley Rd., Moorpark, CA 93021
Families are invited to explore Underwood Family Farms and their selection of fresh-cut Christmas trees (now through December 18th). Noble, Grand, Fraser, Nordman, and Douglas Fir Silver Tip trees are all available as well as mistletoe, wreaths, and decorative items. Check the website for hours.
MOMSLA IS YOUR SOURCE FOR THINGS TO DO IN Los Angeles WITH KIDS.
Disclaimer: MomsLA has made every effort to confirm the information in this article; however, things can often change. Therefore, MomsLA makes no representations or warranties about the accuracy of the information published here. MomsLA strongly urges you to confirm any event details, like date, time, location, and admission, with the third party hosting the event. You assume the sole risk of relying on any of the information in our list. MomsLA is in no way responsible for any injuries or damages you sustain while attending any third party event posted on our website. Please read our Terms of Use which you have agreed to based on your continued use of this website. Some events have paid to be listed on MomsLA.