Updated for 2020
This year, the first night of Hanukkah begins on Thursday, December 10th. This eight-night Festival of Lights is being celebrated all around Los Angeles with lots of fun, memorable events. Here are sites hosting family-friendly Hanukkah celebrations, including both in-person and virtual events.
A note on spelling: We've chosen to spell this Jewish Holiday "Hanukkah," but other spellings are used by some of the venues listed here. This article helps explain where some of the different spellings come from. However it is spelled, Hanukkah is a wonderful holiday to celebrate in Los Angeles!
And if you're looking for where to get Latkes in Los Angeles, take a peek at our list.
Hanukkah in Los Angeles
The Skirball invites families to celebrate Hanukkah, the Jewish Festival of Lights, on Sunday, December 13th at 3:00 pm. This special online program will feature a "heartwarming community candle lighting and a lively sing-along to get you feeling festive." Enjoy musical performances, a puppetry performance telling the Hanukkah story, and more. Details are available online for this free event. RSVP is encouraged.
Menorah Lightings
1300 block of Third Street Promenade, Santa Monica, CA
Families can spend time in Santa Monica and enjoy the nightly lighting of the menorah on the Third Street Promenade. The event happens each evening, Thursday, December 10th through Friday, December 18th, at sundown.
The Jewish Museum invites families to participate in an online program, Picture This! Dream Menorahs, on Sunday, December 13th from 10:00 am to 10:45 am. This program features a "virtual family tour and art-making experience. Discover unique Hanukkah menorahs made with unexpected materials" and create a "folded sculptural menorah book with dreams and hopes for each night of the holiday." Register online to receive the Zoom link.
Holocaust Museum LA presents a virtual, family-friendly Hanukkah celebration combining history and cuisine. The evening will include remarks from Chef Akasha Richmond, chef and co-owner of AKASHA, as well as an opportunity for attendees to engage with Holocaust survivor Gabriella Karin to learn about her story, favorite Hanukkah memories, and light the menorah. Local attendees can purchase latkes and add-ons from AKASHA's "Vodka and Latkes" Hanukkah special menu. Food items are pre-made with reheating instructions. Food sales will end on Tuesday, December 8, 2020 at 11:59 AM Pacific Time. General tickets can still be purchased up until Monday, December 14, 2020 at 6:00 PM Pacific Time.
The original Farmers' Market will display its larger-than-life Menorah beginning on December 5th. Join with your family and friends to take a photo in front of the structure for the perfect holiday card, or stop by and take a quick selfie as you're finishing up your shopping! From December 10th until December 18th, Farmers Market staff will light the menorah at sunset. Make sure to visit at least once past nightfall, as the bright lights stand out beautifully against the sky and Farmers Market holiday décor.
"Celebrate the Festival of Lights at LIT, a fully contactless drive-through Hanukkah experience." Families will enjoy synchronized lighting displays, projection installations, and an animated short film "The Broken Candle" featuring the voice talents of Tiffany Haddish and others. LIT runs December 10th through December 20th. Tickets are available online.
Kids of all cooking skill levels are invited to participate in a special online Hanukkah-themed class on Saturday, December 12th from 10:00 am to 10:30 am. Children will "celebrate the festival of lights by making Hanukkah Cookies!" Reserve your spot online. Fee is $20.
Vroman's Bookstore, in association with the Jewish Federation Book Festival, invites families to an online reading of The Ninth Night of Hanukkah with author Erica Perl on Sunday, December 13th at 4:00 pm. This event is designed for children ages 4-8. A question/answer session is scheduled for the end. RSVP online for the Zoom information.
Families are invited to enjoy an online Hanukkah Week program through the Shalom Institute. Light the menorah candles and enjoy a fun activity each night of Hanukkah. Check the website for details.
Chanukah Silent Disco
The Open Temple
1422 Electric Ave., Venice, CA 90291
The Open Temple in Venice invites families to its outdoor Chanukah Silent Disco happening on Saturday, December 12th at 4:00 pm. This family-friendly event features a menorah lighting, community, silent disco, dreidels, and more. Register online for this free event.
On Sunday, December 13th at 4:30 pm, head down to the Santa Monica Pier for a special menorah lighting at "the western most point of mainland USA!"
Enjoy a virtual reading of Gracie's Night with author Lynn Taylor Gordon on Sunday, December 6th. A question and answer session will follow. All attendees will also receive a signed copy of the book as well as crafts, activities, and surprises. Cost is $18. Register online.
Enjoy a Menorah Lighting Virtual Celebration on Sunday, December 13th from 4:00 pm to 5:00 pm. Stay comfy at home while you watch Chabad of Laguna Niguel light the menorah. Details are available online.
Chanukah Community Celebration
Merage Jewish Community Center of Orange County
1 Federation Way, Irvine, CA 92603
On Wednesday, December 16th from 5:00 pm to 7:00 pm, families can enjoy a Chanukah Community Candle-Lighting. There will be crafts and games as well as latkes and refreshments available for purchase. The event is free, though registration is required.
Community Menorah Lighting
Hermosa Beach Pier Plaza
1 Pier Ave., Hermosa Beach, CA 90254
"Out of an abundance of caution, the Community Menorah Lighting has been cancelled" this year.
Menorah Lighting Display
Fashion Island
401 Newport Center Dr., Newport Beach, CA 92660
Fashion Island invites families to enjoy the daily lighting of its menorah starting on Thursday, December 10th. The menorah will be lit each night of Hanukkah, through December 18th.
The Jewish Museum of Maryland hosts a special Hanukkah event on Sunday, December 6th. Hanukkah in Space, a virtual event, will show families how astronauts celebrate Hanukkah in outer space. Find out the answers to questions like "How do you spin a dreidel in zero gravity?" and "can you light a menorah on the International Space Station?" Register online to receive the Zoom information for this live-stream event.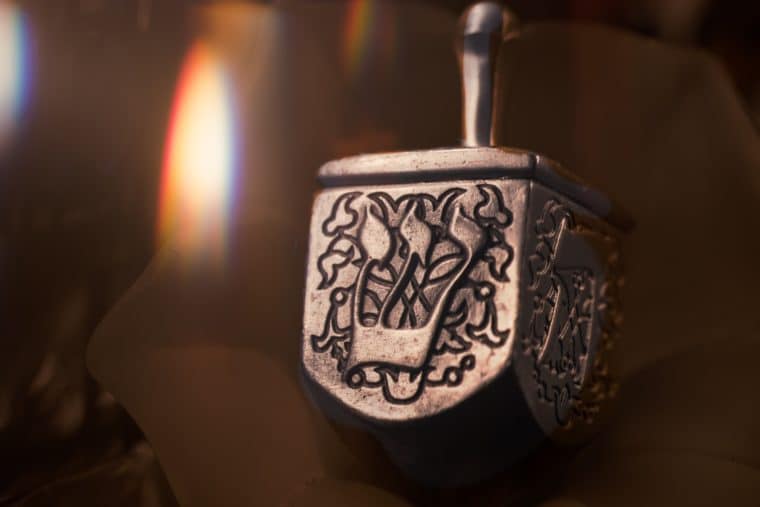 Disclaimer: MomsLA has made every effort to confirm the information in this article; however, things can often change. Therefore, MomsLA makes no representations or warranties about the accuracy of the information published here. MomsLA strongly urges you to confirm any event details, like date, time, location, and admission, with the third party hosting the event. You assume the sole risk of relying on any of the information in our list. MomsLA is in no way responsible for any injuries or damages you sustain while attending any third party event posted on our website. Please read our Terms of Use which you have agreed to based on your continued use of this website. Some events have paid to be listed on MomsLA.