Updated for 2023
The magic of the season can best be felt when people gather to do something special for their community; there's just something about twinkling lights that really get you in the holiday spirit. And because this is Los Angeles, there are tons of super creative light displays to enjoy.
In the spirit of the season, we made a list of the best neighborhoods and attractions to see Christmas lights in Los Angeles. Happy Holidays!
Where are Christmas Lights Near Me? See our Map!
Add Your Light Display To Our Map
Want to add your home or a beautiful display you know of to our Map of SoCal Christmas Lights? Click HERE to fill out the info and we'll take care of it.
Christmas and Holiday Lights Displays all over SoCal — Updated for 2023
Astra Lumina
South Coast Botanic Garden: 26300 Crenshaw Blvd, Palos Verdes Estates, CA 90274
Experience a visit from the stars through projections, lighting and music. The Queens Botanical Garden will be transformed into an immersive outdoor, multimedia enchanted world that awakens the imagination. Inside the experience, guests will be guided on an illuminated nature pathway with a photo booth, gift shop, and food and beverage options available for purchase at the end. Runs from November 9, 2023 – January 1, 2024. Get tickets with our affiliate link.
Parents – take note: After listening to customers' feedback last year, the team now allows strollers along the path and also allows parents the option of leaving their stroller at the start of the path at a dedicated stroller parking area. Additionally, they've made adjustments on the show path in certain areas that were muddy and wet, by either upgrades from the garden or moving zone locations.
Events from 2022 that have not yet updated their information – Stay Tuned!
The Lighting of the Bay
Newport Dunes Waterfront Resort
1131 Back Bay Dr., Newport Beach, CA 92660
The 32nd Annual Lighting of the Bay returns to Newport Dunes Waterfront Resort November 25, 2022–January 1, 2023. In honor of the upcoming holiday season, the serene, waveless bay will transform each evening into a vibrant winter wonderland featuring more than fifty lighted holiday decorations and Christmas trees.
Get cozy while roasting marshmallows for s'mores around a beach bonfire. Newport Dunes' public fire pits are available on a first-come basis, and s'mores kits can be purchased from Newport Dunes' onsite market.
Take a stroll through Marina del Rey's Burton Chace Park this holiday season and enjoy it, decorated with holiday lights. Throughout December, you'll be able to see the festive decor and delight in the season. Get more info about their annual Christmas Boat Parade HERE. And they're bringing back their family-friendly New Year's Eve event, GLOW, as well — See their article for more information.
The historic Venice Sign will light up for the Holidays again this year. You can attend the celebration on December 3rd, and see the classic sign at the corner of Pacific and Windward streets in Venice.
"Experience a magical holiday show as 18 million hues of lights illuminate the night and synchronize to festive tunes." Sparkle DTLA features many great photo opportunities, a 32-foot Christmas tree, a 16-foot holiday ornament, and more. This event is free. The nightly light show happens on the hour at 5, 6, 7 8, and 9 pm. This special event runs through January 1st, 2023.
Magic of Lights
Empire Polo Club
81800 51st Ave., Indio, CA 92201
This dazzling display filled with thousands of holiday lights runs nightly from November 18th through January 1st, 2023. Drive through the holiday scenes with a carload of people or load up a limo or party bus. Tickets can be purchased online.
L.A.'s brightest holiday tradition returns from November 18th through January 22nd for the 2022/2023 season. They'll have a wild wonderland of lights featuring hand-crafted and new high-tech attractions with glowing light animals including tigers, giraffes, peacocks, sloths, lemurs, butterflies, and frogs "decorating" the Zoo just for you. There will also be musical elements including a sound-tracked LED light show, and much more!
Nature Lights
San Luis Obispo Botanical Garden
3450 Dairy Creek Rd., San Luis Obispo, CA 93405
This holiday season your entire family can enjoy outdoor lights and art at the same time from November 11th–January 8th, 2023, Thursday through Sunday evenings from 5 pm–8 pm. Nature Lights will have large-format light projections, illuminated sculptures, and artistic lighting for an "experience like no other". A variety of food and beverages will also be available. Check the website for additional details.
Winterlit holiday art installations and festivities will light up Downtown Santa Monica all season long. The annual tree lighting will be held Thursday, December 1st from 6 – 8 pm and Third Street Promenade will glow under tens of thousands of lights illuminating festive outdoor retail and dining. You can get more info when you click.
Lavish Rodeo Drive gets a festive makeover during the holidays with thousands of twinkly holiday lights. The festivities begin November 17th at 5 pm and generally include many activities including live musical performances and visits with Santa. Each year, the holiday season officially kicks off with the Rodeo Drive Lighting Celebration. Be sure to check the website for updates.
Christmas in Color
101 Raging Waters Dr., San Dimas, CA 91773
If you're looking for a socially safe drive-through light display, your whole family will enjoy Christmas in Color. You'll see millions of lights synchronized to holiday music on your radio as well as animated displays. Take in the giant candy canes, snowmen, arched pathways, and more.
Celebrate the start of the holiday season at the 33rd annual Manhattan Beach Pier Lighting on November 16th from 5 – 9 pm. There will be holiday music, shopping, and dining to start the holiday season in Manhattan Beach.
As the center of the light show, Roundhouse Aquarium will host an extended hours open house event with a complimentary hot chocolate and cookie station, games, and all kinds of interactive touch tanks and marine exhibits for the whole family to enjoy. The event is free, but donations of any amount to the aquarium are always greatly appreciated.
Dana Point Harbor Holiday Lights
Dana Point Harbor, 34555 Golden Lantern St., Dana Point, CA 92629
Dana Point Harbor Partners (DPHP) is spreading holiday cheer by hosting the annual holiday light display, consisting of over 700,000 LED lights, set to illuminate the Harbor beginning November 16th. Each night throughout the holiday season, the Harbor's magnificent light display will illuminate the evening sky for guests of all ages to enjoy.
DPHP is proud to provide holiday lights for the community including giant whale sculptures, lighted palm trees, Christmas trees, a giant Adirondack chair, and the popular "Merry Kiss Me" arch. Locals and visitors alike can enjoy strolling carolers, holiday-themed photo ops, visits with Santa, waterfront restaurant offerings, boutique holiday shopping, and more.
Enchanted: Forest of Light
Descanso Gardens
1418 Descanso Dr., La Cañada Flintridge, CA 91011
Enchanted: Forest of Light returns to Descanso Gardens this year from November 20th – January 8th, 2023. If you're not familiar with it, Enchanted: Forest of Light is an "interactive, nighttime experience." This one-mile walk is a rain-or-shine event. Stroll through it and marvel at the "variety of large-scale light displays, many of which are interactive, allowing visitors to manipulate the lights and sounds."
Tree Lighting Celebration
Collection Park
2751 Park View Ct., Oxnard, CA 93036
There's no better way to welcome the season than with a Tree Lighting Celebration! Head over to Collection Park for holiday entertainment provided by Music Freqs, an extravagant tree lighting ceremony, a spectacular fireworks show, and a special appearance of Santa Claus. The tree lighting will be in the park on November 16th at 7 pm.
Each year, The Grove is home to a 100-foot tall fir tree, decorated with more than 15,000 lights and 10,000 ornaments. Additionally, families would enjoy a special "snowfall" each evening at 7:00 pm and 8:00 pm. Music performances and visits with Santa make an outing to The Grove memorable and festive. Check the website for updates regarding this year's festivities.
Christmas and Holiday Light Displays at Private Homes — Confirmed for 2022
From December 10th through 26th, between 5-9pm daily, experience the joy of the Holidays with a self-driving tour for Westchester Mental Health Guild's FUNdraiser supporting Airport Marina Counseling Service. Get your loved ones in the car, put on your holiday music, buckle up & enjoy viewing the dazzling lights from your vehicle within the Westchester and Playa del Rey communities. Happy holidays! (Map with addresses in the Westchester and Playa del Rey communities to be provided upon receipt of $10 donation at the Eventbrite link.)
The Holiday House
3547 McLaughlin Ave., Mar Vista, CA 90066
This yard is filled with inflatables and lights, and they've got a terrific musical show to go with it all. Check them out at Halloween, too!
Magic Tree Light Display
5218 Costello Ave, Sherman Oaks
Check out this amazing light display from 5-11pm – every night until January 6th.
Hazelbrook Lights
4544 Hazelbrook Ave, Long Beach, CA 90808
Over 10,000 lights, tune to 88.7 for musical accompaniment.
One of the largest light shows in the state, according to the homeowners. 300 feet and 6 houses all with music. Broadcast on FM 97.3.
Upper Hastings Ranch
Bordered by Sierra Madre Blvd., Rivera Dr., Michillinda Ave., Pasadena, CA 91117
This Pasadena neighborhood has been decorating for the holidays for more than 60 years. Drive through the neighborhood or park the car and take a stroll while you marvel at the creative decorations and themed streets in this festive neighborhood. Light-up hours are 6 pm to 10 pm nightly from December 10th–December 31st.
Daisy Avenue in Long Beach begins the holiday season with an annual parade. Families can view an enchanting Christmas Village, nativity scenes, and more. Check their Facebook page for all the info!
Pace Family Holiday Light Show
6034 El Canon Avenue, Woodland Hills, CA 91367
Nightly holiday light shows. Over 10,000 RGB, LED lights synchronized to Holiday music. Tune your vehicle to 89.1 FM and listen to the music in the comfort of your vehicle. The lights will dance and create awesome effects, to the music playing in your vehicle. We also have a projector that will project coordinating videos to the holiday songs. We also have a snowmachine making wonderful snow blasting all over the front yard. Plus many Christmas props that will light up and dance during the show.
Venice Christmas Figure Spectacular!
1085 Palms Blvd, Venice ca 90291
Tons of lights and large figures (probably 50 characters Disney and other cartoons as well as the classics).
Christmas Light House
1513 Vigilant Street, Upland, CA 91784
Christmas Tree Lane Altadena
Lights: Santa Rosa Ave. between Altadena Dr. and Mariposa St., Altadena, CA 91003
Tree Lighting Ceremony: 600 E. Mariposa St., Altadena, CA 91003
Christmas Tree Lane is considered the "oldest large-scale Christmas lighting spectacle in the United States." For more than 90 years, the deodar trees along Santa Rosa Avenue are decorated with thousands of lights.
This year, the traditional Tree Lighting Ceremony is back on Saturday, December 10th at the Altadena Public Library! Winter festivities start at 3 pm and last until 9 pm with the lighting ceremony at 6 pm. The holiday spirit will be plentiful in this Altadena neighborhood. Check their website for the latest updates.
This Christmas light show has been going on for over a decade! Tune in 101.5 FM for music as the lights go on November 25th at 7 pm. Each evening thereafter the lights will go on at 5 pm. Sounds amazing!
Candy Cane Lane El Segundo
1200 Block of E. Acacia Ave., West of Sepulveda, El Segundo, CA 90245
Every holiday season since 1919, the residents of East Acacia Avenue in El Segundo create a magical wonderland of lights and decorations. The event usually begins the 2nd Saturday of December and continues through New Year's weekend. This year's lighting event begins Saturday, December 10th at 7 pm and can be seen nightly through December 24th. Santa's sleigh has even been known to stop by.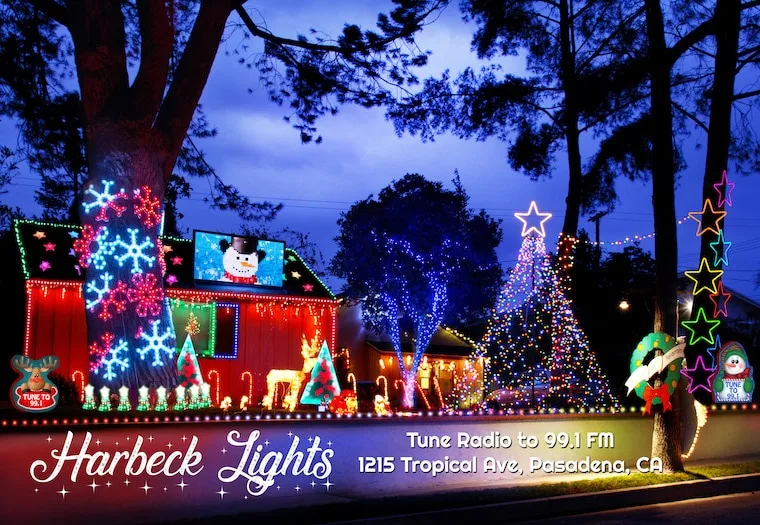 Harbeck Lights
1215 Tropical Ave., Pasadena, CA 91107
Harbeck Lights' animated Christmas Light Show featuring over 100,000 channels of RGB color-changing pixels will amaze your senses! The show is a true Light Show that runs on a 16-minute loop with the lights synced to both classic and new Holiday songs. The show is known for its custom animations on a mega LED screen featuring retro 8-bit video game characters with classics like Pac-Man, Space Invaders, Mario and many more! Enjoy more animated crowd favorites such as Santa, Rudolf, Jack Frost, Snoopy, Hello Kitty, Jack Skellington, and on and on!
Computerized Light Show Synchronized to music with water. Listen to the lights on the car radio 107.9FM
Sylmar Spectacular
13953 Olive Grove Ln., Sylmar, CA 91342
This Christmas light show is definitely one to tell your friends about; featuring a 55 min show (on repeat) filled with new and classic songs performed by "Will & Jill" the singing Christmas light duo. From the comfort of your car, simply tune into 104.1FM to listen and be amazed at a light show like you've never seen before! 5:15 pm–10:20 pm nightly through NYE Happy Holidays!
This is a historic home with hundreds of vintage collectibles and 50,000+ lights. It must be seen — it's fantastic!
Joy to the World House
1907 New Jersey Street, Boyle Heights 90033
Live Santa and Mrs. Claus on Saturdays 12/3, 12/10, 12/17, Come take your picture with them for FREE. Gates officially open on Friday November 25th. Viewing Hours are Friday's, Saturday's and Sunday's from 7:00pm to 10:00pm, Last viewing day Friday December 23rd. Closed if Rain or High Winds occur. Closed on Christmas Eve and Christmas Day.
Sheffield Lights
1062 Sheffield Pl, Thousand Oaks CA 91360
Residential light show set to music on FM 87.9. Runs 5:30-9:30.
Lights On Falcon
4128 Falcon Avenue, Long Beach, CA 90807
This is our first year running our holiday light show (and we have even bigger plans for next year already). We have over 4,200 individually addressable LEDs synchronized to over 28 songs ranging from Christmas classics, to instrumental orchestras, dubstep, top40 and even some tracks just for the kiddos such as frozen, baby shark and famous kids movies songs. We run shows nightly on the hour starting at 7pm through 10pm. We broadcast our music on 97.7FM to listen along at the show. It's not just for those driving either, we have a post out front with a button on it to turn on the outdoor speaker to listen along, and another button anyone can press to play a song outside of show hours. Our newly launched website takes it one step further and lets anyone choose any song they want to hear at anytime (from sunset to 11pm). Viewers can also use the website during showtime to pick the songs they want to hear.
Map of all the Christmas Lights in Los Angeles and SoCal
Wendy Kennar is a mother, writer, and former teacher who has lived her entire life in the same Los Angeles zip code. You can read more from Wendy at her website WendyKennar.com where she writes about books, boys, and bodies (living with an invisible disability).
Disclaimer: MomsLA has made every effort to confirm the information in this article; however, things can often change. Therefore, MomsLA makes no representations or warranties about the accuracy of the information published here. MomsLA strongly urges you to confirm any event details, like date, time, location, and admission, with the third party hosting the event. You assume the sole risk of relying on any of the information in our list. MomsLA is in no way responsible for any injuries or damages you sustain while attending any third-party event posted on our website. Please read our Terms of Use which you have agreed to based on your continued use of this website. Some events have paid to be listed on MomsLA.