Updated for 2020
The magic of the season can best be felt when people gather to do something special for their community; there's just something about twinkling lights that really get you in the holiday spirit. And because this is Los Angeles, there are tons of super creative light displays to enjoy.
Where are Christmas Lights Near Me? See our Map!
In the spirit of the season, we made a list of the best neighborhoods and attractions to see Christmas lights in Los Angeles. Happy Holidays!
Also: who likes a Scavenger Hunt besides us? Check out SeeSawTours – they're doing a fun app-based game for the holidays. You can do it all from your car and see all the most beautiful lights. Enjoy!
Want to add your home or a beautiful display you know of to our Map of SoCal Christmas Lights? Click HERE to fill out the info and we'll take care of it.
Map of all the Christmas Lights in Los Angeles and SoCal
Christmas and Holiday Light Displays in Los Angeles and SoCal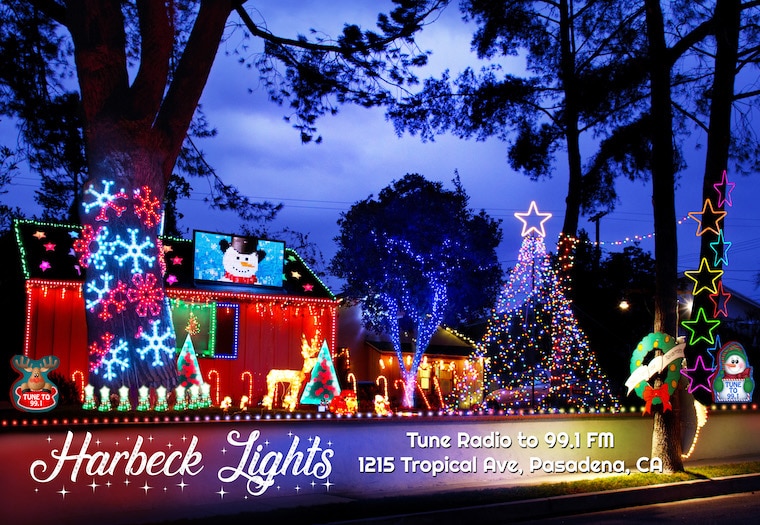 Harbeck Lights animated Christmas Light Show featuring over 100,000 channels of RGB color changing pixels will amaze your senses! The show is a true Light Show that runs on a 16 minute loop with the lights synced to both classic and new Holiday songs. The show is known for its custom animations on a mega LED screen featuring retro 8-bit video game characters with classics like Pac-Man, Space Invaders, Mario and many more! Enjoy more animated crowd favorites such as Santa, Rudolf, Jack Frost, Snoopy, Hello Kitty, Jack Skellington, and on and on!
Sylmar Spectacular
13953 Olive Grove Lane, Sylmar, CA 91342
This Christmas light show is definitely one to tell your friends about; featuring a 55 min show (on repeat) filled with new and classic songs performed by "Will & Jill" the singing Christmas light duo. From the comfort of your car, simply tune into 104.1FM to listen and be amazed at a light show like you've never seen before! 5:15pm – 10:20pm nightly through NYE Happy Holidays!
This Christmas light show has been going on for over a decade! Tune in 101.5 FM for music. Sounds amazing!
Spectacular Lights in Tarzana
5330 Topeka Dr. Tarzana Ca. 91356
Neighbors say it's like a mini Disneyland – check it out!
Candy Cane Lane in Woodland Hills is an eight square-block area that is annually transformed into a magical winter wonderland. This annual tradition began back in 1952, and since then, residents try to outdo each other each year with dazzling light displays. Periodically, Santa is available for photos with children. Traditionally, the festivities begin on the 2nd Saturday of December and lasts through the end of the year.
Downey Lights in Paramount
15310 Rancho Centina Rd, Paramount, CA 90723
Computerized Light Show Synchronized to music with waters. Listen to the lights on car radio 107.9FM
The Cookie Train
4848 Sancola Ave., North Hollywood, CA 91601
Come see a synchronized light show set to Christmas songs by Mariah, Katy, and Kelly with an animated gingerbread train that makes its own peppermint scented "smoke."
South Coast Botanic Garden's GLOW
South Coast Botanic Garden
26300 Crenshaw Blvd., Palos Verdes Peninsula, CA 90274
Experience South Coast Botanic Garden's GLOW now through January 10th, 2021. GLOW is a "visually stunning art installation that will transform our lush botanic oasis into an oceanic experience for our Garden Lights and Ocean Waters theme using thousands of lights." Tickets are available online.
Take a stroll through Marina del Rey's waterfront this holiday season where the marina and boats will be decorated with holiday lights. The locations of decorated boats will include various docks throughout the Marina including Fisherman's Village, Burton Chace Park and the Marina Promenade on Admiralty Way next to waterfront hotels and restaurants. The public is invited to view the boats while walking, dining, or bike riding in the Marina. December 5-19, 2020
Fisherman's Village is a replica of a New England seaport and fishing town. Throughout December, the quaint shopping plaza will be decorated in festive holiday lights. Stroll the harborfront to enjoy views of the Marina, passing sailboats, and stunning sunsets. There are several restaurants, the Marina del Rey Historical Society's exhibit space, and a smattering of shops, too. Throughout December.
Newbury Park Animated Holiday Light Show
This spectacular holiday light display in Newbury Park is a must-see for SoCal! The show runs 5PM-10PM nightly through 12/31. Simulcast to music on 100.5 FM. Amazing!
More Places with Great Lights
McLaughlin Ave between Palms and Charnock 90066 (inflatables)
Corner of Palms Blvd and Federal Avenue 90066
Aquarium Holidays
Aquarium of the Pacific, Long Beach
During Aquarium Holidays, December 5th-23rd, visitors can enjoy holiday décor as they visit the Aquarium's outdoor areas with advance reservations. The Aquarium will feature holiday trees, lights, and other décor throughout the facility and several of the animal exhibits will also feature holiday decorations. There will also be a contest where the first 25 people each day to find a Santa figurine hidden somewhere at the Aquarium will win a small prize. Aquarium Holidays are included with general admission, which is $19 per person or free to Aquarium members. Looking to save some sand dollars? The Aquarium will also offer Discounted Late Nights on Saturdays and Sundays kicking off Thanksgiving weekend and running through December. Those who make reservations to visit after 6:00 p.m. on weekends can enjoy the Aquarium's outdoor exhibits for just $15. The Aquarium will remain open until 9:00 p.m. on these nights.
Candy Cane Lane El Segundo
**cancelled for 2020**
1200 Block of East Acacia Avenue, West of Sepulveda, El Segundo, CA
Every holiday season since 1919, the residents of East Acacia Avenue in El Segundo create a magical wonderland of lights and decorations. The event usually begins the 2nd Saturday of December and continues through New Year's weekend. Santa's sleigh has even been known to stop by. No word yet if this neighborhood will continue this tradition this year.
Christmas Tree Lane Altadena
Santa Rosa Avenue between Altadena Dr. and Mariposa St., Altadena, CA
Christmas Tree Lane is considered the "oldest large-scale Christmas lighting-spectacle in the United States." For more than 90 years, the deodar trees along Santa Rosa Avenue are decorated with thousands of lights. While there won't be a traditional Tree Lighting Ceremony this year (due to covid-19), the lights will twinkle and the holiday spirit will be plentiful in this Altadena neighborhood. Check their website for the latest updates.
"Experience a magical holiday show as 18 million hues of lights illuminate the night and synchronize to festive tunes." Sparkle DTLA features many great photo opportunities, a 32 foot Christmas tree, a 16 foot holiday ornament, and more. This event is free. The nightly light show happens on the hour at 5, 6, 7 8, and 9 pm. This special event runs through January 3rd, 2021.
Upper Hastings Ranch
bordered by Sierra Madre Blvd, Rivera Dr, Michillinda Ave, Pasadena, CA
This Pasadena neighborhood has been decorating for the holidays for more than 60 years. This year's Holiday Light Up is scheduled for Saturday, December 12th at 6:00 pm. Drive through the neighborhood or park the car and take a stroll and marvel at the creative decorations and themed streets in this festive neighborhood. Lights will remain up until Saturday, January 2nd, 2021. Light up hours are 6:00 pm to 10:00 pm nightly.
Citadel Outlets invites families to enjoy "Snowy Nights and Holiday Lights" now through the holiday season. Show times are each night at 5, 6, 7, and 8 pm and feature "the magic of snow flurries and a spectacular holiday light show."
The streets of Little Tokyo will be decked out in festive lighting and decor and are full of everything from neighborhood markets to boutique specialty shops, some of LA's best ramen and sushi restaurants, traditional mochi desserts and matcha drinks, and more. The holidays will be in full swing during the month of December when Shogun Santa comes to town as a cardboard cutout to bring safe and contactless holiday cheer and festive photo moments to Little Tokyo. Snap the perfect holiday card photo with Shogun Santa next to the Japanese Village Plaza Christmas tree during his visits on December 12, 13, 19 and 20 from 11 am – 3 pm.
Dana Point Harbor Partners is spreading seasonal cheer with the annual holiday light display set to illuminate the Harbor beginning November 11. Each night throughout the holiday season, the Harbor's magnificent light display will illuminate the evening sky for guests of all ages to enjoy. Themed light exhibits throughout the Harbor will include Candy Cane Lane, and the popular "Merry Kiss Me" arch. New this year, Dana Point Harbor Partners have added light displays to the island to encourage visitors to explore all areas of the Harbor and avoid large crowds.
Winterlit holiday art installations and festivities will light up Downtown Santa Monica all season long Friday, November 27 – Sunday, January 3. Third Street Promenade will glow under tens of thousands of lights illuminating festive outdoor retail and dining, as well as eleven different holiday-inspired storefront art installations created by a variety of Los Angeles-based artists. The official City of Santa Monica 24-foot-tall tree and festive garland will deck the Promenade and a new holiday-inspired augmented reality experience will allow guests to transform physical structures, spaces, and trees along the Promenade into holiday elements and decor.
Join us for a celebration filled with joy and light! Loosely translated, Hikari means shine in Japanese, and this holiday season we have really made Tanaka Farms shine with over a mile of twinkling lights! As you drive through our 30-acre farm, you will be dazzled by farm-themed lighting from trees, to scarecrows, tractors…even our sugarcane got the holiday light treatment! Plus, every Friday, Saturday, and Sunday we have a very special visit from Santa, himself! Open Friday, November 27, 2020 through Sunday, January 10, 2021.
A self-proclaimed Clark Griswold in real life, this home is decked out in amazing lights by a family that's truly passionate about Christmas lights. Must be seen to be believed!
The historic Venice Sign will light up for the Holidays again this year. 2020 will be a virtual celebration on December 5th, but you'll be able to see the classic sign as it hangs over Pacific and Windward streets in Venice.
Yolanda Lights
7300 block of Yolanda Ave, Reseda, CA
Yolanda Lights has been enchanting families for more than 10 years. Each year, families enjoy the "incandescent tunnels of warm light" which "straddle the sidewalk on both sides of the street and extend almost the entire block." Families are invited to walk or ride (skates, strollers, wagons, bikes) through the tunnels. This holiday light display is a neighborhood effort stressing cooperation rather than competition. Continue to check the website for updates about this year's event. No word yet, if this neighborhood will continue the tradition this year.
Lavish Rodeo Drive gets a festive makeover during the holidays with thousands of twinkly holiday lights. The festivities generally include many activities including live musical performances and visits with Santa. Each year, the holiday season officially kicks off with the Rodeo Drive Lighting Celebration. No word yet if this event is still happening this year. Be sure to check the website for updates.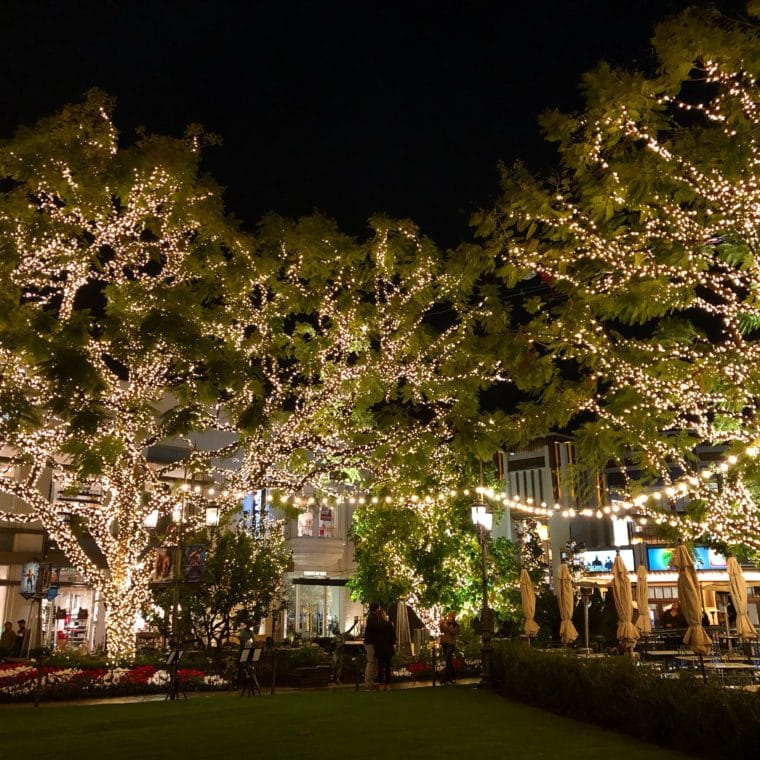 Each year, The Grove is home to a 100-foot tall fir tree, decorated with more than 15,000 lights and 10,000 ornaments. Additionally, families would enjoy a special "snowfall" each evening at 7:00 pm and 8:00 pm. Music performances, and visits with Santa make an outing to The Grove memorable and festive. Check the website for updates regarding this year's festivities.
This is a neighborhood event that has been taking place for over 40 years, described as "one of the most spectacular displays of Christmas Lights in the South Bay." You'll find homes decorated with thousands of lights, which you can enjoy by driving or walking through the neighborhood. You'll be oohing and aahing all night. Enjoy the lights throughout December from 6:00 pm to 10:00 pm each night.
Enjoy Santa's Speedway Christmas Lights Drive-Thru now through January 10th, 2021. The Irwindale Speedway has been transformed into a "magical display of lights and attractions including a record setting Christmas Tree of lights towering over 100 feet." Tickets are available online.
Running from November 27th through Christmas is the Inland Empire's best neighborhood holiday lights display which features anything but your run-of-the-mill holiday lights display. The Bainbridge Circle Holiday Extravaganza is a multi-home, synchronized lights display complete with music and tons of festive cheer. Enjoy the festivities, walking or driving through, each night from 6:00 pm to 10:00 pm.
28th Annual Festival of Lights
The Mission Inn Hotel and Spa
3649 Mission Avenue, Riverside, CA 92501
The Mission Inn Hotel and Spa invites families to its annual Festival of Lights. This year the festivities begin on Friday, November 27th and continue through January 6th, 2021. The free, five-week long "holiday extravaganza" features "one of the nation's largest holiday light collections of its kind." The Hotel will be illuminated with millions of holiday lights! In addition, the Festival of Lights features animated figures, a life-size gingerbread house, and a 19' live Christmas tree. Some modifications will be in place this year, including the absence of a switch-on ceremony. Lights will be on the exterior of the front of the hotel. Check the website for details.
This annual tradition involves cul-de-sacs featuring homes that go all-out for the holiday season. You'll feel like you're on a movie set as you look from one home to the next. Your family will enjoy the sight of thousands of lights and festive displays. Lights are generally on each evening throughout December from 6:00 pm to 10:30 pm. No word yet if this event is still happening this year. Check the website for details.
Holidays In Your Car
Del Mar Fairgrounds, 2260 Jimmy Durante Blvd., Del Mar, CA 92014
and
Ventura County Fairgrounds, 10 W. Harbor Blvd., Ventura, CA 93001
Families have two locations to choose from to experience "Holidays In Your Car." The special show features "more than one million LED lights animated to the tunes of holiday classics." Additionally, certain weekends also feature a special Live Stage Show called "Santa Saves Christmas." Tickets are available online.
Capistrano Lights
Mission San Juan Capistrano
26801 Ortega Hwy, San Juan Capistrano, CA 92675
Capistrano Lights returns to Mission San Capistrano this holiday season beginning December 3rd and continuing through January 3rd, 2021. Grounds open at 4:30 pm each evening. The nightly Christmas tree lighting will happen at 5:00 pm. Grounds close at 6:00 pm each night. Stroll through the Mission grounds and enjoy the festive decorations – including a 10 foot wreath. Tickets should be purchased in advance. Check the website for details.
The Norton Family is counting down the days until Christmas. However, one of the neighbors on the street, who always celebrates and decorates his home, will not be participating, so know that it will look different this year than in year's past. Also note, the holiday display will not be on during rain.
Daisy Avenue in Long Beach begins the holiday season with an annual parade. This year's parade is happening on Saturday, December 12th and begins at 5:00 pm. Families will view an enchanting Christmas Village, nativity scenes, and more.
WonderLAnd
6100 Topanga Canyon Blvd., Woodland Hills, CA 91367
From November 30th through December 23rd, and December 26th through December 30th, families can enjoy Wonderland. This special "holiday drive-thru adventure" is experienced from the safety of your car. You'll be enchanted by millions of lights, themed decor, synchronized holiday music lights, elaborate sets, hologram installations, and more. Tickets are available online.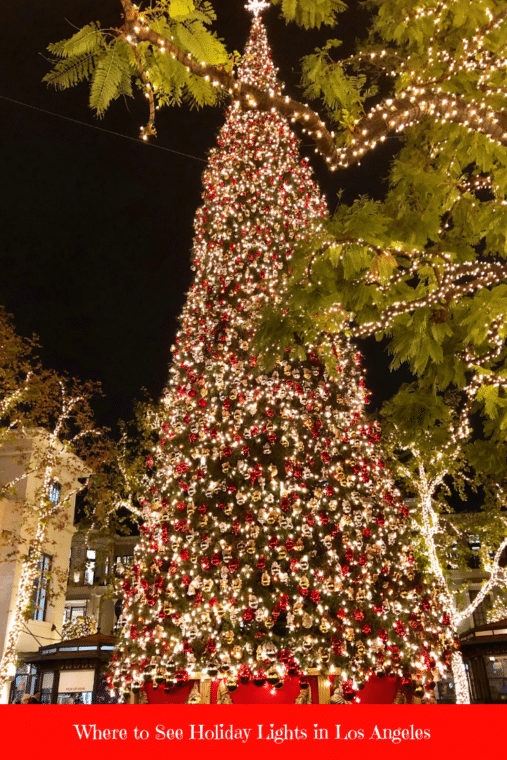 Wendy Kennar is a mother, writer, and former teacher who has lived her entire life in the same Los Angeles zip code. You can read more from Wendy at her website WendyKennar.com where she writes about books, boys, and bodies (living with an invisible disability).
Disclaimer: MomsLA has made every effort to confirm the information in this article; however, things can often change. Therefore, MomsLA makes no representations or warranties about the accuracy of the information published here. MomsLA strongly urges you to confirm any event details, like date, time, location, and admission, with the third party hosting the event. You assume the sole risk of relying on any of the information in our list. MomsLA is in no way responsible for any injuries or damages you sustain while attending any third party event posted on our website. Please read our Terms of Use which you have agreed to based on your continued use of this website. Some events have paid to be listed on MomsLA.