You know Spring is in the air when we're planning day trips to check out the newest blooms of spring wildflowers. It's a perfect time to plan a family outing to view the majestic colors in person. While there may not be a Super Bloom, like we were fortunate enough to view last year, wildflowers are still blooming and still beautiful!
The California Department of Parks and Recreation also offers a helpful website with up-to-date information.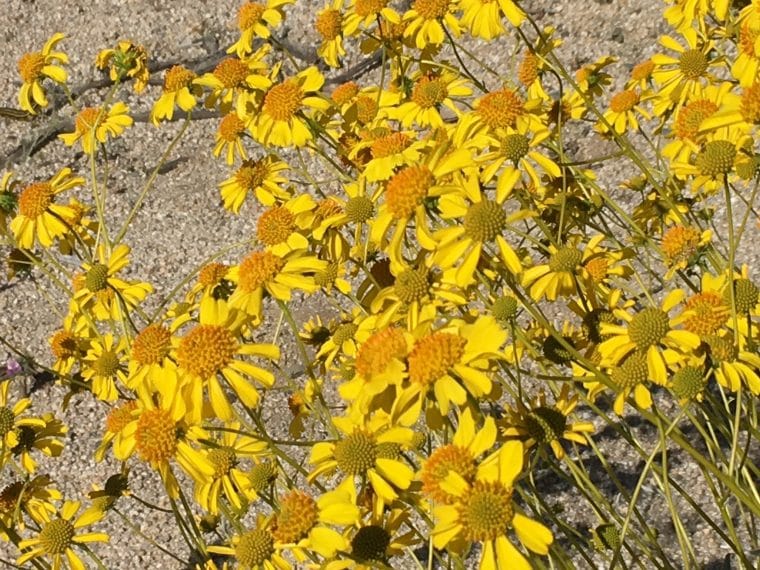 The Flower Fields at Carlsbad Ranch
5704 Paseo Del Norte, Carlsbad, CA 92008
On the 50 acres that comprise The Flower Fields, you'll find a rainbow of color awaiting you as you marvel at the display of ranunculus. Children will also enjoy Santa's Playground, the Sweet Pea Maze, and for an additional fee, open-air antique tractor wagon rides. Check the website for information about upcoming special events. The Fields are open daily (9:00 am to 6:00 pm) from March 1st through May 10th. (Admission is $18 for adults; $17 with AAA discount; $16 for seniors 60+; $9 for children 3-10; and free for children 2 and younger).
Antelope Valley California Poppy Reserve
15101 Lancaster Rd., Lancaster, CA
Here you'll find "California's most consistent poppy-bearing land." The website's report, as of February 16th, states the first few poppies are blooming on the south-facing side of the park. Additionally, visitors will spot "fiddlenecks, slender keel fruits, red maids, and forget-me-nots" blooming as well. Remember, poppies open up during mid-morning and curl back up during late afternoon/evening and when the temperature is colder. Take your time, exploring among the eight miles of trails, and be sure to visit the Jane S. Pinheiro Interpretive Center (open March 1st through Mother's Day). Also, be sure to check the weather before you go (strong winds are frequent) and be sure to have more water than you think your family will actually drink. Parking fees are $10. The park is open from sunrise to sunset. Check the website for bloom updates.
Anza-Borrego Desert State Park
200 Palm Canyon Dr., Borrego Springs, CA 92004
Anza-Borrego Desert State Park is the largest state park in California. As of February 25th, "Desert Gold Poppies, Phacelia, and a variety of tiny 'belly flowers' are starting to make their appearance near the Visitor Center and on low rocky hillsides." Be sue to stop by the Visitor Center and take a look at the exhibits as well as the 15-minute film, A Year in the Desert. If you plan to hike, keep in mind that the Borrego Palm Canyon Trail is closed due to a recent fire in the canyon. Check the website before you go to determine the status of wildflowers in bloom.
Joshua Tree National Park
74485 National Park Dr., Twentynine Palms, CA 92277
"Two distinct desert ecosystems, the Mojave and the Colorado, come together in Joshua Tree National Park." Families will find wildflowers blooming now at certain elevations, with desert regions above 5,000-feet having blooms as late as June. The "when" and "where" of wildflower blooming in Joshua Tree vary from year to year. Be sure to visit the website for the latest updates as well as information on the other activities offered at Joshua Tree including hiking and bird-watching.
Carrizo Plain National Monument
17495 Soda Lake Rd., California Valley, CA 93453
North of Los Angeles, in the Central Valley you'll find the Carrizo Plain National Monument, sometimes described as "one of the best kept secrets in California." Families will see Soda Lake, one of the most dominant geographic features in the area. Wildflowers tend to "carpet the valley floor" and are quite a sight to see. Keep in mind that Carrizo Plain is located in a more remote area and no services (water, food, fuel) are located nearby. Check the website before visiting for wildflower updates.
Catalina Island
boat rides departing from San Pedro and/or Long Beach
Whether you go just for the day, or decide to make it a little vacation, it's worth taking a trip to Catalina to check out wildflower season there. Catalina Conservancy recommends a guided tour of the interior so you can see and experience the rainbow of beauty that is present in the blooming flowers. Wildflower season generally lasts through May.
Death Valley National Park
(there is no specific street address but many GPS users have success using the address for the nearby post office which is 328 Greenland Blvd., Death Valley, CA 92328)
While Death Valley may be most famous for its extreme temperatures and its designation as the "hottest, driest, and lowest national park," wildflowers are expected throughout in different areas of the park. You may see wildflowers resembling a "sea of gold, purple, pink, or white flowers." Some years blossoms are fewer than others, but they are never completely absent from the park. Check the website for the most up-to-date information on the wildflower blooms as it becomes available.
Point Mugu State Park
9000 W. Pacific Coast highway, Malibu, CA 90265

Point Mugu State Park is a pretty spot to visit year-round. Located within the Santa Monica Mountains, Point Mugu State Park features five miles of ocean shoreline and incredible views. You won't run out of things to do at this picturesque site including wildflower-blooming, hiking, and swimming.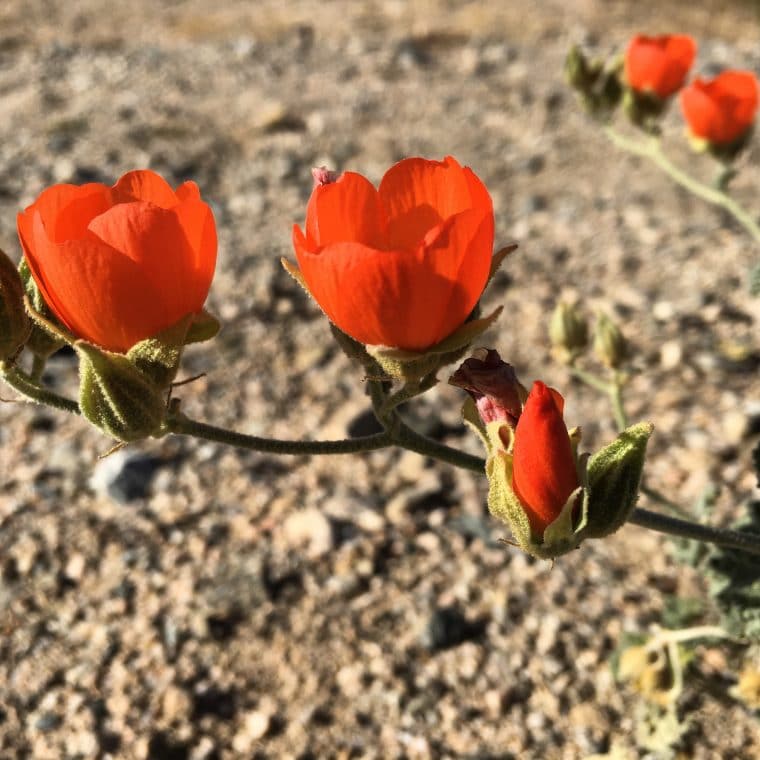 Paramount Ranch
2903 Cornell Rd., Agoura Hills, CA 91301
In the 1920s, Paramount Pictures purchased 2700 acres of the Rancho Las Virgenes to be used as a "movie ranch." In 1980, the National Park Service revitalized a portion of the movie ranch. Today families can go exploring, hiking, and wildflower-viewing on the same land that has been used as the setting in many film and television shows, including Dr. Quinn, Medicine Woman. Kids will enjoy seeing what looks like an authentic Western Town, and families will appreciate that there are places to enjoy a nice relaxing picnic. A few trails remain closed due to the Woolsey Fire; check the website for further details.
Eaton Canyon Natural Area and Nature Center
1750 N. Altadena Dr., Pasadena, CA 91107
At the base of the San Gabriel Mountains, you'll find the Eaton Canyon Natural Area. Among its 190 acres, families will enjoy picnic areas, hiking trails, and wildflowers. While closer to L.A., some complain this particular area gets a bit crowded. The Nature Center also offers animal presentations, bird walks, nature walks, and more.
Linden H. Chandler Preserve
Palos Verdes Dr. N. and Dapple Gray Lane, Rolling Hills Estates, CA 90274
The Linden H. Chandler Preserve is a part of the Palos Verdes Nature Preserve. The Chandler Preserve is described as being both family-friendly and a good spot to view wildflowers. You'll spot a variety of native wildflowers and shrubs (including the common fiddleneck, Western tansy mustard, and longleaf bush lupine) as well as small wildlife (native birds and insects). See if you can spot the endangered Palos Verdes blue butterfly during your exploration time.
Malibu Bluffs Open Space
24250 Pacific Coast Highway, Malibu, CA 90265
There are 84-acres within Malibu Bluffs Open Space. Families will enjoy majestic ocean views, several trails, wildlife viewing, and spring wildflowers in bloom. In addition, Malibu Bluffs Open Space is adjacent to Malibu Bluffs Park which features baseball diamonds, restrooms, and a children's play structure.
Wild Flower Hill
Theodore Payne Foundation for Wild Flowers and Native Plants
10459 Tuxford St., Sun Valley, CA 91352
The Theodore Payne Foundation site includes a retail nursery, demonstration garden, picnic area, seed and book store, and Wild Flower Hill. Wildflower Hill is a 3/4-mile-trail that is ideal for leisurely strolls, birdwatching, wildlife spotting, and flower viewing. If you spot something that you can't identify, be sure to take a photo and then ask one of the nursery sales associates for help in identifying it. (You can also check their hotline for information on the best spots to view wildflowers around southern California.)

Disclaimer: MomsLA has made every effort to confirm the information in this article; however, things can often change. Therefore, MomsLA makes no representations or warranties about the accuracy of the information published here. MomsLA strongly urges you to confirm any event details, like date, time, location, and admission, with the third party hosting the event. You assume the sole risk of relying on any of the information in our list. MomsLA is in no way responsible for any injuries or damages you sustain while attending any third party event posted on our website. Please read our Terms of Use which you have agreed to based on your continued use of this website. Some events have paid to be listed on MomsLA.