Updated for 2021
Pinkies up! Is there anything quite as elegant as having Afternoon Tea, complete with scones, lemon curd, finger sandwiches, and of course the tiniest and most delightful desserts? Commonly known as High Tea, this lovely activity is one of our absolutely favorite ways to enjoy carbs.
Afternoon Tea is a terrific way to celebrate Mother's Day or a Birthday for a special person in your life. Or how about having a Mommy & Me High Tea one of these days? Just for fun – and a nice excuse to play Dress-Up? Or what if you plan ahead with your close Mom friends and celebrate Galentine's Day?
Whatever your reason for wanting to have High Tea (and you don't have to have one – we won't judge), we've got a great list for you of the Best Places for Afternoon Tea In and Around Los Angeles. Enjoy!
Looking for Afternoon Tea Near Me? Check out our Map below!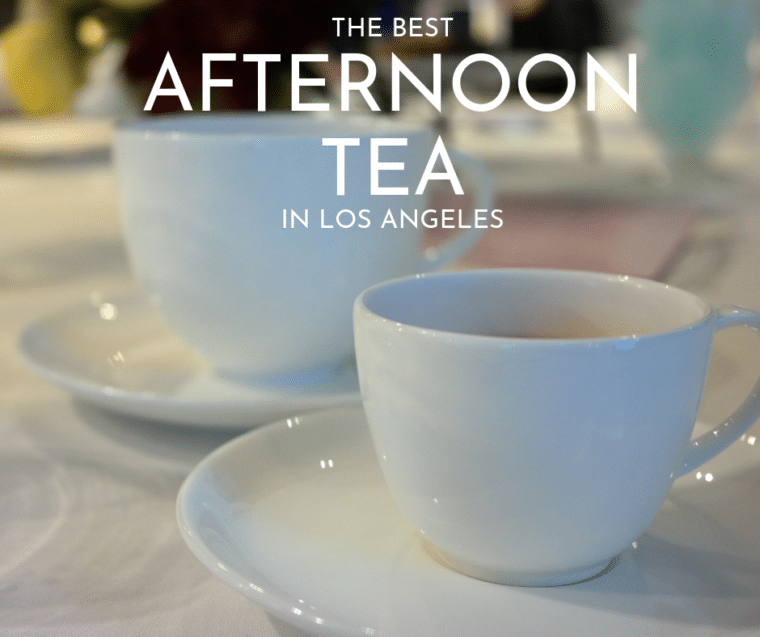 What is Included with Afternoon Tea?
Don't be fooled by the name into thinking that this is simply a snack; afternoon tea can be a very filling meal! And please note – it's heavy on the carbs. If you're following a Paleo or Keto diet, you just need to be prepared.
Of course, every spot will have slightly different items on the menu, but generally, you can expect to be served the following at Tea:
A choice of Teas, which may sound obvious. Although each restaurant's selection will vary, you can usually always count on being offered the classics, like Earl Grey Tea or English Breakfast Tea. You'll be served your very own teapot and strainer, along with cream or lemon, depending on what you prefer. The tea will need to steep for a while before it's ready to serve in your sweet teacup, and if you drink all the tea in your pot and want more, your server can re-fill the pot with hot water.
Scones. These look similar to American biscuits, but tend to be a less flaky version. Scones can be plain or flavored, often with raisins or currants, and are meant to be covered in clotted cream, butter, jam, or lemon curd. Or some other delightful thing the restaurant serves. They go very well with tea!
Clotted Cream. This is a rich, thickened cream, meant to be enjoyed on a scone, and you can think of it as similar to the way you would use cream cheese on a bagel. The consistency is runnier than cream cheese – but not quite as runny as plain cream would be. It can be served whipped as well.
Lemon Curd (and other Jams and Jellies). Often made in house, these items are also meant to be eaten on a scone. And while you of course know what jams and jellies are, you might be less familiar with lemon curd. It's a lot like a custard, but made without dairy. It's tangy and delicious – and of course, perfect on a scone! The ingredients usually include egg yolks, lemon, sugar, salt and butter. If you'd like to make your own, Sally's Baking Addiction has a terrific recipe for Lemon Curd you can try.
Finger Sandwiches. These are the most adorable and delicious sandwiches you'll ever have, and their traditional size (little rectangles) make them perfect for little hands! There are probably thousands of fillings for Tea Sandwiches, as they're also known, but some of the classic fillings you'll find at Tea are curried egg salad, cucumber and mint, smoked salmon and cream cheese, watercress and butter, asparagus, country paté, brie and apple. At restaurants catering to families, you are likely to also find peanut butter and jelly, as well as American cheese sandwiches on the menu.
Desserts! Yes, even after all this food, there are still desserts to come! These desserts will likely be among the daintiest and most beautiful things you've ever seen, and you may be tempted not to want to eat them because of their beauty. But that will pass. You'll find yourself eating things like macarons, tiny cupcakes, chocolate mousse, fruit tarts, or some other delightful pastries, and you'll enjoy every bite.
What About Booze at Afternoon Tea?
While this is not something for the kiddos in your party, many restaurants offer what could be called a Boozy Afternoon Tea. They may have a glass of champagne on the menu as an option, which is especially nice when you're having a Mom's Day Out instead of Mommy and Tea Tea. The champagne is usually an add-on to the price of the meal.
Afternoon Tea in Los Angeles
Unique to downtown Los Angeles, traditional Afternoon Tea is available Saturdays and Sundays, from 2:00 pm to 5:00 pm at the Millennium Biltmore Hotel. Afternoon Tea includes "an assortment of delicious sandwiches, scones, and pastries, and of course, a pot of fine-blended custom tea." Reservations are recommended.
Want to learn more about Afternoon Tea, High Tea, and other British Food Customs? Click here to read this article on NPR.
2. The Peninsula Beverly Hills
9882 South Santa Monica Blvd., Beverly Hills, CA 90212
(310) 975-2736
The Peninsula Beverly Hills offers traditional Afternoon Tea on Saturdays (seatings at 11:00 am and 1:30 pm) and Sundays (seatings at 11:00 am, 1:30 pm, and 4:00 pm). Enjoy the new limited edition menu in The Peninsula's alfresco location at Le Petit Belvedere. "Enjoy free flowing Champagne by Laurent Perrier, one of a kind teas and a tower of sweet and savory goodies in our own 'secret garden.'" Check the website for details and to make a reservation.
3. Rose & Blanc Tea Room
301 S. Western Ave. #202, Los Angeles, CA 90020
(213) 330-6787
Rose & Blanc Tea Room has become quite a popular spot for bridal and baby showers. Afternoon Tea is served on Saturdays and Sundays beginning at 12 noon. They feature "European and local name brand teas." They also offer "Tea Party at home" so you can host a special afternoon tea in the comfort of your own home. Reservations are required.
4. Ye Olde King's Head
116 Santa Monica Blvd., Santa Monica, CA 90401
(310) 451-1402
Ye Olde King's Head was established in 1974 and is a popular spot in Santa Monica. They offer Afternoon Tea Wednesday through Saturday from 11:30 am to 4:00 pm. Enjoy a "selection of finger sandwiches, savory bites, freshly baked scones with Devonshire cream and preserves and a selection of pastries" served with specialty tea.
5. Tea by the Sea
The Getty Villa
17985 Pacific Coast Highway, Pacific Palisades, CA 90272
(310) 440-7300
Enjoy Tea by the Sea on Thursdays, Saturdays, and Sundays at 1:00 pm. "Tea by the Sea was inspired by the Villa's authentically recreated first-century Roman gardens." Tea by the Sea includes "savory sandwiches, sweet scones and tea breads, and gourmet desserts, as well as fruit, cheese, and a varied selection of teas." A special children's menu (featuring hot chocolate, sandwiches, and dessert) is also available. Tea is served in the Founder's Room, an elegant space featuring floor-to-ceiling windows overlooking the Villa. Reservations are highly recommended. Currently, Afternoon Tea is not being offered due to the coronavirus pandemic.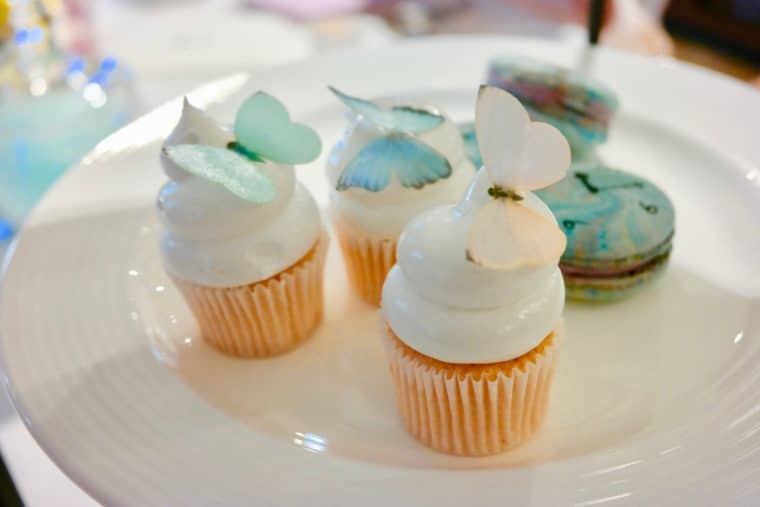 Afternoon Tea in Pasadena and East
The tradition of Afternoon Tea is an important signature of The Langham brand worldwide, so you can enjoy afternoon tea there on a daily basis. The atmosphere in the Lobby Lounge is breathtaking with floor-to-ceiling windows, offering picturesque views of The Horseshoe Garden and San Marino. Along with their Afternoon Tea with Wedgewood, the hotel also offers a Royal Tea, and on Sundays they offer their one-of-a-kind Chocolate Tea. Check their website to make reservations.
7. The Four Seasons Tea Room
75 North Baldwin Ave., Sierra Madre, CA 91024
(626) 355-0045
The Four Seasons Tea Room is a beautiful and charming experience with a European small town feeling as well as a great place to get dolled up with your girlfriends for an afternoon of tea. There are five different menu items offered including The Sandwich Tea, Afternoon Tea, and the Royal Afternoon Tea. The Afternoon Tea includes hot tea, five tea sandwiches, salad, scones and jam, sweets, and desserts. Tea is served Thursdays, Fridays, Saturdays, and Sundays for two seatings at 11:00 am and 2:30 pm. (Certain items are not available on certain days.) Check the website for details and to make a reservation.
8. Madeline Garden
1030 E. Green St., Pasadena, CA 91106
(626) 795-5599
Madeline Garden is more than a spot for tea. This location was "once a special development occupied by Albert Einstein." High Tea options include scones, tea sandwiches, and desserts. A Children's Tea is also available. Madeline Garden welcomes guests Friday through Sunday, from 11 am to 5 pm. Reservations may be made online.
Set amongst the breathtaking gardens of the Huntington and surrounded by art from the great masters of the past, The Rose Garden Tea Room is a beautiful spot in which to have an Afternoon Tea for a special event or just because. The memorable experience is "inspired by the tradition of English tea service with a distinctive California twist." Currently, the Tea Room is closed for renovation. However, Tea for Two may be pre-ordered and enjoyed on the 1919 patio. Check the website for details.
10. Rose Tree Cottage
801 South Pasadena Ave., Pasadena, CA 91105
(626) 793-3337
Set in the city of the Rose bowl and Rose Parade, the Rose Tea Cottage offers an elegant English-style Afternoon Tea. Afternoon Tea is served in the garden, Tuesday through Sunday at 1:00 pm and 4:00 pm. Reservations are required. You'll also find the "English Village Shop" on-site with lots of yummy import items.
11. The T Room
2405 Honolulu Ave., Montrose, CA 91020
(818) 249-6677
Enjoy a cozy tea experience at The T Room in Montrose. Adults will savor the Queen's Tea, an English style tea including finger sandwiches, "freshly baked cranberry scones with homemade Russian cream and strawberry preserves,"assorted desserts, and fruit. Children will enjoy a Prince/Princess Tea featuring hot chocolate and finger sandwiches, as well. Tea is served Monday through Friday from 10 am to 3 pm. Saturday and Sunday service varies due to private party reservations. Call to make a reservation.
12-15. Chado Tea Room
Four Locations:
• 79 N. Raymond St., Pasadena 91103 (626) 431-2832
• Inside the Japanese American National Museum, 369 East 1st St., LA 90012 (213) 258-2531
• 6801 Hollywood Blvd. Suite 209, Hollywood 90028 (323) 472-8111
• 1303 El Prado Ave., Torrance 90501 (424) 757-5222
With four locations around Southern California, the Chado Tea Room has a casual ambience that focuses more on actual tea than on the customs surrounding it. Guests can choose from more than 300 blend varieties for their pot of tea, which also comes with a selection of toasted sandwiches, scones, jam, and dessert. Reservations are recommended.
Afternoon Tea in West Hollywood
16. Le Salon de Thé
8535 W. Sunset Blvd., West Hollywood, CA 90069
(310) 962-9538
Le Salon de Thé is a "French Tea Room in West Hollywood." Enjoy an elegant selection of finger sandwiches, an assortment of sweet desserts, and fine tea during High Tea. Le Salon de Thé is a popular spot for celebrating special events. They can even help you celebrate "in the comfort of your home or at the place of your dreams."Afternoon Tea is served by reservation only.
17. The London West Hollywood
1020 N. San Vicente Blvd., West Hollywood, CA 90069
(310) 358-7788
Afternoon Tea at The London West Hollywood is a memorable event. Enjoy a "selection of traditional tea sandwiches on house-made breads," scones, pastries, and more. The fanciful bites are paired with premium teas from The Rare Tea Company, the hotel's tea partner. Tea is served Saturdays and Sundays between 1:00 pm and 4:00 pm. Reservations are required.
Afternoon Tea in Orange County
18. McKenna's Tea Cottage
237 Main St., Seal Beach, CA 90740
(562) 431-0200
McKenna's Tea Cottage was established in late 2011 and is recognized as a favorite tea room in Orange County. This family-run business different Afternoon Tea options including "The Royal Tea," "Queen Mums Tea," and "lazily Hamilton Tea." For younger guests, there is "Prince and Princess Tea" option. Tea times are 11 am to 2 pm, every half hour. Reservations are required.
19. Pamela's Tea Room
12752 Valley View St. Suites P&Q, Garden Grove, CA 92845
(714) 897-9442
Pamela's Tea Room offers a few options for Afternoon Tea. Choose from "High Cream Tea" which includes a pot of English tea, soup du jour, tea sandwiches, side salad, and fresh scones with jam and cream; "Afternoon Cream Tea;" or "Pamela's Cream Tea." A "Little Princess Tea" is offered for children 12 and under. The Tea Room is open Wednesday through Sunday, from 11 am to 4 pm, with the last reservation at 2:30 pm. Reservations are strongly recommended.
20. Paris In A Cup
119 S. Glassell St., Orange, CA 92866
(714) 538-9411
Enjoy authentic French music as you sip and savor an Afternoon Tea at Paris In A Cup. Four different Afternoon Tea options are available including the "Marie Antoinette" featuring scones, soup, salad, assorted tea sandwiches, desserts, and of course, tea. Keep in mind, Paris In A Cup does not consider itself appropriate for children under the age of 10. Currently, Tea Service is offered Fridays, Saturdays, and Sundays from 11 am to 4 pm. Reservations may be made online.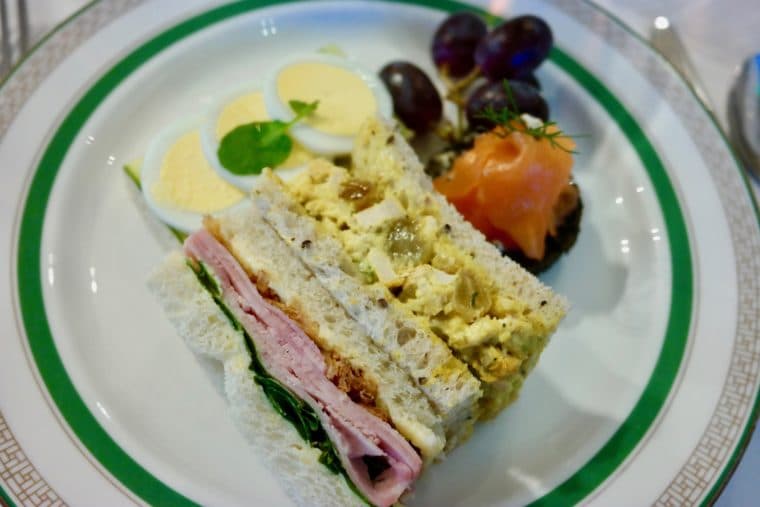 Afternoon Tea in the Northwest Valley
21. Tea Elle C Garden Cafe
26111 Bouquet Canyon Rd., Santa Clarita, CA 91350
(661) 255-9832
If Santa Clarita is closer to you, be sure to make a reservation at Tea Elle C Garden Cafe. Afternoon Tea is served all day at The Tea Gardens. Afternoon Tea includes 6 finger sandwiches (flavors in sets of 2), a scone, 3 assorted desserts, and tea. There is also a "Tea for Me – Kids Corner" featuring choice of finger sandwich, fruit cup, a scone, and a sweet treat.
22. Tranquility Tea Room
2527 E. Thousand Oaks Blvd., Thousand Oaks, CA 91362
(805) 418-9939
The Tranquility Tea Room was established in 2007. Here you'll find "lovely antiques, fresh flower arrangements, vintage dishes and lacy linens." This spot is a popular venue for birthdays, showers, and special occasions. Seatings for Afternoon Tea are offered at 11:00 am and 3:00 pm daily.
Afternoon Tea Near Me
In Los Angeles
---
Disclaimer: MomsLA has made every effort to confirm the information in this article; however, things can often change. Therefore, MomsLA makes no representations or warranties about the accuracy of the information published here. MomsLA strongly urges you to confirm any event details, like date, time, location, and admission, with the third party hosting the event. You assume the sole risk of relying on any of the information in our list. MomsLA is in no way responsible for any injuries or damages you sustain while attending any third party event posted on our website. Please read our Terms of Use which you have agreed to based on your continued use of this website. Some events have paid to be listed on MomsLA.