Looking for Mother's Day Brunch To Go? Scroll down…
Mother's Day. The day we all celebrate the Moms in our lives, and when some of us are celebrated, too. At MomsLA, we're pretty fond of Mother's Day, since it's usually a day filled with breakfast in bed, or brunch out at a fancy place, or maybe a lovely gift from our kids or our spouse – and hopefully not a day we get stuck having to do the laundry. Hopefully.
Mother's Day is coming up and we want it to be special, even under the circumstances, so we've rounded up a ton of ideas for celebrating Moms. Looking for: Los Angeles Restaurants with Mother's Day Brunch To Go, Gift Ideas, Mother's Day Quotes, Crafts to make, and essays about Motherhood – you'll find them here.
When is Mother's Day 2020? Sunday, May 10th.
Feel free to share these with whoever needs to know.
Mother's Day Brunch To Go (scroll down)

Mother's Day Gift Ideas (scroll down)
Mother's Day Brunch in Los Angeles – To Go
These amazing Los Angeles restaurants have decided to make Mother's Day Brunch available for take-out and, in some cases, delivery. Check each one for details on menu options, ordering, and deadlines.
The London West Hollywood obviously thinks Moms are special: they are offering a delicious and delightful Mother's Day Brunch at HOME menu. The culinary team has created a sophisticated menu that includes a choice of Baked Maine Lobster Newburg, COQ au VIN or Roasted Prime Chateaubriand with a selection of starters, vegetable sides and choice of dessert. Additionally, they're offering a take-home "build-your-own-beverage" option of Strawberry Mimosas with fresh-pressed strawberry juice and Bloody Marys with Smoked Bacon Rasher. Serves two people $85, choice of Mains. **With beverage add $25.
Orders can be placed by emailing: [email protected] or calling: 310-358-7780. Pickup time is Sunday, May 10, from 11:30am-3:30pm and curbside pickup is available at the valet area. Gift cards are also available.
All'Acqua
3280 Glendale Blvd., Los Angeles, CA 90039
Known for their Pan-Italian cuisine, inlcuding house-made pastas, this Atwater Village restaurant is serving a special Mother's Day menu for pickup/delivery, on Sunday, May 10, 11am-7 pm. Enjoy a menu of Roasted baby beet salad, oro blanco grapefruit, frisée, mint, crème fraîche, House-made lobster ravioli, lobster butter sauce, Chocolate ganache tart with espresso cream & hazelnuts for $38. Call to pre-order: (323) 663-3280 Bonus: add wine or cocktails to your order!
Pasta Sisters
3280 Helms Avenue, Culver City, CA 90232
It is always a family affair at the family owned Italian restaurant and fresh pasta shop, Pasta Sisters. Angelenos can celebrate mom's special day with a Torta di Rose ($36), a traditional Italian cake made up of sweet rolls that resemble a basket of roses. Another option includes a special Pasta Sisters Market Bag ($55) that will contain all of the ingredients to bake the cake at home (minus the milk), full recipe with photos, one bottle of Pasta Sisters' EVOO, two chocolate roses and a pasta matching game.
The specials are only available for pickup from Pasta Sisters' Culver City location with 72hr notice. You can place your order over the phone or via ChowNow soon!
Chado Tea Room
Pasadena: 79 North Raymond, Pasadena, CA 91103
Torrance: 1303 El Prado Ave., Torrance, CA 90501
Family owned and operated team room and tea shop purveyors of fine teas from across the globe, Chado Tea, is featuring an extra special something for Mother's Day this year. Treat mom with Chado's 'DIY Afternoon Tea To-Go' featuring your choice of a 'Chocolate Celebration To-Go' for two ($75) or a 'Grand Chocolate Celebration To-Go) for two ($175):
Chocolate Celebration To-Go for 2 ($75): Features delicate tea sandwiches, two freshly-baked scones, mouth-watering cookies or macarons, and a box of chocolates. Grand Chocolate Celebration To Go for 2 ($175): Chocolate Celebration + Bone China Teapot and two tea cups and saucers (metal wire afternoon tea rack included to keep for future use!)
Pick up from Chado's Pasadena and Torrance tea rooms on Saturday, May 9 through Sunday, May 10 from 12pm – 4pm and bring the afternoon tea celebration to mom at home. Preorders accepted beginning May 4. For those also looking for the perfect gift for the perfect mom, their teas are available to order online.
Treat mom to a DIY cheese board brimming with fine cheeses, apricots, and walnuts. Forma Restaurant & Cheese Bar offers a daily selection of unique cheeses for takeout and delivery. All cheeses come with jam, honey, dry fruit, and bread. Call (424) 231-2868 for curbside pickup or search for Forma on Postmates, Grubhub, and DoorDash for delivery.
Bianca Bakery
8850 Washington Blvd. #103, Culver City, CA 90232
Bianca Bakery has created a 4-course prix fixe menu, thoughtfully prepared with the finest ingredients. Start with Gazpacho with shrimp, follow with ravioli made with squash blossoms, and a choice of entrée: turkey roulade or baked monkfish, and for dessert a strawberry charlotte for $72 per person. In addition, you could get their famous raspberry chocolate cake, the Chaja cake, a seasonal fruit tart, or a Mom Cookie. Please call 424-603-4353 to preorder for curbside pickup. Orders must be placed by 6pm on May 8th.
Although celebrating the fantastic mothers, grandmothers and great-grandmothers in our lives might look a bit different this year, The Original Farmers Market is here to help make it a memorable and delicious Mother's Day regardless of the circumstances.
There is no better way to treat mom than with a delicious meal to be enjoyed at home. For the mom that fancies brunch, Farmers Market favorite Du-par's Restaurant & Bakery has you covered with their famous pancake batter available to-go, so you can surprise mom with LA's best hotcakes in town. Don't forget oranges from Farm Boy Produce and Farm Fresh Produce for your fresh-squeezed orange juice! Bob's Coffee & Doughnuts is the best pick for freshly-made donuts, while Michelina Artisan Boulanger has the delectable pastries and fresh baked bread to make mom feel extra special. Pop over to Green Maya Coffee for the highest-quality, organic whole bean coffee to complement any at-home breakfast or brunch celebration, and be sure to get some farm fresh eggs from Marconda's Puritan Poultry or Farmers Market Poultry. Perhaps she's just in the mood for a flavorful cook-it-at-home Tomahawk Steak? Visit butcher experts Huntington Meats & Sausage or Marconda's Meats, and they'll make sure you have everything you need to make Mom's day.
Many merchants are also offering large format family take-home meals to help take the stress out of planning and cooking.Du-par's Restaurant & Bakery is featuring a Mother's Day takeout special— with dinners to feed 2-8 people— available for curbside pick-up or delivery via Mercato.com from Thursday, May 7 through Sunday, May 10 (pre-order 48 hours in advance). Specials include entrees like Grilled Salmon with Mango Salsa and Lemon Garlic Chicken Breast, along with a choice of side dishes such as roasted rosemary potatoes, dinner rolls, and Du-par's famed fruit pies. Other featured meal favorites offered for pickup and delivery include comfort classics from Fritzi Coop, ready-to-bake delicious empanadas from Nonna's Empanadas, and authentic Italian fare served family-style from Buca di Beppo.
Looking for the perfect special treat for mom? If she's a chocolate lover, head over to Littlejohn's English Toffee for some homemade chocolate or delightful English toffee. Magic Nut and Candy Company is a great choice for dried fruit slices or salty and sweet caramel popcorn. Over at Bennett's Ice Cream, you can grab pints of all her favorites, because, after all, mom deserves it. Temecula Olive Oil Company is featuring their custom olive oil gift boxes, created to your custom needs and tastes. Lastly, don't forget to pick up the perfect wine or bubbly to toast with on mom's day, courtesy of Monsieur Marcel Gourmet Market.
101 North Eatery and Bar
Shoppes at Westlake Village, 30760 Russell Ranch Road, Suite D, Westlake Village 91362
Mother's day brunch includes: Lobster & asparagus frittata, whipped mascarpone pancakes with honey soaked strawberries, crispy chicken sliders with pickled fresno chili slaw, mediterranean salad, breakfast potatoes, cold smoked center cut bacon, bread basket with assorted toast and mini croissants. $80 for two | $160 for four. Sunday, May 10 | pick up & free delivery available. Order online or by calling (805) 852-1588.
Our legendary Afternoon Tea is now available to take home every Saturday, and all Mother's Day weekend. Our at Home experience features a decadent selection of teatime treats like homemade scones, lemon curd, clotted cream, house made jams, assorted tea sandwiches, a bottle of Champagne and bite-sized desserts to share and enjoy. Find the full menu below and place an order via email ([email protected]) or by calling 310.975.2767.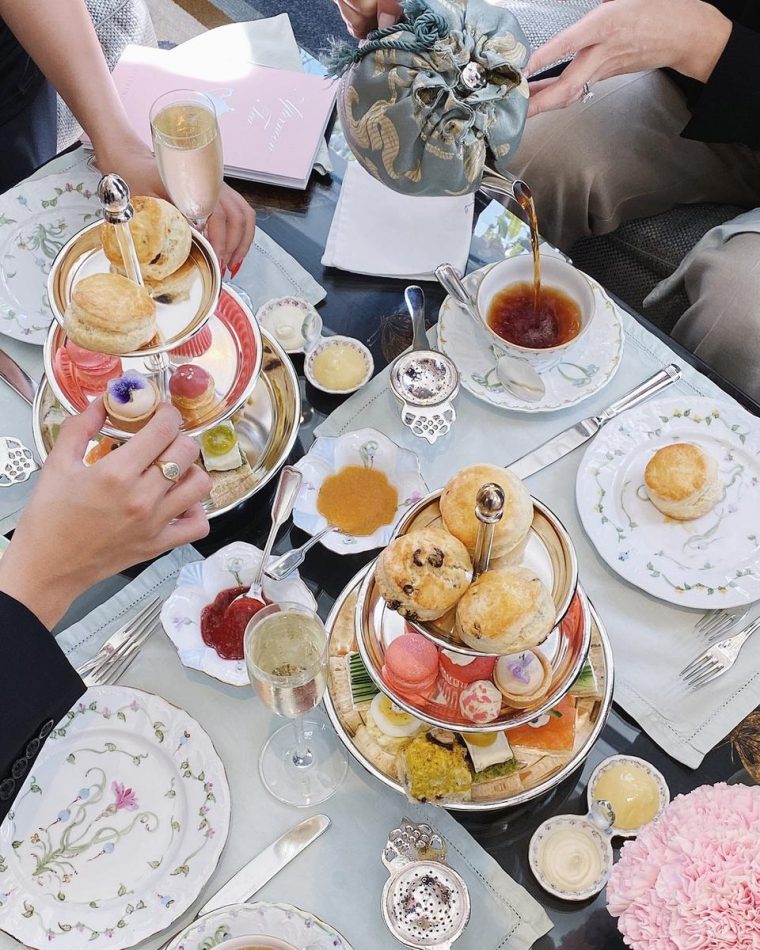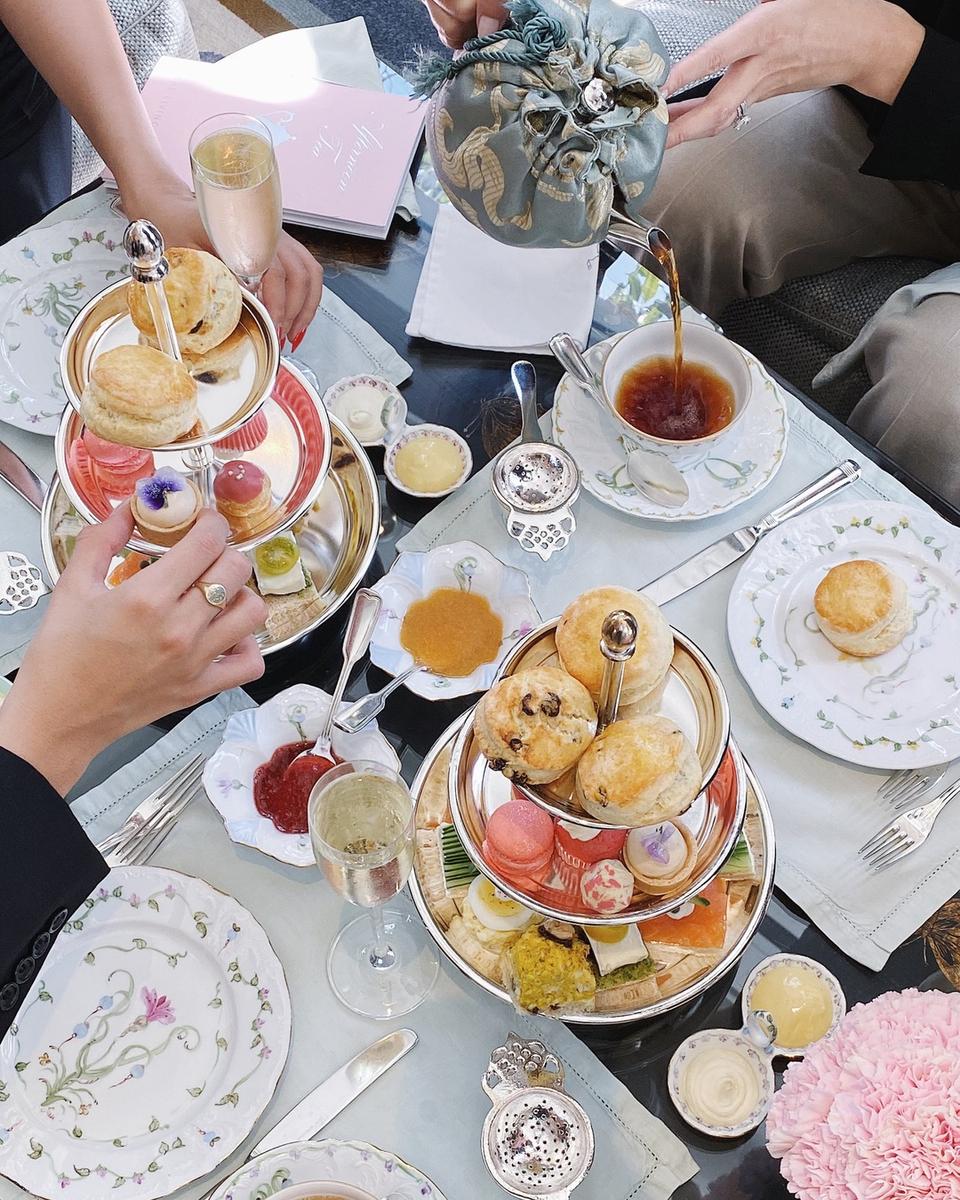 Tuck Room Tavern
10840 Wilshire Blvd., Los Angeles, CA 90024
The Tuck Room Tavern is serving a Mother's Day Dinner instead of Brunch this year, and it sounds amazing. Serves 4, it includes a tomato and cucumber salad, choice of entrées: braised beef short ribs, grilled salmon or chicken piccata, with green beans, mac n cheese and pommes aligot on the side, and for dessert: assorted tartlets and cookies. $80. Select wines available for an additional $20. Order by May 7th by calling (310) 307-7004 and choose a pick up time on May 10th 12-7pm.
Castaway
1250 East Harvard Road, Burbank, CA 91501
Show Mom just how special she is this year with a Castaway meal at home! Pre-orders available through Friday, May 8th at 5pm PST. Curbside pickup for Mother's Day orders available Saturday, May 9th from 1pm-5pm and Sunday, May 10th from 10am-4pm. Meals will be packaged and ready to reheat with instructions. Plus, Beer and 50% off Wine Specials! The Castaway team will also include a $20 Gift Card for Mom to use when we reopen!
Chef Perry has created Family Style Meals featuring Herb Crusted Atlantic Salmon, Honey Glazed Roasted Half Chicken, Surf & Turf or a Brunch Selection. All Family Style Meals feed up to 4 people and include Salad, Garlic Mashed Potatoes, Market Vegetable Fricassee, Red Velvet Cake and House Made Cookies. Accompanied with rolls and whipped butter.
Superba Food + Bread and Pitfire Pizza
Superba:
1900 Lincoln Blvd., Venice, CA 90291
Pitfire Pizza
Multiple locations around LA
The teams at Superba Food + Bread and Pitfire Pizza have worked to create sweet and memorable offerings to make this at-home Mother's Day extra special, with both restaurants including Kids Card Making Kits!
Superba Food + Bread in Venice will be offering Brunch + Dinner: Mother's Day Sunday Brunch (serves 4) $75 – Fresh Squeezed Orange Juice, Breakfast Scones (pop in the oven to bake), Fresh Strawberries with whipped cream, Superba Multigrain Pancake Batter and fixings (butter, syrup), House Cured Salmon w/poppy seed baguette and cream cheese + Kids Card Making Kit (for 2 cards) Add ons: Mother's Day Heart Cookies, Bouquet of flowers, Sparkling wine for mimosas (available for pickup only)
Mother's Day Fried Chicken Dinner (serves 2) $55 – ½ Mary's Fried Chicken, Cheddar and chive biscuits, Mac and Cheese, Collard Slaw, Superba Bakehouse Cookies.
Pitfire Pizza will be offering a Family Meal: Mother's Day Family Meal (serves 4) $65 – Kale Salad, Roasted Chicken Meatball Appetizer, 2 Full size pizzas (half baked), 2 Kid's pizzas, Nutella Pizza kit for dessert (raw dough to be stretched, baked + topped with Nutella) + Kids Card Making Kit (for 2 cards) Add-ons: Kid's Modeling Clay, Bottle of wine (available for pickup only), Pitcher of Sangria(available for pickup only) Growler of Beer, (available for pickup only)
Redbird
114 East 2nd Street, Los Angeles, CA 90012
Redbird is doing a special "Mother's Day Breakfast in Bed" package this weekend. Pickup is available Saturday evening to then heat and serve up to celebrate mom on Sunday morning. The experience includes all of the following for two from Chef Neal Fraser and team: local strawberry financiers, beet salad, house cured salmon – with choice of: quiche with asparagus, spring onion, mushroom, gruyere, espelette OR chicken thighs with pistachios, golden raisins, fregola, ras el hanout OR basque beef stew with soft eggs, morcilla, potatoes, piquillos, ossau iraty. And for dessert, yuzu bar with blackberries, graham cracker, meringue for $38 per person. Order online. Extras available.
Lunetta
2424 Pico Blvd., Santa Monica, CA 90405
Chef Raphael Lunetta and his team have created the perfect Mother's Day Brunch and Dinner menu to enjoy at home this year. The feast starts with Lisa's fresh baked pastries including lemon poppyseed scones, chocolate & plain croissants, zucchini muffins, orange cream cheese danish with housemade strawberry jam and cultured butter. Then Mom's can chose from starters like the Frog Hollow Farms pear salad and Mains like the gravlax BLT Board, or crab & tarragon omelet and a box of Lemon Sugar cookies – all priced per person at $40. Extras: Brunch cocktails include their famous Bloody Marys and their Momosa kits with fresh OJ and champagne. Meals include, starters, entree and desserts and a special gift from the chef (a rose for all the moms). Call to order by Friday May 8 for convenient curbside no contact pick up on Sunday May 10 10 am – 2 pm for brunch and 2pm – 6pm for Mother's Day dinner. 310.581.9888
Looking for a super-fabulous Brunch (or dinner) for Mom (and her family)? This family of high-end restaurants is offering 2 menu choices to pick up the day before and do the final prep at home on Sunday. Surf & Turf includes Filet Mignon and Lobster, plus greens, Brussels Sprouts, and a Brioche bread pudding. $225 and serves 4-5. Or maybe you'd like Cedar Plank Roasted Salmon instead? $180 for the same serving size. They are also offering brunch cocktail options for an additional fee.
Mother's Day Brunch Made at Home (by your family)
There's no time like the present for your spouse and kids to make you a special brunch at home. Have them stock up at the grocery store and then share your favorite recipe Pinterest board with them. Pancakes, waffles, French toast, or popovers are a few delicious ideas for the carb-lovers out there. Or what about Avocado Toast!
In fact, we've got a terrific recipe for the famous LAUSD Coffee Cake you can get them to make you.
If you're more of a Keto, Paleo, or Low-Carb Mom, a frittata, omelette, or an entrée salad might be a better choice. Whip up some Mom-osas and have a lovely day!

Mother's Day Gift Ideas
Here are our picks for the best Mother's Day Gift Ideas for 2020.
Flowers
You can't go wrong with flowers, whether you've picked them in the backyard or had them delivered. Many local florists are still open and will deliver beautiful bouquets to Moms all over Los Angeles – and as a bonus, you'll be supporting a small business in a time of crisis.
Looking for a flower delivery that goes all over, in case you need to send a few blooms to anyone else in the US? We love Farmgirl Flowers for their designs and the fact that they're a female-founded and female-funded company. They've even got Luxe Gift Boxes now.
Sweets
For the Moms who love to indulge their Sweet Teeth, there's some amazing treats that can be picked up or delivered. Just in time, See's Candy is now delivering, so you can get Mom some of the best, locally-made candy around.
Special Gifts
One of the coolest stores in SoCal, Mindfulnest is now online-only, so check them out on Instagram and their Shopify store for now, then visit them in Burbank as soon as possible. Jewelry, T-shirts, lots of beautiful, artist-made gifts for Mom.
Books
The Mom in your life probably needs a good book to read right about now – or 10. Amazon is always there for traditional books, e-books and audiobooks. Shop via our Amazon affiliate link and you'll be helping support a couple of LA Moms. Thanks!

Spa Treatments
There's no doubt the Mom you're shopping for needs a Spa Treatment. She could probably use one per day. But since she can't leave the house right now, you have a couple of options. Gift Cards to her favorite spa, like Burke Williams, are a nice way to help support local businesses that we all hope to see back open one day soon, plus it'll give her something to look forward to. Don't forget to include a child care gift certificate so she can get pampered care free.
If you're looking for a one-stop-shop, Spa Lé La provides spa treatments and child care in one place, and they are a Mom-owned local business. Plus they are shipping skincare products.
Hand Made – gifts and cards
Check out our Mother's Day Crafts article here.
Honestly, Moms love getting cards their kids make especially for them, so get out all the craft supplies you have, set the kids up at the table, and let them get creative. Even if you know they're making it for you, you'll still love it when they hand it to you.
Disclaimer: MomsLA has made every effort to confirm the information in this article; however, things can often change. Therefore, MomsLA makes no representations or warranties about the accuracy of the information published here. MomsLA strongly urges you to confirm any event details, like date, time, location, and admission, with the third party hosting the event. You assume the sole risk of relying on any of the information in our list. MomsLA is in no way responsible for any injuries or damages you sustain while attending any third party event posted on our website. Please read our Terms of Use which you have agreed to based on your continued use of this website. Some events have paid to be listed on MomsLA.