Best Family Friendly New Year's Eve Events in Southern California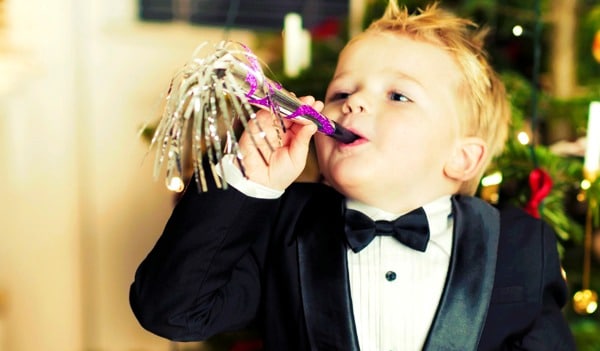 MomsLA is your source for Things to do in Los Angeles With Kids
Depending on the age of the children in your family, you may not be able to wait for midnight to celebrate the New Year. And in southern California, that's no problem. There are lots of family-friendly ways to celebrate the New Year!
Los Angeles
Noon Year's Eve at Kidspace Children's Museum
480 North Arroyo Boulevard
Pasadena, CA 91103
Phone: (626) 449-9144
Families can celebrate the almost-new-year at Kidspace Children's Museum on Sunday, December 31st from 10:00 am to 3:00 pm. The festivities include a ballon drop (at 12:00 pm), live DJs, party hats, dancing, and more. Expect heavy traffic and parking delays in the area. Available space in the balloon drop areas are on a first-come, first-serve basis.
N.Y.E.L.A. at Grand Park
200 N. Grand Ave.
Los Angeles, CA 90012
This event may be more suitable for families with older children, because the festivities begin on New Year's Eve at 8:00 pm and continue through until 1:00 am. Families can expect to enjoy live music, dancing, "interactive motion-graphic activations for audiences to bring to life with their own moves, and a countdown featuring 3-D digital video mapping on the side" of City Hall complete with a light show.
New Year's Eve Celebration at Burton Chace Park
13650 Mindanao Way
Marina del Rey, CA 90292
Celebrate the New Year in Marina del Rey's Burton Chace Park. The fun starts at 7:00 pm with a Glow Party complete with face painting, music, food trucks, and more. The event is free. There will also be two fireworks shows — one at 9:00 pm and the other at midnight.
Family New Year's Eve Celebration at the LA Zoo
5333 Zoo Drive
Los Angeles, CA 90027
Phone: (323) 644-4200
Families are invited to celebrate New Year's Eve at the Los Angeles Zoo beginning at  6:00 pm. Marvel at L.A. Zoo Lights, enjoy a dinner buffet, play games, join the DJ dance party, watch a live broadcast of New York's Times Square ball drop, and more. Tickets are available online. ($69 for adults, $45 for children). 
Annual New Year's Eve Musical Revue at the Santa Monica Playhouse
1211 4th Street
Santa Monica, CA 90401
Phone: (310) 394-9779
The Santa Monica Playhouse invites you and your family to celebrate the New Year with a fun production, food, and merriment. On New Year's Eve there will be two shows — one at 6:00 pm (perfect if you're attending with your younger children) and a later show at 9:30 pm. Enjoy a buffet supper before the show and then get ready for the fun. Tickets are available online.
Orange County 
 First Night in Fullerton Family New Year's Eve Party
Downtown Fullerton
Phone: (714) 738-6545
The city of Fullerton is celebrating the New Year with its 26th anniversary of the annual "First Night Fullerton" event. This family-friendly, alcohol-free celebration is from 7:00 pm until midnight. This free event features live musical performances, food vendors, games, activities, and a fireworks show at midnight.
New Year's Noon Party at the Children's Museum at La Habra
301 South Euclid Street
La Habra, CA 90631
Phone: (562) 383-4236
The Children's Museum at La Habra invites families to its New Year's Noon Party! Families can countdown to 12:00 pm and enjoy a variety of activities including hat making, face painting, dancing, and a balloon drop.The fun begins at 10:00 am. Call the Museum at (562) 383-4236 to reserve your spot.
New Year's Eve at Disneyland
1313 Disneyland Drive
Anaheim, CA 92802
Phone: (714) 781-4636
Some may think that the best place to ring in the New Year is the "Happiest Place on Earth." Disneyland invites families to celebrate the New Year with music, festivities, and of course, fireworks. And if you didn't get a chance to enjoy it yet, you'll be able to experience the Festival of Holidays at Disney California Adventure Park and Holiday Magic at Disneyland.
New Year's Eve at Knott's Berry Farm
8039 Beach Blvd.
Buena Park, CA 90620

Families will enjoy a festive New Year's Eve experience at Knott's Merry Farm. You'll find stage shows, live musical performances, and a fireworks finale! Knott's will be open on December 31st from 10:00 am to 1:00 am and all New Year's Eve festivities are included with regular daytime admission. Check the website for information about admission prices.
Annual Noon-Year's Confetti Countdown at Pretend City
29 Hubble
Irvine, CA 92618
Phone:(949) 428-3900
Your family can count down to the New Year at Pretend City's annual celebration. Pretend City will be celebrating the New Year at different times throughout the day as the sun travels across the different time zones. Get ready for confetti as the sun sets in Bangladesh, Dubai, Athens, and London. Art activities include making party hats and noise makers. Check the website for a schedule of activities. The fun starts at 10:00 am and continues until 5:00 pm.
Worth The Drive
Kids' New Year's Eve at LEGOLAND California Resort
1 Legoland Drive
Carlsbad, CA 92008
Phone:(760) 918-5346
If you're looking to get out of town for New Year's, then LEGOLAND might be the place for your family. Celebrate New Year's the LEGOLAND way — they are recreating the Times Square ball drop with a giant LEGO brick falling 22 feet in the air. And, the countdown is happening at 6:00 pm so no one misses a bedtime. Celebrate with party hats, special glasses, and an incredible fireworks display.
Old Town Temecula – New Year's Eve Grape Drop
41000 Main Street
Temecula, CA 92590
Phone: (951) 694-6480
If New Year's Eve means heading out of town, then you can celebrate in Temecula with their annual Grape Drop. The fun includes live music, vendors, and kids' activities. Families "can ring in the New Year twice with an East Coast (9 pm) and West Coast (midnight) countdown!"
MOMSLA IS YOUR SOURCE FOR THINGS TO DO
IN LOS ANGELES WITH KIDS.
[social-bio]