Updated for 2023
Kids! They outgrow shoes faster than we can keep up! Which is why you'll love having this list of the best places to buy kids' shoes in LA. Beyond styles, it's great to have your kids try on shoes before you buy, so it's handy to have local stores where you can go.
Even when your kids' feet stop growing (or stop growing as fast), you'll probably want to get new shoes for Back To School time every year at the very least. Or what about shoes for special occasions, like weddings or quinceañeras? Not to mention Summer sandals or Winter boots.
Seems like there's always a need for new shoes for our kids. To help you out, we've compiled a list of stores in Los Angeles and around SoCal that offer everything you need when it comes to buying shoes for kids — a wide selection, fair prices, and good customer service.
Where to Shop for Children's Shoes in Los Angeles
The Children's Place
Multiple locations including:
2174 Glendale Galleria, Glendale, CA 91210
You can do most of your back-to-school shopping at The Children's Place. Their selection of shoes includes several styles of sneakers (both velcro and lace-ups), dress shoes, and ballet flats. Some items are only available online, while others are available in-store and online. Check the website for special offers and discounts.
Kids Foot Locker
Multiple locations including:
4629 Whittier Blvd., Los Angeles, CA 90022
If you're looking for sturdy, reliable athletic shoes, head to Kids Foot Locker. Your kids will be able to try on a variety of styles all in one location while you comparison shop to determine the best deal among all of the brands including Nike, Adidas, Jordan, PUMA, Vans, Converse, and more. As an added bonus, Kids Foot Locker offers its "Fit Guarantee" — which allows parents to exchange or return items within 45 days of purchase (check the website for restrictions).
Nordstrom
Multiple locations including:
189 The Grove Dr., Ste. J10, Los Angeles, CA 90036
Parents rave about Nordstrom's generous return policy. Whether the pair of shoes your child loved in the store has gone un-worn, or the pair of shoes was only worn a couple of times before your child deems "it hurts," or any other excuse, Nordstrom is known for their customer service and kids shoes are no exception to that. Stores offer a large variety of styles and sizes including dressy shoes, boots, tennis shoes, flats, sandals, lace-ups, and velcro. Popular brands include Vans, Nike, TOMS, Adidas, UGG, and more.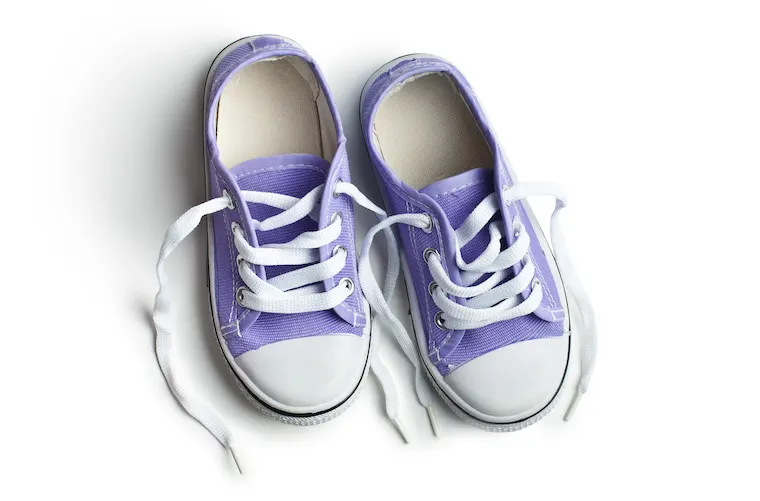 Target
Multiple locations including:
1800 W. Empire Ave., Burbank, CA 91504
Target is one of those rare stores where it's possible to do all your back-to-school shopping in one location. You can purchase your kids' school clothes (including uniforms), backpacks, school supplies, lunch boxes, the food and snacks for those lunch boxes, and of course, your kids' shoes. Target offers a range of styles for girls and boys including sneakers, dress shoes, boots, and athletic shoes. And don't forget to use your Target RED card to save an extra 5% on each purchase.
Nike
Multiple locations including:
189 The Grove Dr., Ste. Q-30, Los Angeles, CA 90036
If you can narrow it down to just one brand, then a Nike store will provide kids with a great shoe-fitting and shoe-buying experience. A store employee will measure your child's feet, make recommendations, and then allow your child to test out the shoe. (My son tried out his new pair while performing different exercises in a special part of the store. The Nike staff member timed my son, gave him a special certificate with a written record of my son's numbers such as the inches he reached on the vertical jump and the number of shuffle touches completed, and a small drawstring backpack and stickers). Once your child has selected his or her shoe, you can feel confident knowing that if for any reason he or she is not pleased with it, you can return it to Nike within thirty days.
Grab a copy of our Book: Los Angeles with Kids!
Looking for Fun Things to do with Kids in LA? You'll love this book! This handy-dandy, portable paperback book is packed full of ideas for FUN all over SoCal! Keep it in the car, your purse, your diaper bag – and be ready for fun anytime, anywhere!
Gymboree
Multiple locations including:
2174 Glendale Galleria, Glendale, CA 91210
From slippers to boots, tennis shoes, and everything in between, you can get some great deals on kids' shoes at Gymboree. But while you're there, you can also get your child's back-to-school clothes as well as pajamas.
JCPenney
Multiple locations including:
6420 S. Pacific Blvd., Huntington Park, CA 90255
Like many of the other locations on this list, you can get clothes, coats, and more for your child in addition to shoes. They usually have really good sales leading up to the start of the school term. Plus, you may be able to get additional discounts or coupons by checking online. And if you need to return something within 60 days of purchasing it, take your receipt to the store and the item in its original condition and you'll probably have no trouble returning or exchanging it.
DSW Designer Shoe Warehouse
Multiple locations including:
13450 Maxella Ave., Marina Del Rey, CA 90292
Do you need to get uniform shoes or athletic shoes for your children this year before school starts? One place you could choose to shop is DSW Designer Shoe Warehouse. They have a large selection of both girls' and boys' tennis shoes, boots, dress shoes, character shoes, light-up shoes, and more. But if you need to make a return, you should have no trouble getting a refund.
Macy's
Multiple locations including:
8500 Beverly Blvd., Los Angeles, CA 90048
You'll find your kids' favorite tennis shoe brands at Macy's including Nike, Puma, Skechers, Adidas, and more in great colors and styles. But if they need boots, dress shoes, sandals, or another type of shoe, you can bet Macy's has that covered too.
TOMS
Multiple locations including:
750 W. 7th St., Los Angeles, CA 90017
You may only know TOMS as the slip-on shoe company that donates a pair of shoes every time a pair of shoes is sold. And while that's true, you'll find many more styles available as part of their "Back-to-School" selection. Styles include lace-ups, velcro, ballet flats, and booties.
Skechers Factory Outlet
Multiple locations including:
612 Broadway, Los Angeles, CA 90014
Kids' slip-ons, lace-ups, light-ups, and more can all be found at Skechers. But you can also pick up socks, backpacks, duffle bags, or hats. They have a large selection and offer promotions periodically. And if you find something you need to return, members have 90 days to do it and non-members are allowed 45 days — with the original receipt.
If your kids are in the middle of another growth spurt and you don't want to spend too much money on shoes they'll only wear for a short while, check out the selection online at Payless ShoeSource. You'll find brand names such as Champion, favorite character-themed shoes (such as Cars, Spider-Man, and Disney characters), as well as a variety of styles including tennis shoes, dress shoes, dance shoes, and boots. Check the website for periodic coupon codes and discounts.
Wendy Kennar is a mother, writer, and former teacher who has lived her entire life in the same Los Angeles zip code. You can read more from Wendy at her website WendyKennar.com where she writes about books, boys, and bodies (living with an invisible disability).
Disclaimer: MomsLA has made every effort to confirm the information in this article; however, things can often change. Therefore, MomsLA makes no representations or warranties about the accuracy of the information published here. MomsLA strongly urges you to confirm any event details, like date, time, location, and admission, with the third party hosting the event. You assume the sole risk of relying on any of the information in our list. MomsLA is in no way responsible for any injuries or damages you sustain while attending any third-party event posted on our website. Please read our Terms of Use which you have agreed to based on your continued use of this website. Some events have paid to be listed on MomsLA.