One of the most important aspects of planning a child's birthday party is making sure you have the perfect cake; whatever "perfect" looks like to you. Families can find bakeries that create cakes that capture your child's personality, and if you need gluten free, vegan or nut-free birthday cakes, you'll find bakeries that are sensitive to that as well. Here is our list of the Best Places to Buy Kids Birthday Cakes In and Around Los Angeles.
And check out our LA Birthday Party Guide – with locations and entertainment ideas!
MomsLA is your source for Things to do in Los Angeles With Kids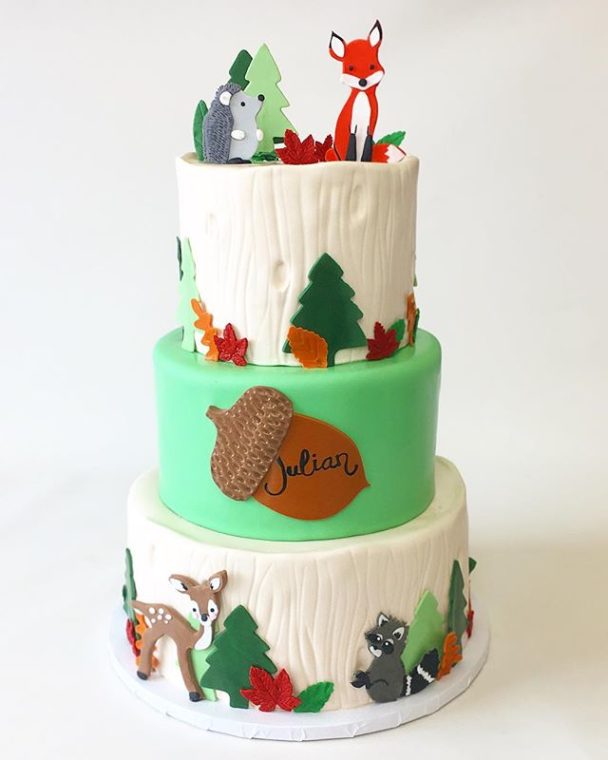 Westchester Bakery
6216 W. 87th St., Westchester, CA 90045
Westchester Bakery is a "multi-generational family owned business" offering a large variety of baked goods including custom-designed birthday cakes. Custom cakes should be ordered at least 7 days in advance and can be tier, stacked, round, square, or a specific shape you have in mind. Their gallery showcases a boat-shaped cake, a Pokémon-inspired cake, a lipstick-shaped cake, a cassette-tape shaped cake, a space shuttle shaped cake, and much more.
Breakaway Bakery
5264 W. Pico Blvd., Los Angeles, CA 90019
Breakaway Bakery creates products with organic ingredients, that are certified kosher, and many are gluten free. In addition to their many baked goods (including brownies, breads, bagels, cupcakes, and cookies), families will find a large selection of cakes. This is a great option for families who are looking for a festive cake and yet have dietary restrictions to adhere to. Families can "breakaway to a great taste adventure where the things you love to eat are also honestly delicious and healthy." They are closed on Saturdays.
Porto's Bakery and Cafe
3614 W. Magnolia Blvd., Burbank, CA and
345 N. Brand Blvd., Glendale, CA and
8233 Firestone Blvd., Downey, CA
For many families, it isn't a real birthday celebration without a cake from Porto's. A variety of birthday cakes designs are available (including a firetruck, castle, race track and Hello Kitty to name a few), yet be sure to verify that the design you like is available at your particular location.
Top Tier Treats
11511 W. Pico Blvd., Los Angeles, CA 90064
Top Tier Cakes was formerly known as "Jamaica's Cakes," and is still the same owners and same incredible cakes. At Top Tier Cakes, you'll find "creative artistic cakes completely from scratch with quality ingredients to please the eye and feed the soul." Cakes are never frozen, and fresh flowers are added as their signature touch. And you'll find a great many cakes are also gluten-free. Custom cakes need at least one week's notice.
Angel Maid Bakery
4538 S. Centinela Ave., Los Angeles, CA 90066
Angel Maid Bakery has many loyal customers. Among their most popular cake is the strawberry shortcake, but if you're looking for a unique, personalized cake, they do that extremely well too. They're not fancy (as in no website), but families sing the praises of this bakery's custom cakes.
Erin McKenna's Bakery LA
236 N. Larchmont Blvd., Los Angeles, CA 90004
Erin McKenna's Bakery is gluten free, vegan, and kosher. This popular bakery focuses on "the underserved — people with gluten, dairy, egg, and soy sensitivities, the health-minded, and most importantly, allergic kids who are often unable to indulge." Here healthy and tasty are used in the same sentence when describing the custom cakes they can create for a birthday celebration. They are open seven days a week.
SusieCakes
several locations including
11708 San Vicente Blvd., Los Angeles, CA 90049
SusieCakes "is an All-American bakery offering classic desserts made entirely from scratch using simple, natural ingredients." Their specialty layer cakes can be customized or families can choose to create an entirely original cake for that special birthday celebration. "You'll have your own dedicated Celebration Specialist to walk you through the whole process."
CREAM
11135 Magnolia Blvd., North Hollywood, CA and
9000 Reseda Blvd., Northridge, CA and
3335 S. Figueroa St. (USC), Los Angeles, CA
CREAM may be best known for their ice cream sandwiches; however, they also create ice cream sandwich cakes. The first CREAM location opened in 2010 (in Berkeley) and since then, loyal customers sing the praises of these tasty treats. Families choose from any cookie, select any ice cream for the middle, and can even add toppings around the edge. Each location does offer pre-made cakes, but custom cakes require between 36-48 hours notice. Hours (and prices) may vary by location.
Butter Cake Shoppe
1627 Hillhurst Ave., Los Angeles, CA 90027
Butter Cake Shoppe is a "registered, home-based cake shop." Sasha G., the founder, baker, and decorator, uses only "full fat European style butter" in everything she bakes. All cakes are four layers and can be cut into almost any two or three-dimensional shape you desire. Butter Cake Shoppe works closely with families to make sure you are getting exactly the cake you envision.
Aunt Joy's Cakes
700 S. Flower St. #102, Burbank, CA 91502
Aunt Joy's Cakes is a family-owned bakery whose aim is "to make everything specially for you." Joy Harmon, a former actress, is "Aunt Joy," and today Aunt Joy's Cakes is quite popular with many local studios especially Disney Studios. Families will find no-shortage of ideas for birthday cakes, whether you know exactly what you want for your child or you're looking to the bakery for some guidance. (They are only open Monday through Friday).
While you can't walk into Ele Makes Cakes (all cakes are made in a commercial kitchen in downtown Los Angeles and all correspondence is generally done via email), families rave about Ele Makes Cakes. In fact, demand is so high that at least 5-6 weeks notice must be given for custom orders. However, the cakes truly resemble works of art featuring everything from a three-dimensional R2-D2 to a multi-tiered cake featuring the Inside Out emotions.
Lido Bakery
3001 N. Sepulveda Blvd., Manhattan Beach, CA
At Lido Bakery, you'll find only "natural ingredients, fresh fruit, and no preservatives." The focus "on quality products over quantity." Their gallery photos will leave you in awe of their creativity and artistry. Their popularity and high demand require families to provide at least 2 weeks' notice for custom orders. (They are closed on Sundays and Mondays).
Cake and Art
8709 Santa Monica Blvd., West Hollywood, CA 90069
"For 42 years, Cake and Art has specialized in imaginative birthday cakes for Hollywood's Biggest entertainment industries and celebrities…" Families will be able to order a cake that is as unique and special as their child whether their child would love a Lightning McQueen-shaped cake, a turtle-shaped cake, or a Wall-E-shaped cake (to name just a few of their beautiful creations). They are open seven days a week.
Maksen Cake House
418 S. Central Ave., Glendale, CA 91204
At Maksen Cake House, "if you can dream it, we can bake it." This Glendale shop can create that special birthday cake you're wanting. Families speak highly of the friendly service, the consistently delicious flavors, and the beautiful end-results.
Cake Sensations
811 Fair Oaks Ave., South Pasadena, CA 91030
Cake Sensations is ready to work with families to create the cake you are searching for. Families can either visit the showroom and browse through books and pictures for ideas or come in with their own ideas for that special birthday cake. Whether you're looking for something whimsical or something three-dimensional, you'll find quite a variety of cakes on their gallery page. (They are closed on Sundays and Mondays).
Delicious Arts
10581 1/2 W. Pico Blvd., Los Angeles, CA 90064
Delicious Arts is a by-appointment-only custom cake design studio. They were established in 2012 with a "not too sweet" motto. Their cakes have been featured in a variety of publications and are often used for corporate events. Families can select from a wide variety of possibilities including edible print cakes and 3-D sculpted cakes. Be sure to plan in advance because due to their popularity some cakes may need to be ordered up to 8 weeks in advance.

Disclaimer: MomsLA has made every effort to confirm the information in this article; however, things can often change. Therefore, MomsLA makes no representations or warranties about the accuracy of the information published here. MomsLA strongly urges you to confirm any event details, like date, time, location, and admission, with the third party hosting the event. You assume the sole risk of relying on any of the information in our list. MomsLA is in no way responsible for any injuries or damages you sustain while attending any third party event posted on our website. Please read our Terms of Use which you have agreed to based on your continued use of this website. Some events have paid to be listed on MomsLA.