This is a guest post by Suzie Boluarte of Happy Mess MOMents
Disney California Adventure's newly reimagined land, Pixar Pier, is open and it's a colorful and playful experience that kids of all ages will love. It's everything you'd imagine a Pixar world would be and I got a special sneak peak to share with you! Here's what to expect during your visit, and be sure to experience it both day and night.
"Thanks for the adventure. Now go have a new one." – UP
Rides
Incredicoaster is the fastest attraction at Disneyland resort and you must be 48″ to ride. I'm not one to ride on roller coasters anymore, but I did it. AND it was a lot of fun filled with a lot of screaming! Oh! Did I mention it's fast? I almost lost my sunglasses and Mickey ears. So next time, I'm using the convenient pouch to hold them.
Unlike the California Screamin', this newly reimagined ride has a story. So try to keep your eyes open (that's what I told myself) or else you'll miss the Parr family adventure as they chase after Jack Jack! And try to smile, there's a camera to capture the excitement!
You can't miss Pixar-Pal-Around carousel,it's a focal point when you're looking into Pixar Pier. Each of the 24 gondolas is adorned with a beloved Pixar character and you'll get a beautiful, birdseye view of the land.
Food
This is my favorite part of Pixar Pier. I will walk from the other side of the resort for the food. You'll find tasty eats and treats like Adorable Snowman Frosted Treats, Jack-Jack Cookie Num Nums, Poultry Palace, Señor Buzz Churros, and Angry Dogs. They're all worth a try.
Lamplight Lounge is the main restaurant located near the Pixar Pier entrance and it has become my favorite place to eat. From the incredible view of Pixar Promenade to the incredible food + drink options, I highly recommend you make a reservation to sit downstairs with the entire family. The menu features shareable bits, entrées, a kid menu, and an allergy-friendly menu.
Related: Pixar Fest at Disneyland and Disney California Adventure
Merchandise
You can find all your limited-edition Pixar shopping needs at Knick's Knacks, located right across from Lamplight Lounge. Let's just say I'm glad the kids weren't with me…
Games
On the Pixar Promenade, just passed the Toy Story Mania attraction, you'll find four new colorful pay-for-play game booths. AND they're so much fun! I tested my skills on games like: La Luna Star Catcher (where everyone is a winner), Heimlich's Candy Corn Toss, WALL•E Space Race and my favorite, Bullseye Stallion Stampede. Unfortunately no prizes were given at the preview – but you can try your luck to win cute Pixar plush prizes.
Insta-Worthy Photos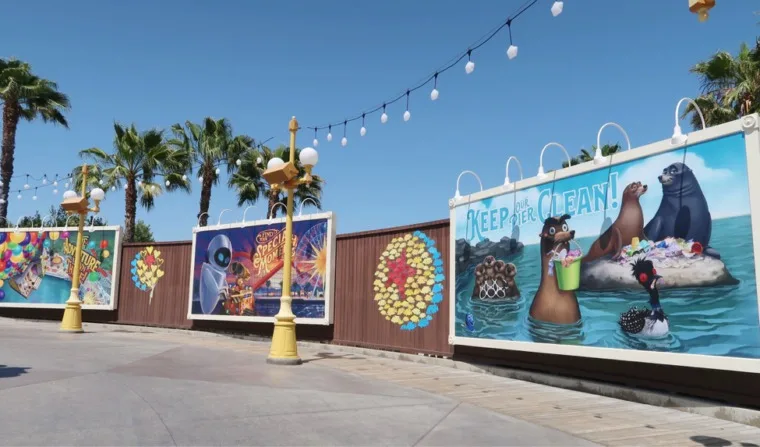 Disneyland Resorts are known for its attention to details and quite honestly, it's one of the best spots in SoCal to take photos. From the moment you walk down towards the pier, you're greeted by a colorful Pixar Pier marquee, so have your cameras ready!
From large Pixar themed Billboards, to Instagram walls, and colorful food stands, you'll notice all the photo-worthy background details around the land. There's also photo opportunities with beloved Pixar characters like Edna Mode, Frozone, Russell and Dug, and more!
Related: Tips for Taking Toddlers to Disneyland
Actually, any picture Paradise Bay as a backdrop is a keeper.
Paint The Night Parade
In addition to the newly reimagined pier, you'll find the new Incredibles Float making its way through Disneyland California Adventure Park in the "Paint the Night" Parade. Its my favorite parade and it's pretty exciting to see the Parr family and Frozone!
Coming Soon
Bing Bong's Sweet Stuff is scheduled to open late Summer and past the shop will be Inside Out Headquarters, another new family-friendly attraction set to open in 2019. Also coming that year, is Jessie's Critter Coral Carousel – which will be located next to Toy Story Mania.
For more information about Pixar Pier, visit the Disneyland website.
This is guest post by Suzie Boluarte of Happy Mess MOMents who was nice enough to cover Pixar Pier media day for us. Suzie is "a boy mom of two, proud wife, foodie and a family lifestyle blogger sharing the happymess MOMents."