Kidspace Children's Museum in Pasadena has everything you need for a fun day out with kids including interactive exhibits, lots of places to run around and plenty of things to see.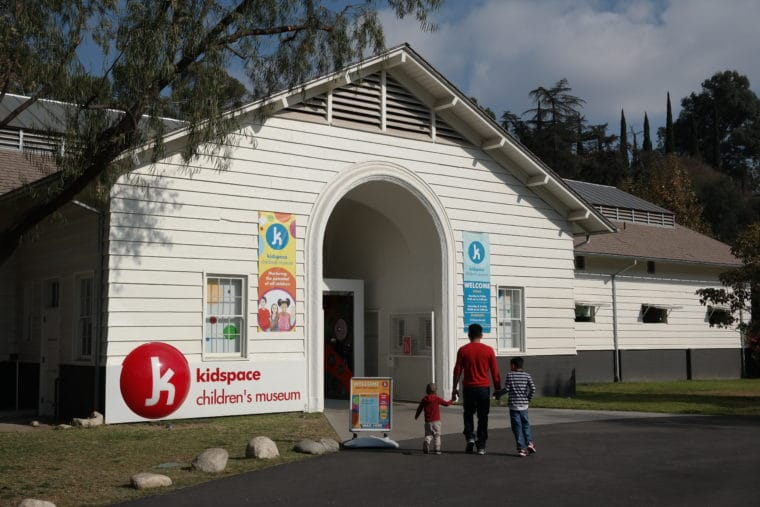 Kidspace Children's Museum
480 N. Arroyo Blvd., Pasadena, CA 91103
Hours:
"Summer Hours:" Monday – Friday 9:30am – 5pm, Saturday & Sunday 10am – 5pm
"Winter Hours:" Tuesday – Friday 9:30am – 5pm, Saturday & Sunday 10am – 5pm
Closed on New Year's Day, 4th of July, Thanksgiving and Christmas
(Be sure to check their website to confirm the times and open dates.)
Description:
Kidspace was designed for kids ages 1-10, and is a place families could easily spend all day. There are several "zones," and each has terrific learn and play opportunities. The Arroyo Adventure is filled with interactive exhibits, like the Hawk's Nest, the Flood and Erosion Plain, Mud and Clay play, and others. Kids can splash in the simulated river as well, so bringing a change of clothes is not a bad idea.
The Early Childhood Learning Center (ECLC) offers something especially for the youngest kids and their parents, including Story Time, Music Time, and Wonder Box Exploration. Adults must wear socks in the ECLC. The Galvin Physics Forest is a terrific interactive science learning opportunity, with 12 hands-on experiments sure to delight, including the Bottle Rocket, the Ball Bounce, and the Roller Coaster. Not to mention the super cool Imagination Playground Blocks area where kids can build giant structures.
Most of the Museum is located outdoors, but there are some indoor activities inside the Roberts Pavilion, including the Imagination Workshop, the Nature Exchange, the Ant Hole, the Climbing Towers, and the Storyteller Studio. There is also a Trike Track, which has been a fan favorite since they opened. Parents will be happy to know they provide a liner for the bike helmets to keep things sanitary!
Special Events:
Kidspace Museum offers several Special Events per month, like their popular Pumpkin Festival in October, Snow Days in December, a Martin Luther King celebration in January, and an Ooey Gooey weekend in February. Check their website for more detailed information about their events, including whether there is a separate admission fee.
Price:
General admission for both adults and kids over 1 is $14, and there are reduced admission prices for Museum members and those with affiliations like AAA, Active Military, etc. Please see their website for complete details. They offer a FREE Family night on the First Tuesday of the month from 4-8pm.
Parking:
Kidspace is located next to the Rose Bowl Stadium, which means they have ample free parking, but can also mean there may be challenges to parking when there are special events at the Rose Bowl. Parking is located approximately 100 yards from the entrance to the Museum.
Food:
The Kidspace Café offers a delicious selection of lunch and snack food that both children and adults will like, and the Café is open the same hours as the Museum. The Café prices are very reasonable, with hamburgers priced at $5.95 and a grilled chicken and arugula wrap priced at $7.25. There is ample seating in the outdoor courtyard. Kidspace also allows outside food and beverages to be brought in, with the exception of glass containers.
Toddler Fun Factor:
This Museum was designed with toddlers and preschoolers in mind, so consequently the Fun Factor is high. There are enough varied activities to keep kids delighted for hours. Nursing Moms can feel welcome to do so anywhere they like at Kidspace, and they provide a special Mamava station for privacy as well. And there are diaper changing tables in each restroom.
Toddler Safety Factor:
The Museum is a fully-enclosed space, so once you've entered, your kids can roam and run, and you won't need to worry about them getting out onto a nearby street. There are many ways kids can use their bodies, so of course some bumps or falls may happen, but the Museum is designed with the safety of children in mind.
Nearby Attractions:
Kidspace Museum is located next to a terrific park if the kids need more time to play, and the Rose Bowl is right across the parking lot, which happens to be one of our favorite Stroller Walks in Los Angeles. A short car ride will take you to the Gamble House, and not far from that is Old Town Pasadena/Colorado Blvd, with plenty of shopping and dining, and the Norton Simon Museum is there as well.