Updated for 2022
Pretend City Children's Museum in Irvine is a great place to take kids to explore, learn and have fun. Here is our guide with everything you need to know about this wonderful Orange County Children's Museum. Pretend City is Open and ready for play time!
Pretend City is a place of exploration and wonder for toddlers. It's an entire city built for toddlers and small hands. It has both interactive exhibits and imaginative play areas for kids of all ages and interests, but is really designed for kids ages 2-5.
The little city they've created has it all – a hospital, dental office, grocery store, gas station, construction site, farm land, and so much more! You'll find lots to explore every time to go.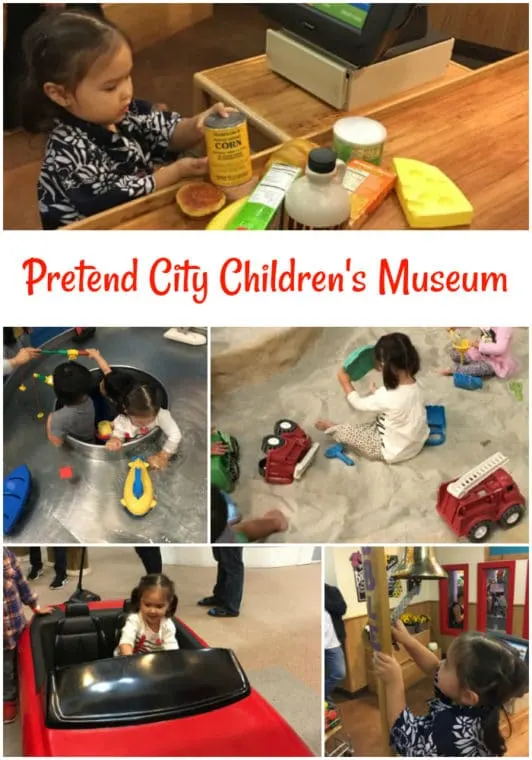 Pretend City Location, Admission, Info
Pretend City Hours:
The Museum is Open the following days and hours for General Admission:
Wednesday-Saturday 10am-12pm AND 1pm – 4pm
Sundays 11am – 1pm AND 2pm – 5pm
CLOSED Mondays and Tuesdays
Members ONLY: 1 hour before General Admission, morning sessions only
Pretend City General Admission Prices
| | |
| --- | --- |
| Children | $13.95 |
| Adults | $13.95 |
| Military and Family | $10.95 |
| Infants up to 12 months | Free |
| Members | Free |
Parking is Free, both in the lot behind the building and on the surrounding streets.
Pretend City Annual Membership Prices
There are many benefits to becoming a Member of the Pretend City Children's Museum, including having no blackout dates for free admission and access to the exclusive Members-only Hour at the beginning of each day. Additional benefits include invitations to special events, guest tickets, and discounts on birthday parties and facility rentals. Refer to their website for all the details on the benefits available at each level.
| | |
| --- | --- |
| Dual Membership | $150 |
| Family of Three | $220 |
| Family of Four | $255 |
| Family of Five | $305 |
| Family of Six | $355 |
| (VIP) Very Important Player | $1000 |
Related: All the Best Kid-Friendly Museums in Los Angeles.
About Pretend City Museum
Every single detail of the museum is creative, fun and and meticulously planned. The Trader Joe's grocery store not only has products from the actual store, but kids can be the cashier, go grocery shopping, and ring the bell all in one trip! Little Hawaiian shirt uniforms with name tags are also provided for those who want to be a part of the TJ team.
When you visit, get a time stamp card that you can get stamped at various work stations around Pretend City. Collect all the stamps and cash it in at the bank for pretend money!
Pretend City provides fun theme costumes at each station. One example below is at the sushi restaurant where little ones can wear aprons, hats and a chef's jacket when serving up Melissa & Doug wooden sushi.
Exhibits at Pretend City
You'll enter a kid-sized Main Street, with storefronts for the library, an art studio, the Trader Joe's, and more. In the center you'll find a Town Square area with kid-sized vehicle and stroller parking. There's a beach, a marina area with an interactive water table, a dentist and doctor's office, a farm, and a gas station for those vehicles, and more.
Each of the exhibits is designed to work with the overall mission of the museum, which is to engage children's curiosity and imagination. As they play, kids will be learning the building blocks of math, reading, and science skills, and they'll have fun while they do.
Pretend City has created exhibits and interactive play for kids of different ages and developmental stages. Each time they visit, kids may have a different experience and adventure, and the adults with them will have fun, too.
Family Autism Nights
Multiple times throughout the year, Pretend City hosts Family Autism Nights, making special modifications so that children on the spectrum (and their caregivers) will feel comfortable an enjoy a "stigma-free environment." These events are free to attend, and the museum partners with local organizations specializing in autism resources who will be on hand as well.
The museum is committed to being a welcoming place for children of all unique abilities, and they offer adaptive and calming items for use during your visit.
Food Options at Pretend City
Inside the museum there are vending machines selling healthy snacks for kids and adults. Additionally, there is also an ice cream vending machine and a coffee station. Families are welcome to bring in their own food & drinks and eat at any of the tables provided in the concession area. Since admissions is for the entire day, you can also drive down the street at many of the nearby shopping plazas and grab a bite to eat and come back to the museum at any time.
Special Events:
Have Pretend City host your little one's next birthday! You can rent out one of their party rooms or you can rent out the entire museum for a private party! Schools can even plan a field trip here.
Gift Shop:
There is a gift shop at the museum that has many of the items kids play with in the Pretend City. If you see your little one loving one area of the city and you want to go home with a fun souvenir, check out the gift shop on the way out.
Esther Chang is the founder of MarkelandMe: a blog about family, food and the fun in between. In her spare time she loves to travel and plan events. She lives in the Mid-Wilshire area with her husband and 2 daughters.
Disclaimer: MomsLA has made every effort to confirm the information in this article; however, things can often change. Therefore, MomsLA makes no representations or warranties about the accuracy of the information published here. MomsLA strongly urges you to confirm any event details, like date, time, location, and admission, with the third party hosting the event. You assume the sole risk of relying on any of the information in our list. MomsLA is in no way responsible for any injuries or damages you sustain while attending any third-party event posted on our website. Please read our Terms of Use which you have agreed to based on your continued use of this website. Some events have paid to be listed on MomsLA.