Pretend City Children's Museum in Irvine is a great place to take kids to explore, learn and have fun. Here is our guide with everything you need to know about this wonderful Orange County Children's Museum.
Pretend City hosts a warehouse of exploration and wonder for toddlers. It's an entire city built for toddlers and small hands. And this little city has it all – a hospital, dental office, grocery store, gas station, construction site, farm land, and so much more! It has both interactive exhibits and imaginative play areas for kids of all ages and interests.
Pretend City Hours:
Open Sundays 11am-5pm, Mondays 10am-1pm, Tuesday-Saturday 10am-5pm. Members get in 1 hour before General Admissions.
Here are pictures of some of the wonderful play areas for kids below. When you visit, get a time stamp card that you can get stamped at various work stations around Pretend City. Collect all the stamps and cash it in at the bank for pretend money!
Pretend City provides fun theme costumes at each station. One example below is at the sushi restaurant where little ones can wear aprons, hats and a chef's jacket when serving up Melissa & Doug wooden sushi.
Every single detail of the museum is creative, fun and and meticulously planned. Just see below! The Trader Joe's grocery store not only has products from the actual store, but kids can be the cashier, go grocery shopping and ring the bell all in one trip! Little Hawaiian shirt uniforms with name tags are also provided for those who want to be a part of the TJ team.
Price:
Membership price to the museum depends on the size of your family. Tickets for purchase on the day of is $12.50 for all kids over 12 months and adults. There is also a military discount available.
Parking:
Free Parking all around the building! Make sure to read the signs as some spots are reserved for local business.
Food:
Inside the museum there are vending machines selling healthy snacks for kids and adults. Additionally, there is also an ice cream vending machine and a coffee station. Families are welcome to bring in their own food & drinks and eat at any of the tables provided in the concession area. Since admissions is for the entire day, you can also drive down the street at many of the nearby shopping plazas and grab a bite to eat and come back to the museum at any time.
Special Events:
Have Pretend City host your little one's next birthday! You can rent out one of their party rooms or you can rent out the entire museum for a private party! Schools can even plan a field trip here.
Gift Shop:
There is a gift shop at the museum that has many of the items kids play with in the Pretend City. If you see your little one loving one area of the city and you want to go home with a fun souvenir, check out the gift shop on the way out.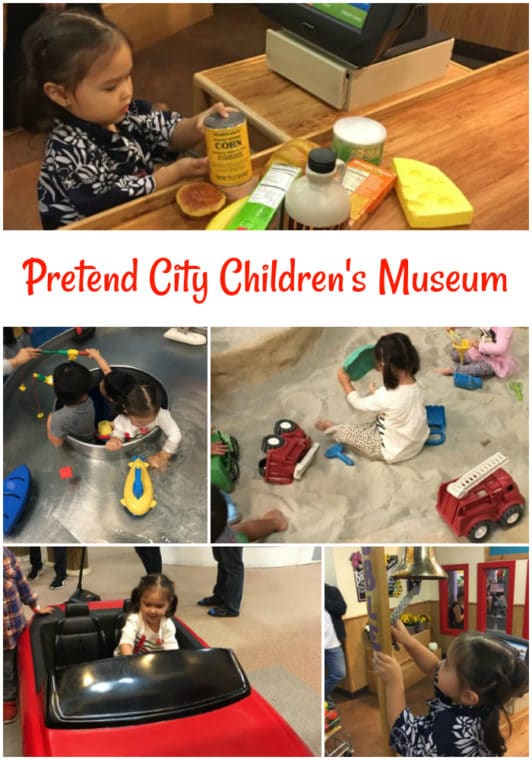 MOMSLA IS YOUR SOURCE FOR THINGS TO DOIN LOS ANGELES WITH KIDS.