If your children are between the ages of 8 and 12, you're parenting "tweens." They are at the in-between period, that stage behind childhood and adolescence. It can be a challenging time, because your child is experimenting with wanting a bit more independence, while you still see your child as – your child.
Maybe the things you used to do together and the places you used to go together are no longer as interesting or as fun to your tween. Luckily, there are lots of fun Things To Do With Tweens In and Around Los Angeles and SoCal.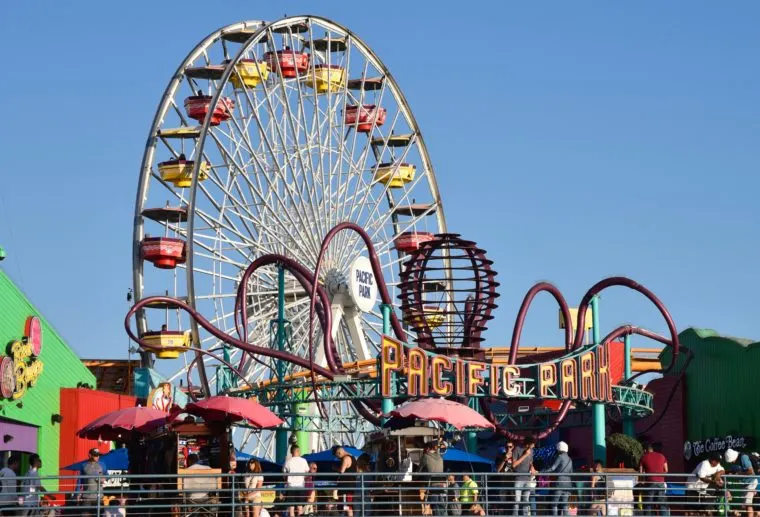 There's a lot to do at the world-famous Santa Monica Pier, and Pacific Park is fun for all ages. If you have multiple children, you may feel comfortable splitting up, allowing your children (or your child and a friend) to ride and game without you. But because everything is pretty much outdoors, you'll still be able to keep an eye out. Make a day of it — enjoy the sights and sounds, have a meal together, ocean-watch and people-watch.
Your tween may not be driving age yet, but they are old enough to go for a spin on an indoor go-kart course. MB2 Indoor Go-Karting offers high-speed race simulations. To race the adult karts, riders must be 12 years old and 57 inches tall. (Junior karts are available as well). Racers are provided helmets and must be wearing closed-toe shoes. Details are available online.
Does your tween have a favorite TV show or movie? A behind-the-scenes studio tour might be just the thing! There's a whole new energy involved when you glimpse some of the behind-the-scenes involved in making some of the shows and movies your family knows so well. Be sure to check out our post New Warner Bros. Studio Tour to give you an idea of the things you'll see and do on the tour.
Related: Things to do with Teens in Los Angeles
4. Universal CityWalk
100 Universal City Plaza, Los Angeles, CA
You can visit Universal CityWalk whether or not you visit Universal Studios Hollywood. It's a fun place to see and explore. See a movie together, do some shopping, enjoy a meal, and of course, do some people-watching! And if your tween is really adventurous, check out iFly — an indoor skydiving experience which simulates the feeling of jumping from a plane and floating on air!
5. Horseback Riding
LA Horse Rentals
1850 Riverside Dr., Glendale, CA 91201
Your tween may have declared herself "too old" for the Griffith Park Pony Rides she used to love. Maybe now's the time to plan a guided horse ride. LA Horse Rentals offers a variety of tours, ranging from one to two hours, all providing picturesque views. Horse rides are offered for all experience levels. Children must be 8 years old and at least 4 feet tall. Helmets are required for all riders under 18, and are optional for adults. Maximum weight allowed is 240 pounds. Reserve your ride online.
6. L.A. LIVE
800 W. Olympic Blvd., Los Angeles, CA
It's really just a matter of how much you want to do and how much time you have to spend at L.A. LIVE, because really you could spend the day and not run out of things to do. Families can take in a movie, explore the GRAMMY Museum, enjoy a game of bowling at Lucky Strike, enjoy a meal, and more.
7. Six Flags Magic Mountain
26101 Magic Mountain Parkway, Valencia, CA 91355
Maybe now that your little ones aren't so little any more, they're ready for an amusement park experience that offers more thrills. Six Flags Magic Mountain offers a large assortment of "thrill rides." Keep in mind that different rides do have different height requirements which can be found online. Wonder Woman Flight of Courage opens Summer 2022 and is described as the "tallest and longest single-rail coaster on the planet!" Ticket information is available online.
8. Day Trip to Catalina
Catalina Express
Three ports – Long Beach, Dana Point, San Pedro
How about a fun day trip? Catalina is just 26 miles away, and in this case, half the fun really is in the journey. Catalina Express operates daily ferry trips to and from Catalina Island every day of the year. They operate out of three mainland ports – Long Beach, Dana Point, and San Pedro. Reservations are available online. Then once you're in Catalina, it's just a matter of how adventurous you want to be — glass bottom boat tour, zip-lining, inland tour — and much more.
The Academy Museum of Motion Pictures has something for every member of the family. Exhibits include a retrospective of filmmaker Hayao Miyazaki (kids may know him from movies such as Spirited Away), C3PO and R2D2 from Star Wars, costumes from a variety of films (including the ruby red slippers made famous in The Wizard of Oz), and much more. Advance reservations are required and may be made online. Be sure to take a look at our post Academy Museum of Motion Pictures Family Guide before your visit. Tickets are available online.
Enjoy some outside time with a game of miniature golf at Sherman Oaks Castle Park. Actually, you can do more than mini golf. You'll also find an arcade and batting cage on-site as well — timeless activities and fun for all ages!
Your tween may not be interested in visiting the L.A. Zoo (again). Luckily, there are other options available for families who enjoy learning about and visiting with animals. The Wildlife Learning Center is a "zoological park nestled in an old olive grove in San Fernando Valley." At WLC, families will have the chance to "appreciate and learn about animals from around the world." Different tour options are available (including the chance to touch an armadillo or feed a porcupine) and details can be found online. Advance reservations are required.
12. Sky Zone
7741 Hayvenhurst Ave., Van Nuys, CA 91406
Remember how you used to take your kids to indoor play places? Or how your kids used to enjoy playing on the trampoline in the backyard? They may have out-grown those, but that's when you can take the idea to a new level and try an indoor trampoline park. Sky Zone is described as "the world's first indoor trampoline park." Here, you and your kids will be active and will feel as if you're flying. The facility offers Freestyle Jump, Ultimate Dodgeball, and more. Details are available online.
Make shopping an event with a trip to The Americana. Whether you visit stores as a family or split-up and designate a meeting spot, you can do it all here. Popular stores include Barnes and Noble, Apple, and H&M to name just a few. You can also enjoy a meal together, take in a movie, and, if your tweens agree, enjoy a family ride on The Trolley.
14. Will Rogers State Beach
17700 Pacific Coast Hwy, Pacific Palisades, CA 90272
Plan a beach day. It's an activity that appeals to all ages. Whether your family does something together (play Frisbee) or everyone does their own thing on their own devices, at least you're all together – enjoying a beautiful day at the beach!
15. Spa Day
Color Me Green
466 Foothill Blvd. #B, La Cañada Flintridge, CA 91011
Everyone could use a little pampering. Book appointments at Color Me Green, a nail boutique that is vegan-friendly and does not use anything tested on animals. This organic spa offers a range of services including "Purity" manicure and pedicures for the special tweens in your life.
Wendy Kennar is a mother, writer, and former teacher who has lived her entire life in the same Los Angeles zip code. You can read more from Wendy at her website WendyKennar.com where she writes about books, boys, and bodies (living with an invisible disability).
Disclaimer: MomsLA has made every effort to confirm the information in this article; however, things can often change. Therefore, MomsLA makes no representations or warranties about the accuracy of the information published here. MomsLA strongly urges you to confirm any event details, like date, time, location, and admission, with the third party hosting the event. You assume the sole risk of relying on any of the information in our list. MomsLA is in no way responsible for any injuries or damages you sustain while attending any third-party event posted on our website. Please read our Terms of Use which you have agreed to based on your continued use of this website. Some events have paid to be listed on MomsLA.