Maybe now that your kids are teenagers, you're looking for new and fun things to do together since their old favorite activities may no longer be their current favorites. Here is a list of ten fun and unique activities for teens.
MomsLA is your source for Things to do in Los Angeles with Kids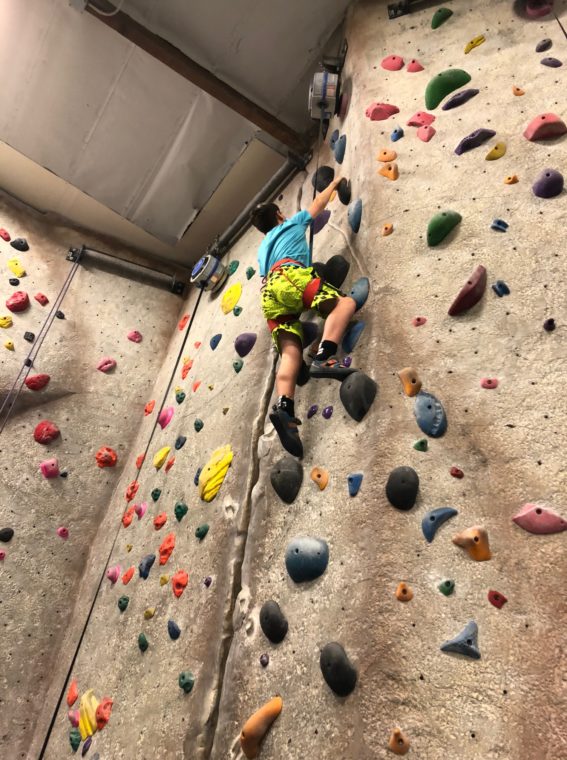 Rock Climbing – There are several indoor rock climbing gyms in Los Angeles for kids and teens to learn how to climb in Los Angeles. Sender One Climbing, 1220 Hindry Ave, Los Angeles, CA 90045 has climbing, yoga classes, youth classes and a summer camp. Rockreation, 11866 La Grange Ave, Los Angeles, CA 90025 offers climbing, bouldering, classes and a youth climbing team. Top Out Climbing
26332 Ferry Court, Santa Clarita, CA 91350 has fitness and yoga and youth climbing teams in their 11,500 square-foot facility.
Marina del Rey Parasailing
13717 Fiji Way, Marina del Rey, CA
Marina del Rey Parasailing offers rides at either 500 or 800 feet, and can accommodate two or three people at a time. Participants can choose to stay dry or get their feet wet. You'll be treated to incredible views of the Santa Monica Bay including the Pier, Venice Beach, and Malibu. And if you're lucky, you may even see some dolphins! Reservations are required.
Youth Enrichment Classes
YMCA of Metropolitan Los Angeles
several locations including
1553 N. Schrader Blvd., Hollywood, CA 90028
The YMCA of Metropolitan Los Angeles offers a wide-range of youth enrichment classes. Whether your teen is just beginning to express an interest in a certain area or is looking to further his/her knowledge and skills, YMCA offers classes in dance, music, creative and performing arts, fitness, and more. Different classes may be offered at different branches; check the website for details.
Westside Riding School – Guided Trail Rides
1501 Will Rogers Park Road, Pacific Palisades, CA 90272
The Westside Riding School offers guided trail rides in Will Rogers State Historic Park. No prior riding experience is required. The ride is about 50 minutes long and will provide you with beautiful views of Los Angeles, and "on clear days you can see from Mountain High, across the Los Angeles basin to Catalina Island, Palos Verdes, and Malibu." All riders must wear a helmet, and helmets are available for riders to borrow.
Two Bit Circus
634 Mateo Street, Los Angeles, CA 90021
Two Bit Circus, the World's First Micro-Amusement Park located in Downtown LA, is great for teens (and parents!). "Experience the nostalgia of a carnival and the excitement of a theme park, all smashed together with the latest and greatest in gaming technology." Teens can experience virtual reality games, go through a story room, enjoy the arcade and eat carnival-inspired food. It's free to get in, but all activities require a game card that can be purchased upon entry and refilled as needed. Two Bit Circus can host private birthday parties and has happy hour most days for adults.
Disclosure: MomsLA was hosted for an evening for review purposes.
iFly Indoor Skydiving
Universal City Walk
Universal City, CA
So maybe your teens are thrill-seekers and you're not quite ready to make the same leap. At iFly Indoor Skydiving, you can find the middle ground. "Indoor skydiving is the simulation of true freefall conditions in a vertical wind tunnel." Parents will feel more at ease knowing there is no actual jumping or falling, and no prior experience is needed to enjoy the experience. Check the website for details.
Maze Rooms Los Angeles
several locations including
132 S. Vermont Ave. Unit 204, Los Angeles, CA 90004
Maze rooms, or escape rooms, are becoming an increasingly popular form of interactive entertainment. The goal is to work together as a team to find your way out of the room in 60 minutes. Participants work together as a team to use their quick-thinking, available tools and clues, and solve puzzles enabling you to find keys to unlock the room. All rooms are equipped with cameras and microphones and escape room operators can be accessed at any time. Different themed rooms are available at different locations.
K1 Speed Torrance
19038 S. Vermont Ave., Gardena, CA 90248
If your teenagers are eager to start driving, then maybe a day at K1 Speed Torrance is what they (and you) need. K1 Speed Indoor Kart Racing was founded in 2003 and has locations throughout California as well as in several other states. Families can visit this popular spot for indoor go-kart racing where you'll find European electric karts and indoor asphalt tracks.
Segway Tours
Santa Monica and Venice Beach
Even if you're a southern California native, you can get a different perspective of Santa Monica and Venice Beach by taking a Segway Tour. The tour takes participants from Santa Monica to Venice Beach along the beach bike path. (Riders must be at least 12 years old and weigh at least 100 pounds).
OUE Skyspace
633 W. 5th St., Los Angeles, CA 90071
OUE Skyspace is "California's tallest open-air observation deck and the premier destination for panoramic, 360-degree views of Los Angeles" located on the 69th and 70th floors of the U.S. Bank Tower in downtown Los Angeles, about 1,000 feet above downtown. And if you're looking for a unique thrill-ride, try out "Skyslide," an "outdoor forty-five foot long slide made entirely of four inch thick glass connecting the 70th floor to the 69th floor terrace of the US Bank Tower." Tickets are available online.
MOMSLA IS YOUR SOURCE FOR THINGS TO DO
IN LOS ANGELES WITH KIDS.