Update for 2020: LA County officials have issued an order NOT recommending Trick or Treating this year. We have our fingers crossed for 2021.
If for any reason your neighborhood isn't very trick-or-treat friendly for Halloween, or you're just not enthusiastic about going door-to-door, your family can still have fun trick-or-treating in Los Angeles at one of these fun spots with special activities for children on Halloween (and all month long.)
Want to know "What time does Trick or Treating start in Los Angeles?"
Well, you're not alone. A lot of people ask this question – and it's an easy answer: it's totally up to you.
In Los Angeles and Southern California, we trick or treat on October 31st, no matter what day of the week it happens to be, although we're all happiest when it falls on a Friday or Saturday. Trick or Treating generally starts at dusk and ends by 8:30pm; however, there are always some families who start earlier and end later. Like we said: it's up to you!
Whenever and wherever you go Trick or Treating this year, we hope you and your kids have fun and get tons of candy!
Trick or Treating in Los Angeles – these events have been cancelled in 2020
Boo at the Zoo
Los Angeles Zoo and Botanical Gardens
5333 Zoo Dr., Los Angeles, CA 90027
Spend Halloween at the L.A. Zoo and enjoy their annual "Boo at the Zoo" event. Special activities are planned each day, with additional special programming happening on weekends. Enjoy games, photo ops, the chance to get up close with many different animals, and more. Check the website for a list of scheduled events. Additionally, children are invited to trick-or-treat on October 19 and 20 as well as October 26 and 27. Boo at the Zoo is included in general Zoo admission. ($22 for ages 13-61; $19 for ages 62+; $17 for children 2-12. Free for children younger than 2).
Los Angeles Public Library System
Several branches including
Mar Vista Branch
12006 Venice Blvd., Los Angeles, CA 90066
Many public libraries are hosting special Halloween-themed events on Thursday, October 31st. Activities may include story times, arts and crafts, movies, and more. The Mar Vista Branch invites kids to a half-hour (4:00 pm to 4:30 pm) of "slight scary stories." Enjoy "songs that go bump in the night, monster mashing, and some spooky stories." Children will receive a Halloween treat at the end. Check the website for information about your local branch.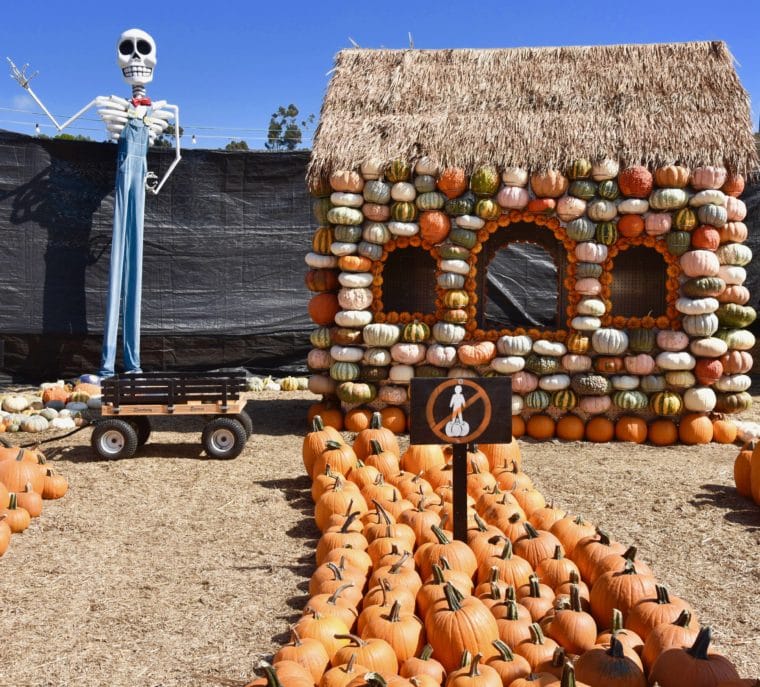 Mr. Bones Pumpkin Patch
10100 Jefferson Blvd., Culver City, CA 90232
Visiting Mr. Bones Pumpkin Patch has been a tradition for many families since it was established in 1987. In addition to the fun pumpkin patch and the many interactive activities, on Friday, October 25th, children are invited to enjoy Mr. Bones Trick or Treat Spooktacular from 6:00 pm to 8:00 pm. Click here to read MomsLA's Guide to Mr. Bones Pumpkin Patch.
Halloween Spooktacular 2019
1401 Olympic Blvd., Santa Monica, CA
Enjoy family fun, costumes, tricks, and treats at the annual Halloween Carnival presented by Santa Monica PAL (Police Activities League). The fun is planned for 5:00 pm to 8:00 pm.
Trick or Treating in Orange County
Oogie Boogie Bash – a Disney Halloween Party
1313 Disneyland Dr, Anaheim, CA 92802
Disneyland's take on Halloween includes spooky characters, fabulous decorations, and yes, trick-or-treating for candy treats. The Oogie Boogie Bash is a separate, ticketed event each September and October, and tickets go fast, but don't worry because there's plenty to see and do for Halloween at Disneyland and Disney California Adventure.
Halloween Zoo-tacular
Orange County Zoo
1 Irvine Park Rd., Orange, CA 92869
The Orange County Zoo is celebrating Halloween early on Saturday, October 26th from 10:00 am to 4:00 pm. The fun includes arts and crafts, games, a scavenger hunt, trick-or-treating, and more! Come dressed in your costumes. The first 100 children (ages 12 and under) in costume will receive a free gift. All activities are included in general admission ($2 per person, ages 2 and under are free).
Treats on the Street
Brea Downtown
S. Brea Blvd. and W. Birch St., Brea, CA 92821
Bring the kids to trick-or-treat in downtown Brea from 5:00 pm to 7:00 pm. Merchants displaying pumpkins in their windows will be participating in this special event. Enjoy special activities, music, and more.
Trick-or-Treat Through the City
Pretend City Children's Museum
29 Hubble, Irvine, CA 92618
If you're looking for a daytime trick-or-treat activity, then visit Pretend City Children's Museum. Dress the kids in their costumes, and then have them trick-or-treat at different stations throughout the museum. Trick-or-Treat times are scheduled for 11:00 am, 1:00 pm, and 3:00 pm. Special activities include giveaways, arts and crafts, and a "monster mash" dance party (at 12:00 pm and 2:00 pm). This fun event is included in general museum admission ($13.75 each).
Trick or Treating on the Eastside
Halloween Walk
Glendora Village
148 N. Glendora Ave., Glendora, CA 91741
Pre-school and elementary-aged children are invited to participate in daytime trick-or-treat fun in Glendora Village. From 10:00 am to 2:00 pm, children can visit the shops for treats and fun.
Tricks, A Flick, and (Free) Family Pix
One Colorado
41 Hugus Alley, Pasadena, CA 91103
Get the kids dressed in their costumes and then head to One Colorado for some fun trick-or-treating. Visit the stores, fill up your candy bag, and then pose for a family portrait in the Halloween-themed courtyard. At 7:00 pm, families can enjoy a screening of Tim Burton's film The Nightmare Before Christmas. RSVP online.
Halloween Trick-or-Treat Spooktacula
Montrose Shopping Park
2200, 2300, 2400 blocks of Honolulu Ave., Glendale, CA
From 5:00 pm to 7:00 pm, the charming Montrose Shopping Park invites children to trick-or-treat. Merchants will be giving out candy while families stroll about the festively decorated shopping area. This popular annual event is described as a "true family event full of traditional tricks and treats as well as a few surprises."
Halloween in the Pasadena Playhouse District
695 E. Colorado Blvd., Pasadena, CA 91101
Celebrate Halloween in the Pasadena Playhouse District from 4:00 pm to 6:00 pm. The fun includes activities, games, crafts, storytelling (at Vroman's Bookstore) and of course lots of candy!
Trick or Treating in the South Bay
Riviera Village Halloween Trick or Treat
Catalina Ave. between Avenue I to Palos Verdes Blvd., Redondo Beach, CA
Once again, Riviera Village closes a section of Catalina Avenue for trick-or-treaters. Each year, thousands of children participate in this fun event. Shops hand out candy and treats from 4:00 pm to 6:00 pm. Stay for dinner, but plan ahead, and make your reservations early.
Halloween Spooktacular
Del Amo Fashion Center
2525 W. Carson St., Torrance, CA 90503
The Del Amo Fashion Center hosts its Halloween Spooktacular from 4:00 pm to 6:00 pm on Halloween evening. Come dressed in your costumes and get ready for some fun! Enjoy arts and crafts, face painting, interactive activities, and trick-or-treating.
Halloween Boo Bash!
Manhattan Village
3200 Sepulveda Blvd., Manhattan Beach, CA 90266
Manhattan Village invites families to its Halloween festivities from 4:00 pm to 7:00 pm. Kids will enjoy mall-wide "spooky good time" including trick or treating, crafts, a dance party, and lots of fun.
"Mummy" and Me Halloween Family Fun
The Point on Pacific Coast Highway
850 S. Pacific Coast Highway, El Segundo, CA 90245
The Point hosts "Mummy" and Me Halloween Family Fun on Thursday, October 17th from 10:00 am to 12:00 pm. Little ones will enjoy "a Monster Party, pumpkin decorating, mummy wrapping, and trick or treating around The Point." This special activity is a part of The Point's monthly Kids Club activity.
Trick or Treating in Oxnard
Trick-or-Treat Event at The Collection at RiverPark in Oxnard
2751 Park View Ct #261, Oxnard, CA 93036
The Collection at RiverPark is hosting their community favorite on Tuesday, Oct 29th from 5 – 7 p.m. Participants of all ages will receive a passport to find hidden treats throughout the shopping center, costumes encouraged! Additionally, lead sponsor Sunny Smiles Dentistry will be hosting their annual 'candy buy-back' where guests can choose to sell some of their candies that will be sent overseas to deployed troops.
MOMSLA IS YOUR SOURCE FOR THINGS TO DO IN Los Angeles WITH KIDS.
Disclaimer: MomsLA has made every effort to confirm the information in this article; however, things can often change. Therefore, MomsLA makes no representations or warranties about the accuracy of the information published here. MomsLA strongly urges you to confirm any event details, like date, time, location, and admission, with the third party hosting the event. You assume the sole risk of relying on any of the information in our list. MomsLA is in no way responsible for any injuries or damages you sustain while attending any third party event posted on our website. Please read our Terms of Use which you have agreed to based on your continued use of this website. Some events have paid to be listed on MomsLA.