Updated for 2021
In Los Angeles, once the calendar page turns to Fall, it means it's time to start celebrating Halloween! When you were a kid, Halloween may have been a One-Day-Per-Year kind of holiday, but these days we have fun with it for 6 weeks or more.
Many of our favorite annual Halloween events are back this year, all around Los Angeles and SoCal, and there are new ones to experience as well. Some events are ticketed and they will sell out early, so scroll down and get ready to purchase!
You can't keep the Halloween spirit from breaking through, and there are lots of new and creative ways to enjoy the season. Keep checking back because we'll keep adding new events as we find them.
Here's a list of family-friendly ways to celebrate Halloween all over Los Angeles. From scary thrills to pumpkin patches, Halloween is terrific Los Angeles-style!
Nights of the Jack
Halloween Horror Nights at Universal Studios Hollywood
Halloween Organ Concert + Silent Film at Disney Hall
Mr. Bones Pumpkin Patch
Screamfest Horror Film Festival
Los Angeles Haunted Hayride
Boo at the LA Zoo
Book of Life Screening at Academy Museum
Spooky Transformations at Academy Museum
Halloween Bash at Runway Playa Vista
Freeform's Halloween Road
Scarium of the Pacific
Boonion Station
Oogie Boogie Bash at Disney California Adventure
Temecula Terror
Spooky Science at Discovery Cube
Haunt of Halloween
City of Signal Hill Halloween Carnival
Knott's Scary Farm
Knott's Spooky Farm
Adventure City's Boo-tastic Halloween Party
Brick or Treat at Legoland
Seaworld San Diego Spooktacular + Howl-o-Scream
Haunt O'Ween
Fright Fest at Six Flags Magic Mountain
Urban Death Tour of Terror
Halloween in the Park
Ventura FEAR Grounds
Carved at Descanso Gardens
Castle Dark at Castle Park
Pumpkin Nights at Fairplex
Pumpkin in the Pines at Skypark Santa's Village
show less
Featured Halloween Event 2021
1. Nights of the Jack
King Gillette Ranch: 26800 Mulholland Hwy, Calabasas, CA 91302
This year at Nights of the Jack, the walking trail is back. From October 1st – 31st, from 6-10pm nightly. We can't wait for our guests to experience our Halloween event as it was always intended — with all six senses! Thirty miles northwest of Hollywood, tucked in the Santa Monica Mountains, there's a strange and shadowy wonderland that everyone's been whispering about. This season, we're back and brighter than ever with our notorious Halloween event. We've summoned Jack o' lanterns from every mystical sphere and devised a spook-tacular illuminated light show under the autumn sky! It's not just an illusion, it's an experience.
You don't want to miss this hair-raising feast for the senses. Brace yourself with a hot cider or seasonal cocktail from our Spookeasy bar and fortify your little ones with some of our festive fall treats. Follow the 2/3 mile trail at King Gillette Ranch, glimmering at every turn with our blazing gourds around every corner. Be sure to have your cameras ready and enjoy! Price: Weekdays: General Admission $34.99 Weekends: General Admission $39.99 VIP Tickets $59.99 (2 yrs & under are free admission).
Halloween Events In Los Angeles and the Westside
Prepare to be terrified as Universal Studios Hollywood brings back their super popular annual event on select nights from September 9th through October 31st. Tickets are on sale now, and this year they are taking it up a serious notch, with their signature Mazes employing themes like "The Exorcist," "The Curse of Pandora's Box," "The Haunting of Hill House," "The Texas Chainsaw Massacre," and more. Yikes!
Related: Harvest Festivals in SoCal
This Halloween, organist Clark Wilson, a "master of silent film and showman of the first order," performs a haunting score for John S. Robertson's 1920 Silent movie classic Dr. Jekyll and Mr. Hyde, starring Lon Chaney.
Back after a 1-year hiatus, Mr. Bones is one of the coolest Pumpkin Patches around. They will be open from October 7th through the 31st. Tickets are on sale now! Check out our Guide to Mr. Bones here.
From October 12 -21, 2021 check out the Screamfest Horror Film Festival in Hollywood. Now in its 21st year, Screamfest is the largest and longest running horror film festival in the United States. Considered the "Sundance of Horror," the festival premieres and showcases new work from American and international independent horror filmmakers. Paranormal Activity was discovered and premiered at the festival in 2007! The festival lineup will be announced soon.
Opening to the public on September 23rd and running select nights through 10/31, Haunted Hayride is returning to LA's Griffith Park with the traditional hayrides we know and love (no more drive through!), mazes, trick or treating, and more for the whole family. Experience Midnight Falls: Scare Zone, where it's always 1985 and it's always Halloween. Additional Attractions include Haunted Mazes, trick or treating, an open house at the midnight mortuary, and more!
7. Boo at the LA Zoo
Los Angeles Zoo, 5333 Zoo Drive, Los Angeles, Ca. 90027
The Los Angeles Zoo goes wild this October 1-31 with the return of Boo at the L.A. Zoo, featuring Halloween decor, a spooky stroll with photo ops, an extinct-animal graveyard, and other weird and wacky animal facts and educational opportunities. Weekends include special animal feedings, merry-not-scary entertainment, take-home crafts, and, during the last two weekends in October, trick-or-treat candy stations scattered throughout the Zoo grounds. And it's all included in the price of admission!
8. The Book of Life Matinee Screening 10/30
9. Spooky Transformations Community Day 10/31
The Academy Museum of Motion Pictures
6067 Wilshire Blvd., Los Angeles 90036
As part of their ongoing Family Matinee Series happening every Saturday, the new Academy Museum is hosting a special accommodative screening of The Book of Life on Saturday, October 30th at 11am, just in time for Halloween and Día de Los Muertos. This 2014 film, a collaboration between writer-director Jorge R. Gutierrez and producer Guillermo del Toro, features the voices of Diego Luna, Zoe Saldana, and Channing Tatum. Read our Guide to the new Academy Museum of Motion Pictures here. Tickets for the screening do not include museum admission and may be purchased separately.
On Sunday, October 31st, and in honor of Halloween, Academy of Motion Pictures Governor and Academy-Award winner Howard Berger will join other Academy Museum staff to showcase the artistry of Special Effects makeup on Spooky Transformations Community Day. There will be live demonstrations, makeup transformations, interactive workshops, and even some spooky surprises. Included with museum entry fee.
10. Halloween Bash and Monster Dash 5K at Runway Playa Vista
12760 W Millennium, Playa Vista 90094
The 2nd Annual Halloween Bash takes place on Sunday, October 31st, from 11am – 3pm. This family-friendly event will have candy treats, crafts, a photo booth, live performances, a DJ, and more. Costumes are encouraged! The Monster Dash 5K takes place from 9am – 11am on October 31st, and does require pre-registration. Find out more on their website.
Freeform's Annual 31 Nights of Halloween will be back this year on TV, and in addition, they're bringing it to life with an immersive experience being held at the Heritage Square Museum from October 1st – 5th. Tickets are available online.
12. Haunted Little Tokyo
Japanese Village Plaza, 335 East 2nd Street, Los Angeles 90012
Eat Drink and be scary at the 5th annual Haunted Little Tokyo, a fun-filled Halloween celebration with three frightfully fun events that are perfect for ghosts and ghouls of all ages: a Pumpkin Patch on Saturday, October 16 and Sunday, October 17 from 11 a.m. to 5 p.m., a Scavenger Hunt on Saturday, October 30 from 2 to 5 p.m., and a "Block Party" on Saturday, October 30 from 7 p.m. until 12 a.m.
Come to DTLA for the 3rd annual Boonion Station, a free, two-day, family-friendly Halloween hoopla on October 30th & 31st from 11am – 2pm and 2-5pm. You'll find a Halloween village featuring delightfully devilish activities for families including a fun and fuzzy spider forest, Halloween crafts, tarantula tattoos and mad scientist slime sessions to keep little monsters entertained. Throughout the day the village will become a sorcerer's stroll around the treats-on-track trail, which promises to deliver a spellbinding sugar high, plus a cobweb craft corner, a Day of the Dead destination, and a host of howling stilt walkers and Halloween characters, monster mash dance parties, and a creepy & clever costume contest with prizes at 1pm and 3pm each day. Free advance general admission tickets are required.
Halloween Events in Orange County, Long Beach and South
14. Scarium of the Pacific
Aquarium of the Pacific
100 Aquarium Way, Long Beach, CA 90802
Everyone is invited to explore outdoor exhibits in search of the creatures lurking in the depths at the Aquarium of the Pacific during its Scarium-themed weekend October 30th and 31st, 2021. Guests can enjoy spooky décor and creepy creatures on these special days. You can see lorikeet birds eating pumpkins, and look for pumpkins in the animal exhibits, such as the June Keyes Penguin Habitat and mudskipper exhibit. The Aquarium is inviting everyone to wear family-friendly costumes when visiting during Scarium of the Pacific. Advance tickets required.
Tickets are on sale now (but they won't be for long) for this annual special event at Disney California Adventure Park. Held on select nights from September 9th through October 31st, the Oogie Boogie Bash is only available with a separate ticket, starting at $114, and costume wearing is encouraged! The event happens after-hours and for a limited number of guests. There are treat trails, special Halloween décor, Mickey's Trick or Treat, special photo ops, and the Frightfully Fun Parade. And that's just the start!
16. Temecula Terror
Galway Downs
38801 Los Corralitos Road, Temecula 92592
Open October 1st through 31st, Temecula Terror is new this year, and attendees are invited to a Halloween Harvest Carnival with creepy overtones. There will be three mazes, three bars, nightly live DJ and entertainment, carnival games, local food trucks, a pumpkin patch, and a scare zone with roaming monsters. Tickets start at $20 USD for adults.
17. Spooky Science Featuring the Monster Academy
Discovery Cube
Orange County: 2500 N Main Street, Santa Ana 92705
Los Angeles: 1800 Foothill Blvd, Sylmar 91342
Beginning Oct. 1 and running through Oct. 31, Discovery Cube is welcoming back their Spooktacular annual celebration, "Spooky Science Featuring the Monster Academy" at both locations. Discover spiders, ghosts, monsters, ghouls, and a host of bewitching characters that haunt Dr. Pumpkinstein's ghoulish laboratory during a month-long memorable Halloween experience. Visitors are invited to come out of your tombs and joins us as we haunt and explore ghoulish activities and freaky experiments, all with the goal of celebrating STEM education. Plus, costume parades every Saturday and Sunday at both locations and a very special Trick or Treating experience on October 30 + 31 (festival treats included for Oct. 30 + 31 only).
18. Haunt of Halloween
Kaleidoscope Mall, 27741 Crown Valley Parkway, Mission Viejo 92691
From September 30th – October 31st, 2021, Haunt of Halloween offers two ways to celebrate this year – at night they conjure up a scary time for grown-ups in truly macabre fashion on selected days/nights – but on Saturdays and Sundays from 2-5PM, the event is a "kid fun mode". The Not-So-Scary Haunted Maze is great fun and ideal for guests ages 6 – 12. They will enjoy a "less haunted" 3600 sq. ft. version of our haunted maze featuring Trick-or-Treating all throughout the maze and fun activities… just without the fright! There will also be a pumpkin patch with non-knife carving/decorating and spooky Halloween shows and acts. Costumes are encouraged. And at Night the event gets scary! Get all the details on their website.
Happening on Saturday, October 30th from 2-5pm, this Carnival is for the whole family, with crafts, carnival games, train rides and candy. Kid-friendly costumes welcome!
Tickets go on sale August 16th for this annual event, which runs on select nights from September 16th through October 31st. The fully transformed theme park features uniquely haunted mazes and attractions, sinister shows, and more than 1,000 horrifying creatures lurking in the fog and hiding in every corner of the park. Knott's Scary Farm is not recommended for children under 13.
On Saturdays and Sundays, from September 25th through October 31st, Knott's hopes to delight families with their annual Spooky Farm event. The park will be filled with Halloween activities, like Trick-or-Treating, and Halloween-themed shows. Spooktacular fun is included in the price of regular admission.
This family-friendly Halloween event takes place only 6 nights in October: 1st, 8th, 15th, 22nd, 28th and 29th, 2021, from 5:30-9:30pm. Eleven fun rides will be open, plus there's a "Trick or Treat Street" to walk down for free candy and trinkets, there's a Scavenger Hunt on the Express Train, a spooktacular dance party, free glow-in-the-dark accessories, a fun magic show, even a Cosmic Vortex Tunnel! Tickets are limited and may sell out soon.
23. Smilin' Jack Drive-Through Halloween Event
The Phillips 66 Los Angeles Refinery, 1660 W. Anaheim St., Wilmington 90744
The Phillips 66 Los Angeles Refinery and 76® gas stations welcome the community to a drive-through viewing event for Smilin' Jack, the world's largest jack-o'-lantern, on Oct. 28–29 from 6–9 p.m. The refinery will hand out its famous caramel popcorn while supplies last. The community is invited to drive through and take pictures with Jack at the refinery between the Harbor Freeway and North Gaffey Street. Event entrance will be at Gate 14 on Anaheim Street and cars will be directed once on-site.
Halloween Events in San Diego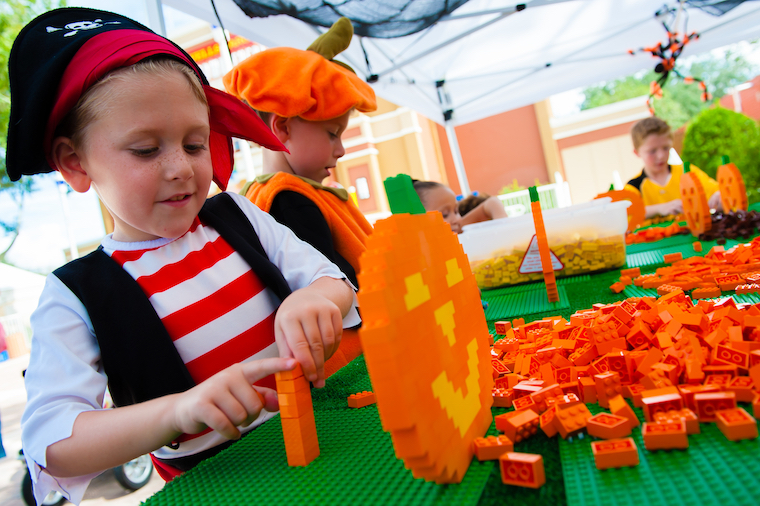 LEGOLAND® California Resort welcomes all families to join them for a Halloween-themed experience every Saturday in October from 3pm until closing, with festive LEGO® décor, and distanced character meet-n-greets, including with LEGO Witch, LEGO Frankenstein and LEGO Mummy. You're encouraged to wear costumes and to visit all 15 Treat Stations! Plus you'll be able to visit the first-ever Legoland (not too scary) Scare Zone. Special Event tickets on sale now.
Seaworld is celebrating Halloween two ways this year; by Day it's Spooktacular, designed for kids and families, and by Night it's Howl-o-Scream, designed for bigger kids and adults. Spooktacular is running weekends from September 18th – October 31st, 2021, kids can wear costumes and trick-or-treat on a decorated trail of fun, enjoy a dance party, and meet colorful characters along the way. Spooktacular is included with regular park admission. Howl-o-Scream is billed as "San Diego's biggest and most horrifying nighttime Halloween event," so be warned! Taking place on select nights from September 17th – October 31st, there will be scares, costumes, cocktails, and more.
Halloween Events in the Valley + North Valley
26. Haunt 'O Ween
6100 Topanga Canyon Blvd., Woodland Hills, CA
Happening October 1-31st, this is being called a fun, immersive, interactive, and safe experience. Haunt O' Ween is being produced by an award-winning company that Hollywood turns to for large-scale, immersive experiences. This promises to be a kid-friendly, non-scary adventure chock full of mesmerizing, social-shareable environments, vehicle video ops, and unique interactivity. And of course, lots of CANDY and a pumpkin to take home. Tickets on sale now!
Fright Fest is back at Six Flags, featuring family-friendly shows and attractions during the day and thrilling rides and scary haunted houses at night. Little witches and goblins can enjoy a full day of festive fun. Take a ride on your favorite coaster or visit Bugs Bunny World for some family-friendly fun. When the sun sets, the terror comes alive. Only the bravest souls can handle or scare zones and other haunted attractions.
28. Urban Death Tour of Terror: Haunted Theatre Attraction
ZJU Theatre – 4850 Lankershim Boulevard, North Hollywood, CA 91601
For guests ages 8+ and created by Zombie Joe and Jana Wimer, the FAMILY-FRIENDLY URBAN DEATH TOUR OF TERROR returns for its second year to scare and delight haunters of all ages in a dark-and-twisting haunted maze + spooky theatre attraction filled with fears everyone can relate to – from an odd Tooth Fairy to parents showing affection (gross!). After facing the fun-n-freaky maze upon entrance, guests are treated to a spectacular live show consisting of a series of bizarre and comedic wordless vignettes, along with astounding physical performances. Running Saturdays in October: 2nd, 9th, 16th, 2rd3, 30th and Sunday – 10/31 (Halloween). Starting at 7pm and running approximately 35 Mins. Advance tickets $20 online / $25 at door.
29. Halloween in the Park
Community Center Park, 1605 East Burnley Street, Camarillo
There's going to be a spooky evening in the Pleasant Valley Recreation and Park district on Sunday, October 31st, from 5-8pm. Pumpkin painting, lawn games, food trucks, a costume contest and Trick or Treat village! And it's free to attend!
Running Thursdays – Sundays through October 31st, and recommended for ages 13+, this super scary Halloween event includes attractions like The Cage, The Terror Trail, The Fright Train, and The Dead End – and was designed by the same people who created Universal's Halloween Horror Nights!
Halloween festivities return to Ventura Harbor Village, and it's festively decorated with vibrant pumpkins, bales of hay, cornstalks and a myriad of photo ops and scenic marina backdrops. Events include:
Seaside Skeleton Hunt, with over a dozen skeletons that have escaped and are on the loose on October 30 and 31.
9th annual HOWL-o-ween Dog Costume Contest on October 30th
Kids Trick or Treat on October 31, 2021 from noon to 2PM in Ventura Harbor Village.
3rd Annual Community Witches Paddle on October 29 from 3 to 4:30 PM at Ventura Harbor's Dock C.
Professional Pumpkin Carving Throughout Halloween weekend on October 30-31, 2021, kids and adults can meander throughout Ventura Harbor Village and catch a glimpse of professional pumpkin carving each day from Noon – 2PM.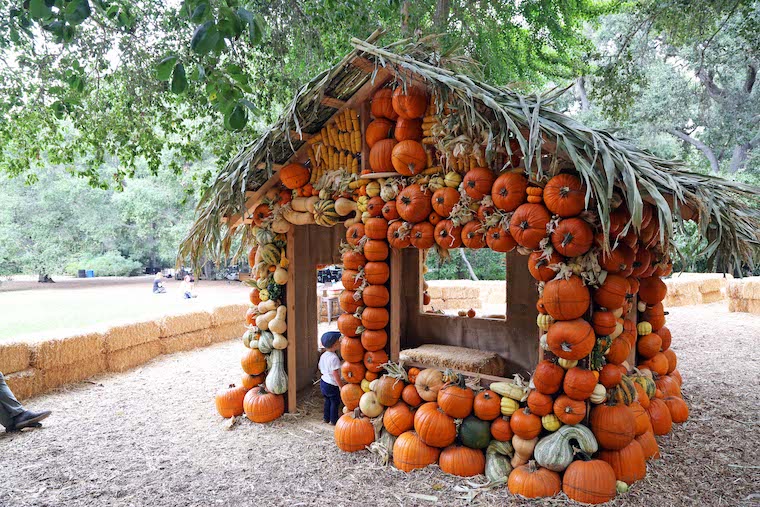 Halloween Events East of Downtown Los Angeles
32. Carved
Descanso Gardens
1418 Descanso Dr., La Cañada Flintridge, CA 91011
From October 11th through 31st, thousands of carved pumpkins will line a 1-mile walk through the Camellia Forest and Oak Grove. Tickets go on sale September 1st for Descanso Gardens Members and October 1st for the General Public. Along with pumpkins, there will be exciting new oversized sculptures made of sticks and other natural materials. Pumpkin carving demonstrations, the ever-popular pumpkin house, a hay maze, and themed food & beverage will all help to create a fun harvest festival ambiance.
Returning after a one-year hiatus, Castle Dark will welcome brave guests every Friday, Saturday and Sunday evening from October 1 through October 31, from 7 p.m. – 12 a.m. on Fridays & Saturdays, and 7p.m. – 10p.m. on Sundays. There are three terrifying mazes, each with a different theme, including: Phobias, Mr. Tubb$' Twisted Circus, and Home Sweet Home. Beyond the haunted mazes, Castle Dark offers four Scare Zones: Dark Harvest, The Inferno, The Streets of La Sierra, and The Midway. Tickets go on pre-sale August 9th.
34. Pumpkin Nights
Fairplex
1101 W. McKinley Ave., Pomona, CA 91768
At Pumpkin Nights, you will venture along a half-mile walking path, where you'll discover the Forbidden Pumpkin City, a pirate's cove, and more fantastical lands built using over 3,000 hand-carved real and artificial pumpkins. The celebration continues with entertainment and games in Pumpkin Central, our festival area. Happening October 10th – November 3rd, 2021. Tickets on sale soon!
Starting October 9th, Pumpkins in the Pines is a terrific weekend destination for family fun in the San Bernardino Mountains (near Lake Arrowhead) at the SkyPark at Santa's Village theme park. This year's festivities has something for everyone: a pumpkin patch, face painting, loads of Instagramable photo ops, the Fantom Forest walk-through haunted forest, cookie decorating, pumpkin painting, skate nights, trick-or-treating, seasonal entertainment, and did someone mention a Halloween party with a prize for the best costume? Check it out!
36. Dark Harvest Haunt
Frosty's Forest, 14861 Ramona Ave., Chino 91710
Our haunted corn maze is situated on over 1 acre of land. It will take approximately 30 minutes to get through. Dark Harvest will be open Thursday through Sunday nights. Hours: Thursday & Sunday: 7:00 pm to 10:00 pm, Friday & Saturday: 7:00 pm to 11:00 pm. TICKETS ARE ONLY BEING SOLD ONSITE AT FROSTY'S!!!!
Disclaimer: MomsLA has made every effort to confirm the information in this article; however, things can often change. Therefore, MomsLA makes no representations or warranties about the accuracy of the information published here. MomsLA strongly urges you to confirm any event details, like date, time, location, and admission, with the third party hosting the event. You assume the sole risk of relying on any of the information in our list. MomsLA is in no way responsible for any injuries or damages you sustain while attending any third party event posted on our website. Please read our Terms of Use which you have agreed to based on your continued use of this website. Some events have paid to be listed on MomsLA.