Trunk or Treat. No, we didn't spell that wrong. There are many Trunk or Treat events in Los Angeles, and if you've never been, you may want to try one this year – they sound like a blast!
Often hosted by churches and community groups, a Trunk or Treat is an alternative to Trick-or-Treating door-to-door. People volunteer to park their cars, decorate their trunks, and give out candy to kids in costume. Some of these events require a ticket purchase, and some are free.
Some of these fun Halloween celebrations even have food trucks, craft projects, costume contests and prizes for the best-decorated trunks. Enjoy Trunk or Treating this year!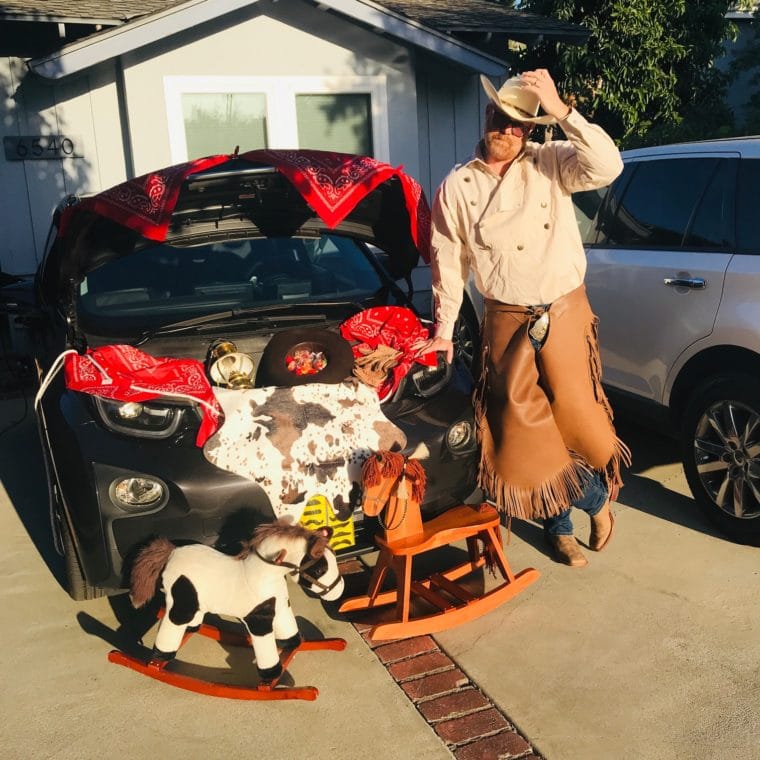 Lake Balboa Trunk or Treat
17400 Victory Blvd., Van Nuys, CA 91406
Date: October 26th
Time: 4-6pm
This is a safe and unique trick or treating experience to celebrate our community! Enjoy seeing friends, neighbors and local businesses decorate their cars and compete for prizes. There will be a bounce house and kids yoga demonstrations. Adults DO NOT need tickets, purchase presale tickets for kids for $8 on the website or $10 at the gate. A purchased presale ticket guarantees your child a pumpkin to decorate at the craft station, at the gate while supplies last. Check out event updates on IG @lakebalboatrunkortreat.
Automobile Driving Museum
610 Lairport Street, El Segundo, CA 90245
Date: October 27th
Time: 10am – 2pm
There will be food, games, prizes, and a costume contest, plus a spooky car cruise-in, and folklorico dancers. Tickets required, kids under 10 free.
LAPD Pacific Division Annual Trunk or Treat
LAPD Ahmanson Recruit Training Center
5651 Manchester Ave, LA 90045
Date: October 23rd
Time: 3:30-8pm
Petersen Museum Breakfast Club Cruise-in Trunk or Treat
6060 Wilshire Blvd., Los Angeles 90036
Date: October 27th
Time: 8 – 11am
The Petersen is turning their monthly Breakfast Club into a Trunk or Treat – along with the complimentary coffee, bagels and parking they always provide to those who attend. Special prize for best decorated car.
Magnitude Cheer Trunk or Treat
8811 Amigo Blvd, Northridge, CA 91324
Date: October 26th
Time: 4:30pm – 6pm
This free event is the first for Magnitude Cheer, with treats and a grand prize for the best trunk.
Trunk or Treat in Echo Park
InsideOut Church, 1310 Liberty Street, LA, CA 90026
Date: October 31st
Time: 6-9pm
Candy, games, bounce houses, crafts, food, and trunks.
Sea Scare at Cabrillo Marine Aquarium
3720 Stephen M. White Drive, San Pedro, CA 90731
Date: October 26th
Time: 7-10pm
This annual event has now added a Trunk or Treat to the fun. There will also be mazes, bioluminescence, and costume contest. Tickets required.
Shepherd of the Valley Preschool Trunk or Treat
23838 Kittridge Street, West Hills, CA 91307
Date: October 19th
Time: 3-6pm
Parents will compete for the title of the best-decorated trunk, while kiddos trick-or-treat from car to car showing off their costumes and collecting sweet treats. Cars will be decorated in a variety of family-friendly themes. Bounce House, obstacle course, food trucks and prizes. $13 per child at the door. Free for parents and children under 2 and over 16.
Palmdale Sheriff Station 4th Annual Trunk or Treat
815 E Avenue Q6, Palmdale, CA 93550
Date: October 27th
Time: 10am -3pm
This 4th Annual event includes food, music and family fun.
Trunk or Treat at Dwell Church in Santa Monica
2401 Santa Monica Blvd., Santa Monica, CA 90404
Date: October 27th
Time: 4-6pm
Join Dwell Church at the McKinley Elementary School basketball courts (next to the playground field) for an evening of fun for this free event! ? Go from themed trunk to themed trunk trick or treating, play some fun games, and grab some free tacos! ?We'll also be hosting a FREE raffle to win a movie gift basket, complete with a Fandango gift card and snacks! ?(No pre-registration needed.)
---
Trunk or Treat Near Me
---
Disclaimer: MomsLA has made every effort to confirm the information in this article; however, things can often change. Therefore, MomsLA makes no representations or warranties about the accuracy of the information published here. MomsLA strongly urges you to confirm any event details, like date, time, location, and admission, with the third party hosting the event. You assume the sole risk of relying on any of the information in our list. MomsLA is in no way responsible for any injuries or damages you sustain while attending any third party event posted on our website. Please read our Terms of Use which you have agreed to based on your continued use of this website. Some events have paid to be listed on MomsLA.