Whether your child has expressed a serious interest in acting or not, many children benefit from the valuable skills acting classes provide. And here in Los Angeles, you'll be able to find an acting class that will meet your child's needs and your family's schedule.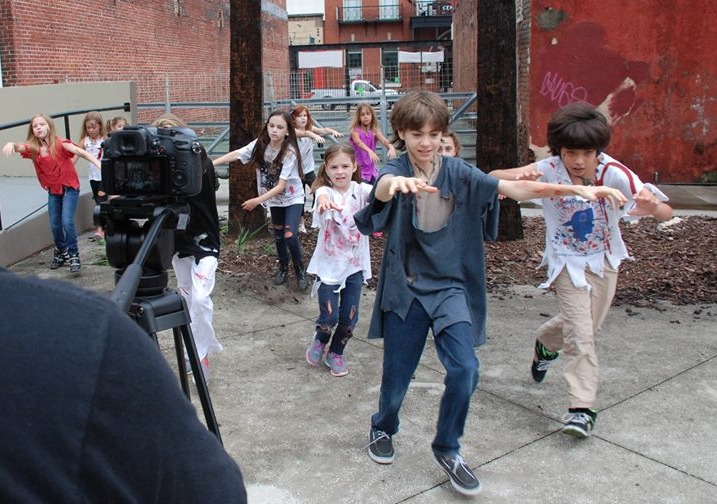 Youth Academy of Dramatic Arts (YADA)
8115 W. 3rd St., Los Angeles, CA 90048
For twelve years, the Youth Academy of Dramatic Arts (YADA) has offered classes for children. Classes are grouped by age (beginning at age 3) and ability, and each class culminates in a special performance in YADA's own 99-seat theatre. Private coaching is also available in dance, acting, and voice. "Not only do YADA students learn techniques in dance, voice and acting, they learn the basic tools for life: respect for self and others, commitment to a goal and the courage to try their best."
3-2-1 Acting Studios
3131 Foothill Blvd., La Cresenta, CA 91214
At 3-2-1 Acting Studios, instructors strive to provide students the "invaluable life skills that acting training builds — whether they use those skills to become a successful professional actor or a poised and well-spoken person." There are acting classes for commercials, television, film, and improvisation, and classes are offered for children (as young as 4), teenagers, and adults.
The Actors Space West
22737 1/2 Ventura Blvd., Woodland Hills, CA 91364
The Actors Space West was founded by Sara Wood, a woman with more than 35 years' experience in "the craft and business of acting." (You may also be familiar with the work of her daughter, Evan Rachel Wood). "Professional classes for film and television" are offered for children (as young as 6), teens, and adults.
The Groundlings School
7307 Melrose Ave., Los Angeles, CA 90046
The famous Groundlings School was established in 1979 and offers classes for teens. Improv workshops are generally offered as a five-class workshop, with classes meeting once a week. And for teens who aren't quite sure if improv is for them, The Groundlings also offers a Teen Improv Drop-in, a single day drop-in class.
South Bay Acting Studio
Manhattan Beach Towers
1230 Rosecrans Ave. Suite 300, Manhattan Beach, CA 90266
Children ages 6-18 can take classes at South Bay Acting Studio. "Practical techniques such as scene study, on-camera, audition, cold reads, and improv" are part of the curriculum here. Classes are limited to 8 students and are offered on an on-going basis.
Young Actors Studio
5215 Lankershim Blvd., North Hollywood, CA 91601
The Young Actor's Studio was founded in 1996 and "is an acting school dedicated to developing the young actor's craft through classes, workshops, and productions." A large selection of classes are offered including acting classes for both children and adults as well as a script-writing workshop for teens. The Young Actors Studio believes "most kids naturally possess the qualities necessary to be successful actors: creativity, imagination, enthusiasm."
The Playground
10390 Santa Monica Blvd. #100, Los Angeles, CA
"The Playground is a young actors conservatory created by Gary Spatz." It offers acting classes for children (ages 6-12), teens (13-17), and adults. The Playground was established in 2005 and has 24 instructors. Students at all levels are welcome to enroll. Many of The Playground's former students have gone on to appear in television and movies.
The Actors Circle
4475 Sepulveda Blvd., Culver City, CA 90230
The Actors Circle was established in 2003 and offers a teaching studio for actors ages 5 and up. "The Actors Circle provides training in scene study, cold reading, audition technique and improvisation with an emphasis on film and television work." A more detailed description of the curriculum is available online. For kids, classes are grouped by ages (children 5-10, tweens 11-13, teens, and adults.
Margie Haber Studio
971 N La Cienega Blvd., Suite 207, Los Angeles 90069
Professional acting classes for young actors. Our kids acting classes incorporate the world-renowned Haber Philosophy™ and Haber Phrasing™ philosophies that have transformed the audition process for thousands of young working actors in leading and recurring film and TV roles for decades. With an industry reputation for some serious booking power – we will nurture your Kids through the industry, and they will have fun and build their confidence along the way. This is the studio that started all the others and we are constantly evolving – creating a dynamic, safe and creative home for young actors, from beginning to professional levels. On-camera classes for all ages and all levels. Each class is on camera and we maintain a class size of 12 or less.
Kids On Stage
P.O. Box 3664, Santa Monica, CA 90408
Kids On Stage was founded in 1987 and offers programs for children ages 3 1/2 to 17 years old. Classes are offered in musical theater, creative dramatics, comedy improv, Shakespeare, and more. Kids on Stage "prides itself on creating a safe, enriching and inspiring environment where players work together closely to develop their ideas, hit their mark, problem solve, brainstorm, collaborate all the while creating life-long connections." A wide variety of classes are offered; check the website for details.
Young Actor's Space
5918 Van Nuys Blvd., Sherman Oaks, CA 91401
Young Actor's Space was established in 1979 and serves clients from age 5 to adulthood. "Classes are structured with half improvisation and half scene study." YAS utilizes three working spaces for classes and performances (The Whole Theatre, The Big Room, and The On Camera Room). They are also proud of their long list of notable alumni including many familiar names from both film and television.
Gray Studios
5126 Lankershim Boulevard, North Hollywood, CA 91423
Gray Studios is a professional acting studio that offers ongoing weekly classes for preschoolers to adults. Weekly classes specialize in Gray's famous audition technique taught by master instructor/Gray Studios owner David Barry Gray and the entire Gray Studios Team. They also offer improv, Commercial Technique, Stand Up, Voice Over and Scene Study.
MOMSLA IS YOUR SOURCE FOR THINGS TO DO IN LOS ANGELES WITH KIDS.
Disclaimer: MomsLA has made every effort to confirm the information in this article; however, things can often change. Therefore, MomsLA makes no representations or warranties about the accuracy of the information published here. MomsLA strongly urges you to confirm any event details, like date, time, location, and admission, with the third party hosting the event. You assume the sole risk of relying on any of the information in our list. MomsLA is in no way responsible for any injuries or damages you sustain while attending any third party event posted on our website. Please read our Terms of Use which you have agreed to based on your continued use of this website. Some events have paid to be listed on MomsLA.