Updated for 2022
Here in Southern California, we can celebrate the holidays at the beach and the mountains (even on the same day), but if you're looking for something near the shore, we suggest a boat parade! Families can enjoy several annual Christmas Boat Parades and Holiday Boat Parades that are scheduled throughout the month of December.
These terrific, unique events are all about boat owners decorating and showing off their boats, which are the true Parade Floats, if you think about it! Holiday Boat Parades are held at night, so fabulous lighting is the key to standing out.
Some boats will be decked out in twinkle lights, and some will go much further, with Christmas trees and Santa Claus, some even go all out with inflatables. Many of these Christmas Boat Parades have a bonus fireworks shows, which make them even more festive! Boat Float makers often compete for trophies and prizes, too.
Each parade can be viewed from the shore or from a boat (or flotation device) of your own, and each one will have an ideal spot or two to see things from, so be sure to read up on their websites. However they're dressed up their boats, you'll get to see a light show floating right by your beach blanket.
The Best Christmas Boat Parades in Los Angeles and SoCal
---
Featured Christmas Boat Parade 2022
The 2022 Newport Beach Christmas Boat Parade is the premier Christmas event for Southern California. With more than 114 years of history, the Newport Beach Christmas Boat Parade of Lights has hundreds of decorated yachts & watercraft of all kinds competing for top honors in several categories. Over 2 million view each holiday season and The New York Times called the parade and light displays "one of the top 10 holiday events in the country". Along with the Boat Parade of Lights there is also the "Ring Of Lights" which has Bayfront estates competing for top honors in all-out holiday décor & light displays which takes place all of December. The Newport Beach Boat Parade Of Lights takes place this year from December 14 to December 18. Newport Landing provides cruise times each night of the parade and all of December to view the amazing light displays.
---
Related: See all the Family-Friendly Christmas and Holiday Shows in SoCal
Watch a trail of lighted boats cruise through the main channel on Saturday, December 10th. Arrive early to grab a spot on the lawn at Burton Chace Park or a good photo spot at Fisherman's Village, two of the most popular viewing places. Narration on a PA system is available at both locations. The parade is celebrating its 60th year. Free admission.
Related: See Christmas and Holiday Lights in SoCal
The 75th annual Naples Christmas Boat Parade will take place this year on December 10th, 2022.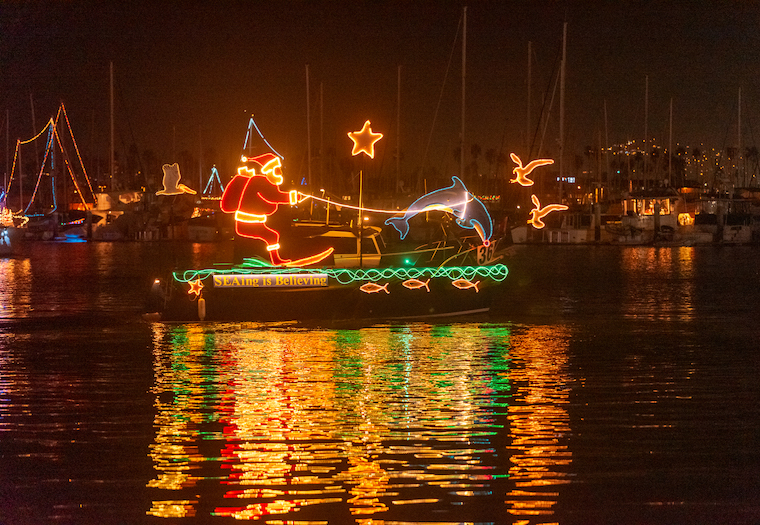 It's a "wow" moment when spectators get their first glimpse of the magnificent boats amid festive décor at the 44th annual Ventura Harbor Parade of Lights & Fireworks, taking place on Friday, December 16 and Saturday, December 17, 2022 at 6:30 p.m. Vivid and bright, the procession of colorfully-decorated boats is a spectacle to behold. Everyone is invited to kick off this "Back to Seality" themed boat parade. The celebration spotlights illuminated power boats and sail boats as they cruise around the entire Harbor, kiddie rides, sweet treats, warm drinks, and waterfront dining throughout Ventura Harbor Village. To cap off the evening, a fireworks display lights up the night sky and sea on both Friday & Saturday at approximately 8 p.m. (weather permitting). This event is complimentary to visitors.
Related: See all the Nutcracker Performances in SoCal
The all-volunteer Huntington Harbour Boat Parade is the non-profit Huntington Harbour Philharmonic Committee's way of saying "thank you" to the Harbour residents for decorating their homes. Happening this year on December 10th and 11th.
Related: Find all the Christmas and Holiday Events in Los Angeles
The Harbor's much anticipated annual Boat Parade of Lights will take place December 9-12 with a "Fiesta Holiday" theme. The parade will begin at 7 p.m. on December 9 and 11 and at 6 p.m. on December 10th and 11th. Boaters will decorate their vessels to the theme of the parade, for a chance to win up to $10,000 in cash prizes across several award categories, courtesy of Dana Point Harbor Partners. Award categories include Best Use of Theme, People's Choice, Supervisor's Cup, Mayor's Cup and more. Boaters can sign up at The Marina at Dana Point office.
Taking place on December 10th, this fantastic boat parade is a fun Holiday event to enjoy.
Related: Where to Get Photos with Santa Claus in SoCal
The San Diego Bay Parade of Lights is a time-honored holiday tradition in San Diego. The 50th annual San Diego Bay Parade of Lights promises to dazzle and entertain during 2 evenings on December 11th and December 18th, 2021. The parade usually boasts at least 80 boats and always draws a big crowd.
On Saturday, December 10, 2022, beginning at 5:30 p.m., the Mission Bay Parade of Lights will start at SeaWorld with a firework kickoff, travel west, then north, and then east, ending at The Mission Bay Beach Club, with the whole route taking about approximately two hours. Spectators of this year's parade can enjoy elaborate, decorated boats from local organizations like Rady Children's Hospital, San Diego Loyal, and SeaWorld. This event is free for all spectators.
Disclaimer: MomsLA has made every effort to confirm the information in this article; however, things can often change. Therefore, MomsLA makes no representations or warranties about the accuracy of the information published here. MomsLA strongly urges you to confirm any event details, like date, time, location, and admission, with the third party hosting the event. You assume the sole risk of relying on any of the information in our list. MomsLA is in no way responsible for any injuries or damages you sustain while attending any third-party event posted on our website. Please read our Terms of Use which you have agreed to based on your continued use of this website. Some events have paid to be listed on MomsLA.