Getting back into the swing of things after having a baby can be hard enough; starting or continuing a workout routine with a baby in tow can be quite challenging. We know how it feels, so we've found the Best Mommy and Me Workouts in Los Angeles.
Whether you're looking to begin a new Mommy and Me Workout Routine, or you're looking to change up your Mommy and Me Exercise program, or you're looking to connect with other moms in Mommy and Me Workout Classes, our list can help you find the right program for you.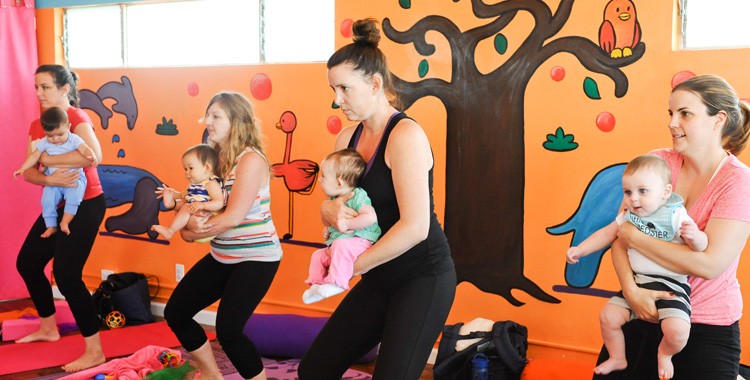 Fit4MomLA
Multiple Locations including
Pan Pacific Park
7600 Beverly Blvd., Los Angeles, CA 90036
(Also known as Stroller Strides) Fit4Mom is a program that helps moms of all stages of motherhood to come and get a great workout with their little ones. Babies sit in their strollers while moms run, strength train, and reach their optimal health goals outdoors. Fit4Mom offers various courses, locations, levels and options for moms that make it easy to join at any time. Bring a small toy and snack for your little one while you dedicate this time to YOU and your health. And remember, if you need to feed your baby or your little one is just having a fussier day, everyone understands, because everyone is going through the same thing. As an incentive, your first class is free; it's a great way to try out the program and determine if it's a good fit for you and your little one!
Baby Boot Camp
Multiple Locations including
Encino (East), Sherman Oaks, Studio City, CA
At Baby Boot Camp, their Mommy and Me programs are led by "nationally certified fitness professionals, provide exercise classes, nutrition, and community support for moms." Classes are one-hour long and are designed for moms at all fitness levels. Babies enjoy the comfort of their strollers and the wonder of the outdoors while moms focus on strength training and cardio. Your first class is free!
T.O.T. Fitness
Roxbury Park
471 S. Roxbury Dr., Beverly Hills, CA
T.O.T. Fitness is perfect for not only mom and baby, but for the whole family. T.O.T. offers classes for expectant and post-natal moms, teens, children, and even education courses for nutrition and health. A variety of classes and sessions are offered including private and semi-private, individualized workout programming, kids fitness classes and birthday parties, and more.
Zooga Yoga
Multiple Locations including
2206 Artesia Blvd., Redondo Beach, CA 90278
"In 2012, Zooga Yoga opened as the only yoga studio in the Los Angeles area dedicated to babies, kids, teens, expecting moms, parents and families." Zooga combines music, dance, games, and playfulness to make exercising fun for all ages and physical stages. You'll find a variety of classes – some of which are completed with little ones in tow, and some are adult-only.
Silver Lake Yoga
2810 Glendale Blvd., Los Angeles, CA 90039
Silver Lake Yoga is the oldest Yoga studio in Silver Lake, having opened in 1995. They offer over 60 classes per week including prenatal yoga as well as mommy-(or daddy)-and-me yoga courses. This friendly, neighborhood studio is a great place to continue your workout and have your baby stretch along next to you, or if you'd prefer, find a safe, encouraging place for new moms to "reconnect in feeling and function to their bodies, and address the many aches and pains that emerge while caring for a new baby."
YogaWest
1535 S. Robertson Blvd., Los Angeles, CA 90035
Yoga West offers classes specifically designed for pregnancy and postnatal stages. Babies aged 6 weeks to young toddlers can participate in Mommy-and-me sessions for "yoga, meditation, singing and bonding time." Yoga West brings the physical and spiritual together for a holistic, complete workout.
Happy Baby
353 Main St., El Segundo, CA 90245
At Happy Baby in El Segundo, the "hope is that you come, stay awhile and leave feeling full of love and support." Children are invited to accompany moms to many classes. "The studio has blankets and a few baby lounge pillows for use for pre-walkers, while tots are free to safely explore the space." Moms can choose from several classes including "cardio bootcamp," "zen mama cardio dance," and "mama sculpt" to name a few.
Parent and Child Classes at YMCA
Multiple locations including
East Valley Family YMCA
5142 Tujunga Ave., North Hollywood, CA 91601
Many branches of the YMCA offer a variety of Parent and Child Classes. Depending on the age of your child, and your ultimate workout goal, select from classes such as Tumbling Tots, Little Movers, and Move and Groove.
The Dailey Method
1327 1/2 Abbot Kinney Blvd., Venice, CA 90291
The Dailey Method combines "the best of Pilates, yoga, and ballet barre training." At The Dailey Method, you can choose to workout with or without your little one. "Dailey Baby" includes exercises "tailored to include your little bundle in a front pack carrier and with you on the mat. The program is designed to bring fitness and balance to new moms as they bond with their infants." However, if you opt to have some much-needed, much-deserved "me time," you'll find on-site childcare at many studios during popular class times.
Free Ways and Places To Workout with Baby
Put your baby in a pack, stroller or bike seat and head to Griffith Park, Runyon Canyon, Santa Monica Bike Path to Venice or Silverlake Reservoir Trail. Also see our posts with the best stroller walks and the best bike trails for kids.
MOMSLA IS YOUR SOURCE FOR THINGS TO DO IN LOS ANGELES WITH KIDS.
Disclaimer: MomsLA has made every effort to confirm the information in this article; however, things can often change. Therefore, MomsLA makes no representations or warranties about the accuracy of the information published here. MomsLA strongly urges you to confirm any event details, like date, time, location, and admission, with the third party hosting the event. You assume the sole risk of relying on any of the information in our list. MomsLA is in no way responsible for any injuries or damages you sustain while attending any third-party event posted on our website. Please read our Terms of Use which you have agreed to based on your continued use of this website. Some events have paid to be listed on MomsLA.