Updated for 2021
For many families, October is all about Halloween, and there are many ways to celebrate. One of the perks of living in LA is that there are more creative and talented people here than anywhere else, so we get to see the coolest decorations and haunted houses all over town.
Here's a list of amazing Halloween decorations you can see driving around SoCal in 2021. Make a point this year to get out there and see as many of them as you can.
If you're looking for Haunted Houses, just be sure to check if they're open this year and whether they might be too scary for your little ones. Happy Halloween!
Know about any houses or neighborhoods that are decorated so well you want them added to this list? Click here to submit the address.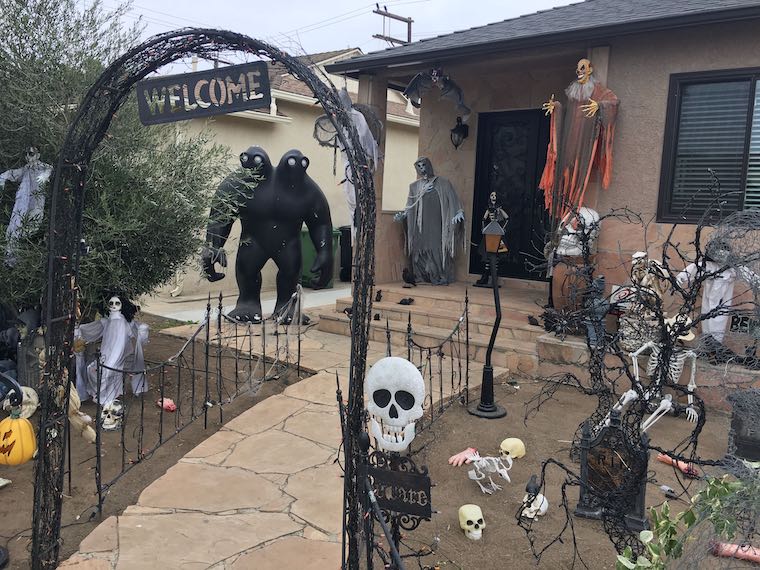 Haunted Houses in SoCal
Reader-submitted places to see
Mt Washington fluorescent haunts with tress and giant neon Venus fly trap, 4522 Jessica drive Los Angeles 90065
Toluca Woods, Sancola Ave / Huston St, 4848 Sancola Ave, North Hollywood, CA 91601
8039 Grove Street Sunland CA 91040
McLaughlin Ave between Venice Blvd and Palms in Mar Vista 90066 – tons of inflatables and amazing decorations
For those who like to get scared, maybe try out the Ghost Tour – looks spooky!
Goldenrod Ave. Perris, CA 92570 – this one has an IG video!
999 Happy Haunts LA is also on IG – See it at 3552 Prospect Ave in La Crescenta
2541 Silverspur, La Habra 90631 – Home with amazing inflatables, light show, graveyard, and animatronics – check it out!
Related: See Disneyland and Disney California Adventure at Halloween
Rotten Apple 907
907 N. California St., Burbank, CA 91505
Rotten Apple 907 is a family and community-based haunted house experience.This year, Rotten Apple 907 is celebrating their 30th Anniversary, and this year's theme is "Evil in the London Fog." For many families, a visit here is an annual tradition. Rotten Apple 907 is a non-profit event. Donations are gratefully accepted and in year's past have been presented to VBAS (Volunteers of Burbank Animal Shelter). Be sure to check the website for the most current information regarding dates and times.
This residence in Torrance is a popular Halloween destination.Families are offered free admission to explore this haunted maze (which usually takes about 6-8 minutes to navigate). Since 1997, families have been exploring this annual Halloween tradition and creating fun memories. This year, The Haunted Shack "will continue to monitor state guidelines for outdoor venues," and they "expect to operate a maze with some modifications." Additionally, The Haunted Shack asks visitors to donate at least two non-perishable food items (any time during the month of October) which will be given to a local food pantry. Be sure to check the website for the most current information regarding dates and times.
The Holiday House
3547 McLaughlin Avenue, Los Angeles 90066
Drive into the Mar Vista neighborhood to see this truly astounding front yard display of inflatables and spooky Halloween decor. They've been setting up these decorations for years, and they do not disappoint. Special musical shows nightly from 6pm – 9pm. Running from September 17th – October 31st, with Trick or Treating on Halloween. Insider tip: come back in December to see their Christmas and Hanukkah displays as well!
Related: The Best Pumpkin Patches in Los Angeles
The Haunt With No Name has been providing families with more than 25 years of "spookiness!" The Haunt is a kid-friendly yard haunt that has many decorations and special effects. Last year's event was still held (without the candy). Be sure to check the website for the most current information regarding this year's festivities.
This is a huge list of Haunted Houses and cool Halloween decorations with a special scavenger hunt game happening in the month of October. They include Yard Displays, Walk-Throughs, Haunted Shows, Drive-Throughs, and Paid Attractions. You can pick up a printed copy of the list at their retail partners, too.
Beware the Dark Realm
28621 Sugar Pine Way, Santa Clarita, CA 91390
Beware the Dark Realm has been "haunting since 1971," which means this is their 50th anniversary! This free, non-profit Home Haunt helps raise funds for Family Promise of Santa Clarita. Families will encounter a "high intensity walk-through attraction filled with terrifying live monsters, amazing special effects, and incredible sets." The festivities are scheduled for Friday, October 15th and Saturday, October 16th; Friday, October 22nd and Saturday, October 23rd; and Friday, October 29th and Saturday, October 30th from 7:00 pm to 10:00 pm. Check the website for the latest updates
This home in Burbank pulls out all the stops – for all the holidays! The home isn't decorated to be scary, so it's especially great for families with younger children. You'll find animatronic characters, lots of decorations and props, and more. Get the camera out! Check the website for the most current information regarding this year's festivities.
Clybourn Manor
4336 N. Clybourn Ave., Burbank, CA
Clybourn Manor invites families to its annual Haunt Extravaganza! The yard of this home is completely transformed for Halloween – and is good for all ages. This year's festivities are scheduled for Saturday, October 16th and Sunday, October 17th; Saturday, October 23rd and Sunday, October 24th; and Saturday, October 30th and Sunday, October 31st from 7:00 pm to 10:00 pm.
BCR: A Place to Grow is a non-profit organization "serving children and adults with intellectual and developmental disabilities." A Place to sCare is described as a "haunted attraction," run completely through volunteer efforts, and 100% of the proceeds goes towards the center. This Halloween season, they are planning an outdoor drive-thru haunt titled "Cursed Creek" to be offered on Saturday, October 9th and Sunday, October 10th; Saturday, October 16th and Sunday, October 17th; Saturday, October 23rd and Sunday, October 24th; and Saturday, October 30th. Tickets are available online.
Google Map of decorated houses in Glendale
So many ways to celebrate Halloween in Los Angeles!
And don't forget that the amusement parks do their own Halloween-related activities. Be sure to check out our list of Things to do With Kids in Los Angeles for Halloween.
Disclaimer: MomsLA has made every effort to confirm the information in this article; however, things can often change. Therefore, MomsLA makes no representations or warranties about the accuracy of the information published here. MomsLA strongly urges you to confirm any event details, like date, time, location, and admission, with the third party hosting the event. You assume the sole risk of relying on any of the information in our list. MomsLA is in no way responsible for any injuries or damages you sustain while attending any third-party event posted on our website. Please read our Terms of Use which you have agreed to based on your continued use of this website. Some events have paid to be listed on MomsLA.