For many families, October is all about Halloween, and there are many ways to celebrate. One of the perks of living in LA is that there are more creative and talented people here than anywhere else, so we get to see the coolest decorations and haunted houses all over town.
Here's a list of amazing Halloween decorations you can see driving around SoCal in 2020. Make a point this year to get out there and see as many of them as you can.
If you're looking for Haunted Houses, just be sure to check if they're open this year and whether they might be too scary for your little ones. (Before visiting, check the website for each location to make sure it's appropriate for the age of your children). Happy Halloween!
Know about any houses or neighborhoods that are decorated so well you want them added to this list? Click here to submit the address.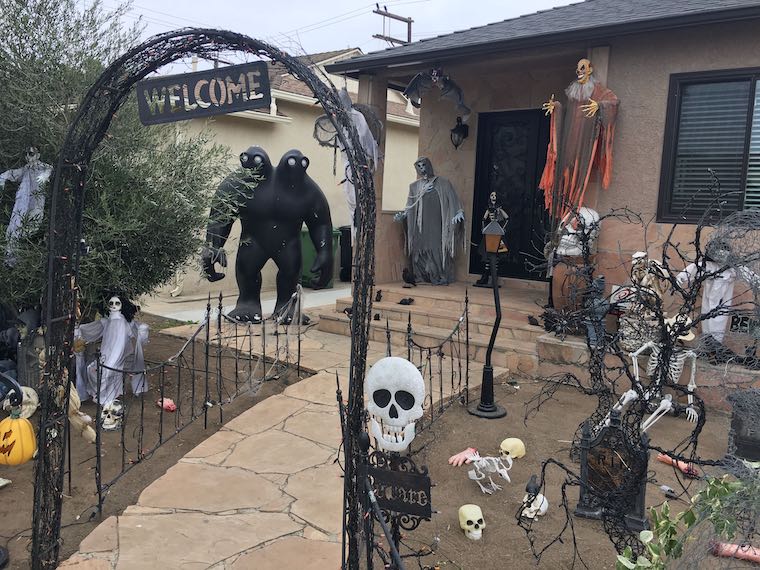 Haunted Houses in SoCal
Submitted by one of our readers – this is a great map!
Reader-submitted places to see
Mt Washington fluorescent haunts with tress and giant neon Venus fly trap, 4522 Jessica drive Los Angeles 90065
Toluca Woods, Sancola Ave / Huston St, 4848 Sancola Ave, North Hollywood, CA 91601
8039 Grove Street Sunland CA 91040
McLaughlin Ave between Venice Blvd and Palms in Mar Vista 90066 – tons of inflatables and amazing decorations
For those who like to get scared, maybe try out the Ghost Tour – looks spooky!
Goldenrod Ave. Perris, CA 92570 – this one has an IG video!
999 Happy Haunts LA is also on IG – See it at 3552 Prospect Ave in La Crescenta
2541 Silverspur, La Habra 90631 – Home with amazing inflatables, light show, graveyard, and animatronics – check it out!
Witch Trails
Hot tip: sign up for this email list and they'll send you their Trail of Witch Houses (among all their others) – so cool – FORT Los Angeles.
Rotten Apple 907
907 N. California St., Burbank, CA 91505
Rotten Apple 907 is a family and community-based haunted house experience. In 2020, it will be open for display and short shows only on select October dates from 7:00 pm to 10:00 pm. Click through for more details. For many families, a visit here is an annual tradition. Rotten Apple 907 is a non-profit event. Donations are gratefully accepted and this year will be presented to VBAS (Volunteers of Burbank Animal Shelter).
This residence in Torrance is a popular Halloween destination, and it's still going to be in 2020! This year there won't be any walking through the maze allowed, but they are still going to decorate and make it look fantastic, so check it out for sure. Since 1997, this family has transformed their driveway into a family-friendly maze (although it's recommended that children be at least 6 years old). The theme of the maze changes from year to year. This year, The Haunted Shack will be open on Halloween as well as Friday, November 1st. (And, The Haunted Shack welcomes donations which are then given to charities. Since 1997, over $5500 have been raised in donations.)
The Haunt is celebrating "29 years of spookiness," and even though it will be different than usual, and there won't be any candy, it will still be awesome. Click the link for more info. The Haunt is a kid-friendly yard haunt that has many decorations and special effects. Families find themselves coming back year after year.
Beware the Dark Realm
28621 Sugar Pine Way, Santa Clarita, CA 91390
This free, haunted house is quite popular in Santa Clarita. No walking through it this year, but it will still be decorated so check it out. In years past, families could find a "high intensity walk-through attraction filled with terrifying live monsters, amazing special effects, and incredible sets." Donations are gratefully accepted for the local Child & Family Center.
Google Map of decorated houses in Glendale
So many ways to celebrate Halloween in Los Angeles!
And don't forget that the amusement parks do their own Halloween-related activities. Be sure to check out our list of Things to do With Kids in Los Angeles for Halloween.
Disclaimer: MomsLA has made every effort to confirm the information in this article; however, things can often change. Therefore, MomsLA makes no representations or warranties about the accuracy of the information published here. MomsLA strongly urges you to confirm any event details, like date, time, location, and admission, with the third party hosting the event. You assume the sole risk of relying on any of the information in our list. MomsLA is in no way responsible for any injuries or damages you sustain while attending any third party event posted on our website. Please read our Terms of Use which you have agreed to based on your continued use of this website. Some events have paid to be listed on MomsLA.