Updated for 2021
Many families would like to go camping but aren't quite sure where to go or how to get started. And that's where this list can help! We've compiled the Best Family Campground in and Around Los Angeles that will get kids excited about being outside.
Some of the camp spots are first-come, first-served while others are are very popular and require booking far in advance. Make sure and check the websites for weather conditions and availability before you go, especially at this time.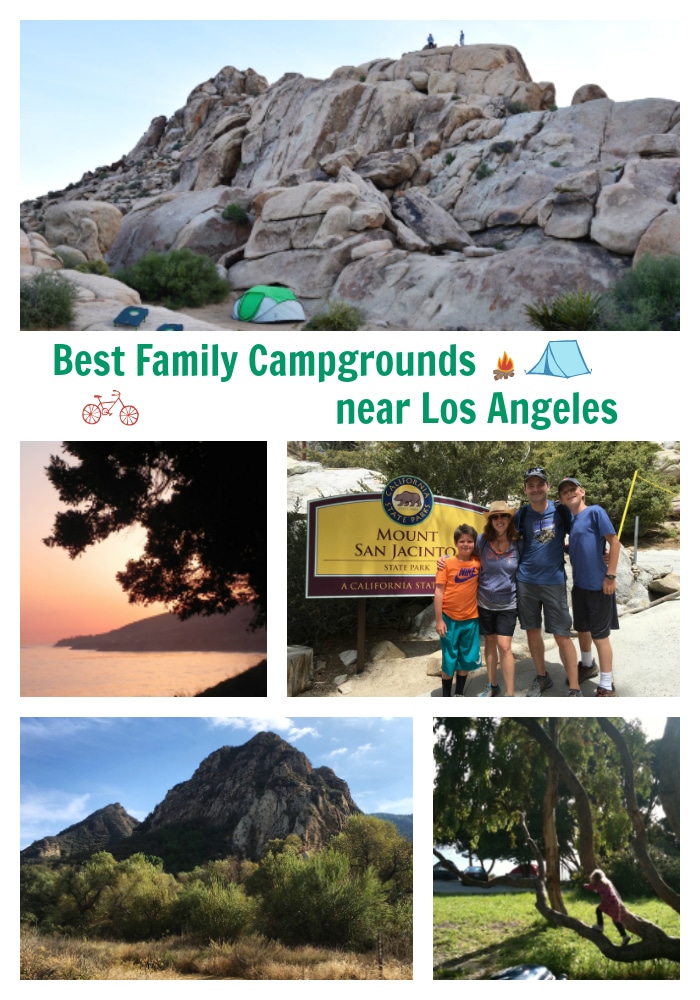 Campgrounds Near Los Angeles
Many State parks have opened for camping recently, so check out their list and reservation deadlines and rules.
Green Valley Family Campground is located slightly north of Arrowbear, "the midway point between Lake Arrowhead and Big Bear." 37 camping sites are available, with 11 being available on a first-come, first-served basis. Amenities include picnic tables and flush toilets. Family activities include hiking, fishing, kayaking, and more.
Doheny State Beach
25300 Dana Point Harbor, Dana Point, CA 92629
If you're looking to combine a camping experience with time by the ocean, then Doheny State Beach is the place. Families can enjoy water activities such as surfing, fishing, kayaking, and swimming. Amenities include showers, fire rings, and picnic areas.
You'll find Black Rock Campground in the northwestern corner of Joshua Tree National Park. It is described as a "quiet, family campground" and is a "good introduction for first-time campers." Each of the 100 sites features a picnic table and fire ring with water and restrooms located nearby. Campsites differ in size and can accommodate both RVs and tents. Fees and reservation information are available online. Families can hike and look for wildlife including jackrabbits, ground squirrels, roadrunners, and much more.
If you're looking to go camping but don't want to spend a lot of time in the car to get there, then Chilao Campground may be the ideal place for you. The campground is first-come, first-served and offers picnic tables and vault toilets. Families will enjoy panoramic views and multiple hiking options.
You won't have to drive too far to get to Malibu Creek State Park. Families can enjoy horseback riding, swimming, hiking, fishing, and more. Camping amenities include fire rings and showers. Malibu Creek State Park has also served as the filming location for television shows over the years including M*A*S*H and Planet of the Apes. Please note that "Malibu Creek State Park was badly damaged in a November 2018 wildfire, but recovery has begun. Please tread lightly and exercise caution when visiting,"
Looking for something off the beaten path? Try HipCamp for places to set up a tent on private property around California. This "Air BnB" for Camping is a relatively new Startup and can offer some unique locations for sleeping outdoors.
At Crystal Cove State Park Moro Campground your family will enjoy camping along the Pacific coastline. There are 58 family campsites with picnic tables. Restrooms and showers are also available. This spot provides families with the opportunity to swim, bike, hike, walk, surf, sunbathe, and more. Crystal Cove State Park is considered to be "one of Orange County's largest remaining examples of open space and natural seashore."
Lake Hemet
56750 California 74, Mountain Center, CA 92561
At Lake Hemet, families can opt to have their tent set up before you even arrive. Or, if your family is new to camping and you don't want to invest in all the supplies, you can rent gear at Lake Hemet. Their "Rent My Tent" Program is ideal for the family with no camping experience. Once you're at Lake Hemet, you won't run out of things to do including fishing, kayaking, swimming, and more. And if you're really missing city life, you may feel more comfortable knowing there is a Cafe and store nearby.
Catalina Island is only a boat-ride away so it's easy to give your family a very unique camping experience without venturing too far from home or spending too much time in the car. You'll find five different campgrounds on the island, each with different features, including some being more rugged and secluded than others. Check the website for descriptions and information about fees.
Borrego Palm Canyon Campground
Anza-Borrego Desert State Park
200 Palm Canyon Dr., Borrego Springs, CA 92004
Families will find a beautiful spot to enjoy the outdoors at the Borrego Palm Canyon Campground. Visitors speak highly of the clean facilities (including showers!). Go for a hike, star gaze at night, and more. Anza-Borrego Desert State Park is the largest state park in California so you certainly won't run out of things to see and do.
Table Mountain
part of Angeles National Forest
near Wrightwood, CA
Not that far from busy Los Angeles, you'll find Table Mountain within the Angeles National Forest. Families will camp within a "hilly, oak and pine forest" including scenic views. Hike, mountain bike, bird-watch, and more here. Campsites have fire pits and are located "reasonably close" to vault toilets.
Carpinteria State Beach is located twelve miles south of Santa Barbara. Camping here offers families the chance to hike, swim, bike, fish, and more. Amenities include showers and picnic tables. Be prepared that you may find tar on the beach. The Chumash had a large "carpentry shop" here because of the naturally occurring tar which they used to seal canoes and other boats.
You'll find a little bit of everything at the Camp Williams Resort. Families can camp on the banks of the San Gabriel River East Fork. (There is also a mobile home park and a camping cabin called Hobbit House here). You'll find restrooms, showers, a cafe, and a general store. Outdoor activities include bird watching, hiking, fishing, and more.
Stone Creek Campground
Mount San Jacinto State Park
Highway 243, Idyllwild, CA
Stone Creek Campground offers 50 sites for tent and small RV camping. Each site includes tables, grills, and campfire rings. The campground is available on a first-come, first served basis and is located with a forested area at an elevation of about 5800 feet. Families will also find adjacent hiking trails and feel comfortable knowing that town is a short distance away.
Mojave National Preserve is described as being a "camper's paradise." It is the "largest unit of the National Park System in the contiguous United States." Families will find two "family" campgrounds, the Mid Hills Campground and Hole-in-the-Wall Campground. Both sites are available year-round and include fire rings, picnic tables, and pit toilets.
El Capitán State Beach
Off of Highway 101, 17 Miles West of Santa Barbara, CA 93117
El Capitán State Beach near Santa Barbara offers visitors a sandy beach, rocky tidepools, and stands of sycamore and oaks along El Capitán Creek. This popular campground has group, single tent, RV and camper sites. Campers can walk to the beach from the campground, ride bikes on the trail or play ball in the grassy area near the camp/beach store.
If you're looking for "glamping," head across the road to El Capitan Canyon resort lodging. Families may choose to spend the night in cedar cabins or safari tents. A variety of family-friendly activities are available including biking (complimentary adult-size beach cruisers are available), live entertainment (on Saturday nights, May through September), hiking, and much more.
Disclaimer: MomsLA has made every effort to confirm the information in this article; however, things can often change. Therefore, MomsLA makes no representations or warranties about the accuracy of the information published here. MomsLA strongly urges you to confirm any event details, like date, time, location, and admission, with the third party hosting the event. You assume the sole risk of relying on any of the information in our list. MomsLA is in no way responsible for any injuries or damages you sustain while attending any third party event posted on our website. Please read our Terms of Use which you have agreed to based on your continued use of this website. Some events have paid to be listed on MomsLA.