Looking for Free Things to Do in LA? LA parents in-the-know have long since figured out that having fun in Los Angeles doesn't have to be expensive. But maybe you've exhausted your list of tried-and-true destinations and are looking for some new, I-never-thought-of-that ideas. Here is our list of the Best Free Things To Do In Los Angeles.
MomsLA is your source for Things to do in Los Angeles With Kids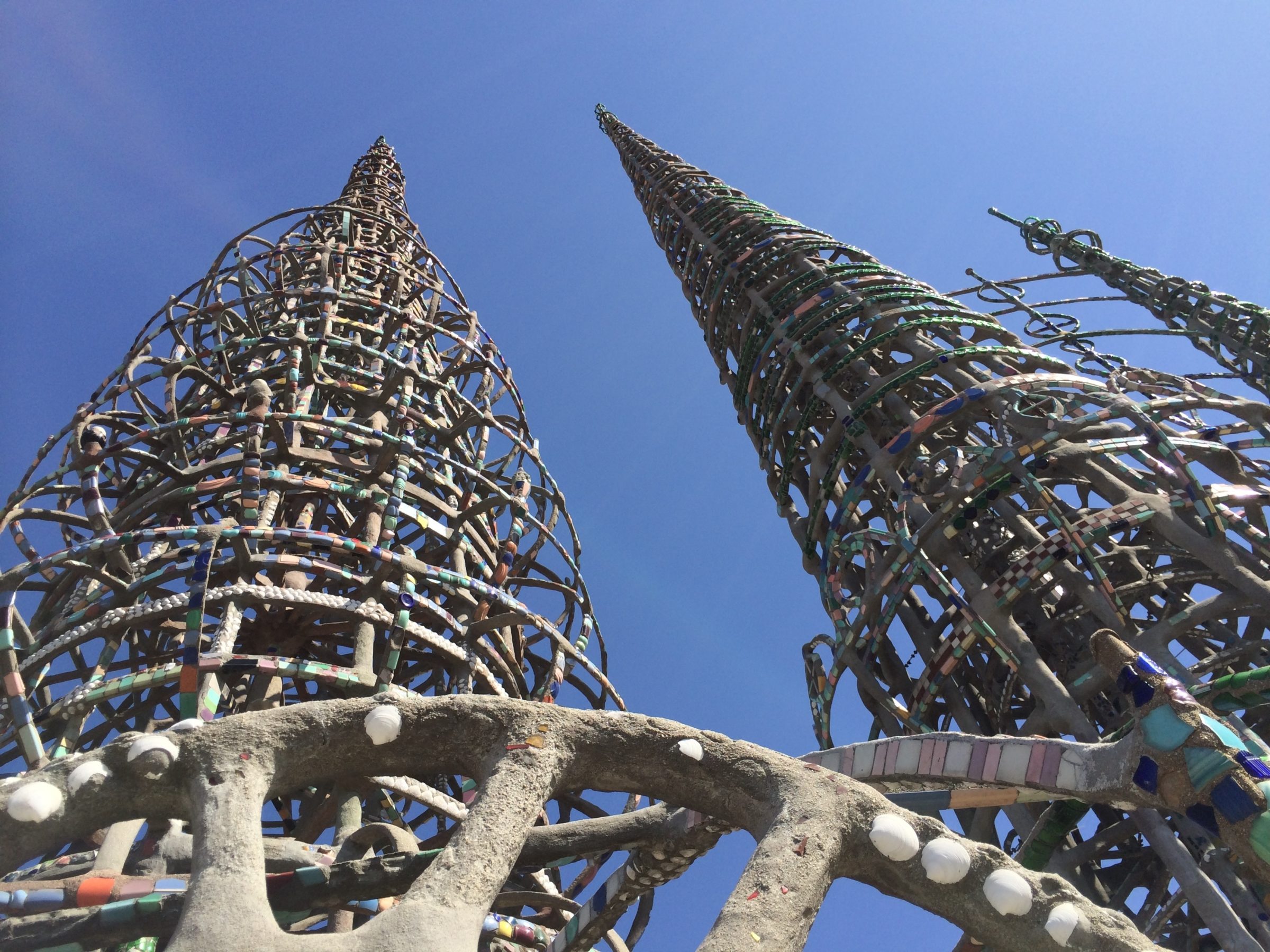 1765 E. 107th St., Los Angeles, CA
The Watts Towers are truly a sight to see. It is a visual representation that dreams can become a reality. The Watts Towers are "constructed of a structural steel core, wrapped in wire mesh which has been covered with mortar, and inlaid with tiles, glass, shell, pottery, and rocks." The tallest of the towers stands at 99.5 feet. The Watts Towers stand "as a symbol of freedom, creativity, and initiative." It's interesting to note that the artist, Simon Rodia, originally called his creation "Nuestro Pueblo," or "our town."
2800 E. Observatory Rd., Los Angeles, CA 90027
Griffith Park is big, and admission prices (the Zoo, the Autry Museum) can add up. Thankfully, the Griffith Observatory celebrates the wonder of outer space in a family-friendly, inexpensive way. There are telescopes and a multitude of exhibits that will keep the kids (and parents) engaged, curious, and in awe. And on clear days, you'll enjoy great views of Los Angeles and the Hollywood sign! There is a cafe on site as well. (Outside food and drinks are not permitted inside the Observatory). The Observatory is closed on Mondays. Admission is free; though there is a fee for shows in the Samuel Oschin Planetarium. (Click here to read our Guide to the Griffith Observatory).
Carroll Ct. and Eastern Canal Ct., Venice, CA 90293
Maybe your family can't afford a trip to Venice, Italy, but that doesn't mean you can't explore Venice, California. The Venice Canals were originally constructed in 1905 and were inspired by the canals in Venice, Italy. Mr. Abbot Kinney is credited as being the founder of this "Venice in America" attraction. You can explore the Canals on foot, as you leisurely stroll across the many pedestrian bridges. While exploring, you'll be treated to an eclectic view of homes, gardens, and ducks!
Hollywood Blvd and Vine Street
The Hollywood Walk of Fame is considered to be the world's most famous stretch of sidewalk, and it's free to visit! Located on Hollywood Boulevard as well as Vine Street, the famous Stars honor those who have made contributions in the categories of Motion Pictures, Television, Recording, Radio, and Live Theatre/Live Performance. The first Star honored Stanley Kramer in 1960. Ceremonies are free to attend and a list of upcoming ceremonies can be found online. (Actress Jennifer Garner received her Star on August 20th). And while you're exploring the Walk of Fame, you'll come across many other Hollywood landmarks including the El Capitan Theatre, the TCL Chinese Theatre, and the Hollywood Wax Museum to name a few. Be sure to click here to read our post 14 Fun Things To Do With Kids in Hollywood.
6333 W. 3rd St., Los Angeles, CA 90036 and
189 The Grove Dr., Los Angeles, CA 90036
A trip to the Farmers Market allows families to simultaneously experience the past and the present. The Farmer's Market has been owned by the Gilmore Family since the late 1800's. In 1934, farmers began selling their fresh produce from the corner of 3rd and Fairfax. Since then, the Farmers Market has continued to grow and evolve, although many of the merchants have been a part of the Farmer's Market for a very long time (including Bennett's Ice Cream and Magee's Kitchen). Also, be sure to stop by Kip's Toyland, which has been family-owned and operated for over 70 years (and doesn't sell any electronic games!)
Adjacent to the Farmers Market is The Grove, a shopping and dining destination. And while many go to The Grove to shop, it's just as much fun to wander around browsing, without spending any money. Read and play in the children's section of Barnes and Noble, check out American Girl Place, take a free ride on the Trolley (which travels between The Grove and the Farmers Market) and watch the Dancing Fountain. (The Fountain "dances" to different songs every hour and was designed by the same company who designed the famous fountains at the Bellagio in Las Vegas). And if you visit The Grove on a Thursday (from February through the end of October), young children can participate in the free, weekly Kids Club held from 10:00 am to 12:00 pm. Click here to read our Guide to the Original Farmers Market and the Grove.
Ocean and Colorado
The Santa Monica Pier is equally popular with tourists and locals. This historic pier is designated as the official western end of Route 66. It doesn't cost anything to walk around the Pier, marveling at Pacific Park, the amusement park located on the Pier which includes the world's only solar-powered Ferris Wheel.
And located on the beach, right under the Carousel on the Pier, you'll find the Santa Monica Pier Aquarium. On exhibit are more than 100 species of marine animals, all of which are found in the Santa Monica Bay. In addition, different events are held each day the Aquarium is open. (The Aquarium is closed on Mondays. Admission is free for children 12 and younger; ages 13+ are $5 each). You can click here to read our Guide to the Santa Monica Pier.
Then walk down to the beach and make a day of it! Bring a cooler and some sandwiches; a Frisbee and a ball; books; a pail and shovel; and of course, the sunscreen, and you've got the makings of a great family beach day. And click here to read our Guide to the Best Family Friendly Beaches in Los Angeles.
El Pueblo de Los Angeles Historical Monument, Los Angeles, CA
Olvera Street is known as the "birthplace of Los Angeles." Visit this lively outdoor marketplace and enjoy a variety of vendors, dancers and musicians, handcrafted items, and delicious food. Families can explore on their own or take advantage of free docent-led tours of Olvera Street and El Pueblo de Los Angeles Historical Monument. While you're downtown, don't forget to check out other popular spots such as Grand Park and the Central Library (both are free!). Click here to read our post "9 Things To Do With Kids in Downtown Los Angeles" for all the details.
Between Wilshire and S. Santa Monica Blvd., Beverly Hills, CA
Rodeo Drive is known as the "intersection of luxury, fashion, and entertainment." While the boutiques on Rodeo Drive may be offering expensive wares, it's always free to stroll down the streets and just window-shop. Take your family on your own self-guided walking tour of this famous street. Be sure to look for the "Rodeo Drive Walk of Style," honoring "fashion legends for their contributions to the fashion and entertainment industries." Each plaque features the recipient's name, a personal quote, and their signature. Anderton Court, designed by Frank Lloyd Wright, is famous for "its unusual design which is completely devoid of steps and instead relies on a series of ramps to move between floors."
5801 Wilshire Blvd., Los Angeles, CA 90036
If you're not sure if your kids would like being inside a museum, there is no need to miss out on exploring the La Brea Tar Pits. Thankfully no admission is required for the outside portion, and there's so much to see and explore! In case you didn't already know, the La Brea Tar Pits is considered to be "one of the richest depositories of Ice Age fossils."
Marvel at the statues throughout the grounds and the Lake Pit, featuring a still-bubbling asphalt seep with life-size fiberglass statues of mammoths and an American mastodon. Learn about the excavation process and check out the Pleistocene Garden which includes Ice Age-era plants that would have been found in Los Angeles. Stop by the Observation Pit, to see what "a real La Brea fossil deposit looks like." And take your time walking (and smelling) through the Tar Pits stopping by Project 23 and Pit 91. Click here to read our Guide to the La Brea Tar Pits and Museum.
2903 Cornell Rd., Agoura Hills, CA 91301
In the 1920s, Paramount Pictures purchased 2700 acres of the Rancho Las Virgenes to be used as a "movie ranch." In 1980, the National Park Service revitalized a portion of the movie ranch. Today families can go exploring and hiking on the same land that has been used as the setting in many film and television shows, including Dr. Quinn, Medicine Woman. Kids will enjoy seeing what looks like an authentic Western Town, and families will appreciate that there are places to enjoy a nice relaxing picnic. UPDATE 11/9/2018 – A fire has burned parts of Paramount Ranch including the Western Town. Visit the website for more information.
1200 Getty Center Dr. (for GPS use N. Sepulveda Blvd. and Getty Center Dr.), Los Angeles, CA 90049
When you visit the Getty, you have the opportunity to view amazing art pieces as well as the opportunity to get a view of Los Angeles you don't often see. Children will most likely be intrigued before you even reach the Museum; riding the computer-operated trams from the parking lot is sure to garner a lot of excitement among young visitors. The permanent collection includes European and American art, from Medieval Times to the present. In addition to what you'll see inside, is what you'll see outside — the Getty's famous Central Garden and architecture. The Getty Center also hosts a variety of special events throughout the year including live musical performances, lectures, film screenings, and more. And be sure to visit the Getty's Family Room, a place where kids can build, touch, draw all based on the Getty Center's exhibits. Admission is always free. (The Getty is closed on Mondays). Click here to read our Guide to the Getty Center.
Visit a Free Museum in Los Angeles
Several locations throughout Los Angeles
Many museums offer free daily admission. The California Science Center, The Los Angeles Museum of the Holocaust, the Hammer Museum, the California African American Museum, and the Fowler Museum at UCLA are just some of the museums offering free admission each day they are open.
Additionally, some museums offer free admission on certain days. Click here to read our post 10 Los Angeles Area Museums Offering Free Admission.
MOMSLA IS YOUR SOURCE FOR THINGS TO DO IN LOS ANGELES WITH KIDS.