Updated for 2021
There is nothing that brings people together like an old fashioned 4th of July celebration. We like to celebrate with dazzling firework displays, all-Americana parades, BBQ's and all around family-friendly fun.
Whether you get into fireworks show, or you like small-town parades, if your neighborhood holds an annual Block Party, or you like to do all of the above, this list sure looks fun. If you're not sure where to go and what to do this holiday, we've curated a list of more than 20 of the best Fourth of July celebrations in Los Angeles – enjoy!
Best 4th of July Celebrations in Los Angeles
AmericaFest, the annual Fourth of July celebration at the Rose Bowl, is planned for Sunday, July 4th. This popular event features a "day full of tailgating, celebration, and entertainment including a motorcycle stunt show and a world-renowned fireworks display." More details to be announced. Check the website for updates.
Celebrate the 4th of July at the Hollywood Bowl. On Saturday, July 3rd and Sunday, July 4th at 7:30 pm each night, families can "celebrate good times" with Kool & the Gang. "The disco-funk greats bring the party to the Bowl for our annual Fourth of July Spectacular, while Thomas Wilkins and the Hollywood Bowl Orchestra perform patriotic favorites." Ticket information is available online.

Click here to read our Guide to the Hollywood Bowl.
2021 July 4th Spectacular
Janss Marketplace
275 N. Moorpark Rd., Thousand Oaks, CA 91360
The Conejo Recreation and Park District and the City of Thousand Oaks invite families to enjoy its fireworks show. Fireworks begin at 9 pm with a great view from Janss Marketplace. "Patriotic music simulcast by KHAY 100.7."
The city of Ojai is celebrating the 4th of July a day early, on Saturday, July 3rd. The festivities include a live band, food trucks on-site, and a fantastic fireworks show. This annual event begins at 5:30 pm and continues until 9:00 pm with fireworks! Tickets are available online.
And click here to read our post 10 Fun Things To Do With Kids In Ojai.
The Annual Burbank 4th of July Fireworks Display will begin at 9 pm. However, there will be no concert or public access to the Starlight Bowl this year. Families are encouraged to watch and enjoy "from the comfort of home in your front and backyards."
The LA Galaxy's annual Fourth of July game will feature a contest against Sporting Kansas City at 7:30 p.m. PT at Dignity Health Sports Park, marking return of the Galaxy's tradition of hosting a game on Independence Day. Following the match, the club will host a fireworks show for all fans in attendance, the longest-running fireworks show in all of professional sports during an active season.
Councilman Bob Blumenfield's July 4th Fireworks Extravaganza is happening from 6:00 pm to 9:30 pm. Enjoy a free concert and 15-minute fireworks display. Food trucks as well as arts-and-crafts vendors will be on-site as well. The event is free, and parking fees serve as a donation to the Valley Cultural Foundation. Tickets are available online.
The fireworks may be uncertain, but the parade lives on!
The Sparkle returns! The annual parade tradition continues in the Palisades, with a hometown feel and marching bands! Learn all about the traditions of the parade – and the street closures – on their website. And enjoy!
The International Printing Museum is hosting an Independence Day Celebration on July 3rd from 10 am to 4 pm. The day's festivities include special working tours of the Printing Museum collections, including the opportunity to print your own Declaration on Franklin's Colonial press, take home lots of patriotic souvenirs printed on our authentic tabletop presses, and to enjoy a display of vintage cars in the Museum Parking Lot. And what's this? A slice of apple pie, too?
Universal Studios Hollywood is hosting their annual July 4th fireworks celebration with a dazzling burst of colors against the night sky from multiple locations within the theme park. The fireworks spectacular is included with theme park admission, and includes multiple musical performances, along with their popular rides and attractions. At 9:00 p.m., the holiday is capped off with the extravagant fireworks display synchronized to a score of Universal-themed music and patriotic favorites.
The City of El Segundo is planning to host its annual 4th of July Fireworks Display at Recreation Park. At this time, the decision has not yet been made regarding the other activities that are usually associated with the fireworks show (including food booths, live music, and family activities). Check the website for more activities as they become available.
The City of Corona is celebrating Independence Day all day long on Sunday, July 4th. The festivities include a 9 am Parade down Main Street as well as music, food, and fun at Santana park. There will be a live musical performance, food vendors on site, and a fireworks show at sundown. Details online.
4th of July Spectacular
Veterans Park
4756 Valley View Ave., Yorba Linda, CA 92886
Celebrate the 4th of July in Veterans Park in the city of Yorba Linda. The festivities are scheduled from 5:00 pm to 9:30 pm and include "food vendors, family activities, live music and a spectacular fireworks show!"
The Mammoth Lakes Chamber of Commerce 4th of July Parade is BACK! The route starts at the intersection of Chateau Road and Old Mammoth Road (by Salsa's Taqueria) and ends at Manzanita Road and Main Street (by A-Frame Fine Wines & Spirits). Attendance is free and all are invited. 11:00am – 12:30pm.
The Independence Day fireworks show promises to be a bright and striking display of color in the Eastern Sierra night sky. This year's custom designed "Sky Concert" will propel over 851 shells into the Eastern Sierra sky for a mesmerizing 17 minutes beginning at approximately 9:15 p.m. (weather permitting). The show will simulcast live on KMMT 106.5 – tune in and enjoy!
The Fireworks Spectacular explodes at 7,000′ over Big Bear Lake every July 4th! Show time typically begins between 8:45-9:15 PM, runs approximately 30-40 minutes, and is FREE to spectators. The Fireworks Spectacular consistently ranks top five in California and can be viewed from on the water, along the shore, and throughout Big Bear Valley.
When LA's newest professional sports team, the LA Giltinis – SoCal's 1st place Major League Rugby Team, takes to the field against NOLA GOLD, at the iconic Los Angeles Memorial Coliseum, there's sure to be fireworks, at least if it's on July 4th. $4 Special discount tickets for Round 16, on July 4th, includes access to the Coliseum Field after the game to watch fireworks with the Giltinis family.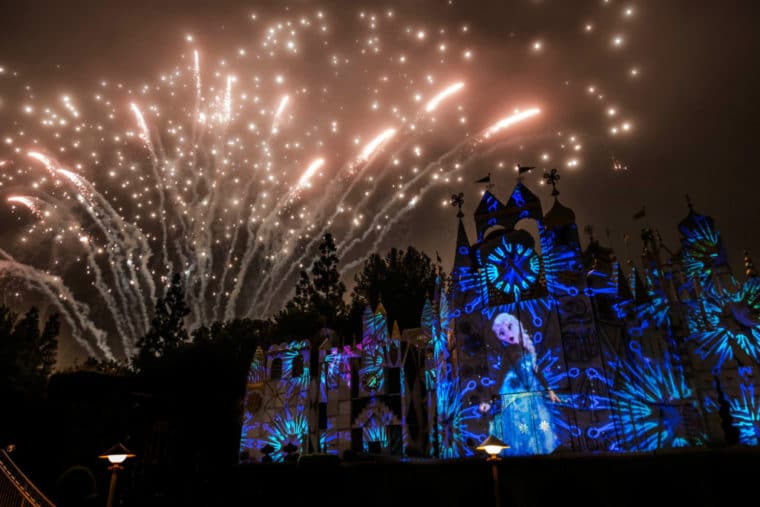 4th of July at Disneyland – Fireworks Return!
1313 Disneyland Dr., Anaheim, CA 92802
As Disneyland welcomes back all guests, the fireworks fun starts July 4 with "Mickey's Mix Magic" – and then presented nightly throughout the Summer. State-of-the-art projections, show lighting and lasers will transform Main Street, U.S.A., Sleeping Beauty Castle and the façade of "it's a small world" into a dazzling, family fun dance party that goes sky high with fireworks to celebrate the leader of the club, Mickey Mouse.
Celebrate the 4th of July in "Surf City" a.k.a. Huntington Beach! The festivities are described as "the largest Independence Day celebration west of the Mississippi!". While a modified celebration is planned this year, festivities still include a neighborhood parade, the Pier Plaza Festival, and fireworks over the ocean. Fireworks begin at 9 pm. Their celebration lasts from July 2-4th, with extra events all weekend. Check the website for details.
And one by boat!
Experience the sights, sounds, and flavors of 4th of July on Catalina Island. This year's theme is "Catalina Beautiful, Avalon Strong." The daylong celebration includes a golf cart parade, live musical performances, and a fireworks show at 9:00 pm. Check the website for details.
July 4th in Marina del Rey
Burton Chace Park
13650 Mindanao Way, Marina del Rey, CA 90292
The fireworks start at 9 p.m. and will last 10 minutes. This year you must reserve a ticket online ahead of time; Burton Chace Park will be closed to the general public. Only pre-registered guests are allowed entry from 5 p.m. to 10 p.m. A ticket does guarantee entry into the park, as capacity is very limited. Entry is based on a first-come, first-serve basis. Entry into the park before 5 p.m. will not be permitted, and no lining up for entrance before 4 p.m. NO in/out privileges will be granted.
Find 4th of July Events Near Me
Disclaimer: MomsLA has made every effort to confirm the information in this article; however, things can often change. Therefore, MomsLA makes no representations or warranties about the accuracy of the information published here. MomsLA strongly urges you to confirm any event details, like date, time, location, and admission, with the third party hosting the event. You assume the sole risk of relying on any of the information in our list. MomsLA is in no way responsible for any injuries or damages you sustain while attending any third party event posted on our website. Please read our Terms of Use which you have agreed to based on your continued use of this website. Some events have paid to be listed on MomsLA.