Families visiting the Skirball Cultural Center in Brentwood will find so much to do and explore. From ongoing exhibits for adults and kids to special performances for the entire family. Our Guide to the Skirball Cultural Center has all the information you need to have a fun visit.
Skirball Cultural Center
2701 N. Sepulveda Blvd., Los Angeles, CA 90049
Hours:
Tuesday through Friday: 12:00 pm to 5:00 pm
Saturday and Sunday: 10:00 am to 5:00 pm
Closed Mondays and Holidays — Independence Day, Yom Kippur (this year on September 19th), Thanksgiving, and Christmas
Description:
Since it opened in 1996, the Skirball Cultural Center has served as "a place of meeting guided by the Jewish tradition of welcoming the stranger and inspired by the American democratic ideals of freedom and equality."
One of the Skirball's ongoing exhibitions is Visions and Values – Jewish Life from Antiquity to America. The exhibition includes changing displays "from the Skirball's permanent collection of Judaica – one of the largest in the world." The exhibition "chronicles the struggles and achievements of the Jewish people over a span of 4,000 years."
A very popular attraction at the Skirball is Noah's Ark at the Skirball. Within an 8,000 square-foot gallery, families will have the opportunity to "play, climb, build, explore, make believe, and make friends – all while exploring a floor-to-ceiling wooden ark, filled to the rafters with whimsical animals." The interactive exhibition is inspired by the ancient flood story and features handcrafted animals all created with recycled and/or everyday objects including bottle caps, baseball mitts, rearview mirrors, bicycle parts, and more. Special activities take place in Noah's Ark including a Toddler Sing-Along on Tuesdays, Story Time on Wednesdays, and a Movement and Dance Piece on Fridays. Noah's Ark is included in general museum admission; however, advance tickets are recommended and can be reserved online.
Families visiting the Skirball will want to be sure to participate in the Family Art Studio on Saturdays and Sundays (where children and their parents can create their own art projects); as well as Dig It (where children can find ancient "artifacts" buried beneath sand).
Special Exhibits and Events:
Currently, families can view two special exhibitions now through February 25th, 2018 — Surface Tension by Ken Gonzales-Day and Another Promised Land: Anita Brenner's Mexico.
Surface Tension by Ken Gonzales-Day: Murals, Signs, and Mark-Making in LA includes more than 140 photographs demonstrating "how Los Angeles understands its history and its values through the murals that decorate the city." The exhibition encourages visitors to consider the questions: "What is a mural? Who speaks, and who decides what counts as art?"
Another Promised Land: Anita Brenner's Mexico provides a "new perspective on the art and visual culture of Mexico and its relationship to the United States as seen through the life and work of Mexican-born, American Jewish writer Anita Brenner."
The Skirball hosts special events throughout the year including a yearly Hanukkah Festival, its annual Puppet Festival each spring, summer concerts, classes, and more. Check the website for more information and a calendar of upcoming events.
Price:
Museum admission includes all exhibitions, including "Noah's Ark at the Skirball"
$12 for adults
$9 for seniors (65 and older), full-time students, and children over 12
$7 for children ages 2-12
The Skirball offers Free admission to children under 2 and to all visitors on Thursdays.
The Skirball offers several Membership options as well. Members enjoy free admission; two one-day complimentary passes; discounts in the Museum store and discounts on adult education classes; Member Preview Days; free admission to Members-only events; and more.
Parking:
Parking at the Skirball is free! (Except during the Skirball's summertime Sunset Concerts, which take place on six Thursday evenings in late July through August).
Food:
Families wishing to dine at the Skirball can do so at Zeidler's Cart or Zeidler's Café. Zeidler's Cart offers grab-and-go options such as sandwiches, salads, and snack items. You'll find tables and chairs around the Museum site where you can enjoy your snack and/or the food you bring from home. (Food and beverages are prohibited in the galleries). Zeidler's Café, a "casual but elegant setting" offers a much larger menu including salads, pasta, pizza, sandwiches, and more. A children's menu is also available.
Nearby Attractions:
The Skirball is located within Brentwood, a neighborhood in West Los Angeles where you'll find lots of fun family-friendly things to do. A nearby "neighbor" is The Getty Center. You can read our Guide to the Getty Center to learn more about the museum and 9 Things To Do in Brentwood With Kids to find great activities in the area.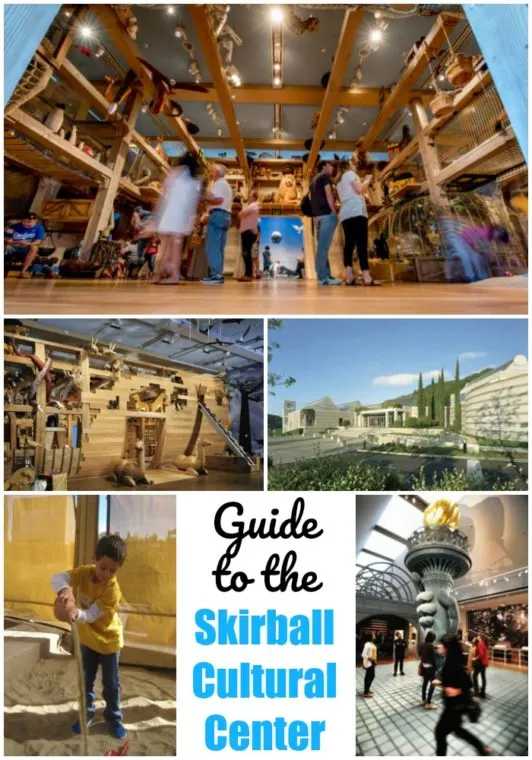 MOMSLA IS YOUR SOURCE FOR THINGS TO DO
IN LOS ANGELES WITH KIDS.