Fashion, Flowers, Fabric and Food – you'll find all that and more in The LA Fashion District in Downtown Los Angeles. Whether you're looking for a Quinceañera dress in Santee Alley, searching for luxury fabric, or shopping for the best prices for wedding flowers in the LA flower district shops, you won't be disappointed.
MomsLA was part of a group invited by the LA Fashion District for a tour of shops and restaurants. There's so much to see and do that it can be a little overwhelming for first-time visitors. Make sure and check out the website before you go. And for a visual overview, look at the printable map at the bottom of the post. Here is a guide to the different areas.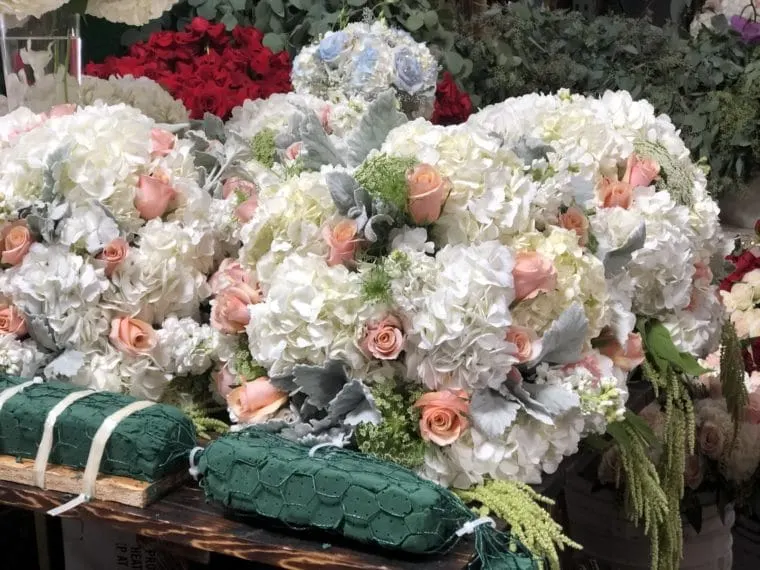 Los Angeles Flower District
The flower district is along 8th Street in Downtown LA from about San Pedo to Maple. The two main areas are the Los Angeles Flower Market ("the largest flower market in the United States," according to the LA Fashion District) and the California Flower Mall.
We started our day at the California Flower Mall where we found vendor after vendor selling gorgeous flowers. You'll find arrangements for every occasion. If you're looking for ideas, visit Mireya's Flowers in the mall or check out her popular Instagram page. She was preparing for more than one event the Saturday we were there.
The flower mall is open 7 days a week from 6 AM to 4:30 PM and around the clock on flower-heavy holidays like Mother's Day and Valentine's Day.
"It's paradise for procrastinators," said Marianne Giblin, who does public relations and tenant empowerment for the mall.
She recommends getting there early for the best flowers and if you're looking for bargains come at 3pm when it starts to die down. Bargaining is fully acceptable and if you plan on doing it, bring cash, she said.
Fabric in Downtown LA
I've never wished I knew how to sew more than during my visit to Blue Moon Fabrics in the Fashion District. We saw gorgeous pink crushed stretch velvet, super cool green mesh metal (modeled by Denisse Montalvan above) and fun swimwear fabrics of all designs and colors.
Blue Moon is a favorite of celebrity designers like Michael Costello who used the same metal fabric to make this dress for JLO.
The Fabric District includes about 200 wholesale and retail stores with fabric, beading, upholstery, crafting supplies and home decor. The area can be found along 8th Street to Olympic from Maple Avenue to San Julian Street.
Food in Downtown LA's Fashion District
If you love to eat, Downtown LA is the place to be. We were treated to two fantastic meals on our day in the Fashion District.
The first was at Preux & Proper, which is located at the intersection of Spring and South Main St. We had a tasting of some of the wonderful New Orleans cooking that Preux & Proper is famous for like fried chicken and waffles, Dr. Pepper chicken wings and skillet mac n cheese. Everything was delicious and I fully intend to go back.
The next was Cilantrolime in the food court on Los Angeles Street. I had a revelation of a taco – the shell was made of fried cheese. It was so good and perfect if you're not eating tortillas. I also tried the quesadilla with Hot Cheetos and fried cheese (delightful) and a bacon-wrapped hot dog. My kids will love this place.
To find more places to eat, visit the LA Fashion District's list of restaurants.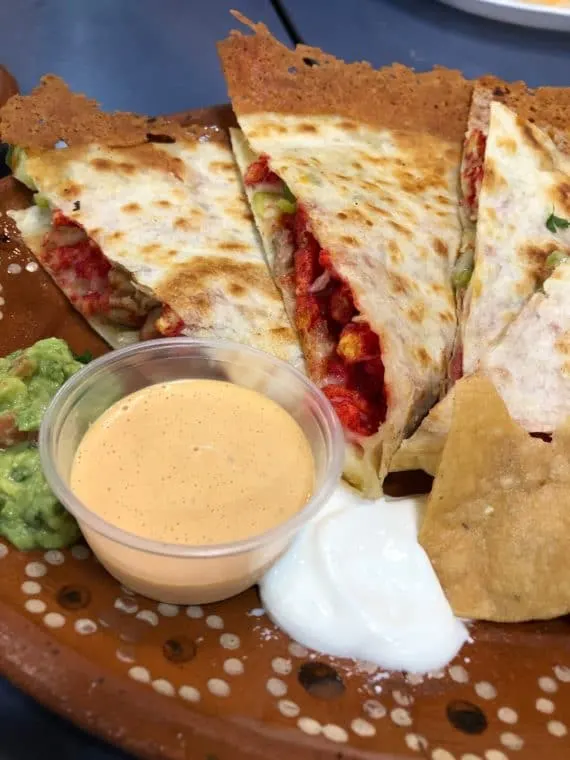 Fashion in the Los Angeles Fashion District
Yes, there is a lot of fashion in the fashion district – more than 1,000 stores that sell wholesale and resale. If you've never been to Santee Alley to go shopping, it's worth a trip to Downtown LA. It's great for bargain hunters! "Shoppers can expect to find bargains of 30% to 70% off of retail prices on apparel and accessories for the entire family."
You'll find dresses for Quinceaneras, proms, weddings and every other special occasion. Most stores are in or near Santee Alley and are open every day with the busiest days being on the weekends.
There's so much shopping and eating to do in the LA Fashion District that you'll need more than a day to take it all in. If you're looking for more information, visit the website or follow them on instagram.
Map of the LA Fashion District
Grab a copy of our Book: Los Angeles with Kids!
Looking for Fun Things to do with Kids in LA? You'll love this book! This handy-dandy, portable paperback book is packed full of ideas for FUN all over SoCal! Keep it in the car, your purse, your diaper bag – and be ready for fun anytime, anywhere!
Yvonne Condes writes here and on her site YvonneInLA.com.
Disclaimer: MomsLA has made every effort to confirm the information in this article; however, things can often change. Therefore, MomsLA makes no representations or warranties about the accuracy of the information published here. MomsLA strongly urges you to confirm any event details, like date, time, location, and admission, with the third party hosting the event. You assume the sole risk of relying on any of the information in our list. MomsLA is in no way responsible for any injuries or damages you sustain while attending any third-party event posted on our website. Please read our Terms of Use which you have agreed to based on your continued use of this website. Some events have paid to be listed on MomsLA.