This post is part of a partnership with The Bash.
You've already picked the theme, venue, and sent out invites to your child's friends and classmates, but what about the entertainment? Don't skip out on this important party planning step! Booking fun and exciting kids' party entertainment is crucial to ensure that the day is memorable and special.
You may be wondering where you can easily find and book kids' party entertainment. The answer is — The Bash. The Bash is an online event marketplace that connects party hosts with local entertainers and vendors for every type of event.
Here are some fun kids' party entertainment ideas you can book in Los Angeles:
Karaoke DJ
It's safe to say that kids of all ages love karaoke! Find a DJ that specializes in karaoke parties so guests can sing along to all of their favorite songs! From "Let It Go" to "Baby Shark", karaoke DJs will be able to play anything and provide the equipment for the ultimate karaoke party.
Costumed Characters
Invite a special guest to surprise everyone at the party when you book a costumed character. Does your child have a favorite superhero, princess, or TV show character? Find that perfect costumed character and get ready for memories (and photos) you'll never forget.
Find Costumed Characters in LA
Petting Zoos & Pony Rides
If hosting a zoo or jungle theme, animals for parties are a must for kids party entertainment! Find trusted animal handlers that are professionals in ensuring guests can meet different animals in a safe way. Add all of your child's favorite critters and creatures to the guest list with everything from kangaroos to llamas.
Explore Animals for Parties in LA
Balloon Twister
No matter how old you are, you'll always be excited for a balloon animal made just for you? This party classic is sure to keep the kids engaged during the celebration and allows for a fun party takeaway. Whether your child wants a balloon dog or a heroic sword, a talented balloon twister can create it all.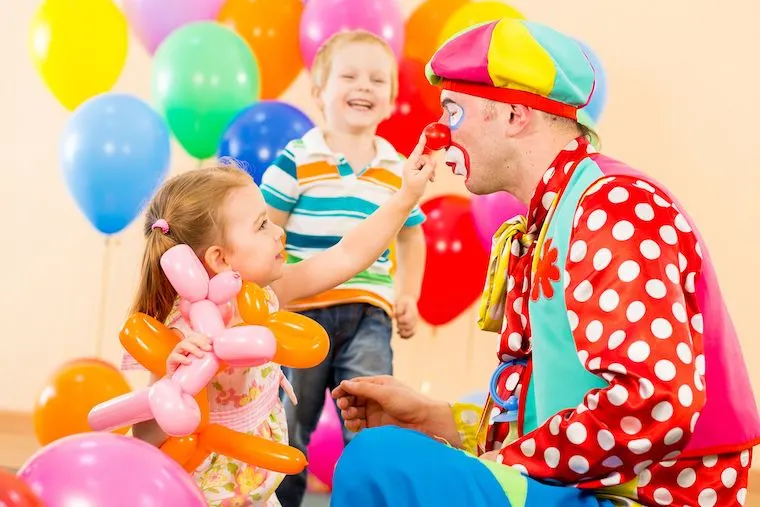 Clown
An oldie but a goodie—you can never go wrong with a smiling happy clown at a party! Get ready for flowers squirting water and the never ending handkerchief trick that are guaranteed to get the kids laughing.
Face Painting
One of the best parts of going to a festival or carnival is definitely getting your face painted. Bring that excitement and magic to your child's party with a professional face painter. Who doesn't look forward to getting transformed into their favorite animal or character?
Photo Booth
Photo booth pictures are memories that will last forever! Kids can put on a silly outfit, grab some props, have fun with friends, and then take the pictures home to hold on to. Not only will this be a fun memory for the kids, but the parents too!
Caricaturist
Make guests feel extra special during the party with a personalized caricature drawing for them to take home. As one of the most popular kids party entertainment ideas, everyone will want to be first in line to get theirs done. These can also double as a party favor too!
Magician
Whether you have a magician who puts on a full show or a strolling magician who mingles with guests, you can't go wrong. A magician is the perfect entertainment idea for guests of all ages. You may even impress some parents too!
Food Trucks
Not only are food carts completely in right now, but they also eliminate food waste. Kids can visit the different carts and trucks as many times as they want and try a little bit of everything. Choose a food truck with kid favorites like ice cream and pizza, or something unique like mini donuts and tacos.
Find more kids' party ideas and inspiration on The Bash.