MomsLA is your source for Things to do in Los Angeles With Kids
Whether you have relatives coming into town for a family vacation in Los Angeles or you're looking for some inexpensive summer staycation ideas, this is the list for you. Our 10 ideas for fun things to do with kids in Los Angeles on vacation will take you all around the city to some of the definite "must see, must do" spots in LA. Plus, they're all family-friendly and easy on your wallet.
In Hollywood:
2301 N. Highland Ave., Los Angeles, CA 90068
Attending a concert at the Hollywood Bowl may very well be the quintessential summer outing. The Bowl hosts a variety of concerts in different musical genres including classical, jazz, world music, and more in an absolutely unforgettable setting. Click here to read our Guide to the Hollywood Bowl.
In Malibu:
17985 Pacific Coast Highway, Pacific Palisades, CA 90272
Head to Malibu for the day and visit the Getty Villa, a re-creation of an ancient Roman country house. The art on display represents 7,000 years of ancient art — from the end of the Stone Age to the fall of the Roman Empire. You'll also be enchanted by the Villa's four gardens featuring fountains, ponds, and arbors. Admission is free, though an advance, timed-entry ticket is required. Parking is $15. The Getty Villa is closed on Tuesdays and opens at 10:00 am every other day. (Click here to read our post "10 Things To Do In Malibu With Kids").
In Griffith Park:
2800 E. Observatory Rd., Los Angeles, CA 90027
You'll definitely want to plan to explore Griffith Park. And if you can't decide what to do first, make sure the Griffith Observatory is at the top of your list. The Griffith Observatory highlights the wonder of outer space in a family-friendly, accessible way. There are telescopes and a multitude of exhibits that will keep the kids (and parents) engaged, curious, and in awe. And on clear days, you'll enjoy great views of Los Angeles and the Hollywood sign! There is a cafe on site as well. (Outside food and drinks are not permitted inside the Observatory). The Observatory is closed on Mondays. Admission is free; though there is a fee for shows in the Samuel Oschin Planetarium. (Click here to read our Guide to the Griffith Observatory).
In Mid-Wilshire:
6333 W. 3rd St., Los Angeles, CA 90036 and
189 The Grove Dr., Los Angeles, CA 90036
A trip to the Farmers Market allows families to simultaneously experience the past and the present. The Farmer's Market has been owned by the Gilmore Family since the late 1800's. In 1934, farmers began selling their fresh produce from the corner of 3rd and Fairfax. Since then, the Farmers Market has continued to grow and evolve, although many of the merchants have been a part of the Farmer's Market for a very long time (including Bennett's Ice Cream and Magee's Kitchen). Also, be sure to stop by Kip's Toyland, which has been family-owned and operated for over 70 years (and doesn't sell any electronic games!)
Adjacent to the Farmers Market is The Grove, a shopping and dining destination. See a movie at the theaters (which host special "Monday Morning Mommy Movies"), read and play in the children's section of Barnes and Noble, check out American Girl Place, and more. There are many dining options available too. Be sure to take a free ride on the Trolley (which travels between The Grove and the Farmers Market) and watch the Dancing Fountain. (The Fountain "dances" to different songs every hour and was designed by the same company who designed the famous fountains at the Bellagio in Las Vegas).
Click here to read our Guide to the Original Farmers Market and the Grove.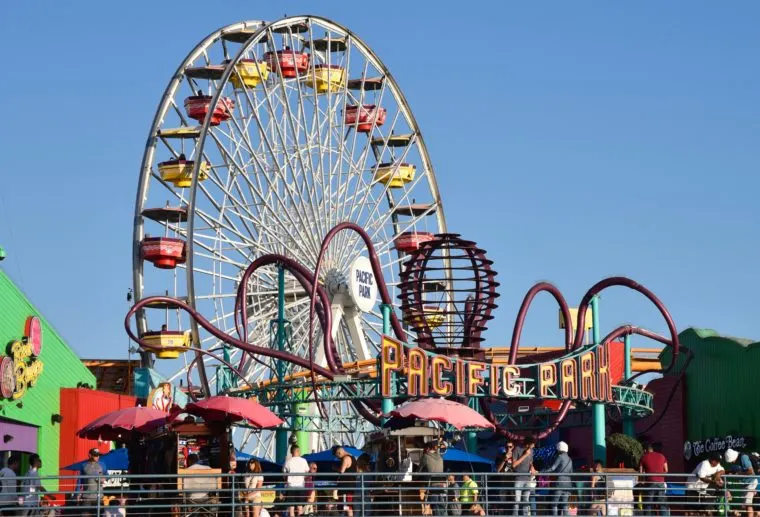 In Santa Monica:
Ocean and Colorado, Santa Monica, CA
The Santa Monica Pier is equally popular with tourists and locals. This historic pier is designated as the official western end of Route 66. Families won't run out of things to do, including Pacific Park, the amusement park located on the Pier. You'll find a variety of games and rides for all ages, including the world's only solar-powered Ferris Wheel.
Take a ride on the Historic Carousel which also features a vintage soda-fountain inside. Playland Arcade features a variety of games (including many classics). If you're feeling adventurous, stop by Trapeze School New York Los Angeles.
And located on the beach, right under the Carousel on the Pier, you'll find the Santa Monica Pier Aquarium. On exhibit are more than 100 species of marine animals, all of which are found in the Santa Monica Bay. In addition, different events are held each day the Aquarium is open. (The Aquarium is closed on Mondays).
Click here to read our Guide to the Santa Monica Pier.
In Hollywood:
Hollywood Blvd and Vine Street
The Hollywood Walk of Fame is considered to be the world's most famous stretch of sidewalk. Located on Hollywood Boulevard as well as Vine Street, the famous Stars honor those who have made contributions in the categories of Motion Pictures, Television, Recording, Radio, and Live Theatre/Live Performance. The first Star honored Stanley Kramer in 1960. Ceremonies are free to attend and a list of upcoming ceremonies can be found online. (Actor Jeff Goldblum received his Star on June 14th). And while you're exploring the Walk of Fame, you'll come across many other Hollywood landmarks including the El Capitan Theatre, the TCL Chinese Theatre, and the Hollywood Wax Museum to name a few. Be sure to click here to read our post 14 Fun Things To Do With Kids in Hollywood.
In Downtown Los Angeles:
El Pueblo de Los Angeles Historical Monument, Los Angeles, CA
Olvera Street is known as the "birthplace of Los Angeles." Visit this lively outdoor marketplace and enjoy a variety of vendors, dancers and musicians, handcrafted items, and delicious food. Families can explore on their own or take advantage of free docent-led tours of Olvera Street and El Pueblo Historical Monument. While you're downtown, don't forget to check out other popular spots such as Grand Park, The Broad, and the Central Library. Click here to read our post "9 Things To Do With Kids in Downtown Los Angeles" for all the details.
In Long Beach:
1126 Queens Highway, Long Beach, CA 90802
Once a world-class, luxury ocean liner, the Queen Mary is now an event venue, floating hotel, and major tourist attraction. Today, families can opt for a unique staycation and/or participate in one of the various tours that are also offered. A variety of dining options await you, including The Promenade Cafe which offers plenty of family-friendly menu choices. The Queen Mary's website even offers suggestions for your itinerary, depending on the length of time you wish to stay and explore. And before you head to Long Beach, be sure to read our post 10 Things To Do In Long Beach With Kids by clicking here.
In Beverly Hills:
Ride the Beverly Hills Trolley
Civic Center Dr. and Third St., Beverly Hills, CA
Visitors from all over the world come to Beverly Hills. If you're a local (or somewhat local) family, one of the best ways to explore the city is by taking advantage of the free trolley service that runs quite frequently during the summer — July 5th to September 2nd, Tuesday through Sunday, 11:00 am to 5:00 pm. (From January through June and September through November, the trolley only runs on Saturdays and Sundays from 11:00 am to 5:00 pm). Check the website for a map of the trolley's route. And before you go, be sure to read our post "10 Family-Friendly Things To See and Do in Beverly Hills" by clicking here.
In Downtown Los Angeles and Echo Park:
1111 S. Figueroa St., Los Angeles, CA 90015 and
1000 Vin Scully Ave., Los Angeles, CA 90012
Support our professional sports teams. During the summer months, you can root for the Los Angeles Dodgers (MLB) at Dodger Stadium and the Los Angeles Sparks (WNBA) at the Staples Center.
Click here to read our post "10 Awesome Things About Dodger Stadium," and click here to read our post "What to Eat at Dodger Stadium."
MOMSLA IS YOUR SOURCE FOR THINGS TO DO IN LOS ANGELES WITH KIDS.
Disclaimer: MomsLA has made every effort to confirm the information in this article; however, things can often change. Therefore, MomsLA makes no representations or warranties about the accuracy of the information published here. MomsLA strongly urges you to confirm any event details, like date, time, location, and admission, with the third party hosting the event. You assume the sole risk of relying on any of the information in our list. MomsLA is in no way responsible for any injuries or damages you sustain while attending any third-party event posted on our website. Please read our Terms of Use which you have agreed to based on your continued use of this website. Some events have paid to be listed on MomsLA.