We love our Los Angeles Dodgers around here and wish them the best this season! We think seeing a baseball game at Dodger Stadium is such a fun thing to do with the entire family.
We wanted to make sure you knew these 10 Awesome Things About Dodger Stadium as you cheer on the boys in blue!
10 Awesome Things About Dodger Stadium
1. Dodger Stadium Turns 60 This Year
The Stadium was built in 1962, making it the third oldest field in Major League Baseball. (Just for the record, Fenway Park is the oldest, built in 1911, and Wrigley Field is the second oldest, built in 1914.)
2. We're Number One (At This)!
Dodger Stadium may be the third oldest, but since its capacity is 56,000 fans, that makes it the Biggest in Major League Baseball. (Yeah!)
3. Famous Blue Seats Behind Home Plate
Dodger Stadium has needed some renovation over the years, of course, and the new owners have done quite a bit since taking control. One of the most noticeable to die-hard fans will be these brand new blue seats in the Lexus Dugout Club area. Expect great shots of the Dodgers at bat, with this blue in the background! Super comfy, too.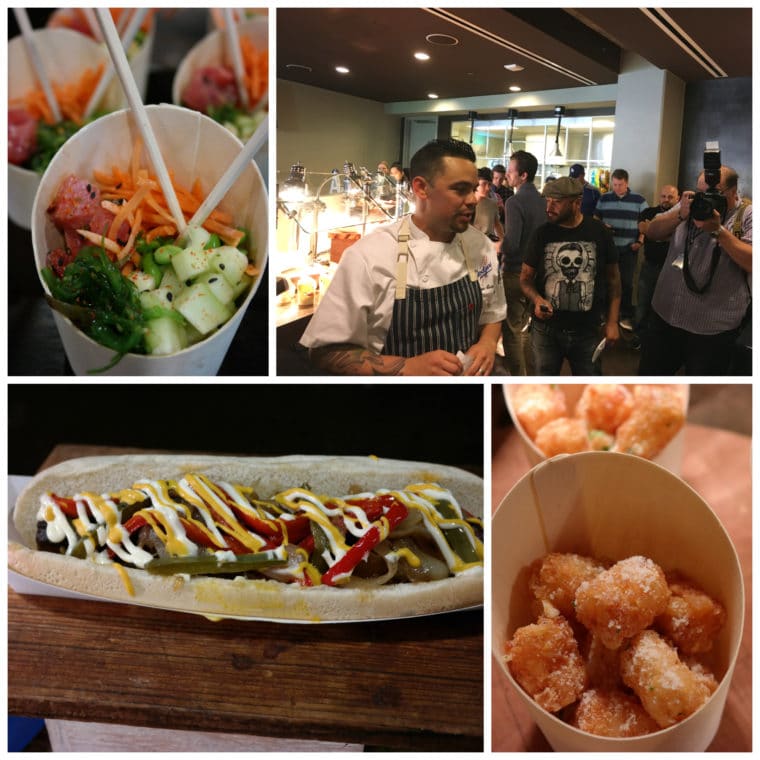 4. New Food Items To Try
Don't worry, the famous Dodger Dog isn't going away, it's just being joined by so many new things to eat, you'll have to attend multiple games just to sample them all. You can thank Executive Chef Ryan Evans for coming up with a new menu every season. He's got one big goal: for Dodger Stadium to have the best food in all of Major League Baseball. Personally? We think he's well on the way. There are so many delicious things to eat this year, seriously – you will need to buy lots of tickets. Check out our other post about all the great food at Dodger Stadium!
Related: Eating Gluten-Free at Dodger Stadium
5. Or You Don't Have To Buy Any of That
Did you know? You can bring in your own food to any seats in Dodger stadium, except in the Luxury Suites.
6. So You're Saying It's Far Away?
There have only ever been five balls hit out of Dodger Stadium in 57 years, and only by four players. Willie Stargell hit two of them, in 1969 and 1973. The others were Mike Piazza in 1997, Mark McGwire in 1999, and Giancarlo Stanton in 2015.
7. Trust Me, You Would Do It, Too
If most teams in baseball have their home dugout on the first base side, why have the Dodgers set theirs on the third base side? Blame on it the LA sun and the orientation of Dodger Stadium. Being on the third base side, the Dodgers don't have the sun shining in their eyes, leaving all the squinting to the visiting team.
8. There is So Much To See
Tours are offered at Dodger Stadium three times a day, pretty much every day of the year, except on holidays and daytime home games. You'll get to see behind the scenes (and on the field) and learn tidbits about the team's history – some of which you just read in this list. Tour guides really know their stuff and they make the experience fun for super fans (and medium fans) alike.
9. Because Chuck E. Cheese Is So Done
There are only 81 home games per season, but there are 365 days in a year. What's that leave the rest of us? Plenty of opportunity to party like a Dodger! You can rent out the Luxury Suites at Dodger Stadium for private events, like birthday parties, weddings, or special holiday parties for websites. Go crazy!
10. Every Day at Dodger Stadium Is Special
That may be true, but there are literally dozens of special events in the 2020 season, each with their own themed swag. Check the Dodgers' website to get the exact dates for USC Night, UCLA Night, Military Appreciation Night, Mexican Heritage Night, Yoga Day, Hello Kitty Night, Game of Thrones Night, Girl Scouts Day, Star Wars Night, Jewish Community Day, Dog Lovers Night, and so many more.
We hope the Dodgers have a terrific season this year and we hope you all get a chance to get out to Dodger Stadium to enjoy a game or take a tour.
Sarah Auerswald is the co-Founder of MomsLA.com. She was treated to a tour of Dodger Stadium and got to try all the new food for this post.