The Los Angeles Rams are going to the Super Bowl! That means it's time to find the perfect recipes to celebrate our home team at your Super Bowl party on February 3rd. From cupcakes to deviled eggs, here are some fun ideas that your guests will love to eat while they watch the Rams crush the Patriots! Go Team!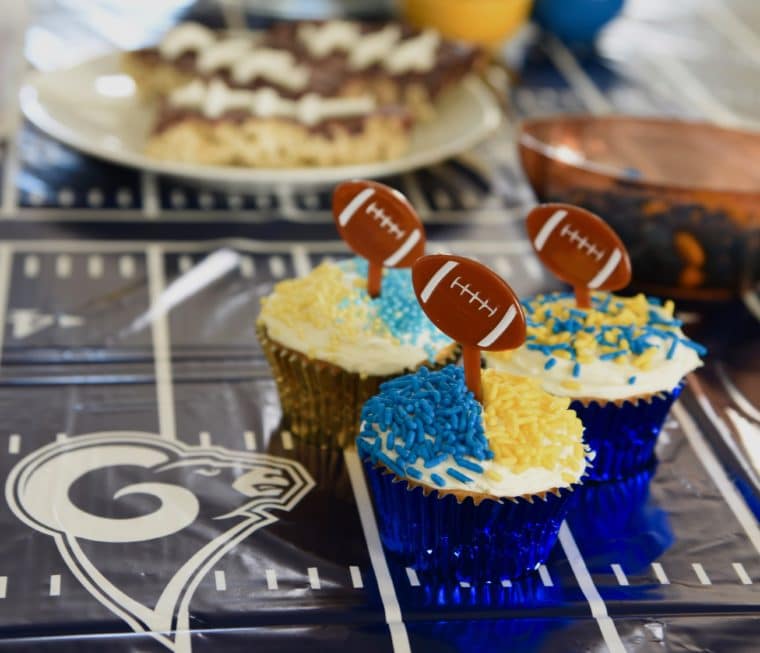 Easy LA Rams Cupcakes
I'm not someone who can take a piece of fondant and 10 minutes later have a Rams helmet, so I went for an easy way to support my home team through baked goods.
These are vanilla cupcake with vanilla frosting in navy blue and gold cupcake liners. I sprinkled half with blue sprinkles and the other half with yellow sprinkles. I topped them off with a football cake topper.
This is a genius idea for a party snack. It's a marshmallow treat with popped corn and blue and yellow m&ms. If you're looking for bags with only dark blue or yellow chocolate candies, Party City has bags of candy with individual colors.
To be honest, the main reason I'm excited for the Super Bowl is the party food. And the best party food to me is the deviled egg. You can make them perfect for the occasion by placing green onions in a criss cross so they look like little footballs. Cute and easy.
This cocktail is a refreshing way to celebrate The LA Rams. Leave out the vodka and it's a fun drink for kids.
Football Chex Marshmallow Bars
General Mills sent me the ingredients to make these marshmallow bars and they were very easy and also gluten free. The top is made from melted chocolate chips and the laces are vanilla frosting. Here's the full recipe.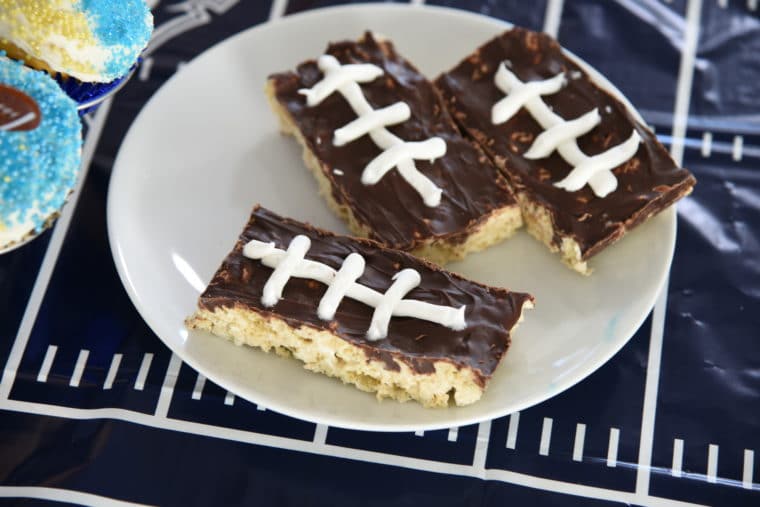 It's not a football party without a cheesy dip served in a crockpot – the spicier the better! A friend of mine makes an incredibly spicy version of this dip every year and it's always gone before the game ends. This recipe from The Girl Who Ate Everything looks amazing.
LA Rams Donuts
Don't want to make anything? Order a dozen Rams donuts from Primo's Donuts in West LA. Celebrate the Rams and their appearance in the Big Game, with a special football-shaped donut stuffed with blueberry filling.
If you'r not going to a party and need somewhere to watch the game, check out our list of 10 great, family-friendly places to watch the Super Bowl in Los Angeles.