Maybe you just need to get out of the house for a bit. You're looking for something new to do with your children, but something easy and inexpensive. Luckily, many shopping centers all around Los Angeles offer you the perfect solution — regularly scheduled free Kids Clubs. Kids Clubs offer story times, puppet shows, musical performances, crafts and more.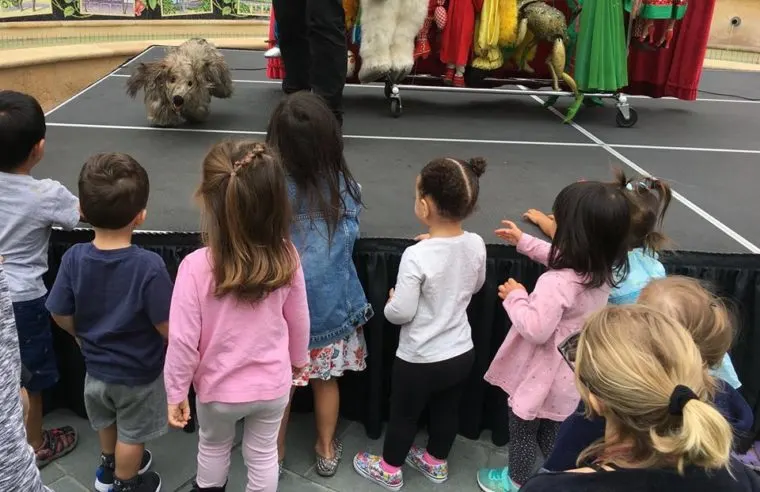 Kids Club at Waterside at Marina del Rey
4700 Admiralty Way, Marina del Rey, CA 90292
Waterside at Marina del Rey hosts a weekly Kids Club each Tuesday from 11:15 am to 12:15 pm (from March through October), with a special Holiday Kids Club in December. Enjoy lots of fun including music, entertainment, and more.
Mommy & Me and Daddies Too at The Point at Rosecrans and Sepulveda
850 S. Sepulveda Blvd., El Segundo, CA 90245
Families are invited to the free Kid's Club at The Point on the third Thursday of each month, May through December. The activities are from 10:00 am to 12:00 pm; are designed for pre-schoolers; and include live entertainment, arts and crafts, and more.
Kid's Club at Sherman Oaks Galleria
15301 Ventura Blvd., Sherman Oaks, CA 91403
Every Saturday from June 9th through August 25th, the Sherman Oaks Galleria hosts a Kid's Club. The weekly event begins at 11:00 am and features live entertainment followed by child-friendly activities.
Kids Club at The Grove
189 The Grove Dr., Los Angeles, CA 90036
Each Thursday, from 10:00 am to 12:00 pm, The Grove invites children and families to participate in its Kids Club. These free weekly presentations feature lots of fun, music, and interactive activities. (Kids Club is offered February through the end of October).
Kids Club at Lakewood Center
500 Lakewood Center, Lakewood, CA 90712
The Lakewood Center Kids Club meets on the fourth Friday of each month at 11:00 am. At each month's activity, kids learn "in a fun, interactive setting." The Kids Club works with National Geographic Kids to "create activities and games that focus on discovery through play."
Kids Club at The Americana at Brand
889 Americana Way, Glendale, CA 91210
Each Tuesday from 11:00 am to 1:00 pm, children are invited to The Americana's Kids Club on The Green. This free, weekly event includes live music, lots of fun, and more.
Kids Corner at The Paseo
300 East Colorado Blvd. Pasadena, CA 91101
Every Tuesday from 10am-12pm, kids can enjoy Kids Corner at The Paseo in Pasadena. Located in Garfield Promenade at the stage, kids can sing along and interact with the performers! This event is free and open to kids of all ages.
Kid's Yoga at Monica + Andy
Santa Monica Place
395 Santa Monica Pl., Santa Monica, CA 90401
Each Sunday at 11:00 am, children ages 3-5 are invited to participate in a special kid-friendly yoga session. This "fun, light-hearted" class features music and a "relaxing meditation book reading."
Panorama Kids Club
8401 Van Nuys Blvd., Panorama City, CA 91402
The Panorama Mall hosts its Kids Club every other Friday from 5:30 pm to 6:30 pm (from April 6th through October 19th). The hour-long festivities include games, puppets, magic shows, and more. Check the online calendar for an upcoming schedule.
Kids Club Art Workshops
Fig at 7th
Figueroa and 7th, Los Angeles, CA
Fig at 7th hosts a free Kids Club on the second and fourth Saturday of each month from 2:00 pm to 4:00 pm. Workshops are designed for children 3 and older. At the end of the workshop, children will go home with their own creative project.
SouthBay Pavilion Mall Kid's Club
20700 Avalon Blvd., Carson, CA 90746
The SouthBay Pavilion invites kids 12 and younger to its monthly Kid's Club. The free event is held on the last Tuesday of each month from 6:00 pm to 7:00 pm. Parents can register online to stay updated of upcoming events.
Azalea Kids Club
Azalea Regional Shopping Center
4635 Firestone Blvd., South Gate, CA 90280
The Azalea Kids Club meets biweekly (from April 5th through October 18th) from 5:30 pm to 6:30 pm. The Kids Club strives to be educational and entertaining and features magicians, jugglers, singers, and more.
Kids Club at The Lakes at Thousand Oaks
2200 E. Thousand Oaks Blvd., Thousand Oaks, CA 91362
Kids Club is happening each Wednesday from 11:00 am to 12:00 pm at The Lakes at Thousand Oaks. This free weekly event features live entertainment (including magicians, jugglers, singers, and more) and lots of fun for children and their families.
MOMSLA IS YOUR SOURCE FOR THINGS TO DO IN LOS ANGELES WITH KIDS.
Disclaimer: MomsLA has made every effort to confirm the information in this article; however, things can often change. Therefore, MomsLA makes no representations or warranties about the accuracy of the information published here. MomsLA strongly urges you to confirm any event details, like date, time, location, and admission, with the third party hosting the event. You assume the sole risk of relying on any of the information in our list. MomsLA is in no way responsible for any injuries or damages you sustain while attending any third-party event posted on our website. Please read our Terms of Use which you have agreed to based on your continued use of this website. Some events have paid to be listed on MomsLA.