High school graduation is a huge milestone in your child's life – and your family's – and that deserves a celebration! You can show your support and appreciation for your graduate with a thoughtful gift. This list of fantastic high school graduation gift ideas will get you started shopping or give you plenty of ideas.
Once high school ends, it feels like the rest of their young life is just beginning, so graduation can be an emotional and exciting time for new graduates and their parents. Many parents, other relatives, and friends may wonder what type of gift to give upcoming graduates that will be both meaningful and useful to them as they embark on life's new journeys.
This guide will attempt to provide a few unique ideas that make for great graduation gifts. There may just be an idea here that you may not have thought of before that would make the perfect gift!
Useful and Meaningful High School Graduation Gift Ideas
Cash or Gift Cards
When it comes to high school graduation gifts, cash is still king. There is nothing more versatile than cold hard cash. After all, it can be difficult to anticipate what kinds of things someone living on their own for the first time will need. Some apartments and college dorms come with, or without, any number of essential items making cash a welcome gift!
In fact, cash usually makes for a better gift than gift cards because most young people sell gift cards they don't want for a slightly lower value in cash anyway. In this writer's opinion at least, the only gift cards really worth giving, if you don't already have anything specific in mind, are Amazon gift cards since nearly everybody uses Amazon.
A Doordash or UberEats gift card is another great option if you know the upcoming grad will be living in an area that has these services available since they can be used to get food from pretty much any restaurant. Gift cards from Walmart or Target are also a winner because the graduate in question can buy dorm or apartment supplies as well as groceries or other needed items.
Of course, if you feel that cash in and of itself is too impersonal of a gift you can always bundle it with a carefully written card or a small gift like a wallet. This adds a personal touch that a $20 bill alone may not grant.
Speaking of Cash Gifts, try making one of these awesome Money Leis for your graduate!
Laptop, Tablet, or Computer Parts
While some people may already have their own laptop by the time they finish high school, many graduates may not have had that luxury and instead had to resort to using a shared family computer or an outdated laptop that can do little more than open Google Chrome. While this may sometimes be adequate for a high school student, a new laptop can be a great gift that allows a prospective college student to get more work done in less time with a faster and fresher device.
Some college degrees, such as engineering, are more easily completed with the use of a powerful laptop or PC to run computer-aided design software or other high-level programs. Still, other grads may benefit from the gift of a 2-in-1 laptop/tablet, or something similar. Those who game as a hobby may even prefer money to put towards computer parts in order to build their own PC that's perfect for the ultimate gaming experience.
Taking into account needs and personal preferences, plus whether or not a grad has a great computer already, a laptop or tablet may make for a graduation gift that is beneficial if not downright essential.
Are you looking for an easy but adorable gift for a graduate? Check out this graduation cap mason jar craft idea. You can stuff the jar with money, chocolate, gift cards, or whatever you can dream up that will fit.
New Phone
Considering how quickly phone technology changes these days, a new phone is almost always certain to be a well-appreciated gift. After all, you'll want texts and calls from the graduate from time to time! However, new smartphones are expensive and can vary widely in both price and capability, so make sure to check with the graduate before choosing one for them: You want to make sure the phone is a brand and style they'll like. It would be a shame to spend a lot of money on a phone they won't use.
If the graduate already has a perfectly nice phone, paying for their wireless plan is a great way to relieve them of one part of their new-found financial woes. Of course, many parents find that it's relatively inexpensive to keep a grad on their current plan. And some contracts also will offer a new phone as a sign-up bonus, so make sure to shop around and check out all of the different deals and packages that are available as some can save you quite a bit of money.
Kitchen Appliances
Kitchen appliances are a wonderful gift because making food at home is an excellent way for any grad to save money when they find themselves suddenly bereft of their parents' cooking. A KitchenAid mixer, or other similar appliance, can be incredibly versatile and durable and provide many years' worth of service. But, keep in mind that the new graduate may not have a lot of room in their future dorm room or apartment, so do your homework before choosing a countertop appliance as a gift!
New Backpack
There's a good chance that a high school grad may have been carrying around the same backpack since middle school. If that's the case, you may want to help them swap out their old one before the shoulder straps simply break off! There are a ton of different options for backpacks or messenger bags that are stylish and comfortable and come with places to store things like laptops, headphones, and chargers.
Pre-College Trip or Vacation
Chances are that your new grad is itching to get away from home and see the world — or at least as much of it as they can! A prepaid vacation to somewhere exciting, whether foreign or not, can be a great gift that will allow them to make unique memories for years to come.
Small Toolkit
A small toolkit with various screwdriver attachments, pliers, and a hammer, along with whatever other tools you think would be helpful, can help young people who've recently moved out deal with the many small issues that can arise while living on their own. This is definitely one of the handiest gifts you can give them!
College Merch
A sweatshirt, keychain, blanket, or backpack with the logo of your grad's college of choice will make for a practical, fun, and relevant gift that they're sure to use for years to come.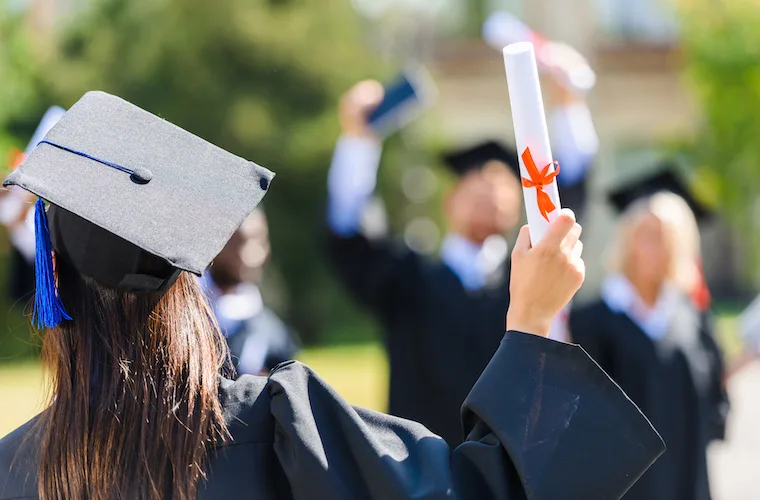 Spa Day
A spa day can provide a much-needed day to relax after 12 years of non-stop schooling. Everybody needs a break sometimes!
Watch or Smartwatch
A new watch or smartwatch can be a great gift for grads who are embarking on a career, entering the military, or going to college. Both functional and stylish, watches and smartwatches usually come equipped with a lot of great features and are available in a wide variety of different price ranges.
If your graduate is into gnomes, this is a cute gift they might really like! It's also easy to make and can be customized to the grad's school colors. Just add cash or a gift card and you've got a great gift!
Game Console
A game console can provide any graduate who enjoys gaming an avenue to socialize with their new friends and roommates in college. It's also a way to keep in touch with long-time friends that may be moving far away. Many game consoles also play music and allow video streaming, which makes them a dual-purpose gift.
Houseplant
If your grad loves nature, they might really enjoy a houseplant like a succulent or Bonzai tree that they can use to decorate their new dorm or apartment. Some of these plants can last for years on end and require very little care, meaning they are a great addition to the life of a busy college student. A little greenery can add lots of life to an otherwise sparse dorm.
You can find lots of graduation gifts
in our MomsLA Amazon Shop!
Disclaimer: MomsLA has made every effort to confirm the information in this article; however, things can often change. Therefore, MomsLA makes no representations or warranties about the accuracy of the information published here. MomsLA strongly urges you to confirm any event details, like date, time, location, and admission, with the third party hosting the event. You assume the sole risk of relying on any of the information in our list. MomsLA is in no way responsible for any injuries or damages you sustain while attending any third-party event posted on our website. Please read our Terms of Use which you have agreed to based on your continued use of this website. Some events have paid to be listed on MomsLA.