Do you like to know that, when you shop, your money is going towards a good cause, helping people make a change in their lives and supporting positive outcomes in your community? Then you should head over to the Beacon House Thrift Shops as soon as possible.
With two locations, in San Pedro and Long Beach, these thrift shops are terrific places to get a bargain on clothes for the whole family, as well as jewelry, home décor, and furniture. And so much more! And not only will you get a bargain on some unique items not found at the Malls, you'll be helping out an important local nonprofit.
The Beacon House Association of San Pedro is a state-certified, residential substance abuse recovery program for men with a sincere desire to achieve long-lasting abstinence from drugs and alcohol.
As residents of the Beacon House, the men in the program are provided with food, shelter, counseling, peer group support, educational opportunities and career training through their social enterprise programs, including the Beacon House Thrift Shops.
This allows the men in the program to work towards a brighter future, when they can return to life with their families, back home in the community.
We love what they stand for, how they help, and what they're creating with their program, and we hope you get a chance to shop and support. We wanted to let you know a few key details about the shops and what types of items you can find there.
Beacon House Thrift Shop – San Pedro
812 S. Pacific Ave., San Pedro 90731
Beacon House Thrift Shop – Long Beach
3220 East Anaheim Street, Long Beach 90804
Related: LA's Best Thrift Stores and Resale Shops
Things To Know About Beacon House Thrift Shops
We spoke to Zach Martin, director of Communications at the Beacon House Thrift Shops, who was a former resident of the program himself.
Question: What are the coolest things people have found at the Beacon House Thrift Shop?
Answer: This is a hard one. So much cool stuff comes through our doors. The one item that comes to mind was an original 1st series pair of Vans, brand new, in the box. These were from the 1970s and extremely rare. The receipt was in the box and everything.
Wow!
Question: Has anyone found anything really valuable when they came to the shop?
Answer: Yes! A $10,000 Art Deco Diamond Brooch. Along with other diamond and gold jewelry.
Another Wow!
Question: What do regulars come to shop for?
Answer: Regular customers are typically shopping for clothing, bric-a-brac, home decor and furniture. For example, we have quite a few customers that will come on a regular basis looking for vintage clothing and denim. Other customers will be looking for rare tea cup sets. We are well known in the community for having a good inventory of antique and vintage furniture items. Our modern and mid-century items do very well.
We love tea cups!
Question: Is there a best time to come – like are Tuesdays when insiders know the best merch is on display?
Answer: So, every week we run a color sale. For example this week orange tags are 25% off, yellow tags are 50% off, and green tags are 75% off. On Sundays the color sales rotate, so then blue will be 25% off, orange will be 50% off, and yellow will be 75% off, with green full price. On top of these sales, we also will occasionally run a "Get 25% off your entire purchase when you spend $50" sale and this is on top of the color sale discounts. What I usually tell customers is that Sunday is the best day to come since the color sale will have rotated and new items will either be appearing or be 25% off already.
Mark your calendars!
Question: What are the shops best known for?
Answer: Our San Pedro location is best known for its boutique hipster vibe. Brick walls and it's smaller so it allows customers a more intimate shopping experience. Also, in our San Pedro store we will usually place "rare" or just really cool items. Like a vintage cash register or perhaps an 1940s gold weighing machine.
Our Long Beach location is known for a large selection of furniture items. The store is over 13,000 sqft so it can hold a lot of pieces. We actually just won favorite thrift store and favorite furniture store in the South Bay for 2021. The top positive feedback we get from both stores is with our customer service. Since the men working there are volunteers they are able to practice what they learn in recovery. This includes learning how to interact with people in a polite, respectful, and professional manner.
We can't wait to check them both out!
Question: What's the history of the Shops? Why were they chosen as a way to help serve the organization?
Answer: Beacon House Thrift Shop in San Pedro was opened in 2018. While the Beacon House Association of San Pedro began in 1974, we felt that we needed to provide another fun and educational path for our men to give back to the community while practicing the principles they have learned in recovery. We have always received donations and support, and once we began it took off! We opened the Long Beach store in December of 2020 and are now looking into future store opening opportunities as we continue to expand. Our goal is to give the men of the Beacon House the life and job skills they need to build a successful future, while remaining sober.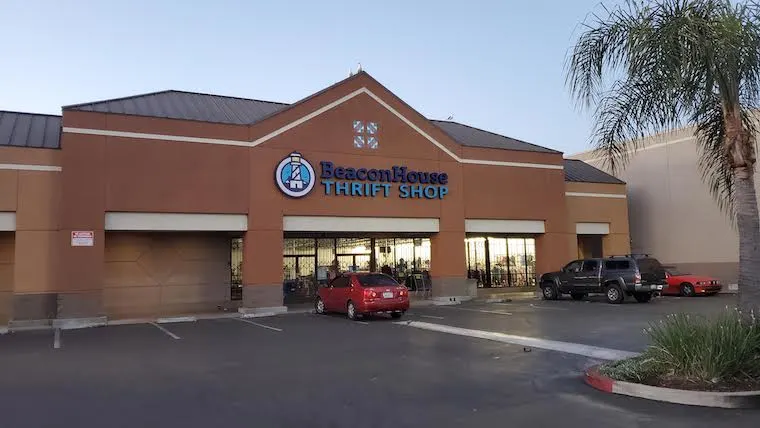 Question: Tell a story or two about the people who work there and how it's made a difference in their lives.
Answer: One of our volunteers, who is still a resident at the Beacon House, flew all the way from Tennessee for treatment. He was a 27-year-old heroin addict, and his family wanted nothing to do with him, including his daughter who was 5 years old. That was almost 2 years ago. Since we are a long term treatment facility, he has been able to learn the skills required to stay sober and live life in that time. He has begun talking to and seeing his daughter on a regular basis again. He has been reunited with his family as well and is currently pursuing educational goals of being a welder. Beacon House Thrift Shop taught him how to apply what he has learned in recovery in the workforce and be successful and serene.
Another one of our volunteers had actually left treatment after 10 months. He spent 2 years in prison shortly after and did not have a relationship with his 10-year-old son. He came back to treatment for another try. He is now working as a sobriety coach and re-establishing his relationship with his son and family. Beacon House Thrift Shop taught him the work ethic and social skills that allowed him to enter this career field.
These stories are truly inspiring. We're so glad you shared them.
Question: Do people shop there because they know about the mission to help people or do they just love what you sell? (or both!!)
Answer: Definitely both! Many customers are aware of our mission and support us. They will check on the guys while they shop. New customers will return either because of the crazy discounts or the cool unique items they can find.
We are grateful to the Beacon House Association for the work they do to help men regain their lives, and we're grateful to Zach Martin for letting us know about their work. This is not a sponsored post.
Sarah Auerswald is the co-Founder and Managing Editor of MomsLA.com.
Disclaimer: MomsLA has made every effort to confirm the information in this article; however, things can often change. Therefore, MomsLA makes no representations or warranties about the accuracy of the information published here. MomsLA strongly urges you to confirm any event details, like date, time, location, and admission, with the third party hosting the event. You assume the sole risk of relying on any of the information in our list. MomsLA is in no way responsible for any injuries or damages you sustain while attending any third-party event posted on our website. Please read our Terms of Use which you have agreed to based on your continued use of this website. Some events have paid to be listed on MomsLA.