MomsLA was treated to a sampling of the many wonderful spa amenities at the Glen Ivy Hot Springs in Corona recently for this review.
Have you ever been to Club Mud at Glen Ivy Hot Springs? I've lived in Los Angeles for over 25 years, and I am known for enjoying a spa experience, and yet I only just visited this wonderful place for the first time recently.
And let me tell you: I was missing out.
I feel a sacred duty to make sure you don't also miss out, so let me give you a run-down of what's available at Glen Ivy that I got to experience as a very pampered and grateful guest.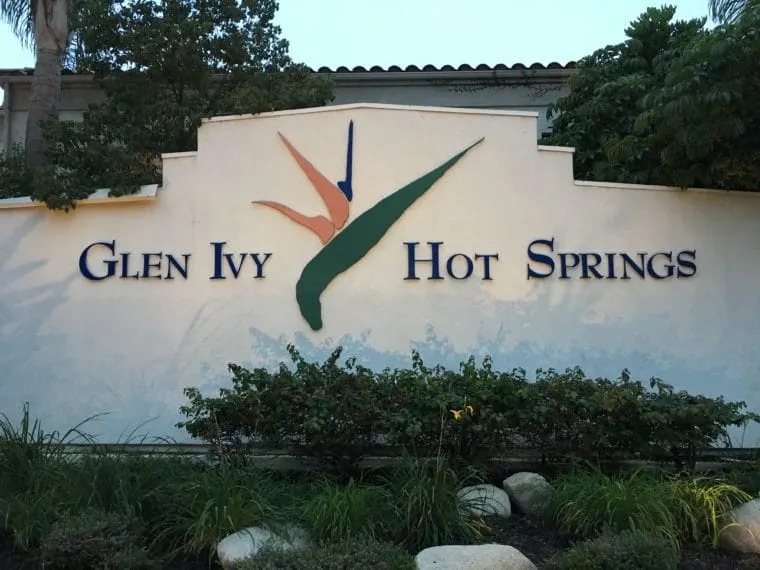 Glen Ivy Hot Springs Packages for Winter #WinterisWarmer
Check out this amazing package they're offering, called the Relax and Glow: Book any two services, (each valued at $100 or more), and receive admission and the use of a signature Glen Ivy robe for the day for $25 on weekdays and $35 on weekends. Add the Grotto experience for an additional $20.
In December and January, all guests can warm up with a complete spa day including a 50-minute spa service, visit to the Grotto, admission to the facilities, use of a signature robe, and festive hot cocoa and a seasonal house made cookie at the GOCO Café for just $159 on weekdays.
Share the magic of Glen Ivy with friends and family and give the gift of relaxation and wellness. From November 14 – December 22, purchase a $100 gift card for $90; a $140 gift card for $125 and a $195 gift card for $175.
Pools at Glen Ivy
First of all, as you enter the property, you're treated to the sight of the beautiful grounds and lovely landscaping. It feels like you've stumbled upon an Oasis in the midst of Southern California, just off the 15 Freeway, which you have.
There are 19 pools scattered around the 17-acre property, some warmed, some hot and one cold plunge. I have a personal goal to swim or lounge in every single one of them at some point in my lifetime. As it was, I made it into a few, but not all. Not yet.
I love these floatation loungers they have in one of the pools near the Cabanas. They're perfect for floating without your whole body being above the water. The day I visited was actually a tiny bit chilly, so I was happier with my body underwater.
In fact, I was the happiest when I was relaxing in one of the Hot pools. It was just the right temperature outside to make the 102-degree heated water feel perfect.
Glen Ivy, which was founded over 150 years ago, is home to a natural hot springs, and there are pools where you can experience that water, but just be prepared for the odor that comes with natural sulphur.
Club Mud and the Grotto Experience at Glen Ivy
Club Mud is legendary in my world. I'd heard about this treatment for years, from dozens of people I know, before I got to experience it first hand. It feels like playing with clay and it's a very sensuous experience to smooth it all over your body. On a hot day, I would have simply reclined on a chaise and let the sun turn my mud to crackled dust, but since the temperature was in the high 60s, we used a sauna room and heat lamps to achieve the desired result before showering off and moving on to the Grotto.
The Grotto is an underground affair, where you are literally painted with a pale green mixture of aloe, shea butter and coconut oil, another quite sensuous feeling. It feels slimy and soothing at the same time, and I know it made my skin much more supple, before it was time again to shower off and move on. In my case, to sample the food.
New Chef and New Menu at Glen Ivy
Micah Severeid is the new Executive Chef at Glen Ivy, and he treated us to samples of the new direction his menu is taking. There is an emphasis on fresh ingredients, and locally-sourced fruits and vegetables, like the persimmons grown on the property. Seafood takes center stage, and I loved the shrimp & crab Po' Boys, salmon salad on cucumber, and Miso Black cod in a lettuce wrap. I especially loved this presentation of the cheese tray and veggie crudité. How beautiful!
There are a couple of dining options at Glen Ivy: The Ivy Kitchen and the GOCO café. And look for a brand new hotel, right on the property, coming in the near future at Glen Ivy.
I hope you will enjoy Glen Ivy Hot Springs as much as I did on my very first visit. And taking advantage of one of their special Glen Ivy Hot Springs Packages this winter could be just the ticket. I'm thinking Gift Cards for the holidays!
Related: Spa Le La a Spa for Moms
Sarah Auerswald is the co-Founder of MomsLA.com. She was treated to the experience at Glen Ivy for the purposes of this review. Some photos are used with permission from Glen Ivy Hot Springs, the others are ones I took.
Disclaimer: MomsLA has made every effort to confirm the information in this article; however, things can often change. Therefore, MomsLA makes no representations or warranties about the accuracy of the information published here. MomsLA strongly urges you to confirm any event details, like date, time, location, and admission, with the third party hosting the event. You assume the sole risk of relying on any of the information in our list. MomsLA is in no way responsible for any injuries or damages you sustain while attending any third-party event posted on our website. Please read our Terms of Use which you have agreed to based on your continued use of this website. Some events have paid to be listed on MomsLA.